Serves 4-6 as a side dish
This dish is best served at room temperature. The tumeric and cayenne give the eggplant an enjoyable kick.
Ingredients:
1 large eggplant (about 8″ long)
1/2 can diced tomatoes
4 cloves garlic, crushed or minced
4-6 Tbs vegetable oil
1 Tbs dried cilantro (use fresh for garnish if you have it)
1 tsp turmeric
1/8 tsp (or up to 1 tsp) cayenne pepper (mild or death-by-cayenne)
Salt & Pepper to taste
Optional Garnish for non vegans:
Seer Moss (Garlic Yogurt Sauce)
Method:
1. Slice Eggplants lengthwise 1/4 inch thick. Salt liberally on both sides and lay on a cooling rack over a cookie sheet for about an hour. The salt will draw out bitterness. Rinse the salt off of the eggplant and pat dry.
2. Saute crushed garlic in Olive Oil until fragrant in a large, heavy bottomed skillet. Set aside garlic in a small container.
3. Add  Vegetable Oil to the skillet and heat on medium-high. Add eggplant and brown, cooking in batches if necessary. The eggplant should be relatively soft when done.
4. Reduce heat and add tomatoes, cilantro, garlic, cayenne, salt, and pepper.
5. Simmer until the Eggplant is very tender.
6. Serve room temperature with Seer Moss (Garlic Yogurt Sauce).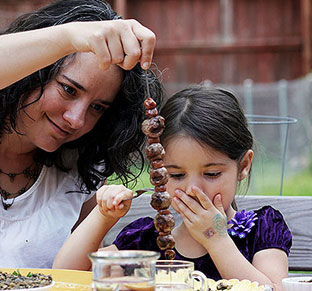 Hungry for more?
Be notified when National Geographic releases my memoir.
Simply fill in your details below.