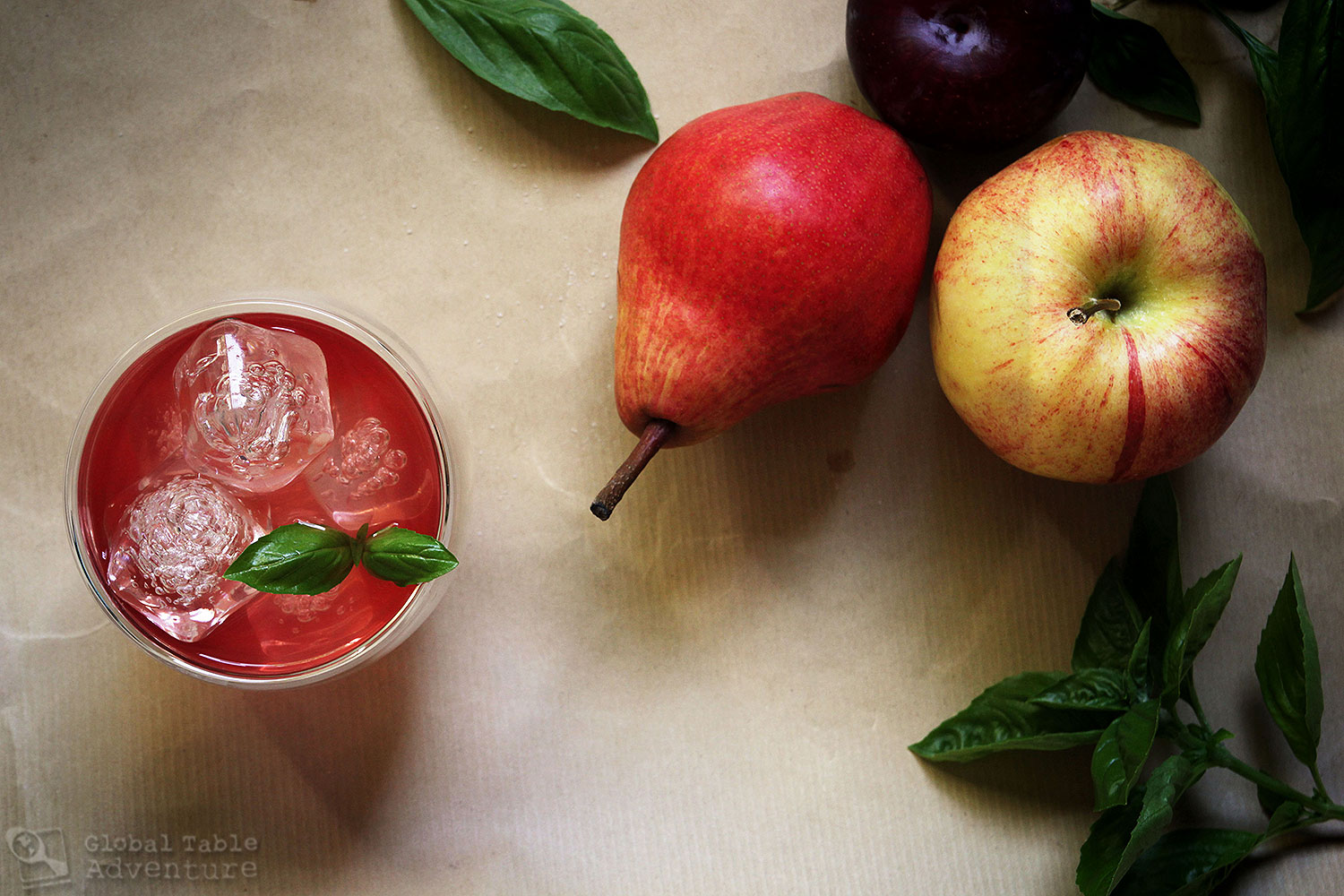 Today, we enjoy an autumn fruit punch from the heart of Uzbekistan's Kyzyl Kum desert, shared with me by Paul Salopek, National Geographic fellow and journalist. The chilled punch quenches with ripe pear, apple, and plum, while a sprig of basil lends the memory of summer.
An opportunity for our children
At my grocery store, punch typically comes in a bottle or, more commonly, a box with a straw. At seven-years old, Ava has never considered what "punch" is, or how it might be made. This a good opportunity to remind our children that fruit punch is made from soft, sweet fruit – a seasonal thing, reliant on agreeable weather and the absence of pests. Punch came before refrigerators and standardization, each batch unlike the next, tasting only 'of the moment.'
Once young children "get" the concept behind punch, they may begin to taste the individual fruits (or at least show interest in trying). Let them play with the recipe, and encourage them to invent their own favorite punch. After all, it's as simple as stewing hunks of fruit in a sweet pot of water.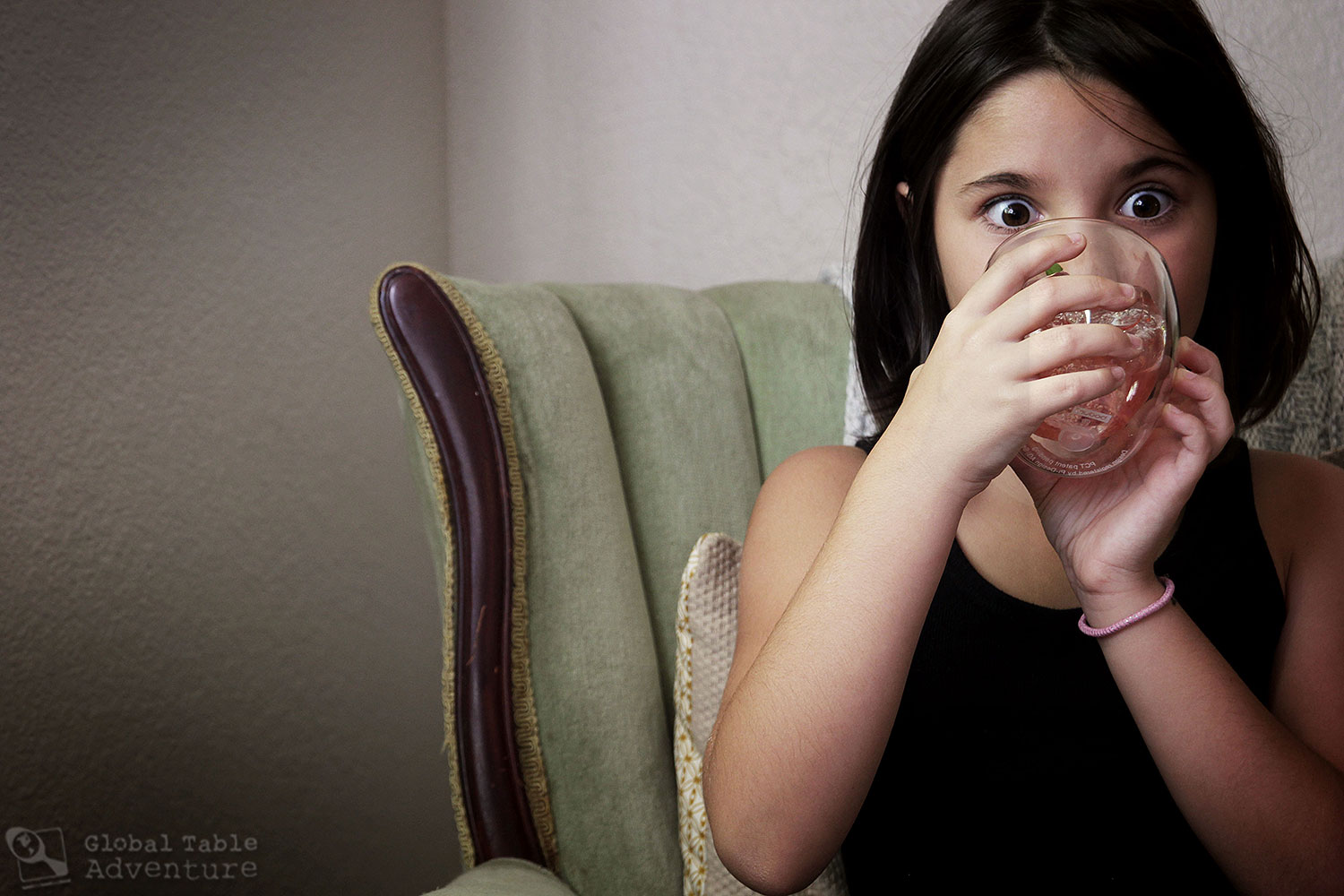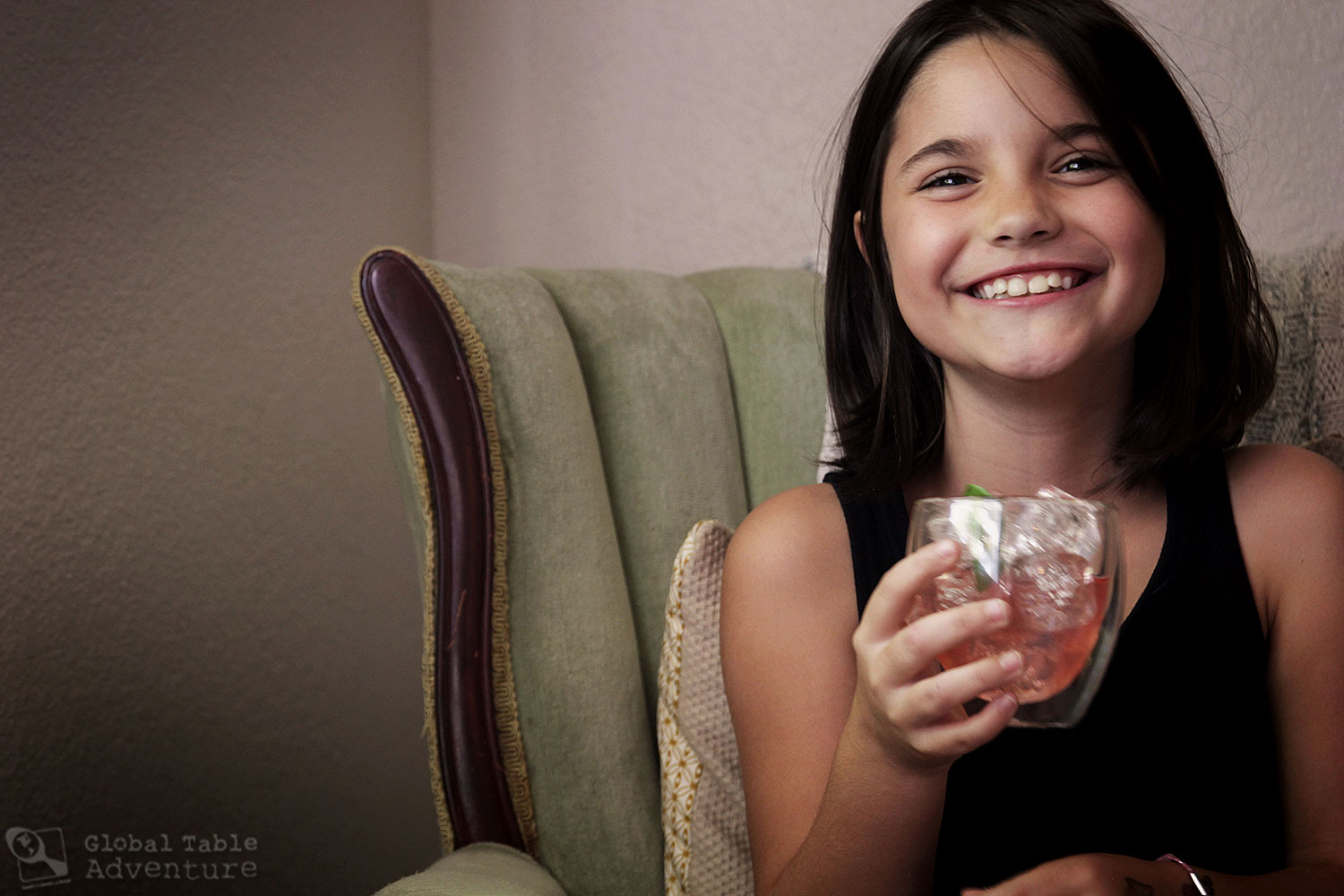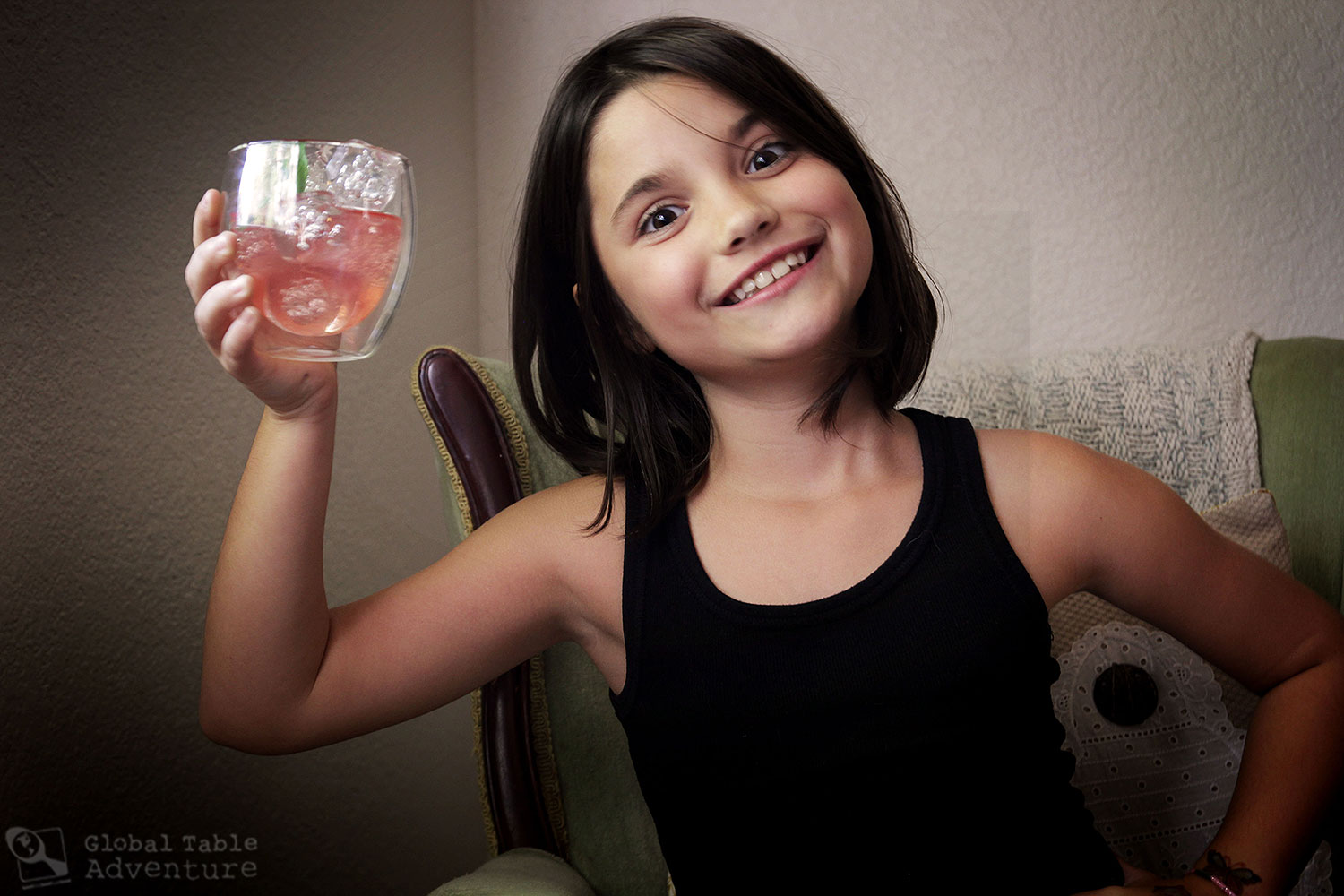 A recipe with legs
Paul Salopek shares this Kompot recipe from the midst of the his  Out of Eden Walk— a storytelling trek across four continents in the footsteps of the first humans who colonized the Earth, carried out in partnership with National Geographic.  The recipe arrives in the same way the best recipes do – from personal recommendation, in this case, from Paul's walking partner's wife.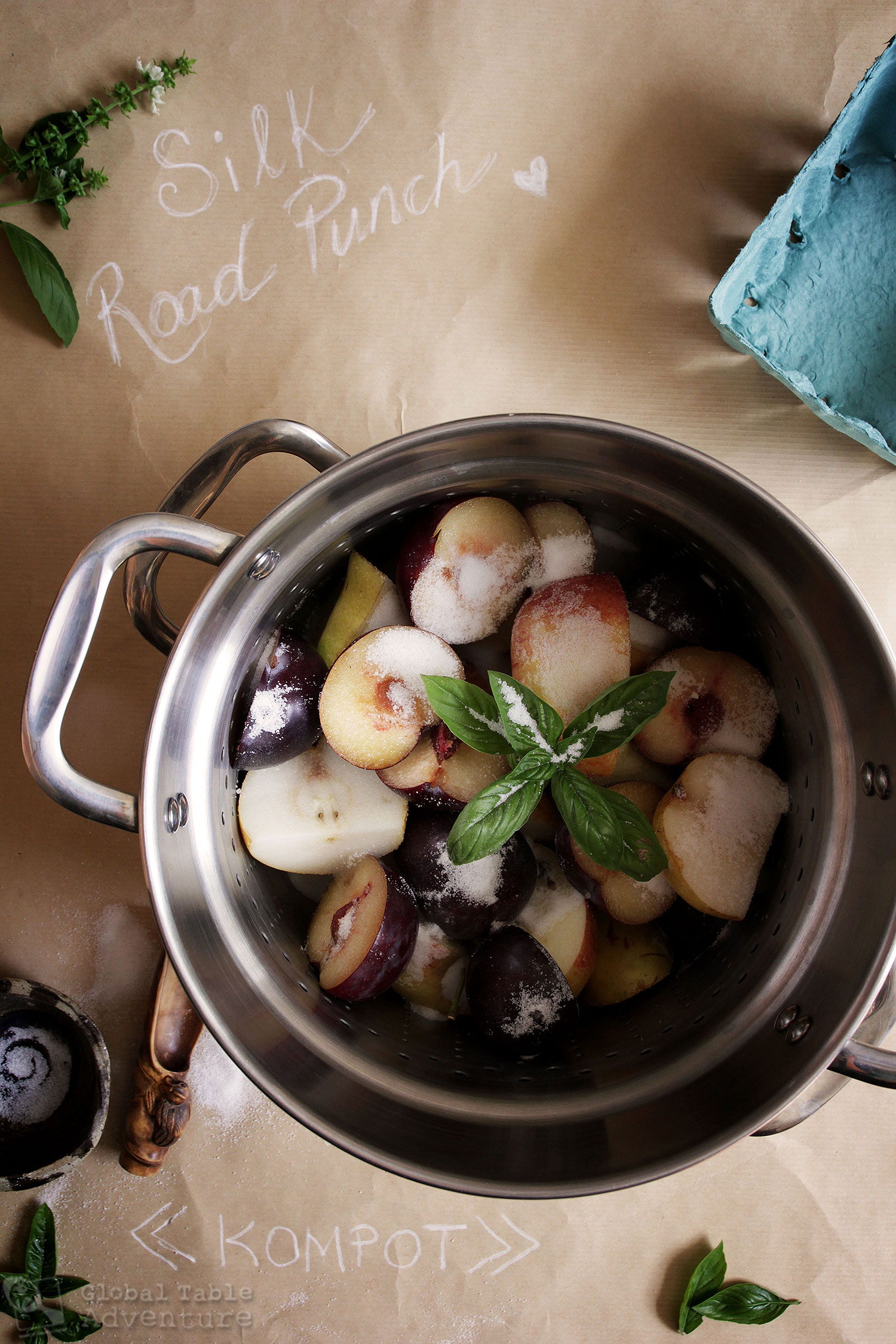 The remainder of this post features Paul's words and photographs, direct from Bukhara, Uzbekistan.
Walking some 22,000 miles across the world requires decent hydration. So when it comes to beverages, I pay special attention. Starting in Africa for the "Out of Eden Project," I have walked through water well cultures, coffee cultures, tea cultures, and lately, kompot cultures.
What is kompot?
Kompot is a refreshing, natural, and energy-rich beverage made from boiling seasonal fruits in a large volume of water, sweetening to taste (and perhaps adding a spice or two), and, finally, chilling to sip on a thirsty day. Kompot was popular in Eastern and Southern Europe, Russia, the Balkans, the Caucasus and Central Asia—all societies that in the past have know the bite of food rationing. (Kompot was, among other things, a tasty way to preserve seasonal fruits in the era before globalized agriculture and refrigeration.) I began encountering the drink while walking through former Soviet-bloc countries. Today, it is losing ground against industrial soft drinks and bottled water. But it is still hugely popular in Uzbekistan—the fruit basket of Central Asia.
A happy hallucination
The following simple recipe is prepared in the Silk Road city of Bukhara by my Uzbek walking partner, Azizbek Khalmuradov. Walking recently through the blistering Kyzyl Kum desert, Khalmuradov told me: "I have this hallucination. I see a refrigerator, and when I open the door, there sits a large bottle of my wife's cold kompot!"
Thank you, Paul and Azizbek, for sharing Silk Road Punch with us. To learn more about Paul's Out of Eden Walk, please explore his story, chapter by chapter, on National Geographic. Follow the Journey at @OutofEdenWalk on Instagram, Twitter and Facebook.
Print Recipe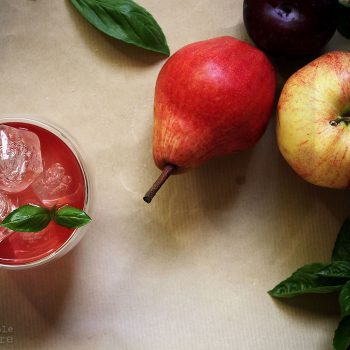 Kompot can be made with a variety of fruit and the amount of sugar added is variable according to taste. The original recipe uses purple basil, however my local shops were out - thankfully green basil tastes similar and does the trick. Also, the original recipe adds the basil after cooking, however I liked the floral note provided by cooking the basil together with the fruit.
Silk Road Punch | Uzbek Kompot
Servings

Prep Time

3

quarts

10

minutes
Cook Time

Passive Time

50-60

minutes

1

hour
Servings

Prep Time

3

quarts

10

minutes

Cook Time

Passive Time

50-60

minutes

1

hour
Halve or quarter the fruit and place into a large cooking pot with remaining ingredients. Place over a medium flame to boil. This gentle heating takes about 45 minutes, during which time the fruit will begin infusing the water with color and flavor. Towards the end of heating, taste for sugar, adding more as desired.

Once boiling, reduce the flame to low, seal the pot with a lid. Simmer for 5 minutes.

Remove from flame. Cool, covered, until room temperature, then transfer to a large canning jar or pitcher and refrigerate. The drink is typically stored with the softened fruit.

When serving, the softened fruit may be enjoyed by the spoonful - simply add a little to each glass. Otherwise, strain before serving.
Source:
Recipe Copyright Sasha Martin, Global Table Adventure. For personal or educational use only.