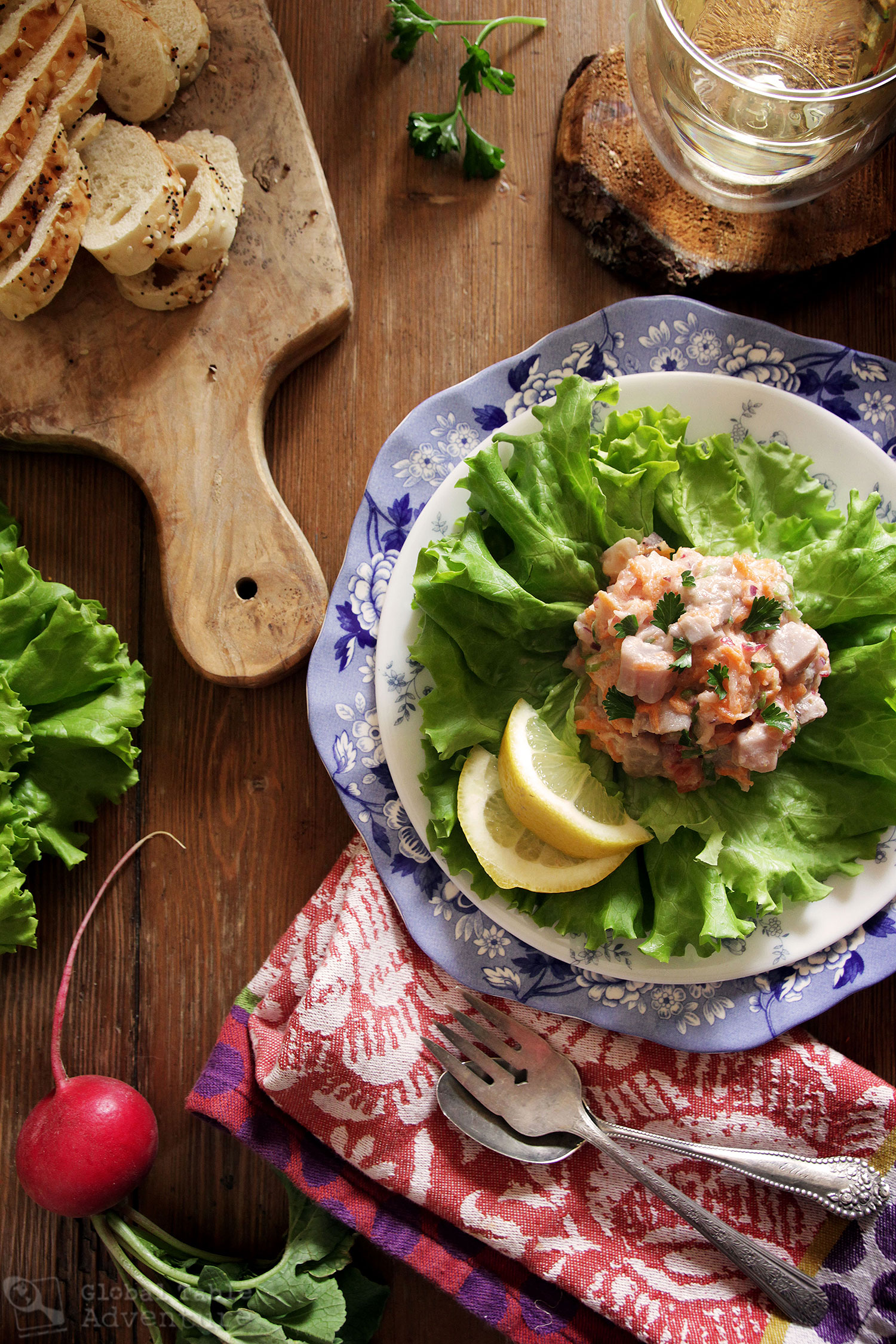 One of the largest fish ever caught is the stuff of Māori legend. Today, this fish is known as New Zealand's north island.
The fisherman able to haul in such a prize?  Māui, the mythological hero.
As the story goes, Māui paddled his canoe far out into the ocean in search of a big catch. He used his ancestor's jawbone as a fish hook, coating it with blood from his nose.
Down, down, down went the hook, into the depths of the deep blue waters.  After some time, the slack line tightened. It took all Māui's strength to reel in the heavy fish. Stumbling under the effort,  Māui had to brace himself on the edge of his canoe as he pulled the line up, up, up.
When the fish finally rose out of the water, Māui gasped. It was the largest sea creature he'd ever seen, big enough to blot out the horizon, with shiny green scales.
Māui decided to leave this precious prize with his brothers while he set out in search of a priest to bless the catch. No sooner was he out of sight than his brothers began to grab at the fish, each scrambling to get the best parts. Large though it was, the creature was no match for Māui's brothers. Writhing in agony, the great fish succumbed, tearing at the flesh.
Legend says that the great fish is New Zealand's north island and that the brothers' greed created the island's mountains, valleys, and cliffs (earning the north island the name "Te Ika-a-Māui", a.k.a. The Fish of Māui). Māui's canoe became the south island (earning it the name "Te Waka-a-Māui" – the canoe of Māui).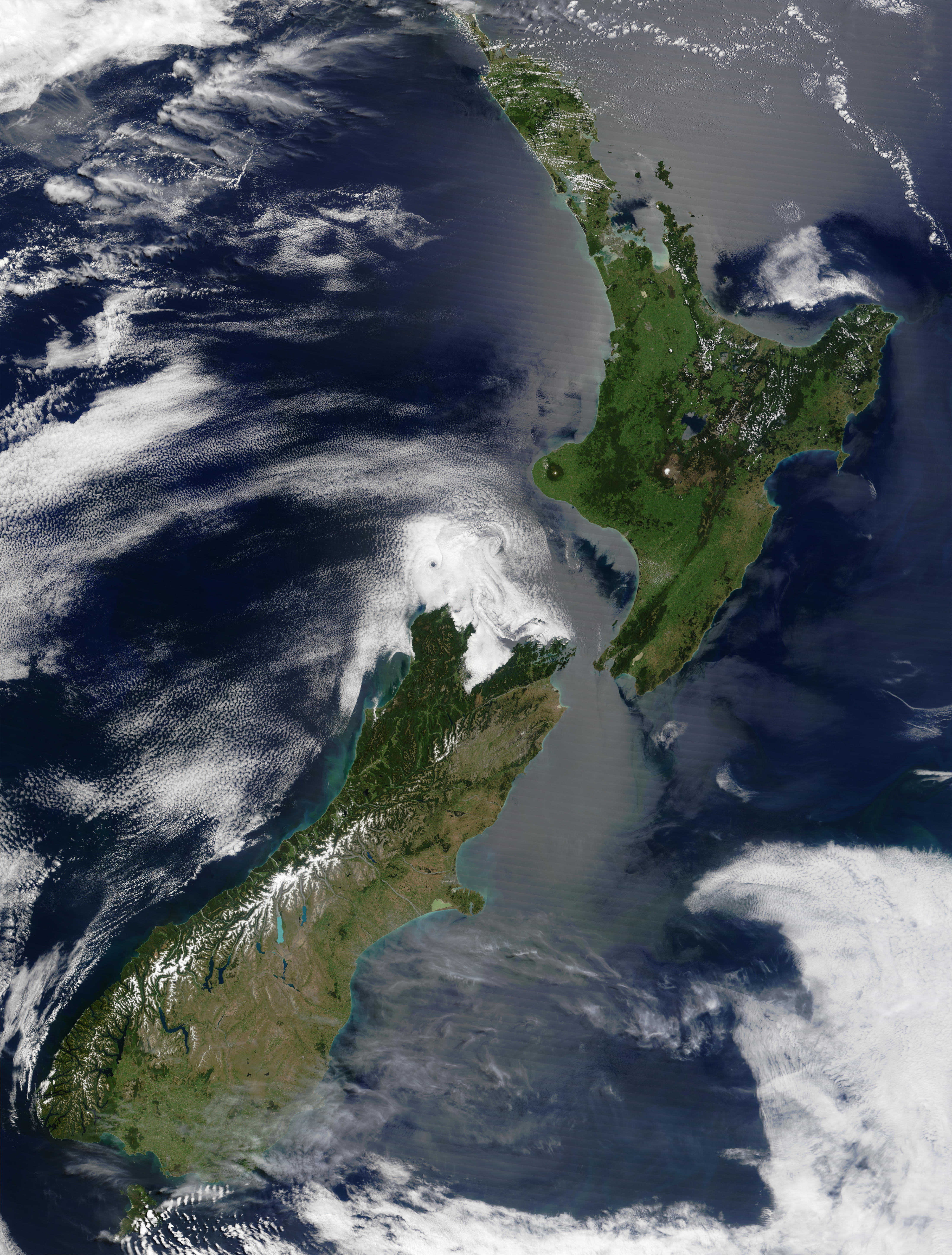 And the spot on the canoe where the young man braced himself?
That's Banks Peninsula.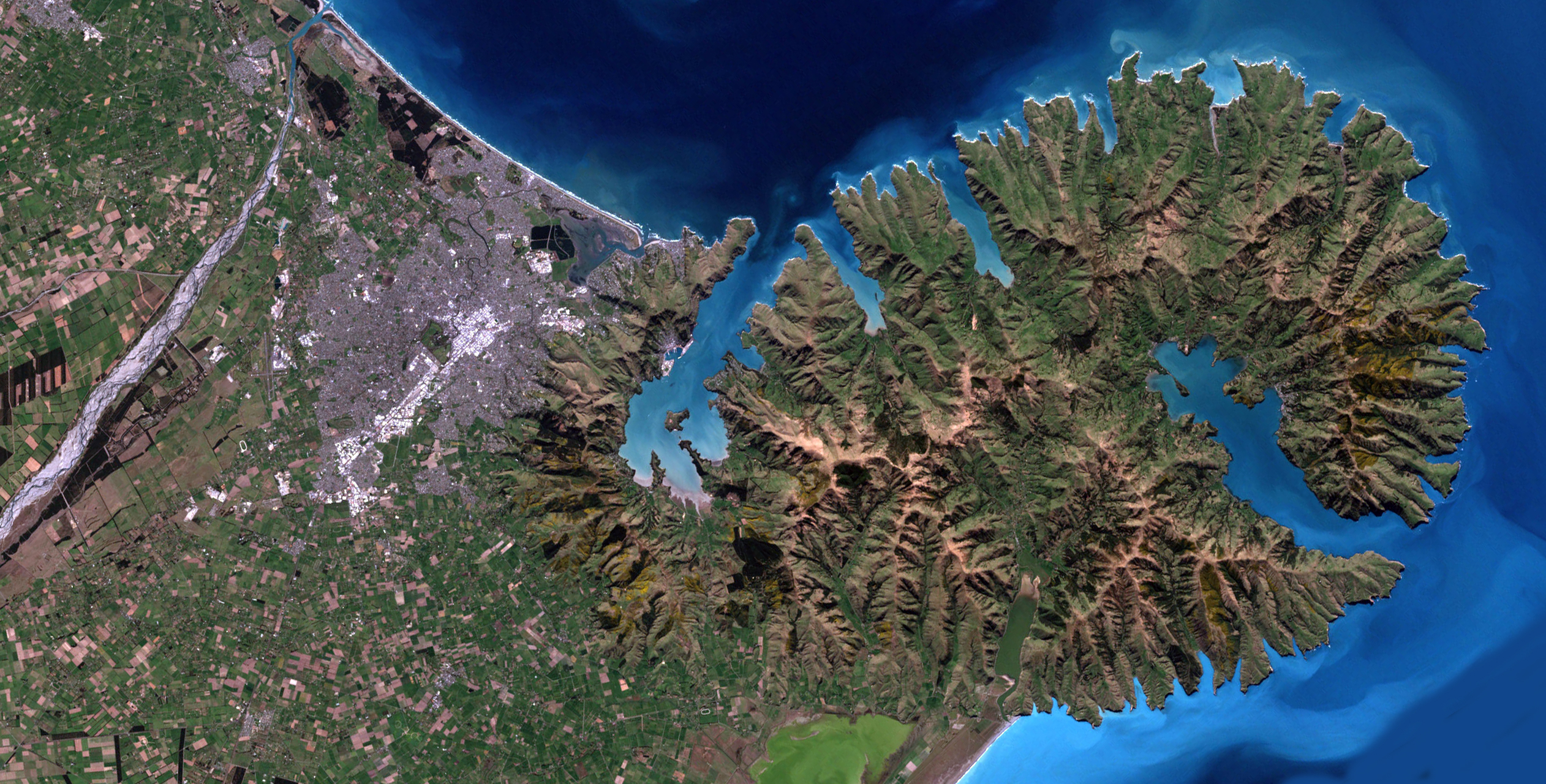 My retelling is based on the popular Māori Mythology of Māui.
Our efforts don't always reap what we might expect.
Can we back up for a minute? Māui went fishing and ended up creating an island. An island!
Few of us dare to think we can effect much change in this world. We eke out our daily existence, eyes firmly focused on the next task: go to work, go to the grocery store, make dinner, clean up, repeat.
But think about Māui: all he did was go fishing. Essentially, he went to the original "grocery store."  This is quite a normal – dare I say mundane – activity, which makes it all the more important that he reeled in an entire island – a place where people can live and eat and love.
Tremendous surprise can wait on the other end of the mundane.
The key to this "big fish" story is trapped in the details: Māui used his ancestor's jawbone and his own blood to catch a fish as big as an island – in other words, he used the strength of his ancestors, while putting himself into the effort with unflinching passion. This is what it takes, my friends.
That's heavy duty.
A lesson for creatives
Māui's story reminds me of what Red Smith said when asked about writing: "You simply sit down at the typewriter, open your veins, and bleed." *
While it might seem glorious to write a book, the daily act is rather mundane. It goes like this: show up, stare off into space, and – if you're lucky – tap, tap, tap at the keyboard until coherent sentences result. Turning this mundane activity into something glorious relies on putting ourselves fully into our work. We have to show up if expect some sort of mythical "big fish" to show up.
The start of something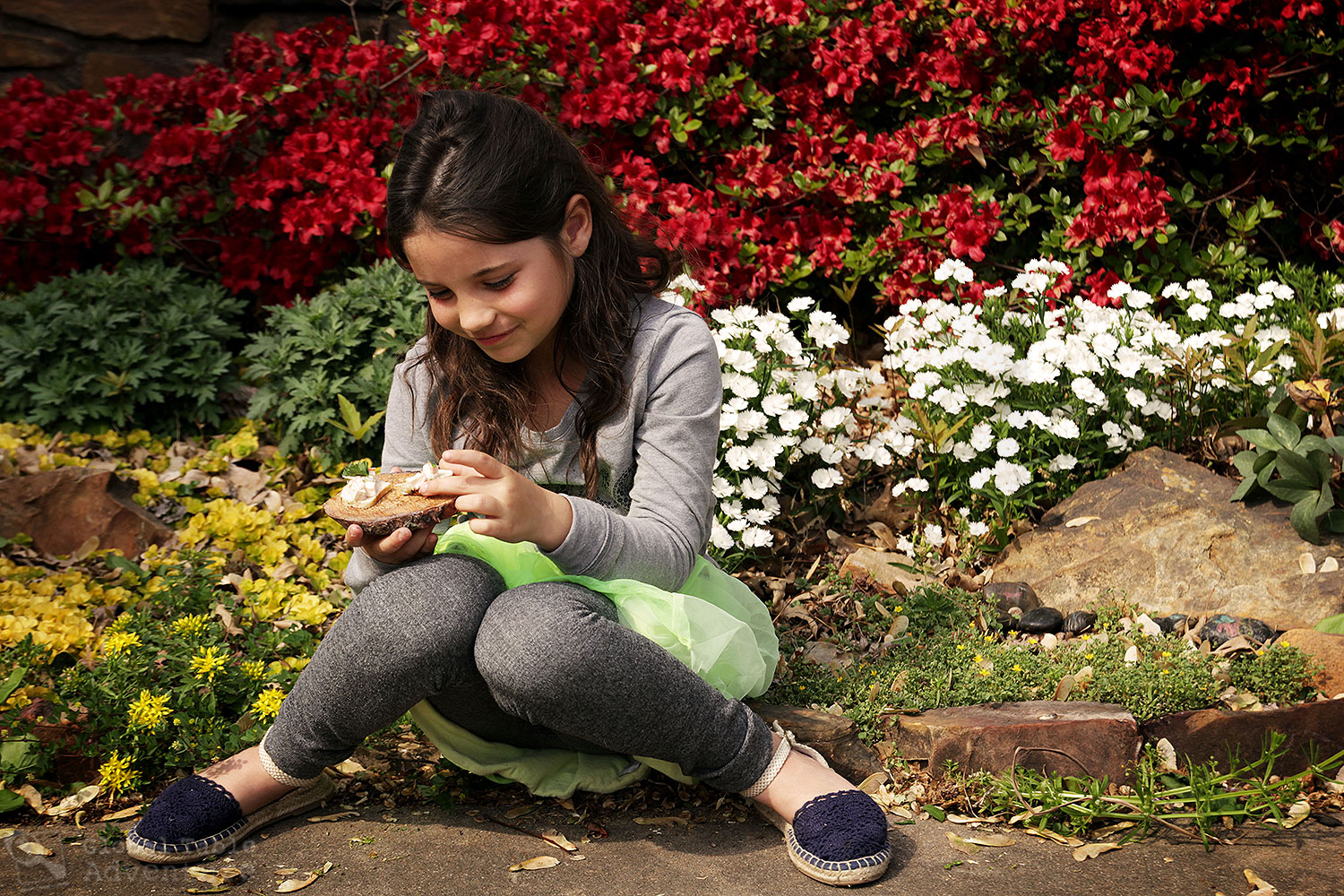 Sometime last summer my daughter asked me to write a book "just for her." Around that time the ink on my memoir was still wet; as much as I wanted to accommodate my daughter's wish, I was tired of writing. As a distraction, I started to sketch again (something I hadn't done much since college). On the first page of my giant, brand new, beautiful sketch book I made… a terrible sketch of a teacup. I moved on but every time I looked at that first page of my sketchbook I'd cringe a little.
One day I was rather bored and decided to improve on the drawing. I added some weird details which, in turn, sparked an idea for a story. After spending more than a year completely uninspired to write another book, this unexpected inspiration was huge.
Elizabeth Gilbert talks about the writer's block she experienced after Eat, Pray, Love, stating that she found her way out by "following her curiosity." Instead of a memoir, she ended up with the massive novel Signature of All Things. In other words, out of the mundane activity of following our curiosity, we can, sometimes, eventually, possibly, pull out a BIG FISH.
Now that I find myself once again curious, once again willing to "show up" and write, I find myself struggling with joy as I reel in my unwieldy story. Every day I sit and stare at the screen. On good days I come up with an exciting plot twist. My daughter has taken to sketching the characters for me, so I can see what they should wear.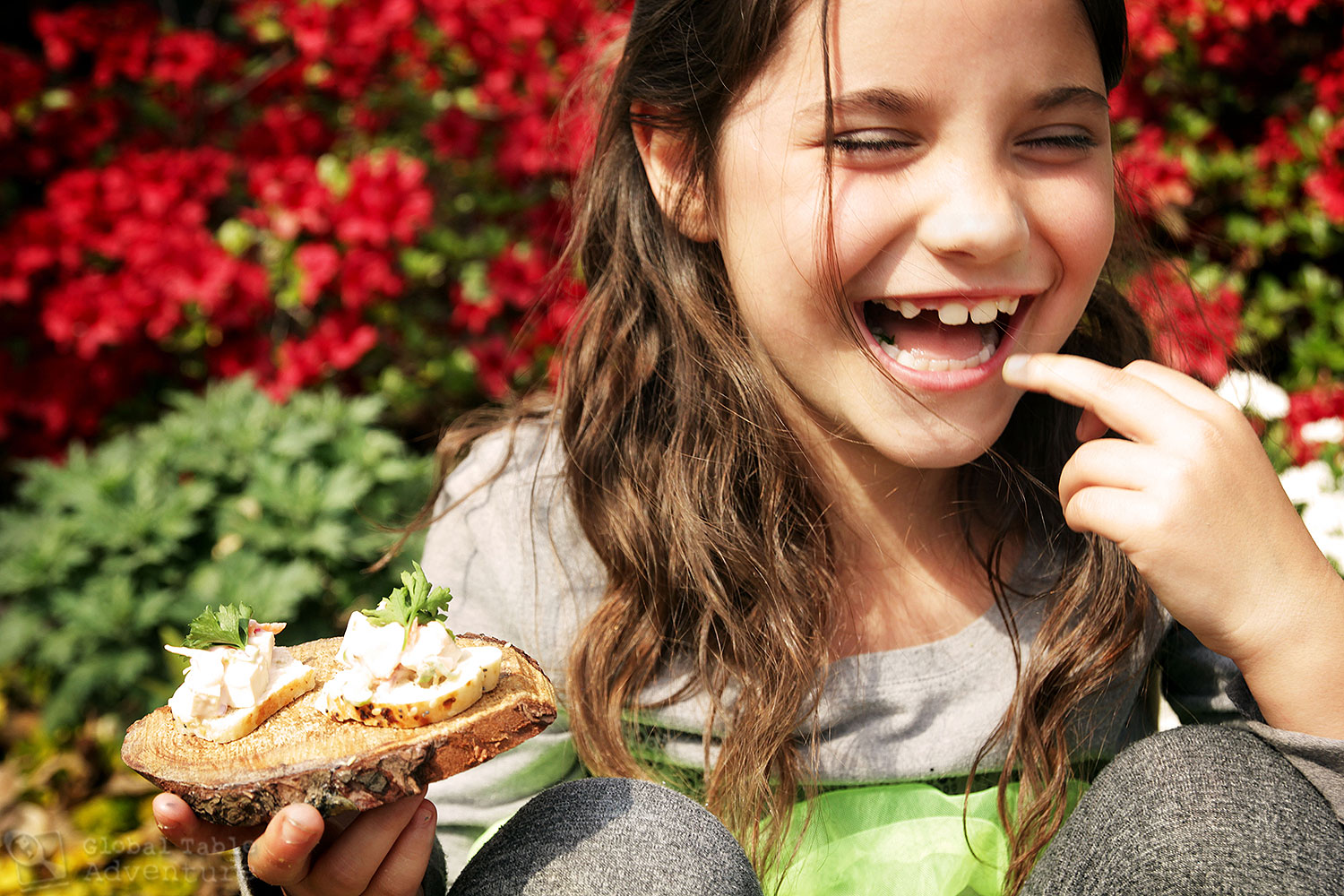 It's still early in the game, but the book seems to want to be a fantasy involving good versus evil, otherworldy adventure, with – of course – a helping of delicious food writing.
I don't exactly know where this story is taking me. I don't know if it's just a fun idea or if it will result in a BIG FISH. All I know is, right now, I'm throwing everything into the process and enjoying the challenge.
For your BIG FISH: a meal worthy of Māui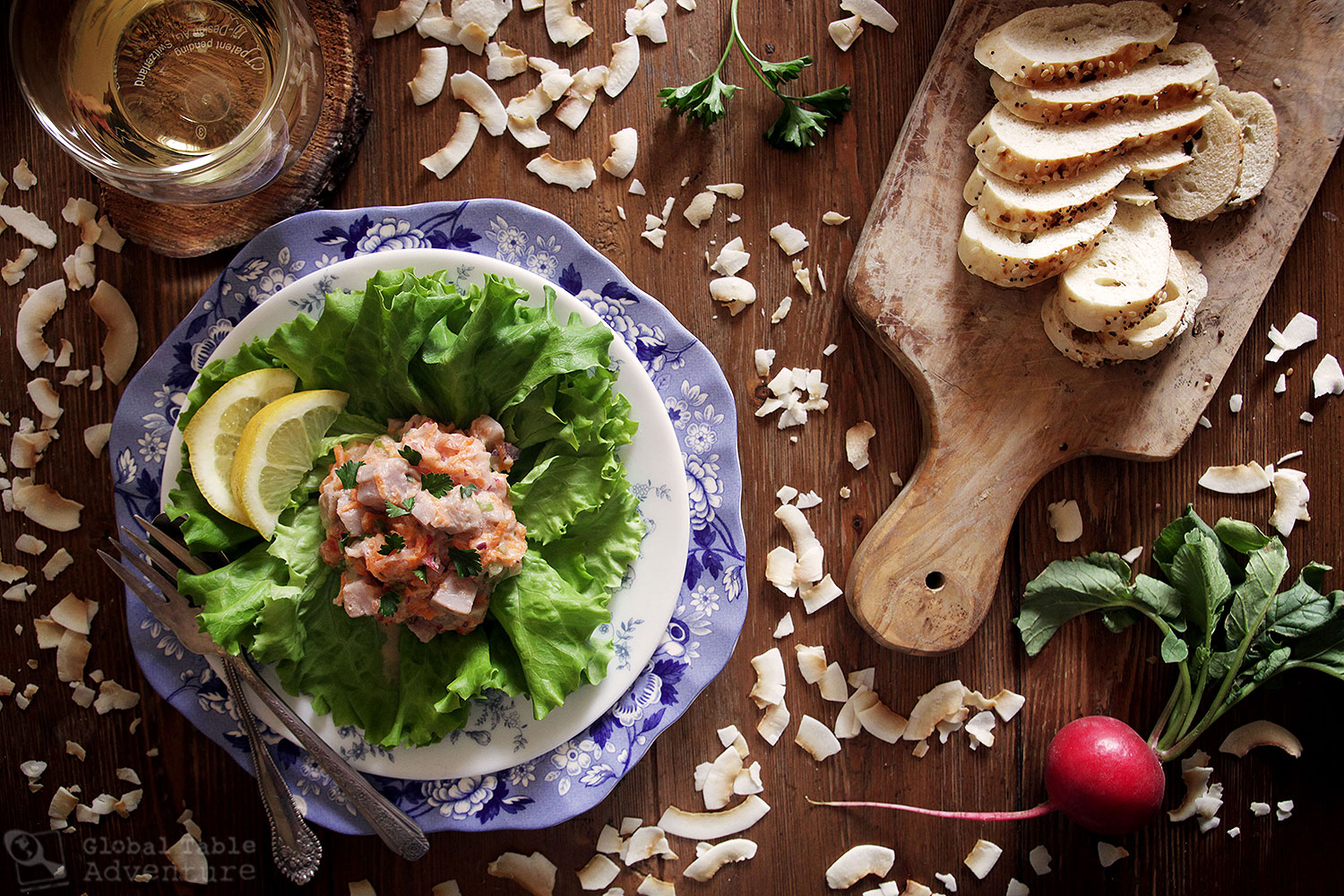 We all have our challenges. I'm sure there's something you have been trying to "reel in." As you work on your BIG FISH, consider trying Ika Mata. Ika Mata is a Māori dish of fresh fish "cooked" with lemon juice and marinated in seasoned coconut milk.
There's a garden's-worth of fresh vegetables in the dish, including spicy radish, chopped tomato, sweet slivers of carrot, and bright green onion bits.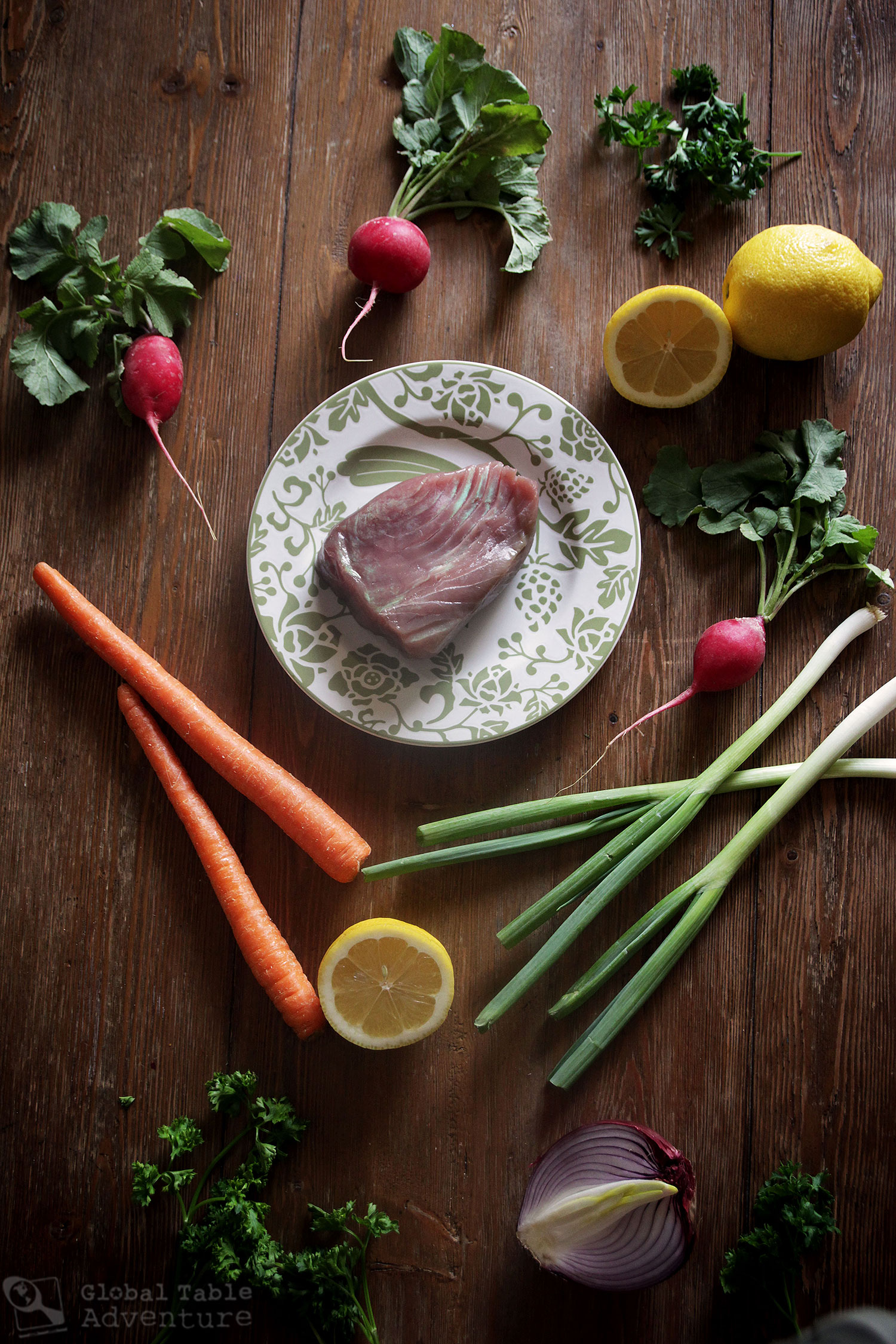 You can prep them while you wait for the tuna to "cook" in the lemon juice.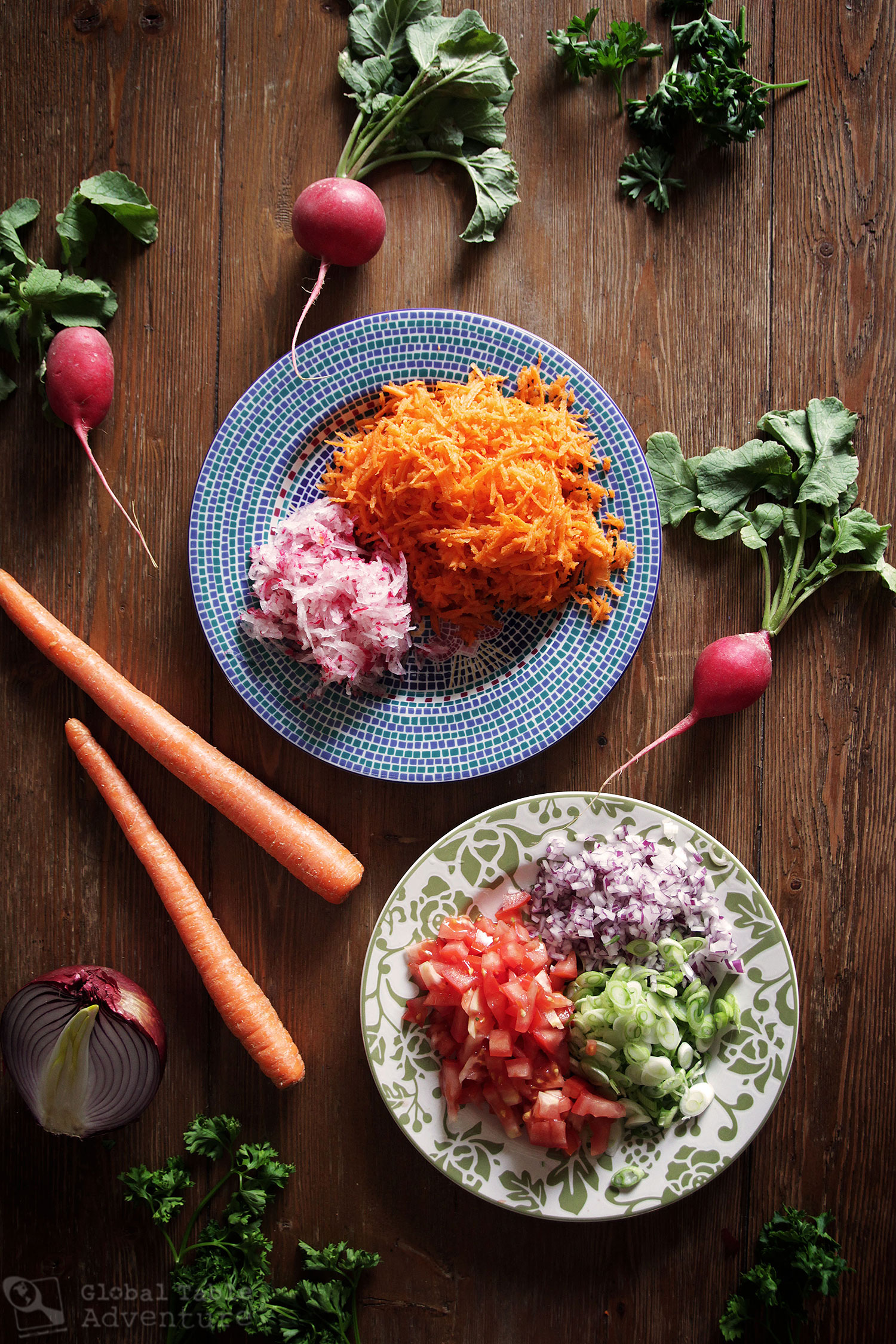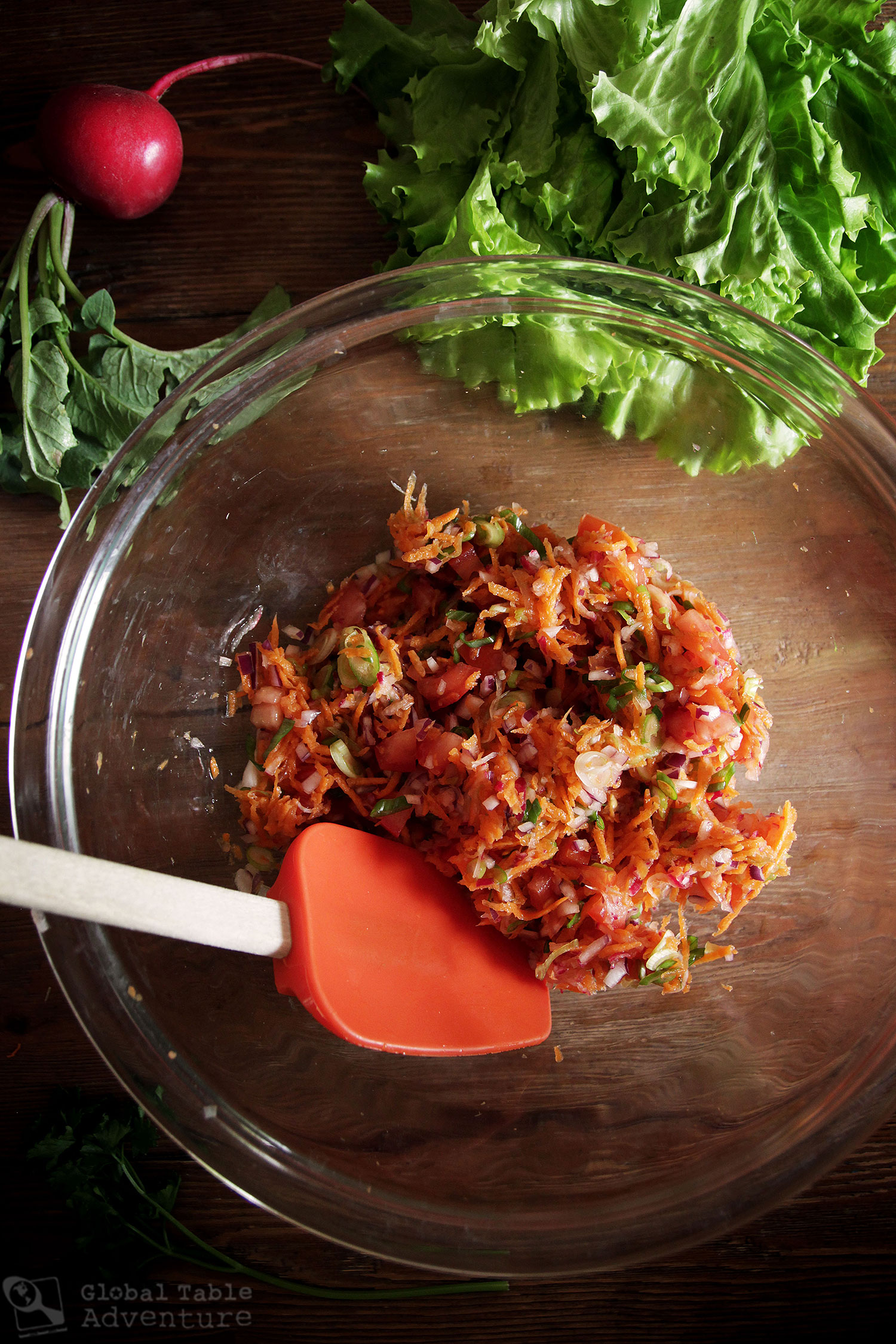 The dish is most popular on Cook Island (a territory of New Zealand). This is something like ceviche, but with a tropical spin. The tuna's high protein and rich coconut milk will nourish you while you work (or play).
See how pretty?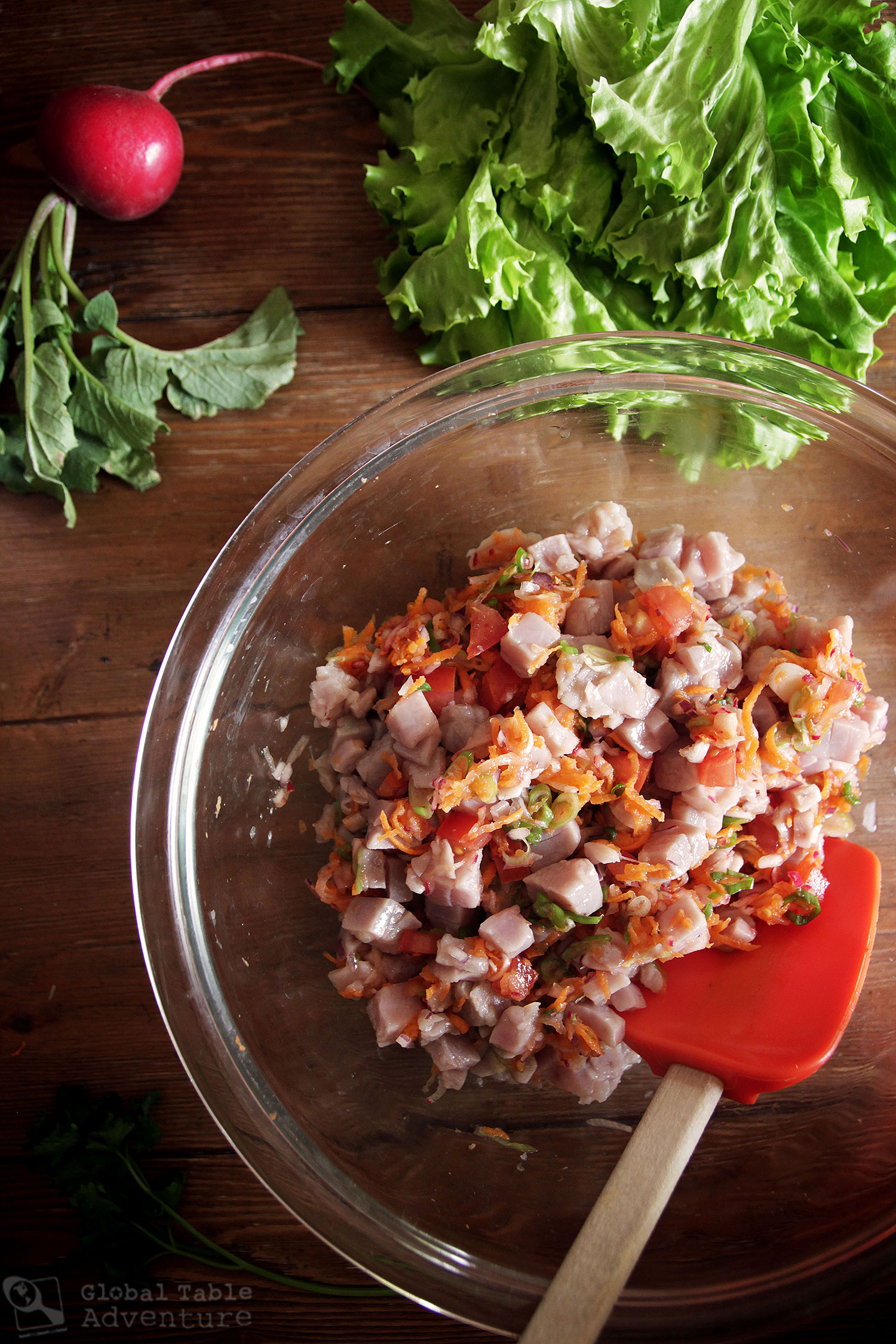 A little coconut milk binds all the ingredients together.
It's great on a salad…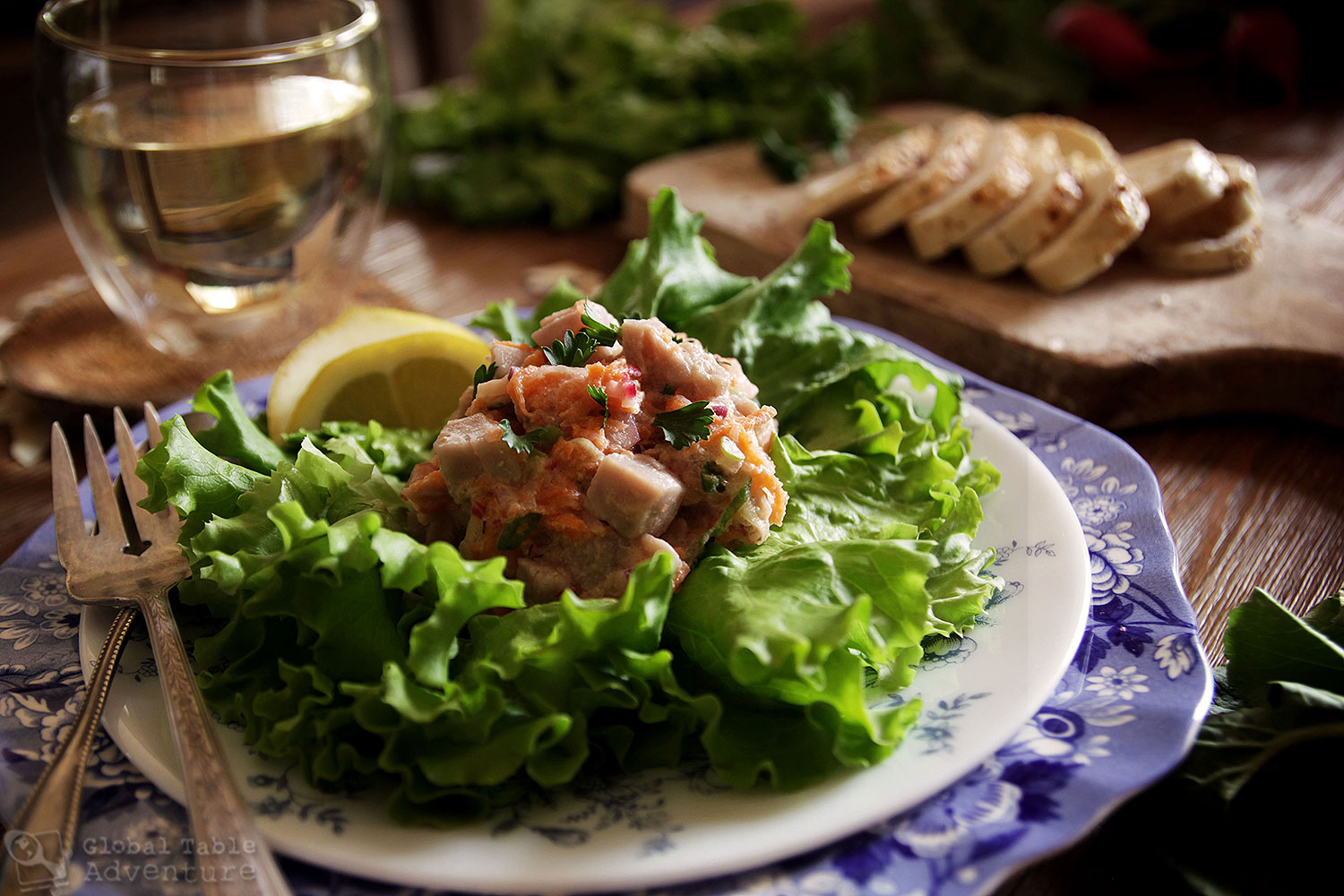 Or as an appetizer…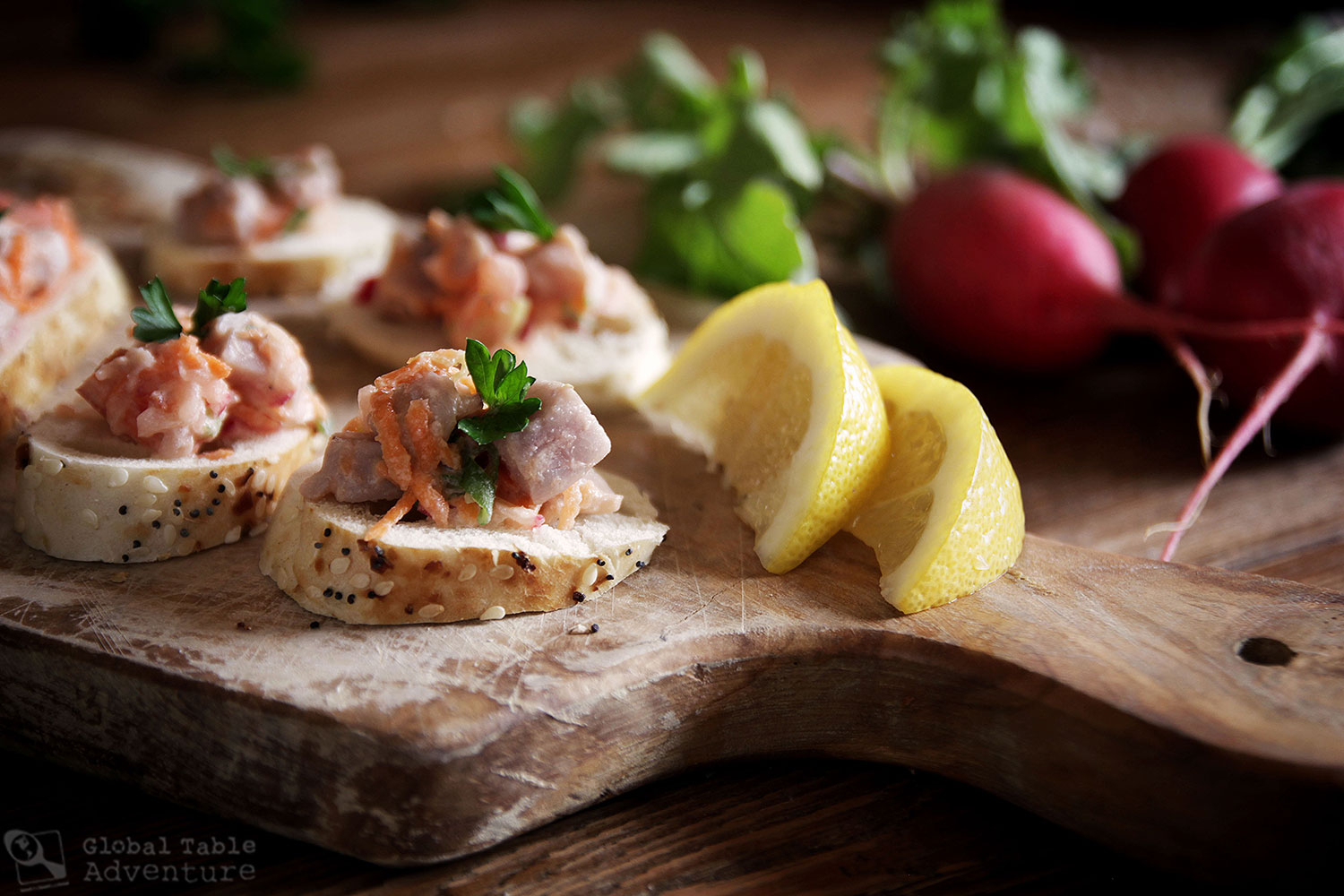 (Pro Tip: if you don't have any crostini, a bagel will do the trick in a pinch!)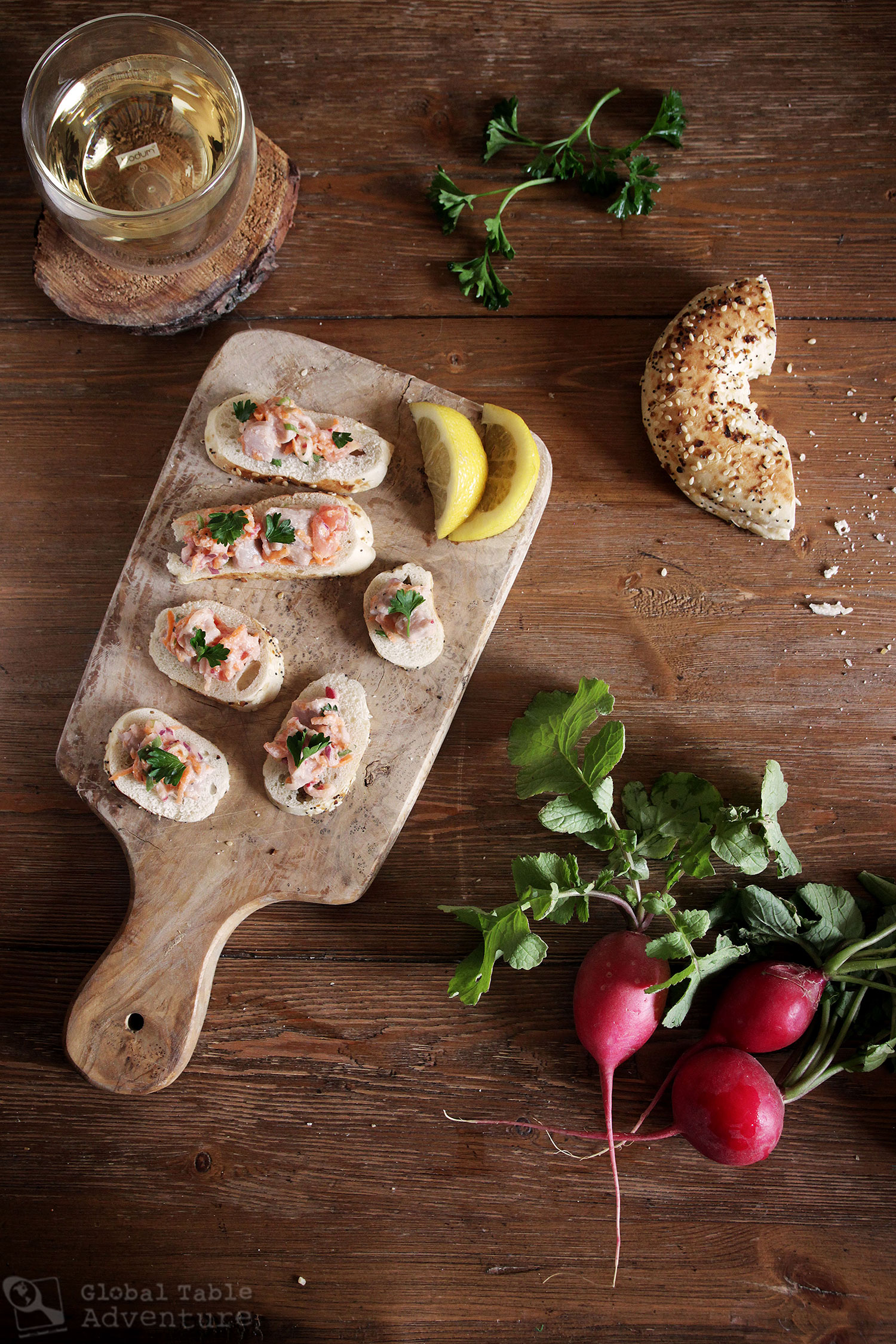 Also: My daughter is a decided vegetarian – she enjoyed her dish by subbing tofu for the tuna. (Hey if tofu ceviche good enough for Ellen Degeneres, it's good enough for us).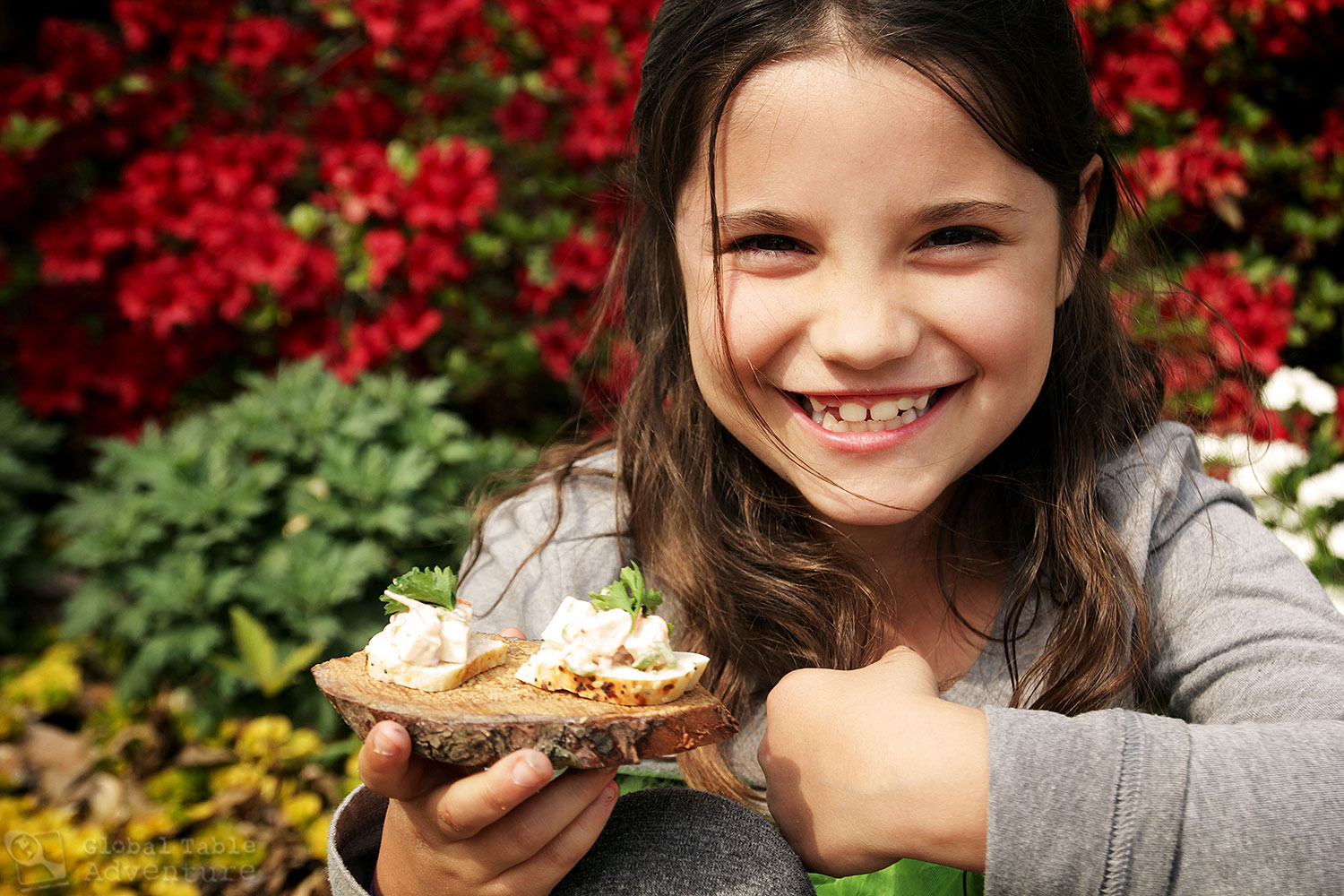 The cat seems to approve.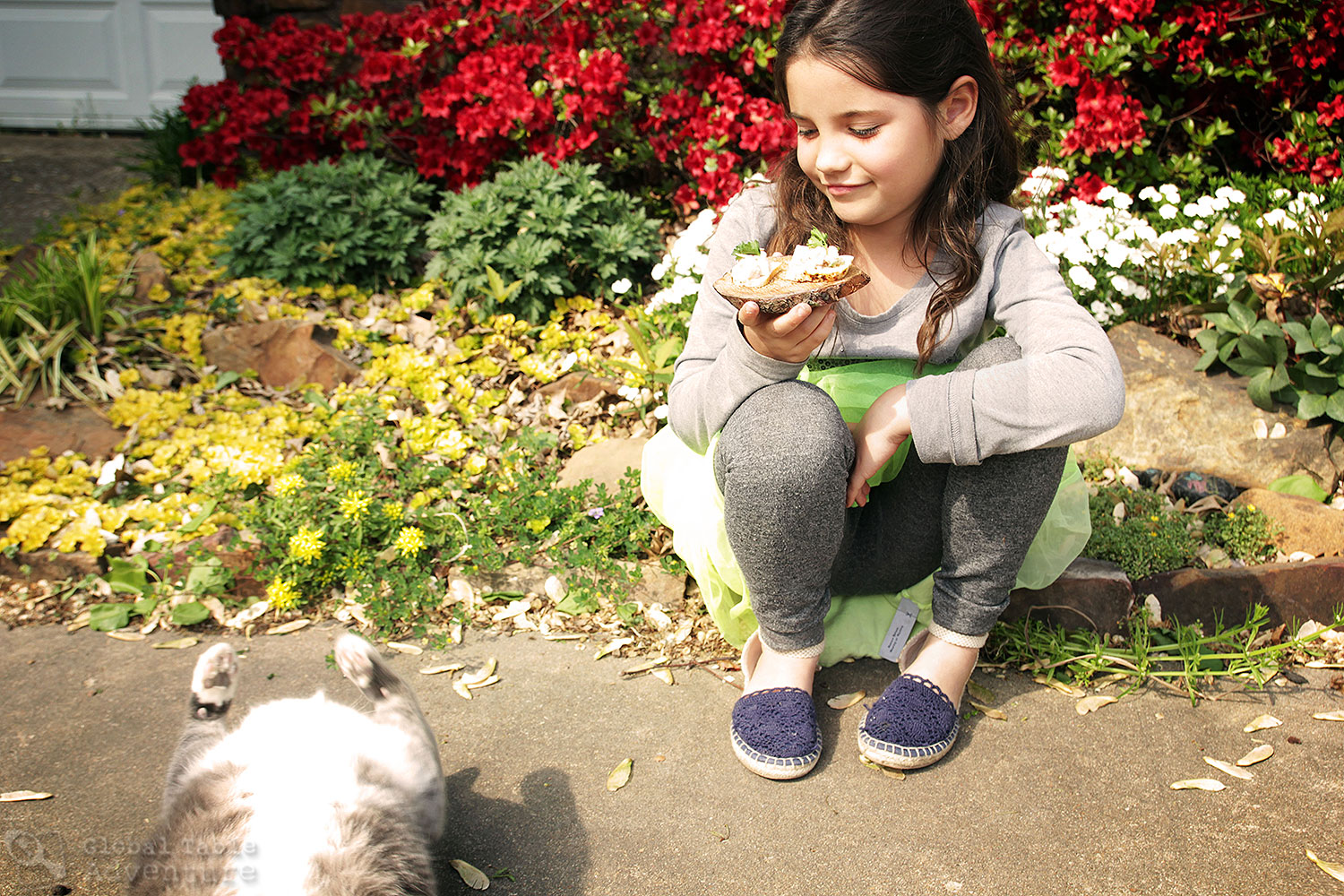 Resources:
More Maori Recipes
Maori Cooking Show, including a demonstration of Ika Mata
Māori mythology (of Māui)
Print Recipe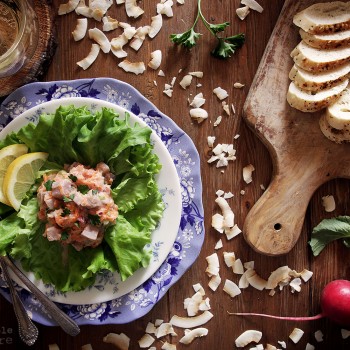 The dish is most popular on Cook Island (a territory of New Zealand). This is something like ceviche, but with a tropical spin. The tuna's high protein and rich coconut milk will nourish you while you work (or play). While I've used tuna here, you can also use grouper or snapper. You can easily make 75 small appetizers on crostini or serve 6 people a good, lunch-sized portion.
Ika Mata Fish Salad and the legend of New Zealand
Servings

Prep Time

6

people

20

minutes
Servings

Prep Time

6

people

20

minutes
In a medium nonreactive bowl (glass, ceramic, or melamine): stir together the diced tuna and lemon juice. Set in the fridge for a few hours, stirring once or twice.

When the tuna is "cooked" on the outside and pink on the inside, drain off the lemon juice and add the remaining chopped vegetables and coconut milk. Season well with salt.
For a meal: Arrange a large scoop onto a bed of lettuce and garnish with parsley. Serve with crackers or crusty bread.

For an appetizer: Heap a small spoonful onto crostini or small appetizer spoons. Garnish with parsley.
Source:
Recipe Copyright Sasha Martin, Global Table Adventure. For personal or educational use only.