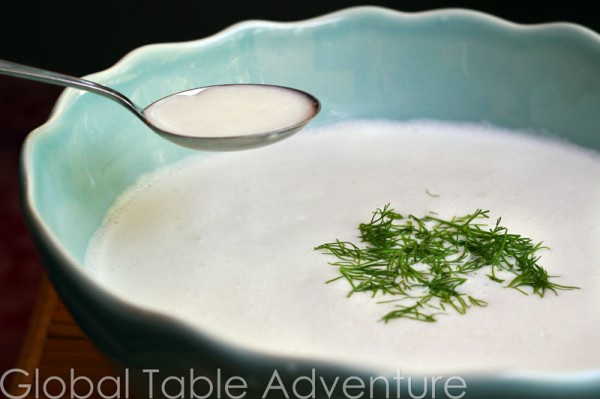 Serves 4
Is your air conditioner busted? No problem – you'll be cool as a cucumber as you sip on chilled Bulgarian cucumber & yogurt soup (Tarator).  Heck, take a bath in it. All that yogurt and cucumber has to be good for the skin. Right?
Although many people enjoy this soup with little pieces of cucumbers, I liked it extra vevelty smooth. If you would like the texture, reserve half a cucumber and thinly slice it. I'd do half moons, or even smaller.
Ingredients
2 small cucumbers, peeled, diced, salted & drained
3 cups Bulgarian yogurt
1 Tbsp olive oil
3 cloves garlic, crushed
2-3 cups ice water (optional)
dill for garnish
Method:
1. Place all ingredients (except water and dill), into a blender.
Removing the bitter skin of the cucumber makes the soup smooth and light.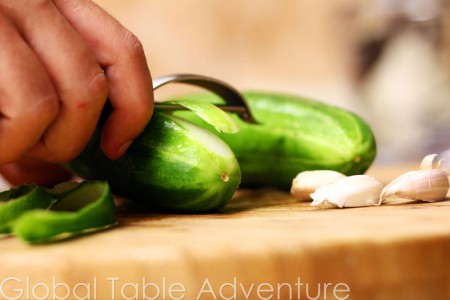 Salt draws out any lingering bitterness in the flesh of the cucumber. Let the juices drain out for about 30 minutes. You can skip this step if your cucumber tastes sweet.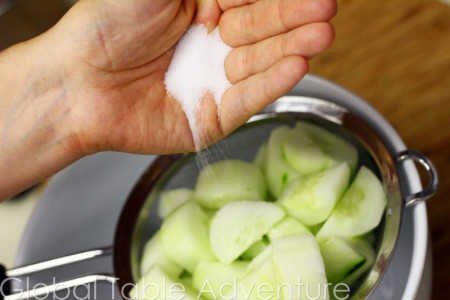 Here's the best part of the whole recipe – the yogurt. Bulgarians know how to make yogurt! Loose, tangy and full of wonderful live active cultures. Yum. Ava's been eating this for months.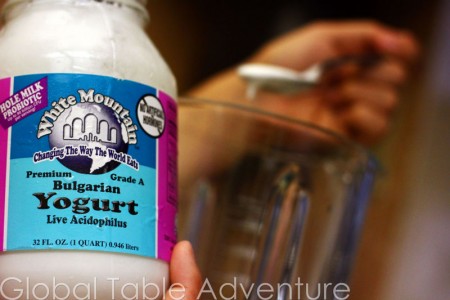 Ok! Let's assemble the soup.
It's as easy as one…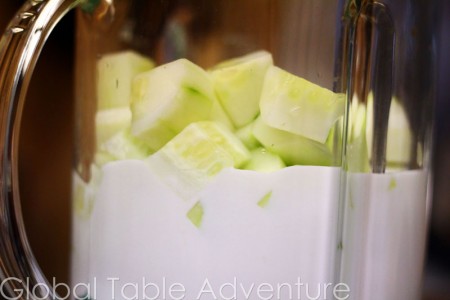 Two…
A little garlic gives the soup depth of flavor and a bit of bite.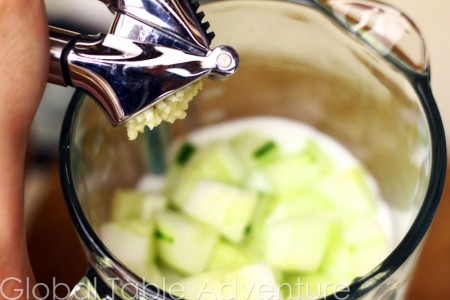 Three…
A splash of olive oil rounds out the flavors. Have I ever told you how much I love olive oil? I could drink olive oil for a living, if such a job existed. Just don't tell my doctor.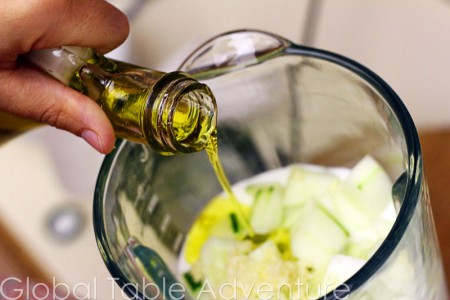 With an optional Four! 🙂
Although I added my water right away, I suggest pureeing the soup first. That way you can check the consistency and decide how thin (or thick) you want it.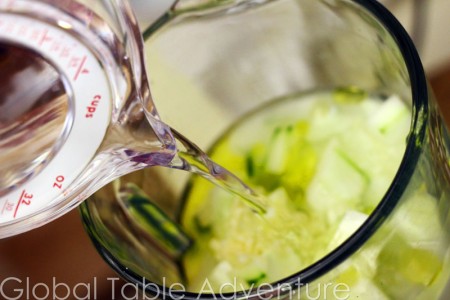 How pretty. How delicate! The little sprinkle of dill on top just throws me over the edge.
This dainty soup should be at bridal and baby showers everywhere!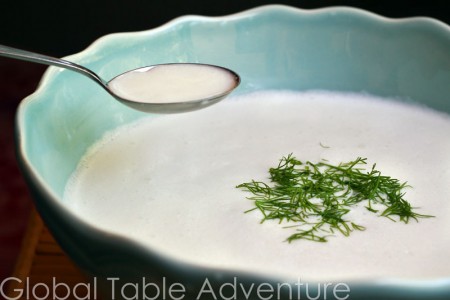 I can almost feel a cool breeze when I look at this photo, even though it was 101 today.
Actually, the car said 105 but I refuse to believe it.
It just can't be true.
Grumble, grumble, grumble.