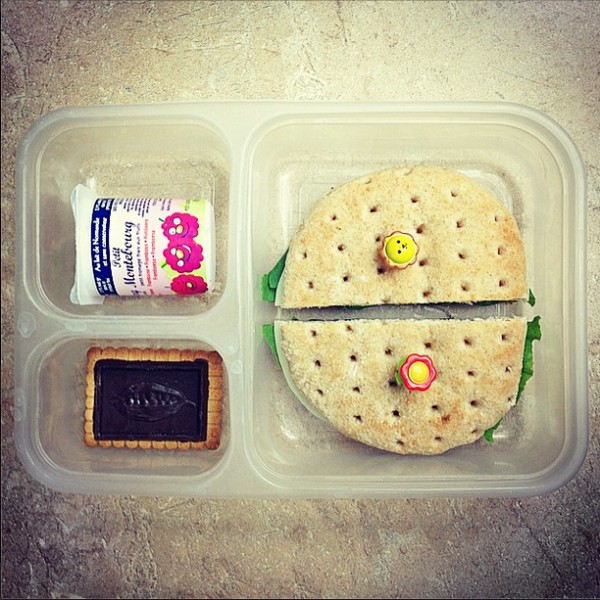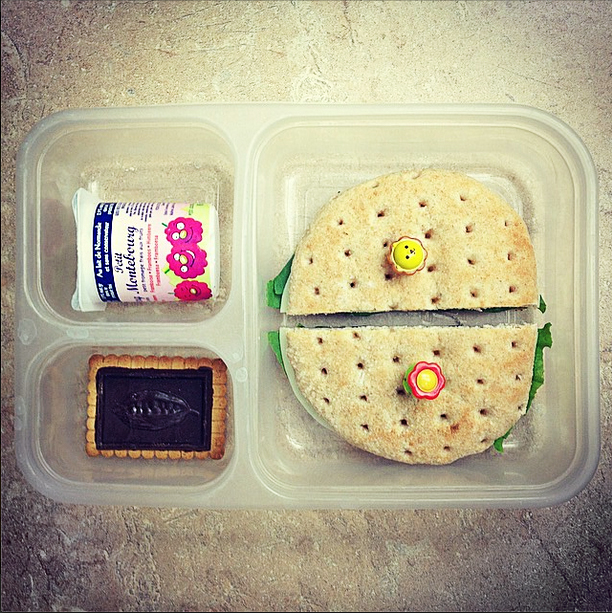 This week Ava's Around the World Lunch is inspired by the food of France.
The Snacks
We were in a bit of a hurry, so I started by grabbing some popular French snacks – a dark chocolate covered biscuit and a tiny, ultra creamy imported French yogurt called Petit Montenbourg (Ava's favorite flavor is raspberry, but the little six-pack also comes with flavors like pear, apricot and banana). It's really special that I can offer Ava the same snacks I enjoyed when I lived in France as a teenager (I was delighted to find both at Whole Foods).
The Sandwich
As for Ava's sandwich – we did a simple cheese sandwich, though butter and ham would also be very French. A little lettuce adds color and a bit of nutrition – remember romaine lettuce offers much more than iceberg (Romaine is 17% protein and one head contains 4 1/2 times more vitamin A than a large carrot!). I've always added greens to Ava's sandwiches, so it's never been a struggle to "get" her to eat them. Sometimes it's just easier to put them on the healthy path from the beginning, rather than try to correct bad habits later.
A Few Tips and Tricks:
We use thin breads a lot for Ava – at 5 years old, they're a lot easier for her to handle. If you're making lunch for an older child, try using a baguette or a croissant.
If you can't find the tiny French yogurts, you can use regular yogurt – simply look for flavors like pear, peach, raspberry, or apricot. If the yogurt is too big to fit into your lunch container, simply spoon it in. Add some fresh berries on top for a nutritious boost!
Why show you Ava's lunch?
Ava's Around the World Lunches began when I shared a few of Ava's globally-inspired lunches on Instagram and Facebook. Turns out a lot of people are looking for lunch ideas – whether for school or work.
In this weekly column, I share one of our Around the World lunches with you. I give you tips, like where to find ingredients or possible substitutions. If you have ideas for lunches you'd like to see or challenges you need help dealing with, let me know in the comments!