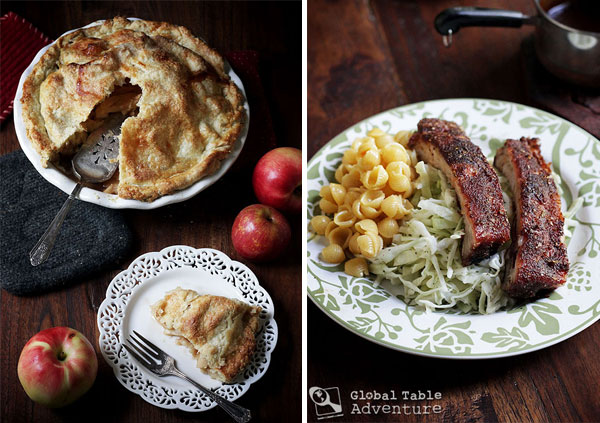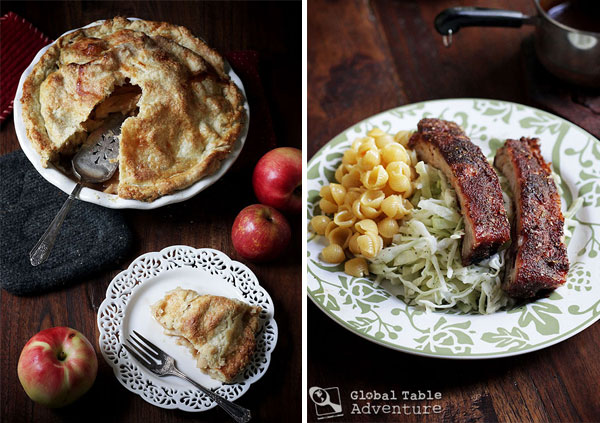 In yesterday's post, someone had a really great point: when it comes to American food, we mustn't forget the Native Americans. Yesterday, I spoke of Thanksgiving and how the Native Americans taught us to celebrate the harvest and abundance. Today should be no different.
Apples are the perfect example of the Native American mindset, even if not an actual recipe of theirs. The apples are harvested from American crops. They haven't been flown in from a continent away. As they are sliced and lovingly added to apple pie, they remind of us of the abundance right here, in our own land.
Even within our wide borders, we grow many varieties of fruits and vegetables. Let's be sure  to celebrate that which grows right here, right now, whenever possible.
Both recipes and the meal review will be posted throughout the week.
BBQ Ribs [Recipe]
Baby back ribs, dry-rubbed with an assortment of spices like paprika, garlic powder, chili powder, cumin, oregano and more.  After three hours on the grill with hickory wood chips, the ribs develop a lovely crust and practically fall off the bone. The finishing touch? Fingerlickin' BBQ sauce.
All-American Apple Pie [Recipe]
Warm apples, cinnamon, nutmeg, and bright lemon juice, all wrapped up in a homemade crust. Just like my mom used to make.
P.S. I really wanted to include an American proverb, but I wasn't sure what the best one to include was…
…any ideas or suggestions?