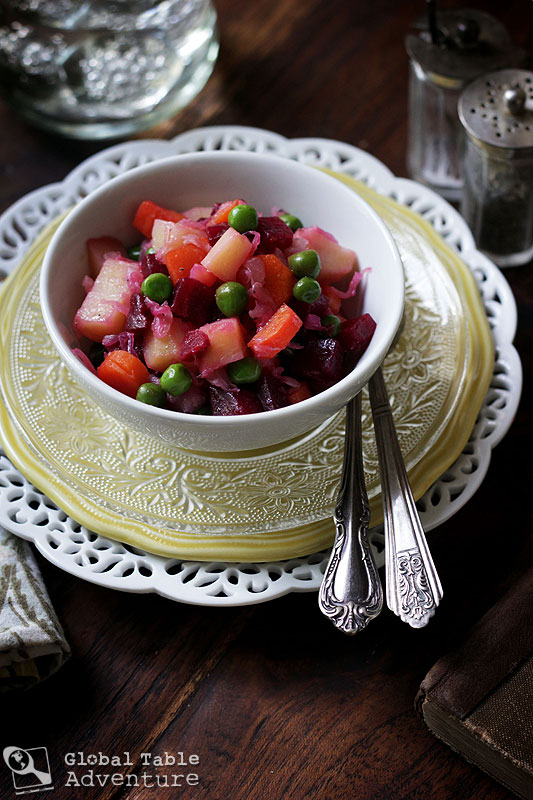 Well, hello. Today we're biting into a very pink salad.
There's not a lot of pink food I can think of besides strawberry ice cream. There's certainly not a lot of savory pink food. Unless you live in Ukraine, where beets reign supreme.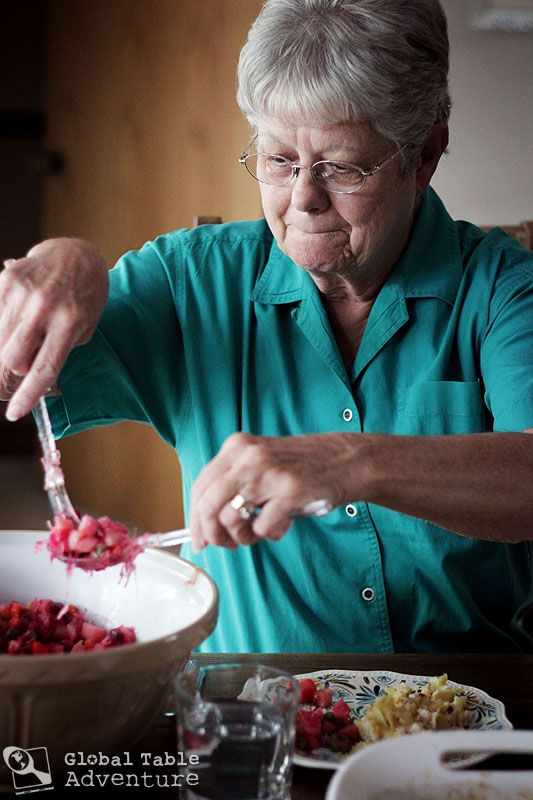 Beets are one of Ukraine's most beloved root vegetables, and for good reason. They're packed with fiber, vitamins A, B & C, magnesium, and iron. When they're not mixed up in borsch, beets make their way into salad vinagret.  This salad is a vegan meal unto itself as it includes potatoes, carrots, peas, and sauerkraut. Some recipes swap the peas and sauerkraut for white beans and chopped pickles.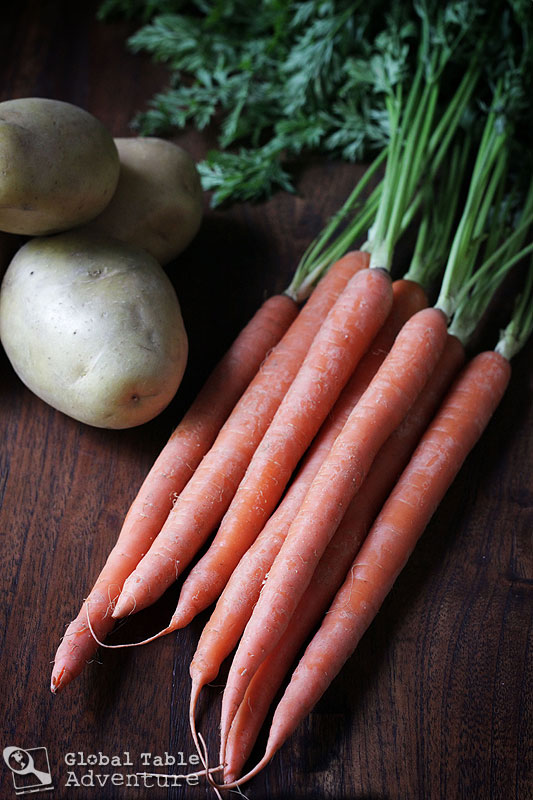 Salat Vinagret is funny, because there's nothing vinegar about it. In fact, there's no dressing added. The only "tang" comes from the sauerkraut, and the only seasoning from a bit of salt, pepper, and oil.
Done and done. 
The simplicity of this salad makes for a great summer supper, or autumn side dish (perhaps next to a few slices of pot roast).
We used canned, sliced beets to save even more time, though you could certainly roast your own. (P.S Have you heard about roasting them in the crock pot? Epic.)
Makes a large bowl (serves 10-12 as a side)
Ingredients:
3-4 golden potatoes, cubed
5-7 carrots, cubed
2 cups frozen peas
2 cans sliced beets, drained and cubed
a few dill pickles, cubed, OR 15 oz can sauerkraut, rinsed & drained
olive oil (be generous)
salt & pepper (be generous)
Method:
The best way to get perfectly cut veggies is to cut them before cooking them.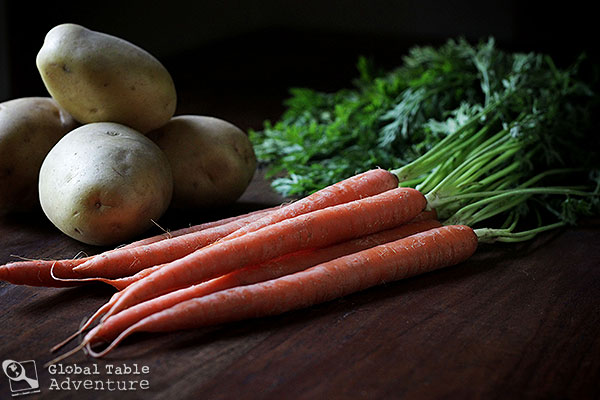 Steam the cubed potatoes and carrots until tender.
Turn off heat, then add on the frozen peas. Shut lid and let the residual heat from the vegetables steam the peas. Do not remove the lid for 10-15 minutes.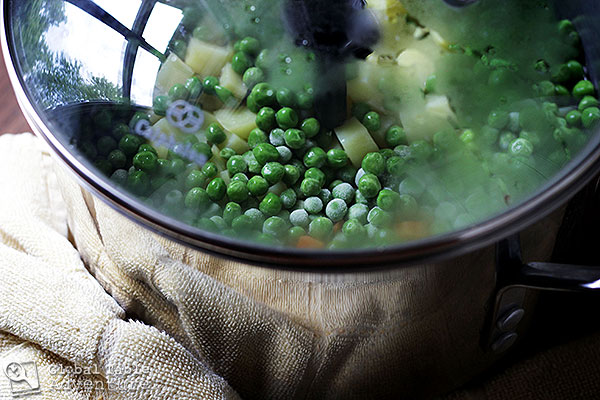 Next, add chopped beets to a large bowl.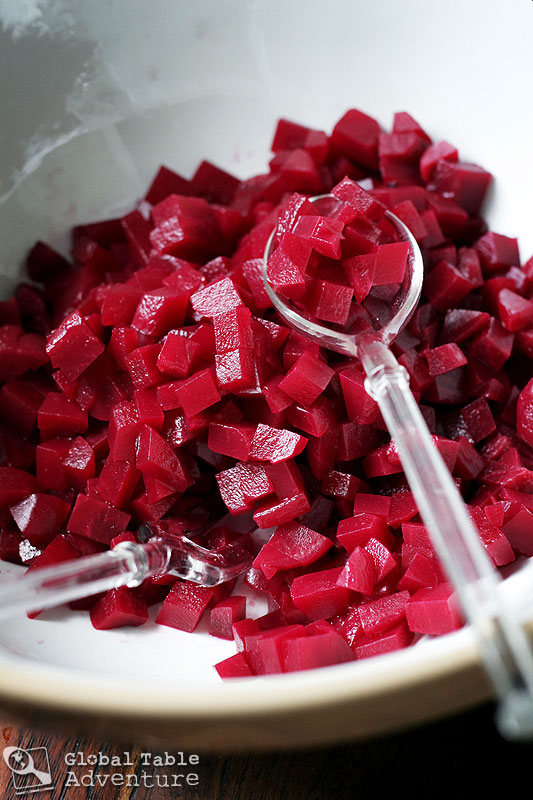 Add on the steamed vegetables.
Finish with the pickles or sauerkraut, and toss with olive oil, salt and pepper, to taste.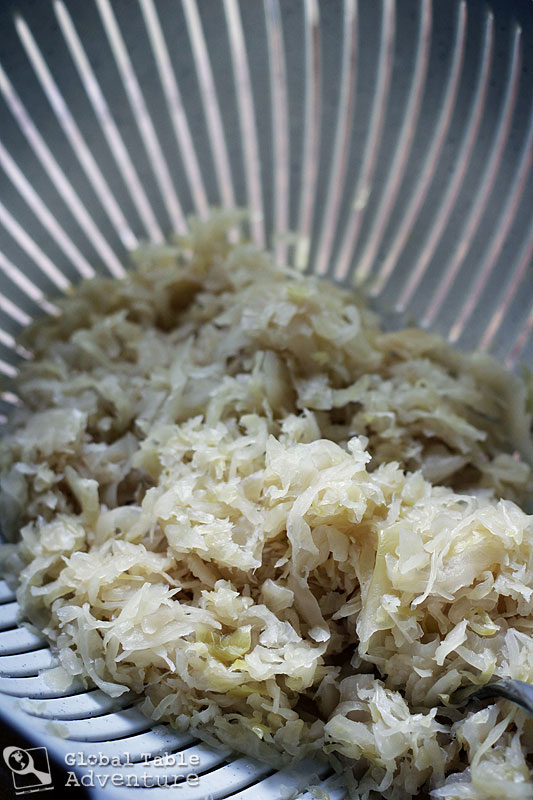 The Ukrainian salad is even better the next day. Just be sure to taste it and see if it needs more salt or pepper.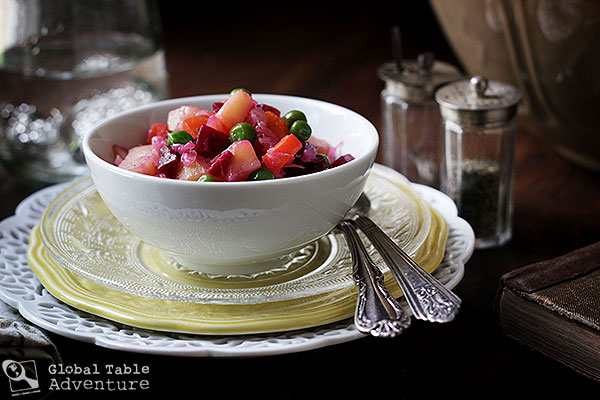 Enjoy at the edge of a dream, in gorgeous Ukraine.
Perhaps at midnight, between here and there.
How do you like your beets?
Or are you one of those stubborn souls who just won't… bite?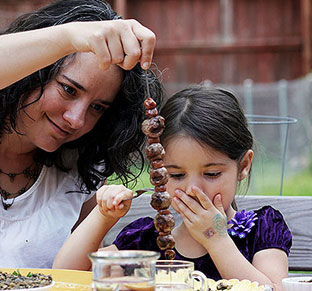 Hungry for more?
Be notified when National Geographic releases my memoir.
Simply fill in your details below.