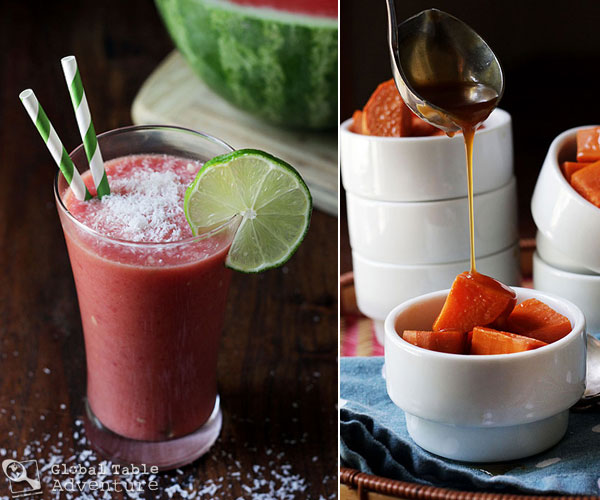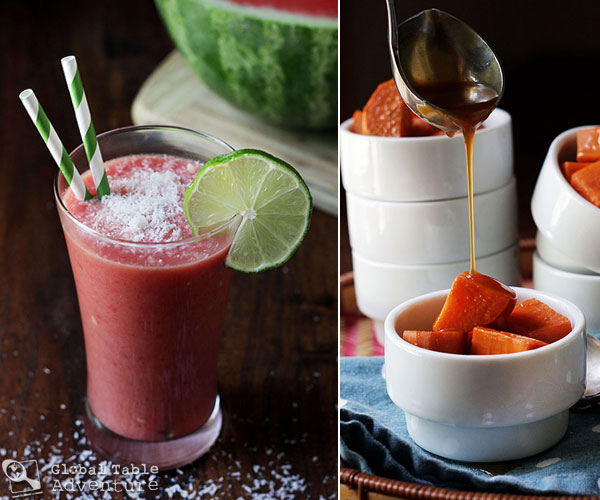 Apparently the fine people of Tonga have quite the sweet tooth. Whether it's the coconut caramel sauce (which they put on everything from boiled taro to dumplings), or the watermelon chiller, Tonga serves up sweetness in all they do.
I for one can appreciate the natural sweetness, especially in the drink.
Try the sweet potatoes as a snack or on the side of grilled meats. The drink is great any time of day, but is a perfect alternative to punch or lemonade at your next gathering.  Oh, and, yay for an accidentally vegan menu. Because… why not?
All recipes and the meal review will be posted throughout the week.
Sweet Potatoes in Coconut Caramel Sauce [Recipe]
Gussy up your candied sweet potatoes like they do in Tonga -with a totally vegan coconut caramel sauce and a dusting of shredded coconut. Pretty and easy!
Coconut Watermelon Refresher | 'Otai [Recipe]
Mashed watermelon blended with coconut milk and shredded coconut. Don't forget the twist of lime!
P.S. As you enjoy your meal, consider sharing the Tongan greeting, which is like a kiss on the cheek, but with a big sniff. The inhale represents sharing the breath of life, a.k.a. Mana. Can you imagine yourself doing that with friends? Family? Strangers?