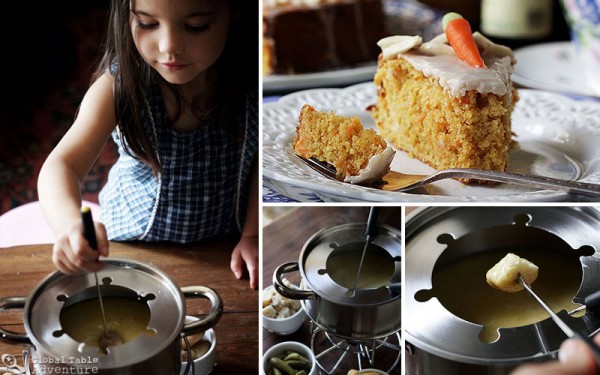 "Who doesn't honor the Rappen isn't worth the Franken"
Swiss Proverb
I'm not one to pass up a penny on the ground. If I were in Switzerland, I suppose I'd pick up a Rappen with the same thrifty care as any penny on our soil (Rappen are like Swiss Pennies).
Apparently, I'm not alone. Enough Swiss people feel the same way, that they came up with the proverb at the top of this post: "Who doesn't honor the Rappen isn't worth the Franken" (100 Rappen make up a Franken).
But this proverb isn't really about money. This is about the seemingly unimportant details of our lives that we overlook in the hustle and bustle of day to day living.
But these little details ARE important.
So much so, that the Swiss tell us, if we don't take the time to care for the small things in life, we aren't worth the big.
So what 'Rappen' have you been ignoring lately? Is it time to pick it up and give it some attention?
And while we're at it, can a bite of Fondue help? How about Swiss Carrot Cake?
All recipes and the meal review will be posted throughout the week.
Swiss Fondue [Recipe]
Have a hunk of bread that needs some lovin'? What about boiled fingerling potatoes? Dip them in our fondue, an ooey gooey blend of Gruyere and Emmentalier, melted with a happy slosh of white wine and a punch of garlic.
Almond Carrot Cake | Aargauer Rüeblitorte [Recipe]
This is not your grandma's carrot cake. Unless you happen to be from Switzerland. Aargauer Rüeblitorte  is everything fluffy, light and airy, with the haunting addition of ground almonds and lemon glaze. P.S. This cake knows that everything is better with marzipan carrots. In case you were wondering.