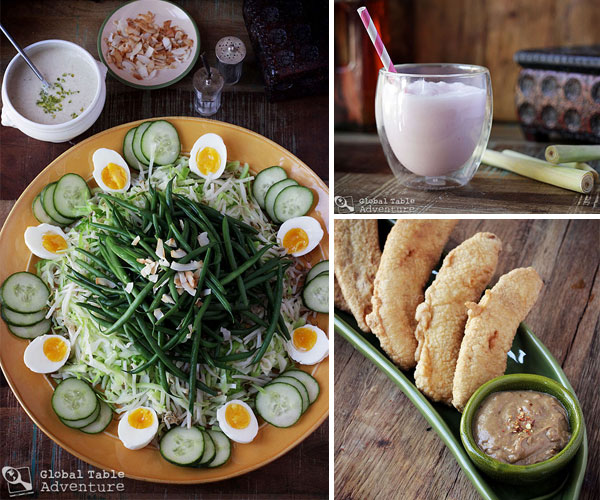 Don't be confused. Though this menu looks and feels quite Asian, these dishes represent Suriname as well as any other. We have everything from the traditional plantain fritters so beloved in South America, to Asian-inspired cabbage salad and even an addictive lemongrass slushie. Coconut milk is the common thread in the drink and the salad – the result being sweet for the drink, spicy for the salad dressing.
All recipes and the meal review will be posted throughout the week.
Mixed Vegetable Salad with Coconut Dressing | Goedangan [Recipe]
Hello, spring! Enjoy this bright and fresh salad of cabbage, green beans, eggs, mung bean sprouts… all dressed up in a coconut yougurt dressing.
Battered Plantains with Peanut Sauce | Bakabana [Recipe]
Indulge in Surinamese comfort food: deep fried plantains. Serve 'em up with either powdered sugar or peanut sauce. (Vegan)
Lemongrass Dawet Slushie [Recipe]
You'll be pretty in pink while you sip this lemongrass, coconut milk slushie (or mix things up and serve the mix on the rocks). (Vegan)
P.S.  Random Tidbit about Suriname: rumor has it, any adult under the age of 30 must have written permission from their parents to get married. What are your thoughts on this? Would that work for you and your lifestyle? Or would you rather be unhindered by the opinion of your elders when it comes to love?