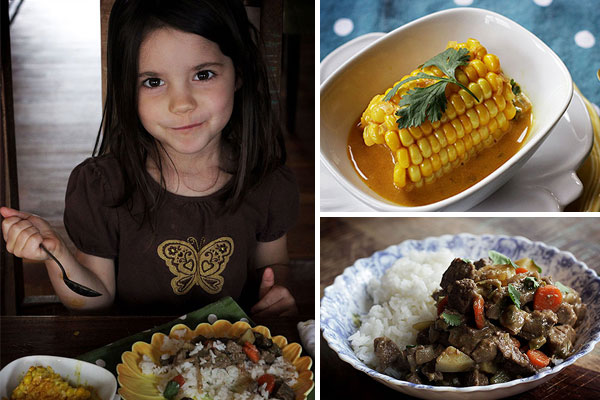 Somalia quite the melting pot, and this week's menu shows it. The food is peppered with a little bit of Italy (hello, tomato sauce & garlic!), a lot of east Africa (howdy, stewed meat with veggies!) and a smidgen of India (hey there, yellow, yellow turmeric!).
I made this menu while Ava was home from school, so I purposefully chose recipes that were easy to make. That way I'd have more time to wiggle and spin my way through a toddler dance party.
Priorities.
Even with such simplicity, I think you'll be pleasantly be surprised by these recipes. They're just unusual enough for a dinner party, but easy enough for a week night.
My kind of food.
All recipes and the meal review will be posted throughout the week.
Beef Suqaar [Recipe]
If there was ever any comfort to be found in slowly simmered meat, this is it. A cozy combination of beef, carrots, peppers, onions, and potatoes. The flavor comes from the very Italian addition of garlic and onion. If you want to spice things up, a hot chili pepper is grand, too.
Coconut Curried Corn | Galey iyo Qumbo [Recipe]
The sauciest corn you've ever had. Simmered with coconut milk, onion, tomato sauce, and turmeric. Creamy, yet vegan.