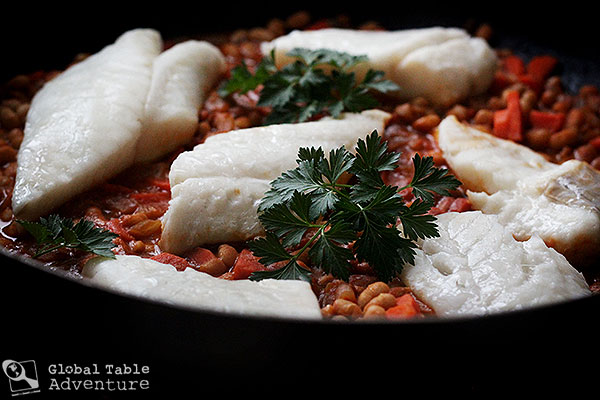 One of our readers, Annabelle, suggested we try today's Cod Fish Feijoada. This filling, yet healthy Portuguese stew made it's way to the islands of São Tomé and Príncipe during colonization. Things have evolved quite a bit since then. While most Feijoada's involve black beans (even as far away as the one we made for Brazil), the islanders favor this white bean version and make it with readily available fish (and sometimes pork).
The entire principal is a slow-cooked, tender meal full of flavor from raw beans. In the old country, a variety of herbs and spices might be added, but things are simplified on the islands. Some recipes don't even include the carrots as I have (and they might as often be substituted with cabbage). The really distinct part of São Tomé and Príncipe's recipe is the red palm oil – a signature ingredient in West African cooking. I found mine at Whole Foods, but you can get it a lot cheaper at local African markets (such as Ebute Tropical Market in Tulsa).
Since the fish cooks so quickly, I opted for a weeknight friendly Feijoada… something that can be thrown together in 30-45 minutes (almost that entire time is hands off). If you'd like to go the mellow, slow-cooked route, use soaked dried beans and fresh tomatoes. Be sure to cook the beans until tender before adding the fish.
Ingredients:
2 tablespoons red palm oil, or more to taste
1 onion, chopped
3 carrots
2 15 oz cans white beans, rinsed and drained
8 oz canned tomato puree
8 oz vegetable stock
salt & pepper, to taste
1.5 lbs boneless cod fish fillets, cut into large pieces
parsley, for garnish
Method
First step, let's make the house smell amazing! Fry the onion and carrots in red palm oil for a few minutes until softened.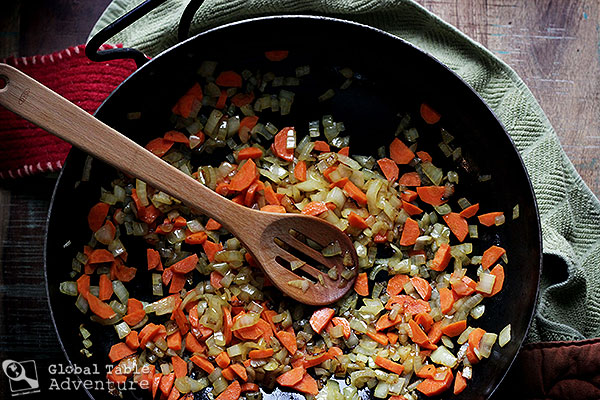 Next, add the pretty white beans, tomato puree, vegetable broth, salt and pepper. Simmer until carrots are tender, about 30 minutes, stirring occasionally. Check the seasonings and adjust to taste.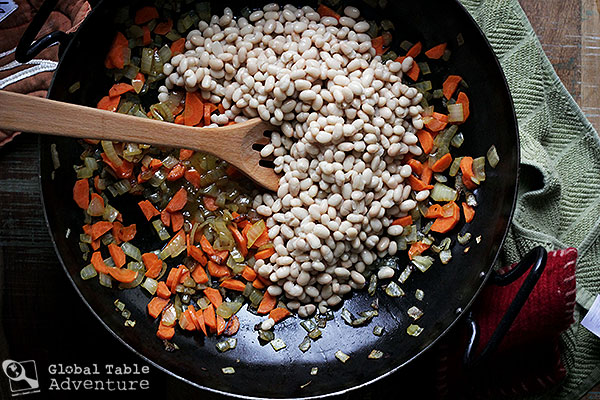 Add the fish, cover and continue to simmer until cooked through (time will vary depending on your slices, but this took about 15 minutes for me). Finish with an extra drizzle of red palm oil, if you're feeling particularly Santomean!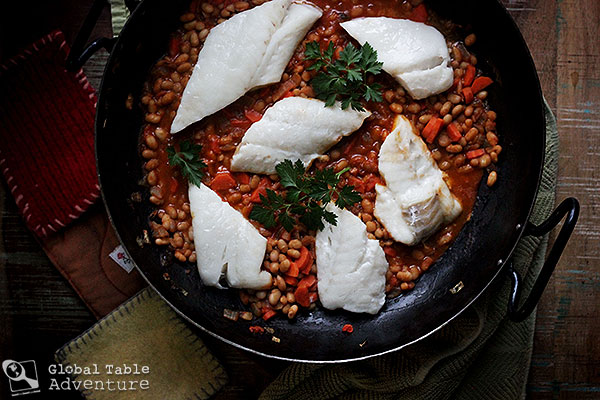 Enjoy with a smile and a couple of friends.
Life can be this simple.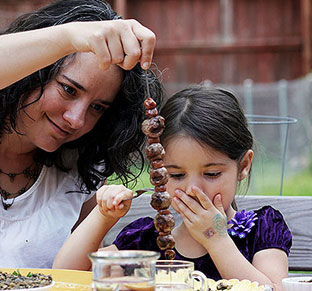 Hungry for more?
Be notified when National Geographic releases my memoir.
Simply fill in your details below.