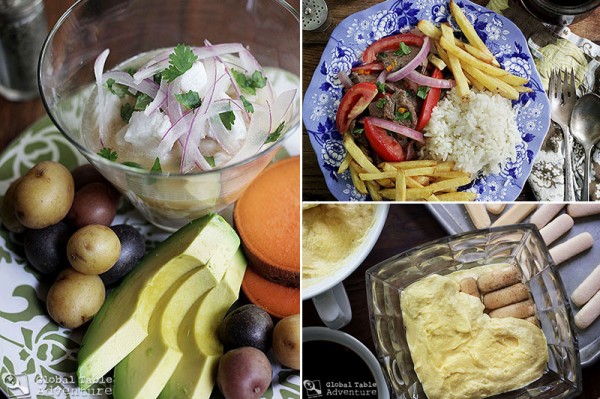 There's a Peruvian proverb that reads… "Gold, when beaten, shines."
This simply means it takes a little elbow grease to make even gold look good. As with most things in life, the more effort we put in, the better things go. I've been trying to teach this important lesson to Ava, especially when the going gets tough. Not everything is as instantaneous as twitter or as fun as facebook.
Incidentally, I've been using this proverb as I prepare to deliver a speech tonight in front of 350 people at the Global Vision Dinner here in Tulsa, put on by the Tulsa Global Alliance. I'm excited but scared. I've never spoken in front of that many people before.  Keep me in your hearts – I'll need strength to let my message shine.
And, now, for the food of Peru, which (thankfully) shines with hardly any effort on our part. Especially that delectable ceviche…
…all recipes and the meal review will be posted throughout the week.
Ceviche [Recipe]
Find out why one Peruvian calls this the dunkin donuts of Peru. Our ceviche is made with halibut, a blend of lemon and lime juices, fresh ginger, a pinch of cumin, and rocoto peppers.
Chifa Beef Stirfy | Lomo Saltado [Recipe]
Chinese and Peruvian cuisine unite in this stirfried beef seasoned with garlic and cumin, vineger and soy sauce. The very Peruvian way to serve it? With French fries and rice. Double carbs all the way.
Peruvian Tiramisu [Recipe]
The secret to one of Peru's favorite desserts is lucuma, a fruit that tastes like sweet potato and caramel. Perfect for autumn.
WEEKLY GIVEAWAY
TO ENTER: Follow these 3 easy steps for creating your dream "My Global Table" pinboard… and be sure to link to your pinboard at the bottom of this post. That's it!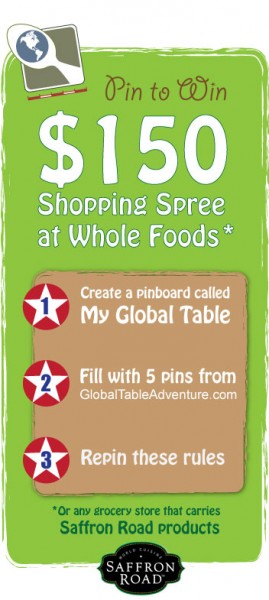 Note: You must be a member of Pinterest.com to enter, and you must be following Global Table Adventure's Pinterest pages . If you do not have a Pinterest account, you can sign up for one here . Please link to your pinboard in the comments below.
You must create the Pinboard to be entered, but for bonus entries, comment here how you'd spend the $150, share the contest on Twitter and on Facebook.
Easy peasy!
This contest launched August 22, 2012 and ends November 18, 2012 at Midnight.
A special word…
I'm proud to have Saffron Road as a partner, supporting our Adventure to eat the world. I love that we share similar values… just read what they have to say about the food they make:
We know that great food begins at the farm, so we source our ingredients from only the finest producers available. It's no coincidence that we buy from small sustainably run family farms. All of our livestock are humanely raised with 100% vegetarian feed and are never given antibiotics. Our halal tradition demands their proper care and welfare.
Glorious.
If you want to be a gem, you'll check out their pinterest pages, too.