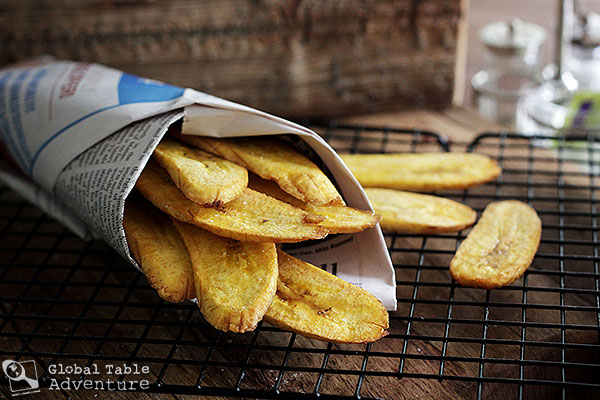 Fried plantain chips are a slice-it and deep-fry-it situation that you'll find all over Panama (and beyond). They're the kind of yummy you can enjoy whether you're grouchy and glum or over-the-moon happy.
Today I made a nice "thick cut" chip – for a little crispy-chewy action, although tostones are often shaved skinny, like potato chip.
Either way you'll find it helpful to use a mandolin for nice, even slices.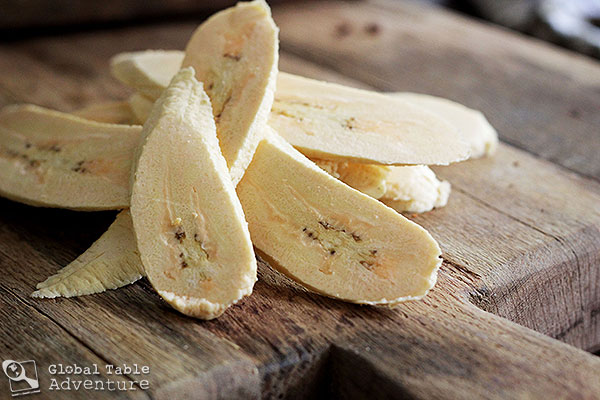 This is nothing like a sweet banana (looks can be deceiving). This is her savory cousin – full of good fiber and lots of potassium.
I like to remind myself of that, as I reach for my second and third helpings.
Serves 2-4 as a snack
Ingredients:
2 green plantains
vegetable oil for deep frying
sea salt
cracked black pepper
Method:
For starters, peel your plantain.
Tip: Peeling a green plantain can be a little tricky. The easiest way is to cut off the top and bottom and score a line along the length of the plantain. Lift up from this line to remove the peel. If it still gives you trouble, give it another score around the middle.
Then cut the plantain at a sharp angle, so the chips are long and lean.
While it's not necessary, plantains benefit from a little pre-soak in cold water for 15 minutes (like French fries). This will remove excess starch and help crisp up the plantain chips.
Dry them well and fry in oil at 375F until golden brown.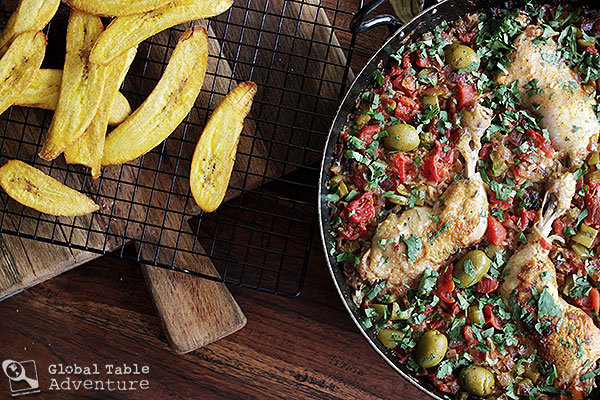 Add plenty of sea salt to take your heart to windswept places. A little cracked pepper never hurts, either.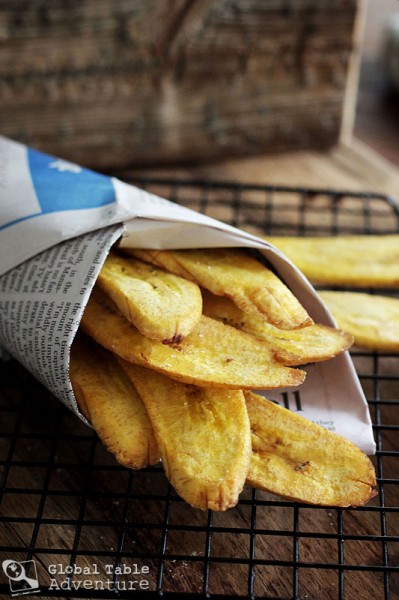 There's nothing simpler, except enjoying them on a breezy day while the clouds roll by.
Are you in?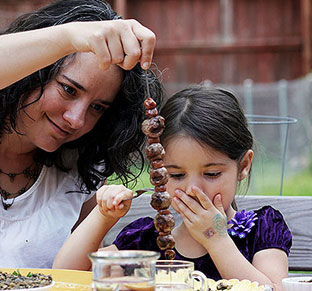 Hungry for more?
Be notified when National Geographic releases my memoir.
Simply fill in your details below.