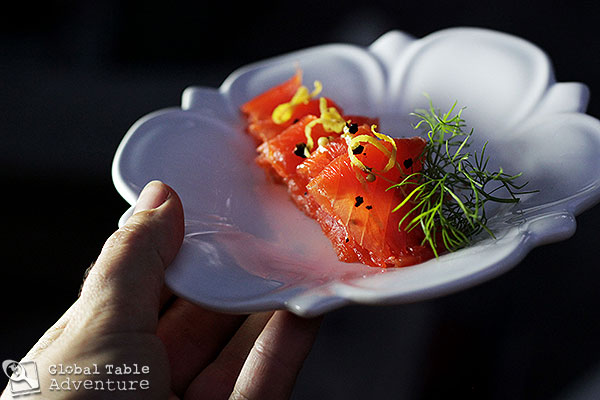 I can be so wimpy. Sometimes I need a little push. A little motivation. Like that time I wanted to dive off the tall board at the pool. It was seventh grade and I was so scared my heart was in my ears. Thump, thump, thump. I could hardly see. Even my knees were woozy. I held hands with a friend and, after a thirty-minute long giggle-hesitation, I actually jumped in. Unfortunately, the force of jumping 15 feet did things to my bathing suit I still don't want to talk about.
I never did jump off that board again, although I'll always be glad I did.
Today is much the same. Gravlax, our second Norwegian dish for our Global Table. The very idea of eating made me weak in the knees.
(Tip: Invite a Scandinavian friend over to help get you over those giggle-hesitations).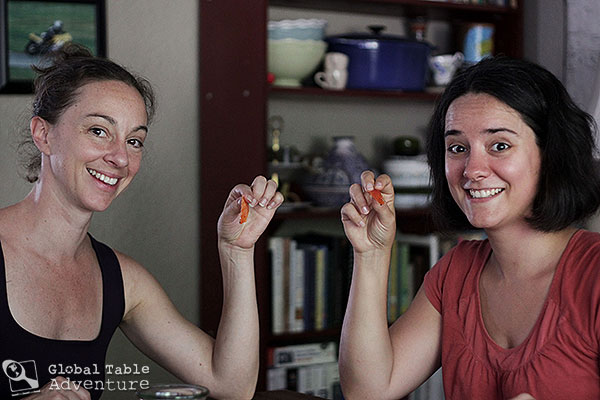 Gravlax is cured salmon, a.k.a. raw salmon that sits in a bed of sugar and salt for three days or until firm and ready to eat. The flavor is typically enhanced with items like dill, lemon peel, spirits, cracked pepper, and more. It tastes a lot like smoked salmon, but fresher, brighter, and sweeter.
The entire point is that gralvax is never cooked, wherein lies my initial fear. So many questions ran through my head, but especially, what if I give us all food poisoning?
But here's the good news… gravlax has been made for hundreds (thousands!) of years. Curing is a trusted way to preserve salmon and there's no reason to believe that, with excellent quality fish, I'd have anything less than excellent quality gravlax. Certainly, no one in Scandinavia is the worse for eating salmon this way.
My wimpiness has no place in this page. So let's dive in, shall we? I'll be happy to hold your hand, if you'd like.
NOTE: Traditional recipes use white sugar, but I was feeling rebellious and used brown sugar for deeper flavor. Also, most recipes call for entire bohemouth fillets of salmon (or sometimes two). I went for a smaller recipe for several reasons. First of all, even my little piece of salmon cost almost $32. That was quite enough money for me to spend, thank you. Second of all, if this is your first time making gravlax or you only need it for a small party, this is the exact right amount without any leftovers.
Ingredients:
1 1/2 lbs center cut salmon fillet (the highest quality you can find)
1/4 cup salt
1/3 cup white (traditional) or brown sugar
1 tsp peppercorns, coarsely cracked
1 tsp mustard seeds, coarsely cracked
1/4 cup chopped dill (loosely packed)
peel of 1 lemon
2 Tbsp Aquavit, brandy, or gin (I used brandy)
Method:
Fly to Norway, get out your fishing rod and catch yourself a beautiful salmon.
The grocery store works, too. I found a sunset-colored piece of wild fresh King Salmon.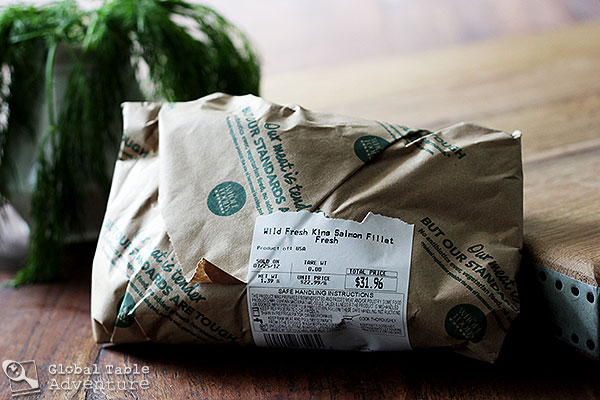 Soon it will be married to these beautiful flavors…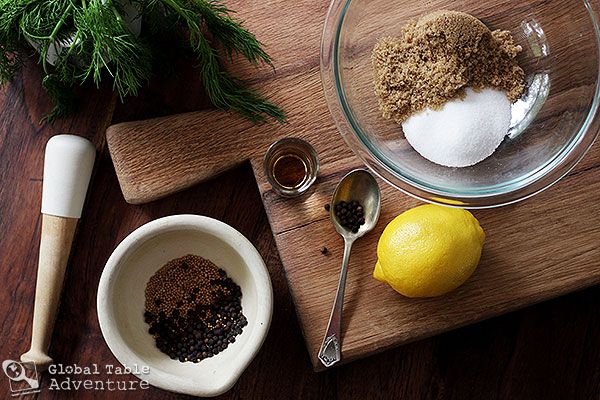 Be sure to check the salmon for pin bones by running your fingers along, about an inch on either side of center. It is easiest to pull these pins out if you use tweezers and place two fingers of your other hand on the fish while you pull (I had to hold the camera so I couldn't demonstrate this).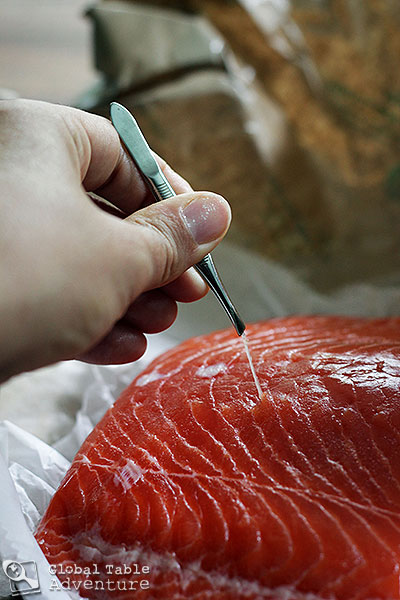 Place in the casserole, on double layer of saran and coat skinless side with all ingredients, letting some spill over to coat the sides. Wrap tightly and refrigerate for about 3 days. Every day, turn the salmon once in the morning and once at night.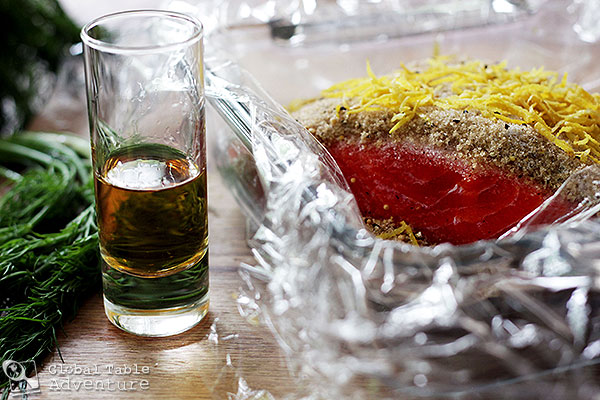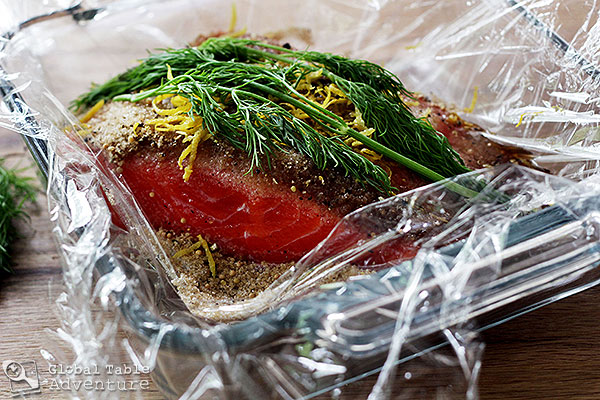 Make sure the salmon is double wrapped. I'd even saran over the container holding it to keep salmon from taking over the fridge.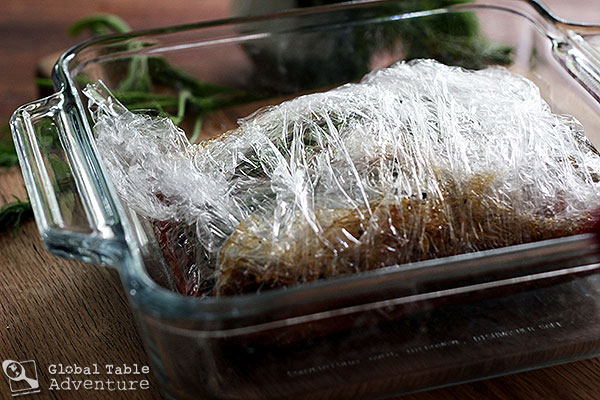 After three days there's going to be a scary swimming pool of juices at the bottom of your container but there should no strong odors at all. Take heart, deliciousness often lurks in the most unusual places. Take the salmon out and scrape off all marinade ingredients (you can also rinse it off to remove more salt, but this will also wash away the bright lemon peel and nippy peppercorns.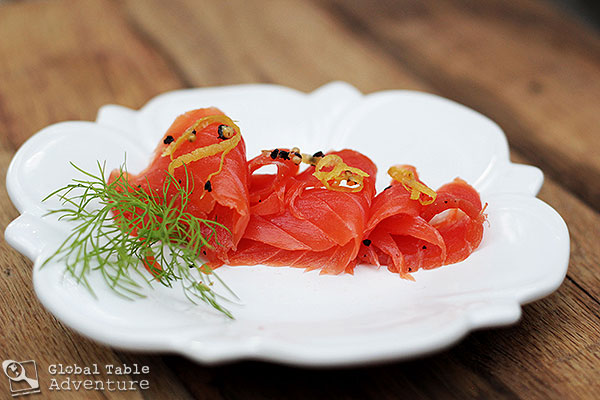 Watch out when nibbling gravlax at night. Cats lurk, watching.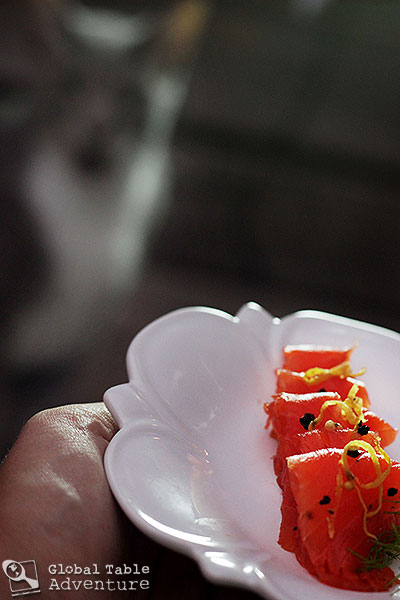 To serve, slice thinly on a sharp angle, leaving the skin behind. You can fold the pieces like I did, or lay them flat and overlap them. Garnish with extra dill, lemon peel and cracked pepper. Gravlax is great with crackers, bread, or cucumber slices.  You might also like it with a dab of Scandinavian Mustard & Dill Sauce,from when we cooked our Finnish Global Table.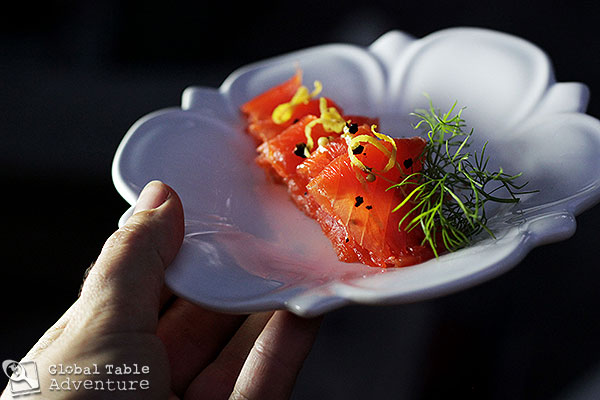 If, like me, you're feeling nervous, invite someone from Scandinavia to taste with you. They'll know what it should taste like and …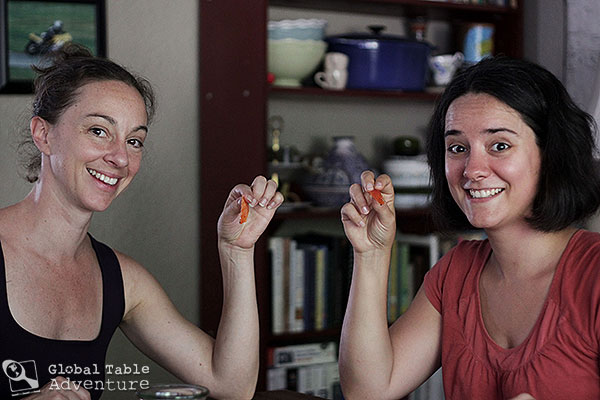 … smell like. Despite the silly face, Alexandra told me it was just right.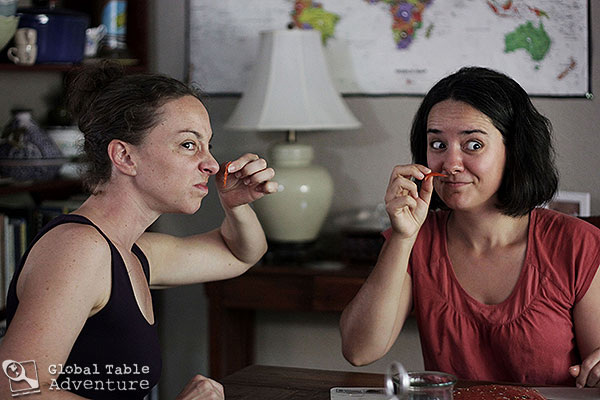 Even Mr. Picky…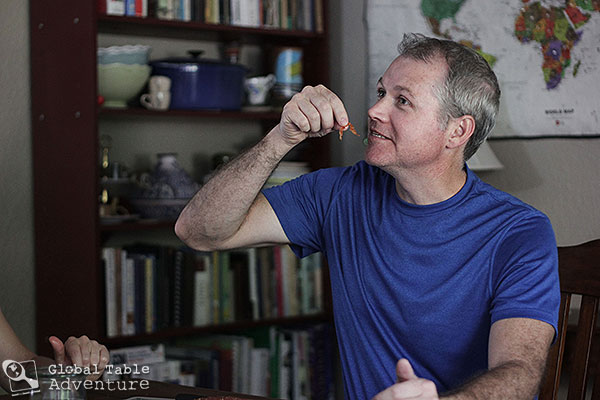 went for it!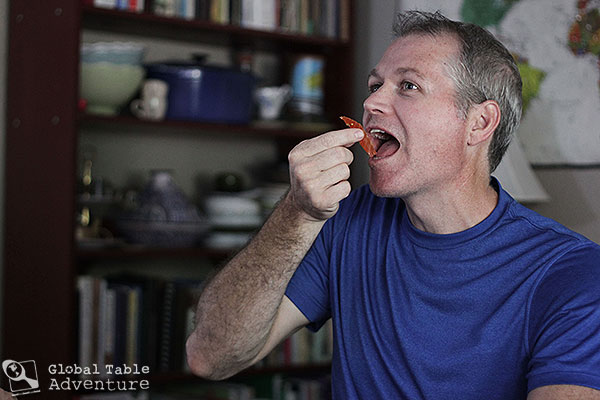 Gravlax will keep for 1-2 weeks in the refrigerator (I've seen some sources claim 3, but I think that's pushing it). Leftovers can be frozen in vacuum sealed bags until needed (use zip locks and use a small straw to suck out any air). To enjoy, thaw and slice as usual.
I got a lot of great tips on lthforum for how to make the gravlax.
Also, thanks to Mette for her email pushing me to try gravlax. It was just the push I needed.
Next time I'll jump right in with no hesitations.
Would you?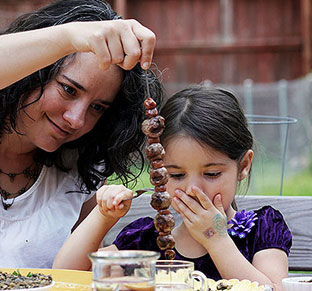 Hungry for more?
Be notified when National Geographic releases my memoir.
Simply fill in your details below.