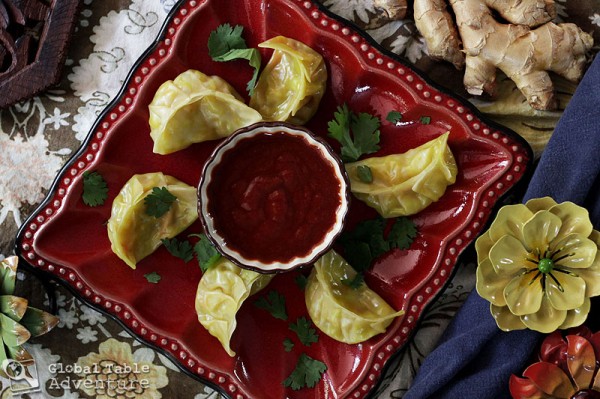 Today let's stove top travel to Nepal, sit in the afternoon sunshine, and make our own little mountain ranges, good enough to eat. Momos are carefully folded dumplings, each crease like a ridge in the most glorious of mountains, Mount Everest. (Did you know Nepal has 8/1o of the world's tallest mountains?)
This is a recipe for quiet days. Contemplative days. Days when you want to be more, learn more… and find out what you're made of. With each fold you evolve. Listening becomes easier. Being present is the only option.
Today's recipe is entirely vegetarian, made from a a traditional combination of cabbage and carrot, seasoned with golden turmeric, fresh ginger and sweet onion. You'll find similar recipes south, towards India and across Tibet, through China.
From what I understand you can fold your momos in circles or half moons. The circles are typically used for meat while the half moons are typically reserved for vegetarian. You can also steam or deep fry them, although steaming is the most popular.
NOTE: In case you don't use it all up, extra filling is great-fried in ghee and tossed with Chinese noodles.
Ingredients:
Makes at least 50
1 Tbsp grated ginger
1 tsp turmeric
2-3 Tbsp vegetable oil
5 cups diced cabbage, (about 1 small)
2 carrots, shredded (about 2 cups)
1/2 large onion, minced (about 1 heaping cup)
salt & pepper, to taste
1 package Wonton wrappers, cut into circles
Garnish with torn cilantro, if desired
Method:
First, hike to a snowy, sundrenched mountaintop. Set up your kitchen here, in the mountain's cloudy delight.
Next, grate, chop, and shred your way through a colorful collection of veggies. Hum and tip-tap to local music while you work.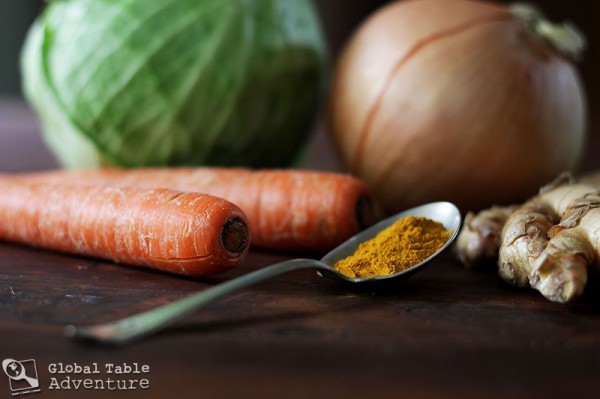 To get the cabbage as fine as possible, cut it first in strips, then crosswise to make small dice. The smaller the pieces, the easier it is to stuff the momos.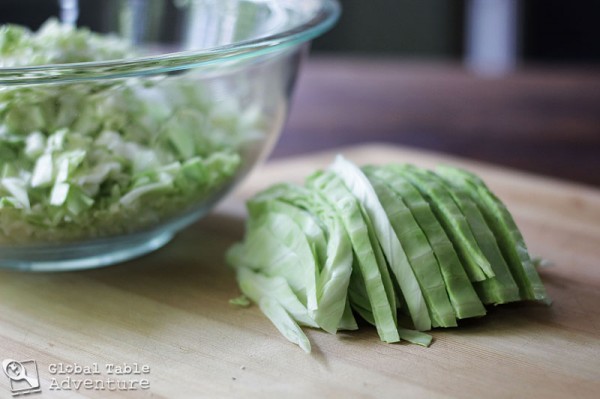 Ah… now we're ready to go. Time to make the house smell like "good."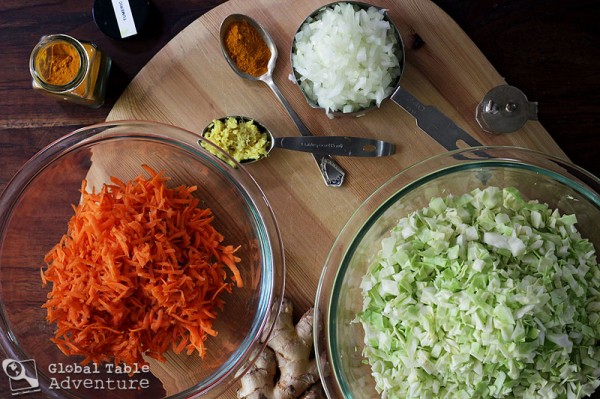 Cook the fresh ginger and golden turmeric in oil for about a minute, until the fragrance makes your mouth curl up into a smile, despite yourself. Add onion and cabbage, then season with salt and pepper. Cook until softened and neon yellow (that's thanks to the turmeric).
Remove the  glorious, florescent mixture from the heat. Stir in the deep orange carrots. Set the vivid mixture aside to cool.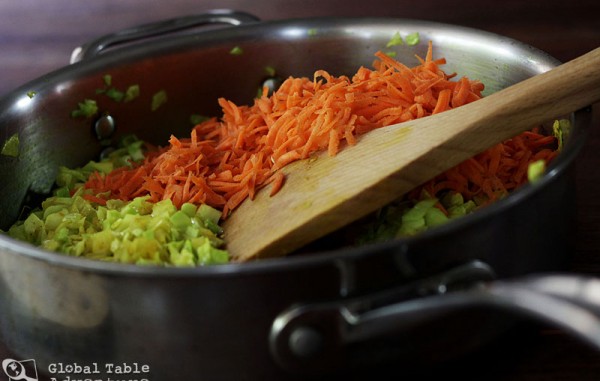 Meanwhile, make friends with that Yak that's been watching you. Hello, yak!
(Psst… how many M's can you find in this photo? I found five … so far.)
Now, time to get serious. Time to do a momo-folding meditation. Get comfortable. Relax. Invite a friend, if you'd like.
How to fold the Momos:
First, add a bit of water around the inside edge of the wrapper, then add a small spoonful of stuffing.  To make the half moon shape you must use round wrappers (you can just cut them with a cookie cutter if they are square, that's what I did).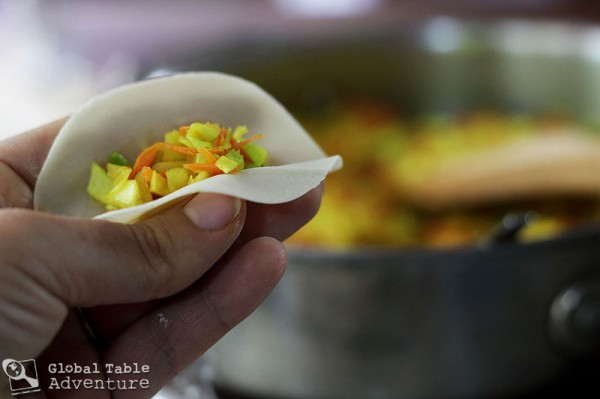 Next, use your fingers to pinch together a little mountain ridge.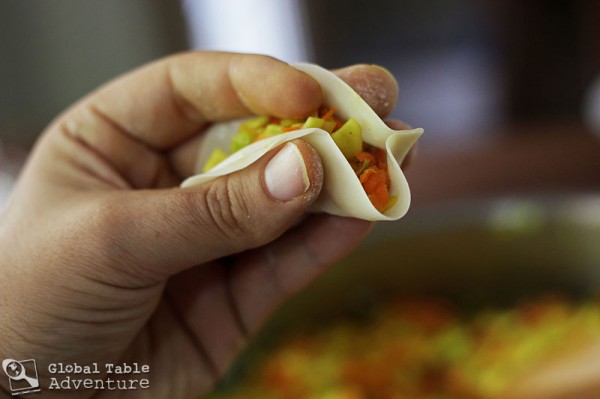 Press that ridge down towards you, crimping together the edge.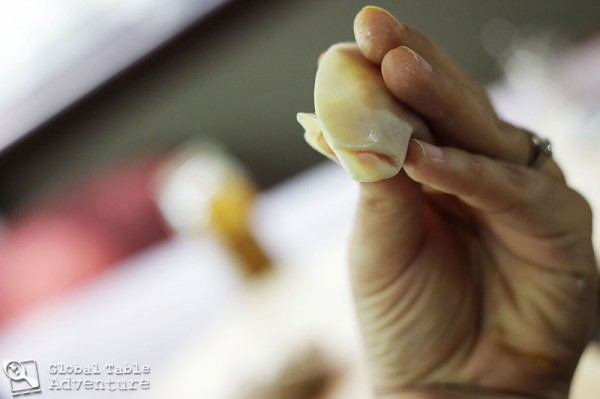 Now create a second ridge by pressing the top layer of dough together again.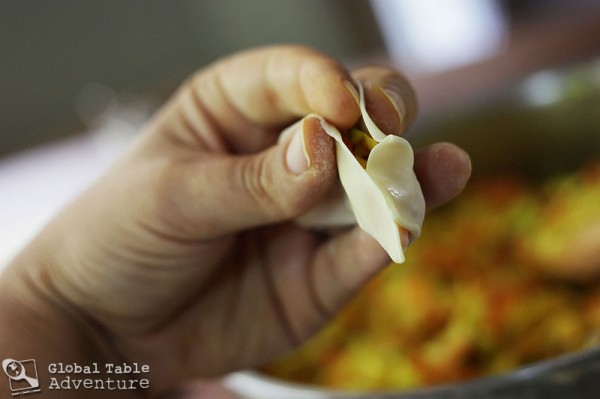 And fold it over towards you. Look, two pretty mountain ridges: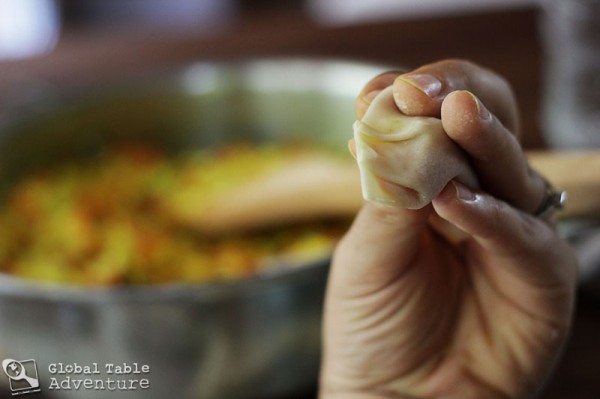 Keep going until you have a line of beautiful, evenly spaced ridges. The momos will naturally curve like the moon as you go.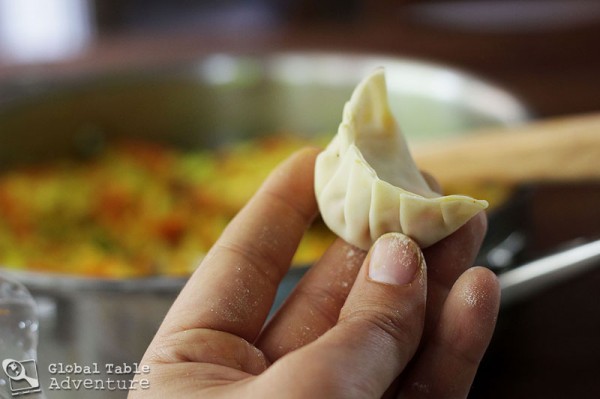 Let's review.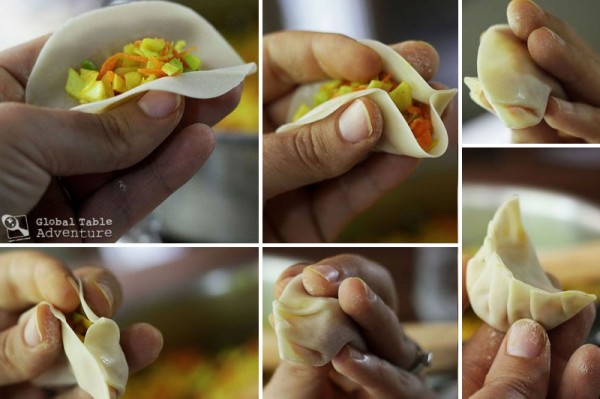 Keep going. Keep smiling. Let your mind wander and ponder… and wander some more.
Slowly fill a tray…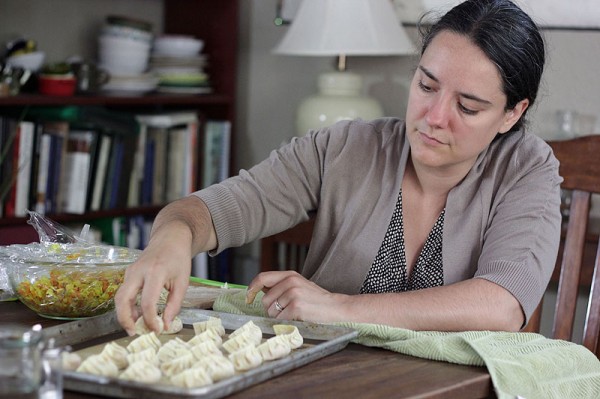 … enough to share with friends, friends of friends, and not yet friends.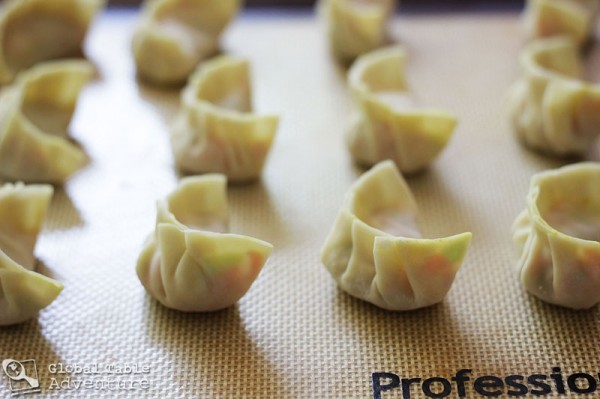 Here's one for you!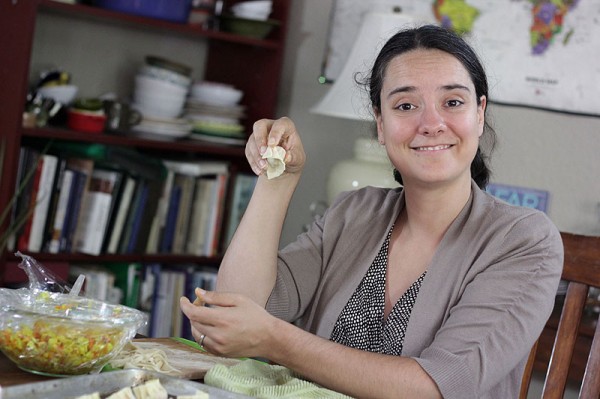 Steam in an oiled steamer (metal is traditional, but I used bamboo and that worked wonderfully as well) until the dough is cooked through.
NOTE: Mine took about 30 minutes. Depending on what wrappers you use, cooking times will most likely vary. Please adjust as needed. I consider this a great excuse to sample the momos as you go!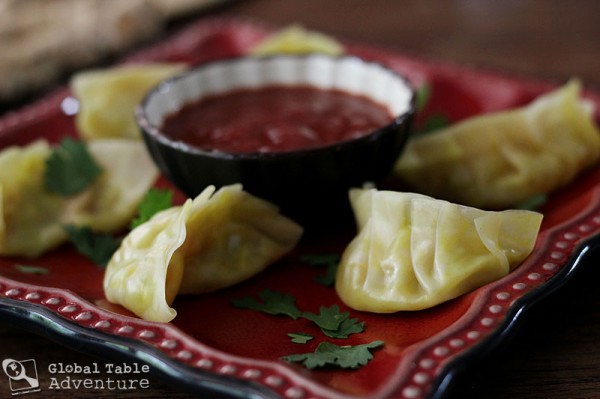 While you wait for the momos to cook, gather with friends and chat about beautiful Nepal. Put a pin in your map. Or scratch it.
(seriously… have you see these "scratch off" maps? They are so super fun. Special thanks to Annie and family for Ava's new map! She loves marking the places we've eaten.)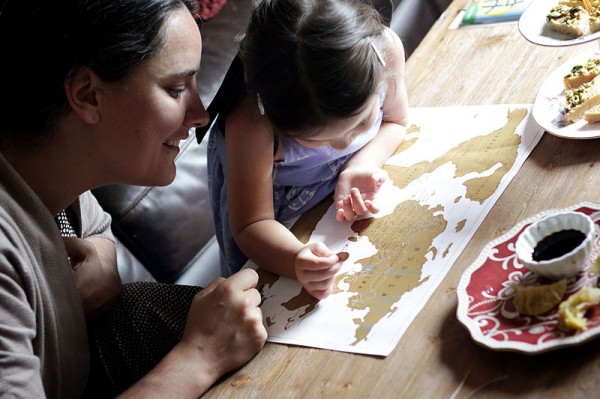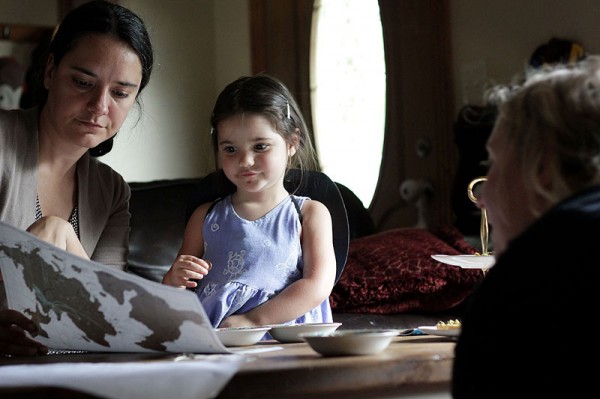 Serve with chili sauce, achar, or even soy sauce. I used sirracha, because that's what I had in the fridge.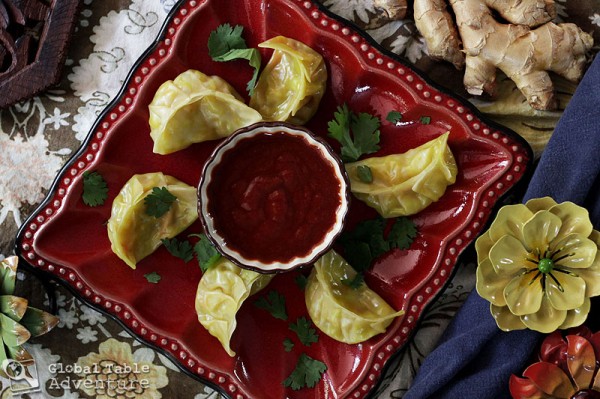 Enjoy these mountains for your mouth.
P.S. Remember, that's what life is all about… one mountain after another. We spend more time climbing than sitting at the summit, so be sure to look around and enjoy the process.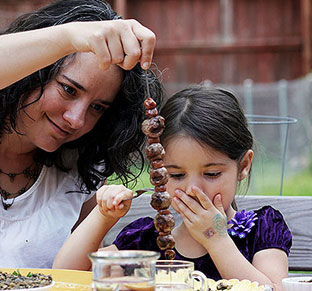 Hungry for more?
Be notified when National Geographic releases my memoir.
Simply fill in your details below.