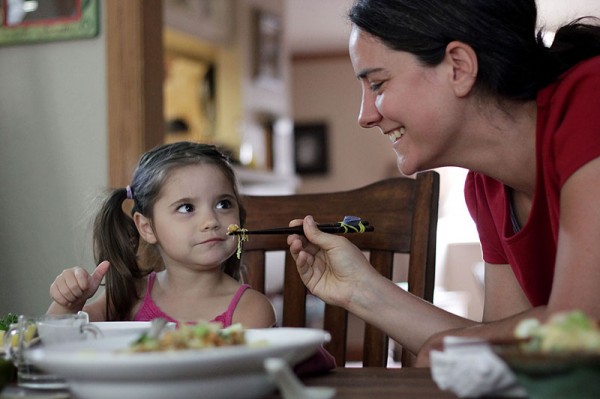 Look carefully. In this photo Ava seems to be giving me the thumbs up. This is not, in fact, what is happening. Instead, she's showing me how she holds her chopsticks. I made these kid-friendly chopsticks by folding up a piece of paper, placing it between regular chopsticks and wrapping all around it with an elastic band. Ava's been using them since she could pick up a spoon.
So why am I feeding her?
Because she wasn't so sure about the Burmese salad. Not yet.
Our greatest role as parents is to provide the warm encouragement our children need to experience the world as fully as possible – to help open their minds. So, while it seems like I simply picked up the chopsticks to feed her, I'm actually working on world peace.
True story.
This week I have two summery treats, as well as one that'll comfort you any time of year. Of these three recipes, 2 recipes have chickpea flour, 2 have coconut milk, and two have lime juice. There's quite a bit of overlap, although each dish is completely unique. I love that!
What sounds good to you?*
 Burmese Ginger Salad (Gin Thoke) [Recipe]
A refreshing slaw, made with napa cabbage, peanut-fried chickpeas, lentils, fresh ginger, green onion, lime and lemon slices, fish sauce, and chickpea flour.  Bring this to your next Asian-themed BBQ and watch the smiles pop, pop, pop.
Coconut Chicken Noodle Soup (ohn-no-khao-swe) [Recipe]
Chicken cooked in a quick ginger curry, seasoned with sweet shallots and coconut milk. The best part? Everyone assembles their own bowl, using half a dozen toppings as they like.
Split Coconut Jelly [Recipe]
This is such fun – coconut jelly is opaque on one end and transluscent on the other. This vegan dessert is popular street food all over Myanmar.
*All recipes and meal review will be posted throughout the week.