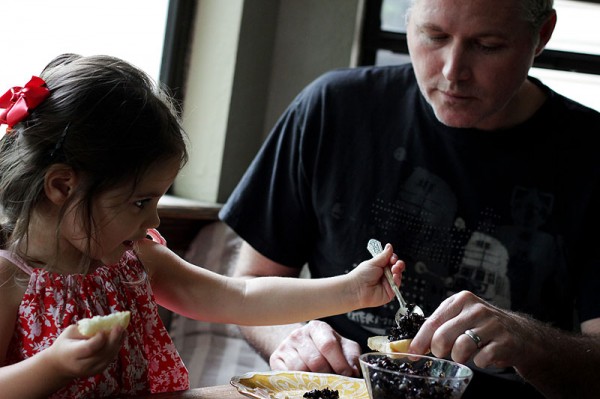 On this windy Wednesday I'm visiting with a friend who I haven't seen in seven years. We're laughing and reliving old memories. We're also experiencing Monaco, as I cook each of these dishes, one by one. Ava, each day bigger than the last, now helps serve the food. I'm all smiles.
So what did I choose?
For our week in Monaco I've chosen recipes fairly typical of the region – you'll find similar in France and in Italy (such is the life when en entire country spans only 0.76 square miles).   This is a combination of rustic street food and elegant fine dining.
What sounds good to you?*
Chickpea Crepes (Socca) [Recipe]
Forget what you know about crepes. These crispy, browned pieces of golden goodness are made with naturally gluten-free chickpea flour and plenty of olive oil. We're talking crispy, finger-lickin' goodness straight from the French Riveria. 

Cognac & Herb Tapenade [Recipe]
Olive oil cured olives with cognac, fresh thyme and rosemary, capers and a giant heaping of deliciousness. The black diamond of starters.
Candied Cantaloupe & Cherry Almond Tart (Galapian) [Recipe]
A regionally adored tart which is at once genius and as extravagant as the wealthy inhabitants of Monaco. The almond perfectly sets of the sweet cantaloupe and maraschino cherries.
*All recipes and meal review will be posted by Monday morning.