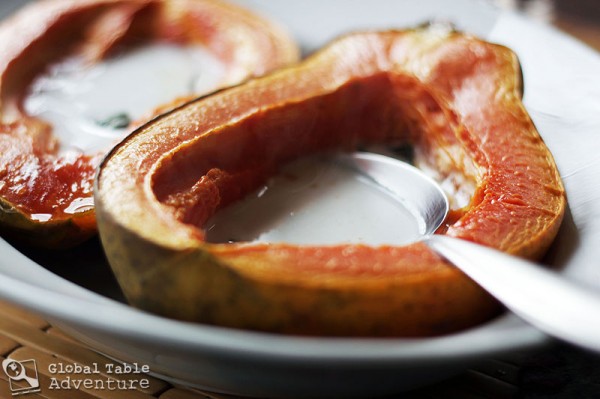 When Ava says it, Keith comes running.
"Pa pa pa pa yapa"
Even for me, papaya is fun to say. Beautiful to behold. But here the thing. I never, ever buy this tropical fruit because I cannot figure out what on earth to do with it, aside from enjoying fresh, cool slices. Preferably poolside.
Enter our week at the Marshallese Global Table, where I learned that these easy, breezy, island people bake papaya with a bit of sugar and enjoy with warm coconut milk.
Hello. Okay. Let's just say I'm intrigued.
Once baked, the hot, creamy treat reminds me of peach pie, but without the crust. And without all the work.
For more exotic flair, I decided to add the Pacific's ever-popular pandan leaf, which is available frozen in Asian markets. Pandan adds a vanilla/rice floral note… (Use pandan like bay leaf – use it to infuse flavor, and then remove before eating).
Ingredients
1 ripe Papaya, cut in half lengthwise and seeded
coconut milk, as needed (about 1/4 cup per side)
4 Tbsp sugar, for sprinkling
4 tbsp water
2 pandan leaves (optional)
Method:
Preheat the oven to 375F and gather your gorgeous bounty: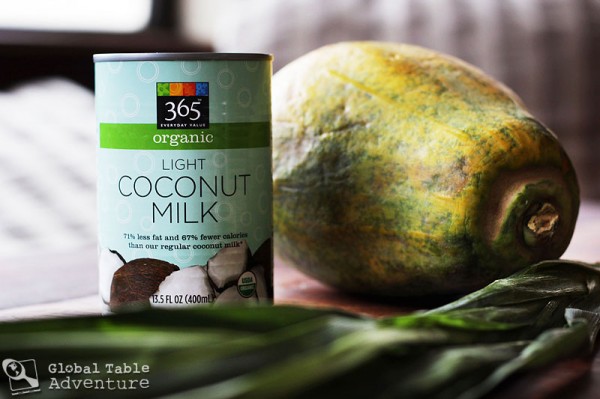 Cut open the ripe papaya and scoop out the sparkling black seeds.
Papaya looks like the first flush of love.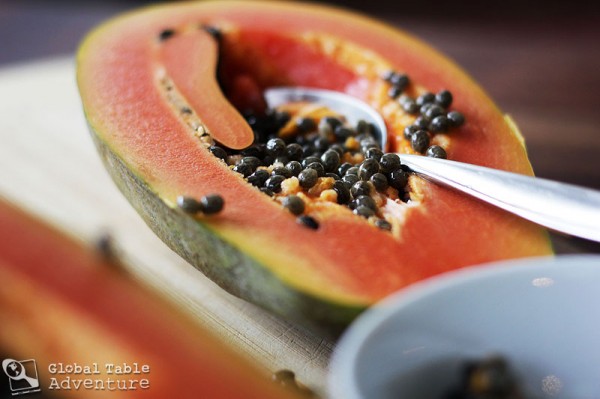 Add a little water into each happy half and sprinkle on a snowfall of sugar – 1-2 Tbsp per half.
If desired, tuck a knotted pandan leaf into the water.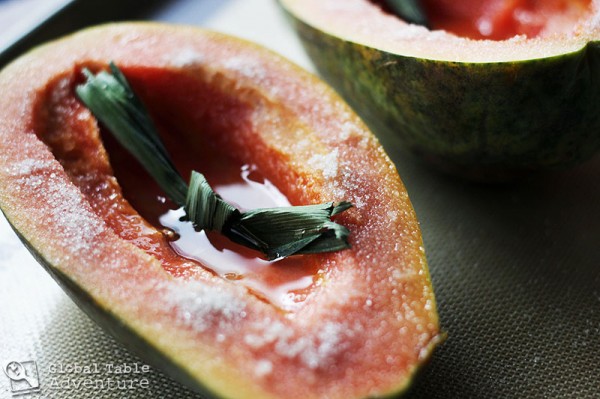 Bake for 45 minutes or until the papaya is tender but still holds its shape. Ahh, the house will smell glorious.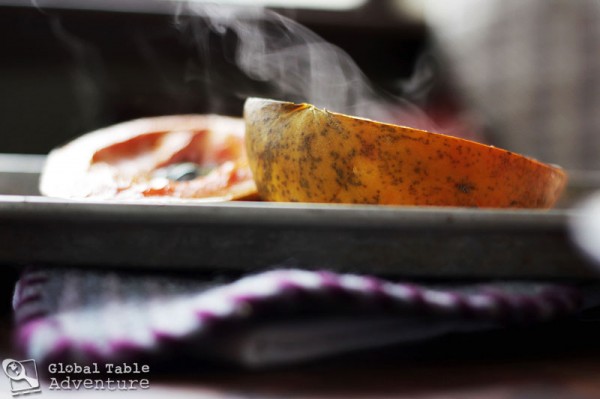 Remove from oven and immediately ladle some coconut milk into each half in order to warm it.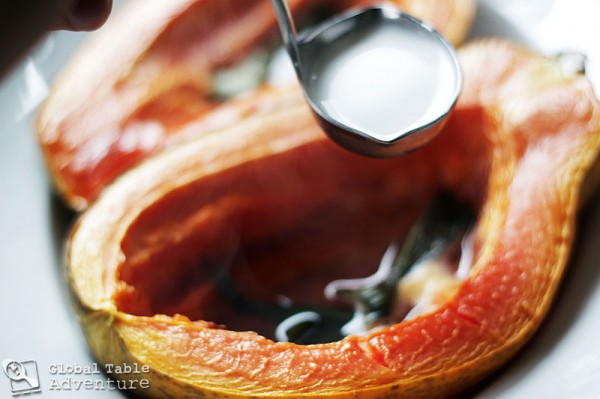 This will just take a few minutes. Meanwhile, take a sunny stroll down the street, preferably in the Marshall Islands.
Five minutes later, dive into the papaya.
They look a bit like butternut squash, but don't be fooled. This is dessert.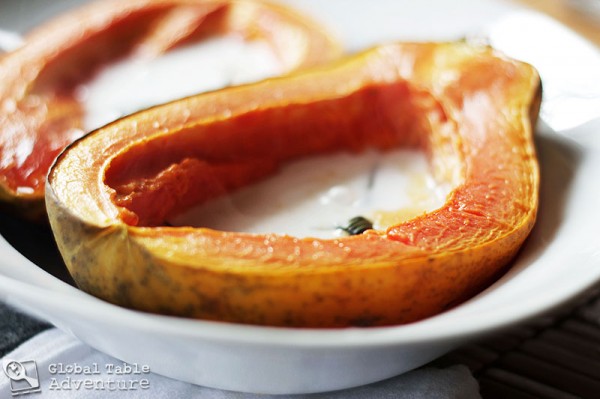 So grab a spoon…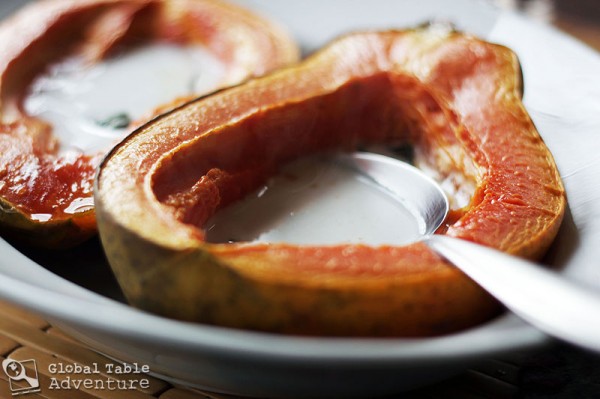 … fill your bowl (avoiding the pandan)…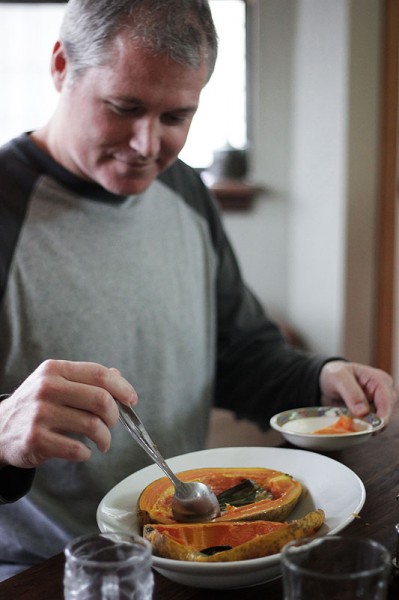 …ladle on more coconut milk…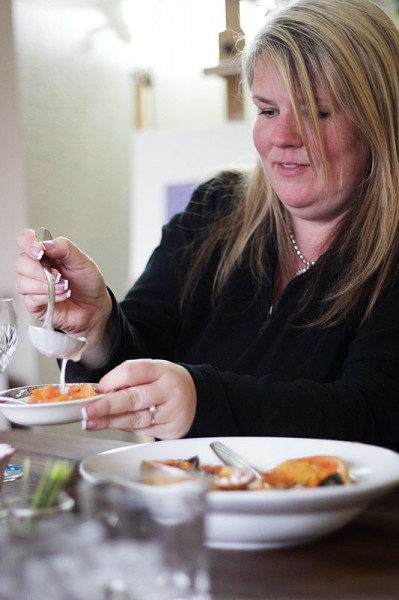 And go to happy town!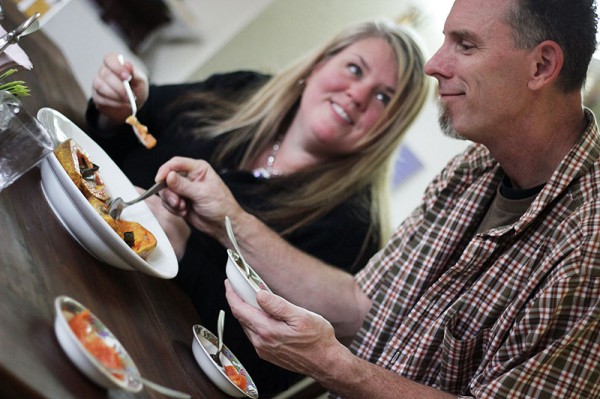 Share with friends (hi Alan and Michelle!), friends of friends, and not yet friends.
Most of all, have a happy day!
(Psst, Alan and Michelle have been so wonderful, supporting this project since the very beginning. They were even at the very first Global Table meal with us, way back when we did Afghanistan… as well as so many others. Somehow – don't ask me why – this is the first time they made it into the photos and video. Great to have them over for papapapa paya and make things right!)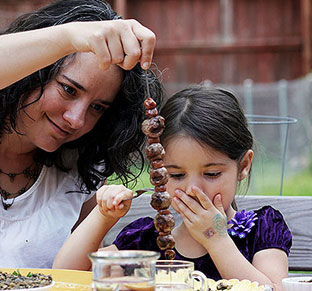 Hungry for more?
Be notified when National Geographic releases my memoir.
Simply fill in your details below.