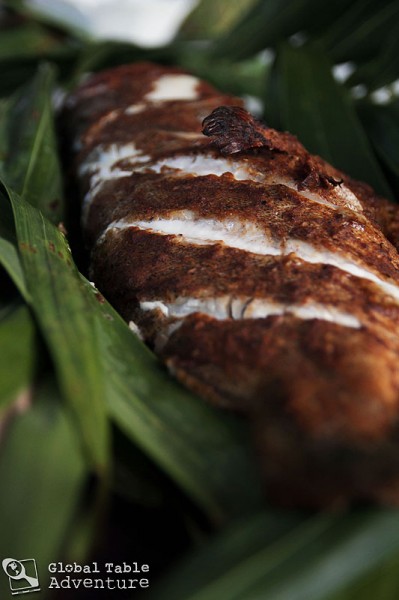 You should have seen my brother's face when I told him we were going to make whole fish for our Maldivian Global Table. His eyes about popped out of his head. In fact, my entire family – both brothers, my sister, mom, niece and nephew – was wary of the idea.  While eating the whole fish is rare in the United States, we knew from experience that our family was in for a treat.
We ate this meal in Florida, as part of a celebration of my mom's surprise 70th birthday, so I had a bounty of fresh, beautiful fish at my fingertips. Nothing had been previously frozen – it was glorious. I chose two large, bright-eyed grouper (almost $40 each) and began the process.
I whipped together the marinade in my brother's blender. Typically, locals mix together a combination of hot chili peppers, spices, and aromatics. In a fit of inspiration, I added the coconut milk as most every recipe in Maldives contains some form of coconut.
The end result is a very moist sauce which gives the fish a rich, fiery flavor and deep golden brown color.
Keep in mind, you have two choices when it comes to roasting the fish – over the grill or in the oven. Just be forewarned – if you grill it, the skin can easily stick to the grill and you risk losing your beautiful, flavorful crust. I know, because I did it.  They say the key to grilling fish is to put the fish on an extremely hot, oiled grill, reduce the temperature, and flip only once. None of this helped me and, while the fish was tasty, all the flavor stayed behind on the grill.
After spending another $40, I learned that putting the seasoned fish on a baking pan and roasting it is the way to go for me. Easy peasy and a perfect crust every time.
NOTE: I recommend using larger fish, so that the marinade has time to brown. Fish that only take a minute or two to cook aren't good for this recipe, even if whole.
Ingredients:
Spicy Wet Marinade (makes 3 cups if you use all the coconut milk):
1 or more Thai bird chili pepper(s)
1/2 -1 habanero (if desired)
1 onion
4-5 large cloves garlic
1/2-1 can coconut milk, depending how wet you want to marinade
1 Tbsp chili powder (or to taste)
1 Tbsp cumin
12 curry leaves (available at Indian grocers)
2 tsp black peppercorns
1 Tbsp salt
Whole fish,  as needed (I used two large red snapper, five pounds each)
Have the fishmonger prepare the fish for cooking – descale, gut, etc.
Serve with lime slices.
Method:
Fly to the Maldives and preheat a beachfront oven to 375F.
Meanwhile, let's make the beautiful marinade.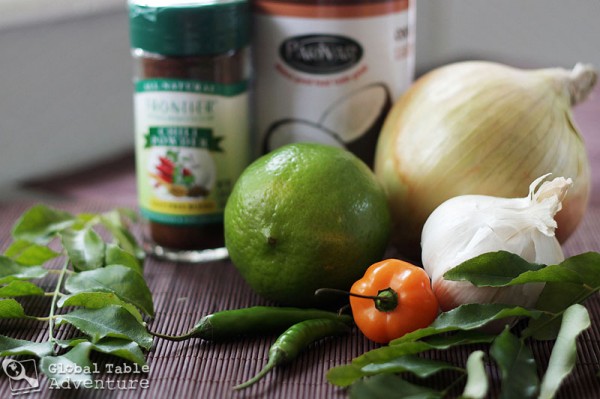 Add the Thai bird chili pepper(s), habanero, onion, garlic, coconut milk, chili powder, cumin, curry leaves, peppercorns, and salt to the bowl of blender.  Blend like crazy!
Note: if you'd prefer a mild sauce, start without the hot peppers and add a little at a time until you like the flavor.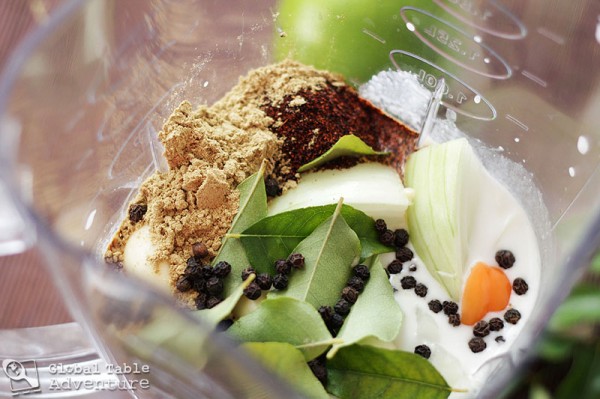 Puree until smooth. Check the flavor and add more seasonings as desired.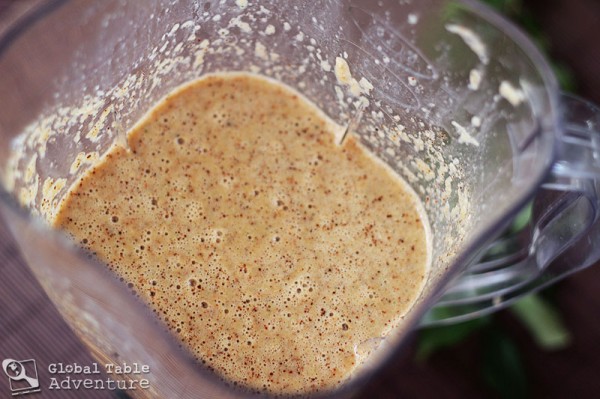 The final sauce is tan, coconut-tastic, and packs a mean punch.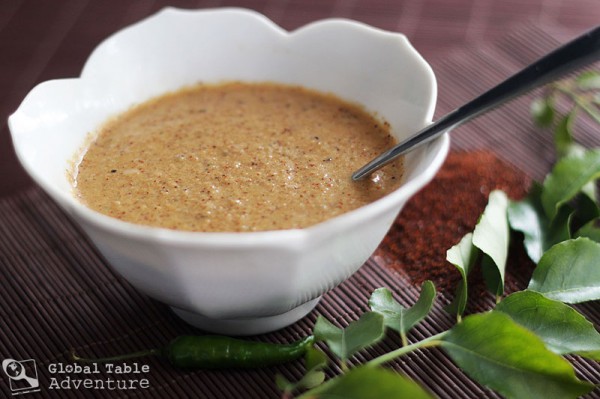 Next, prepare the fish. Cut slits along both sides of the body – about every 2 inches – in order to ensure even cooking.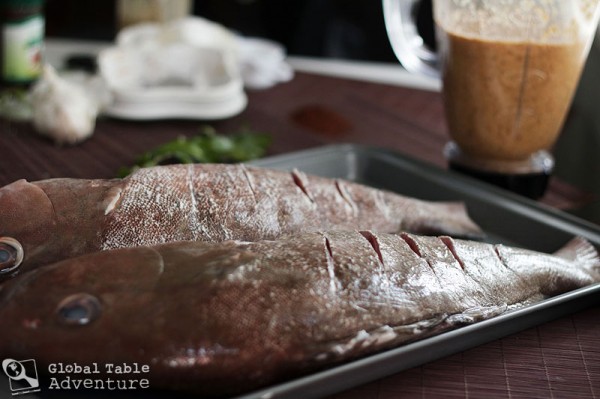 Spread the marinade all around, on both sides. I only used half the marinade on these two giant fish.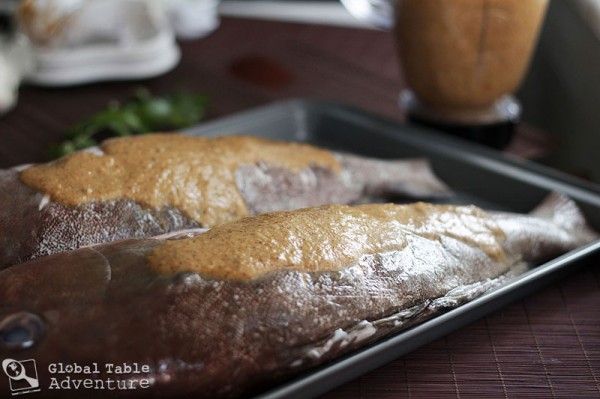 Bake at 375F until deeply browned and flaky. These large fish took about 45 minutes. I didn't turn the fish, which left the underside without a  crust – I'll try putting it on my roasting rack next time, to see if that helps.
To serve, lift upper fillet off of the bone by cutting along the backbone and sides, then sliding spatula between the fillet and the rib cage and lifting the fillet off. Here's an example I found on youtube to help you see how it works.
Enjoy with rice, more hot sauce, and a smile.
And, of course, be sure to enjoy that oceanfront view…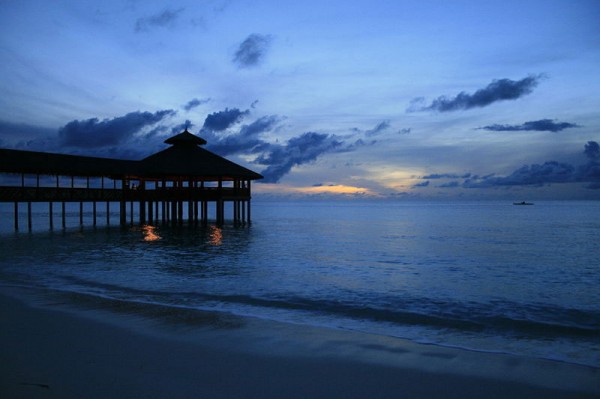 … whether you are in Maldives or Florida…
or just doing plain ol' stovetop travel.
Have a happy day, wherever you are!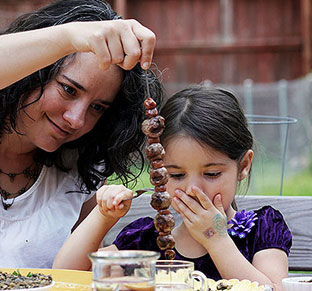 Hungry for more?
Be notified when National Geographic releases my memoir.
Simply fill in your details below.