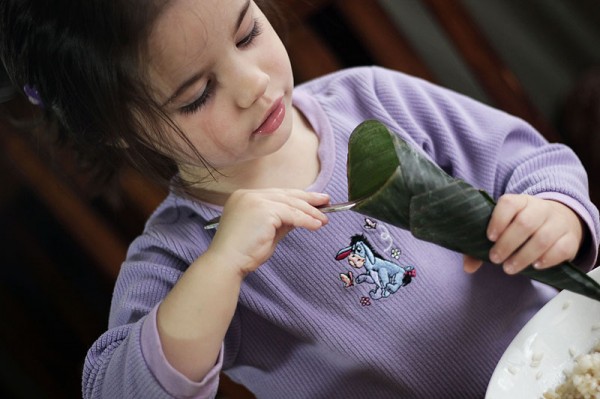 First of all, I hope you had a fantastic Valentine's Day. I wish there were a way to capture the sweetness of yesterday. Ava thinks, despite my best efforts to explain otherwise, that Valentine's Day is a destination, not an event. So, of course, she had to ask me if I was going "to" Valentine's Day with her and papa.
I, of course, said yes.
While I'm thinking of it, here's a Valentine that Ava got from a friend at little school.
It's a crayon! What a great global Valentine's Day project.
As for our Malaysian menu? The ingredients might sound strange and the shapes might be new to you, but this is a menu easy enough for little Miss Ava to make. Maybe not by herself, but pretty close!
I think you'll find the food of Malaysia definitely worth loving.
What sounds good to you?
Coconut Sticky Rice in banana leaves (lemang)  [Recipe]
Glutinous rice cooked with coconut milk and steamed inside banana leaves. The result? Epic, edible towers. P.S. This has 4 ingredients, including salt.
Beef Rendang [Recipe]
This is one of those curries made without curry powder. Instead, beef is slowly simmered with a complex blend of galangal, ginger, garlic, onion, lemongrass, keffir lime leaves, kerisik, and more.
Toasted Coconut Paste for Curries (Kerisik) [Recipe]
A fun, easy way to add flavor and body to Malaysian curries. The bonus? Just one ingredient.
*All recipes and posts will be up by Monday morning.