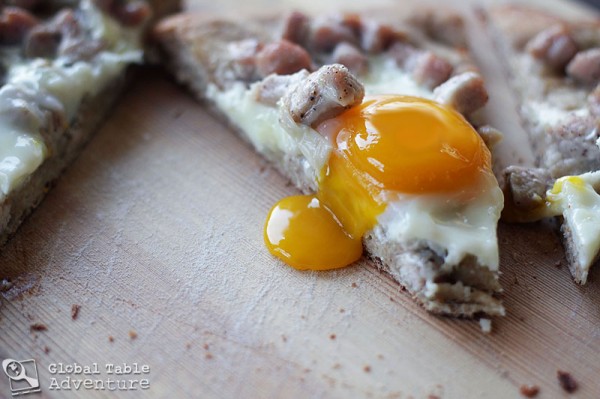 The air buzzes with excitement. Ava pats the dough and we're on our way to Macedonian pizza (Pastrmajlija), an addicting combination of diced pork, olive oil, and cracked eggs.  Together, her little hands next to my big hands, we shape the pizza two ways -first in a traditional full-moon circle and then in a Valentine's-inspired heart. While some might say the shapes taste the same, I beg to differ. Anything heart-shaped tastes infinitely better than that same thing not heart-shaped.
Dressed up in a dusting of black pepper, the pork sizzles in the oven and turns slightly golden. The rich, golden yolk makes the entire pizza taste like a dreamy breakfast. Simple to make and yet so full of flavor.
That's love.
NOTES:
Traditional Pastrmajlija is made with pork smoked in a "pusnici" during the cool winter months (October-February).  This video shows what a pusnici looks like. Since I lacked access to the traditional method, I used fresh pork. Seek out smoked meats, however, if you can! Here's what an authentic Pastrmajlija looks like:
Also, you may wish to scramble the egg before pouring it over the pizza, an alternate preparation popular in Macedonia. As for the fat used, I used olive oil which is generally popular in the area, but some locals like to dot this pizza with lard instead, lending the pizza a much more indulgent quality. The choice is yours.
Makes two 10″ Macedonian pizzas
Ingredients:
1 recipe homemade  pita dough
1 – 1 1/2 large, boneless pork loin chop(s) (butterflied makes your work easier)
2 Tbsp olive oil
salt & pepper
2 eggs
Method:
Prepare homemade pita dough. Cover with a moist cloth and let the dough rest in a warm, sunny spot until doubled in volume, about 1 1/2 – 2 hours.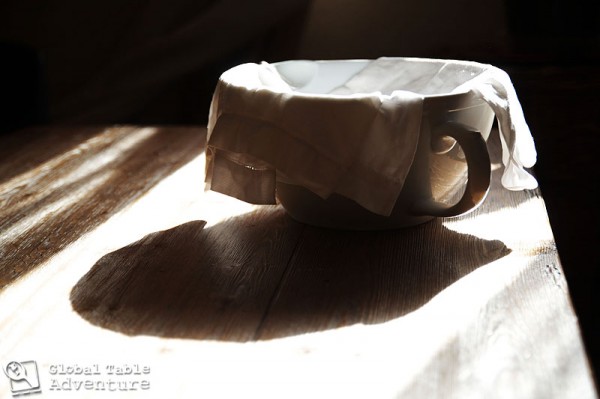 Meanwhile, go row a boat on still morning in Macedonia. Listen to the water lap the sides of your boat. Daydream. Soak up the sun. Why not? This is stove top travel. This is your chance to imagine.
When you get home, place a pizza stone in the oven and preheat it to 400F. If you don't have a pizza stone, just bake the pizza on a sheet pan  (cooking times may vary, though).
Divide dough into two pieces. Roll them into hearts, circles, whatever shape suits your fancy – dusting with flour to prevent sticking, if necessary. Press down with your hand to create a lip around the edge, so the egg doesn't roll off later.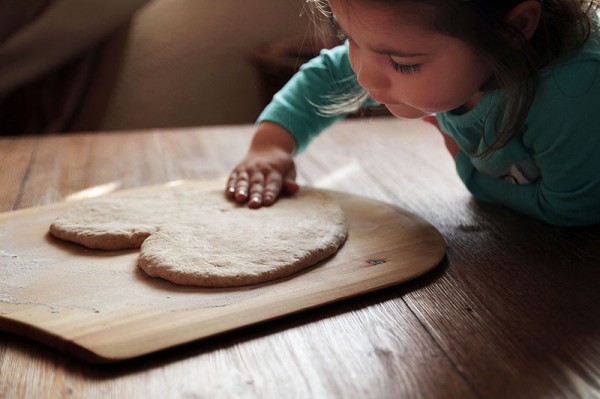 Meanwhile, dice the pork chop. This large, butterflied chop easily covered the two pizzas.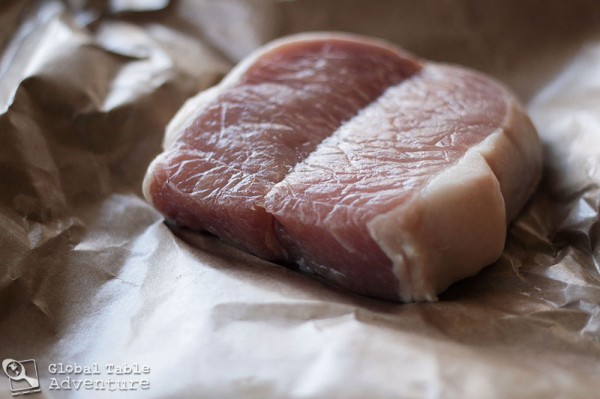 Toss the diced pork with olive oil, salt and pepper.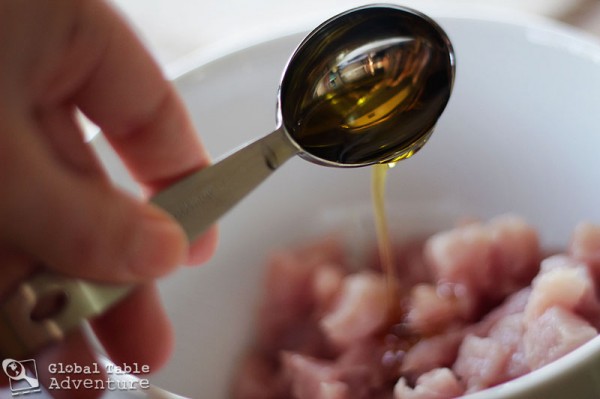 Spread onto pizza.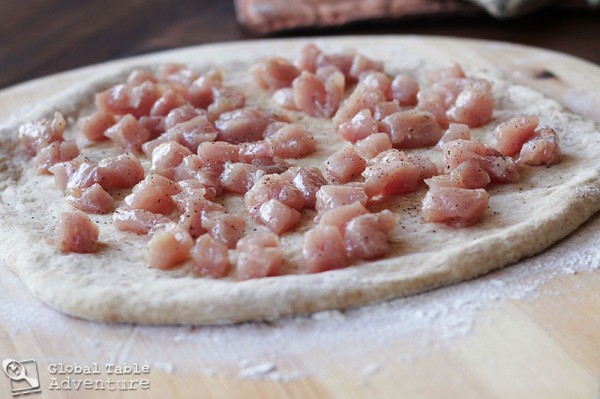 Brush crust with a glistening coat of olive oil.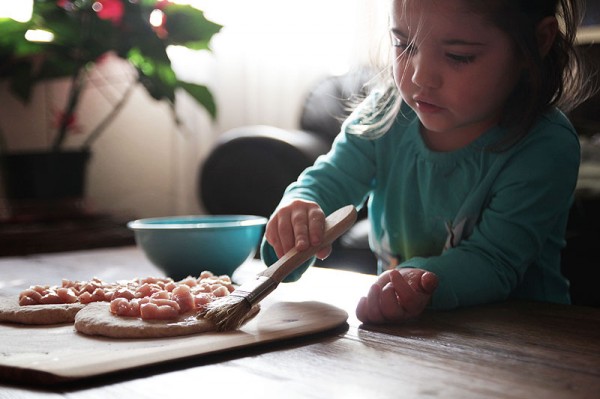 Bake for 16-20 minutes. Now, here's what I figured out in my very wacky oven:
– the egg will be quite runny if cooked 10-12 minutes
– the egg will set completely if you add it at the beginning of baking
The choice is yours.
We added it after about 8 minutes of baking: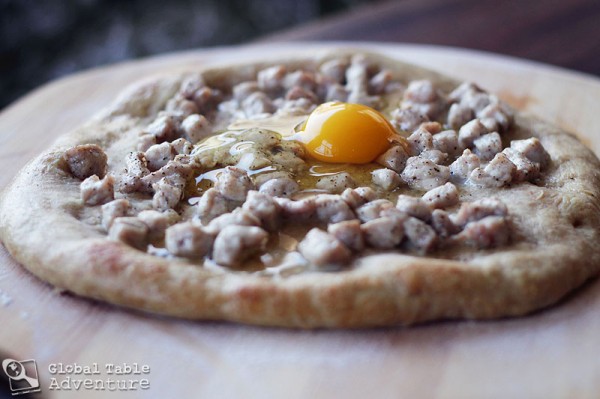 Then we brushed it again with olive oil, before returning to oven.
And we started working on the next one…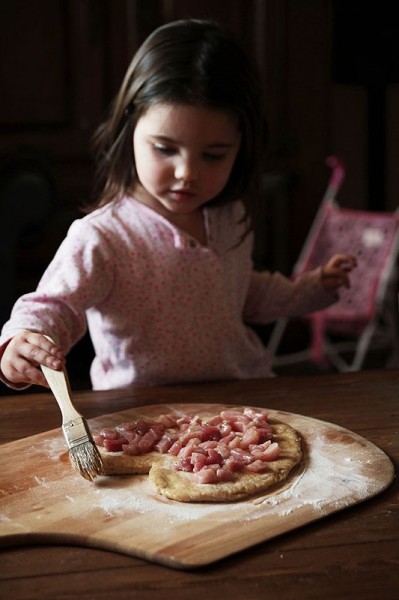 Now,. I'm going to show you a mistake, so you can learn from my folly. The next pizza didn't rise well because the dough was too dry. You want your dough to be soft, like a baby's bottom. Or else it'll look more like a cracker when baked (and, worse yet, the yolk rolled right off of it):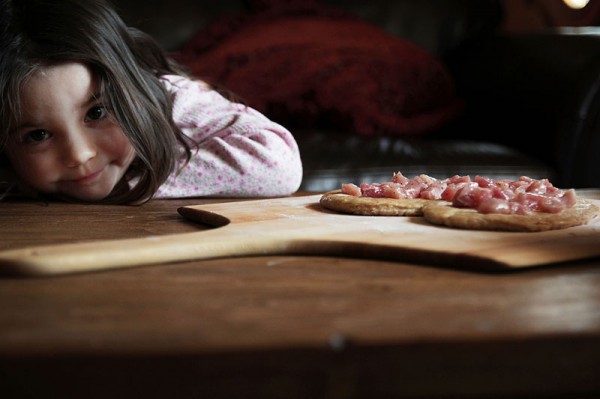 Bummer.
Here's a nice specimen… notice how the lip kept the egg from rolling off the edge of the pizza: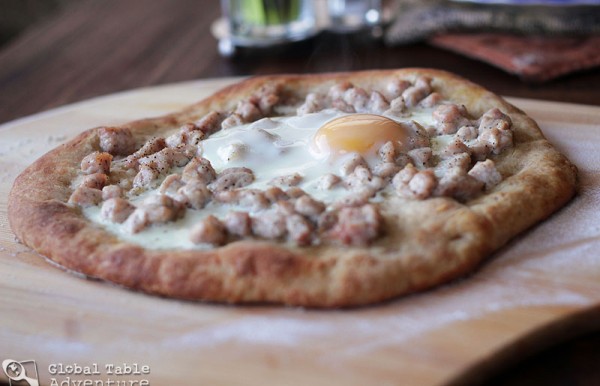 Yum! Beautiful! Happy, happy.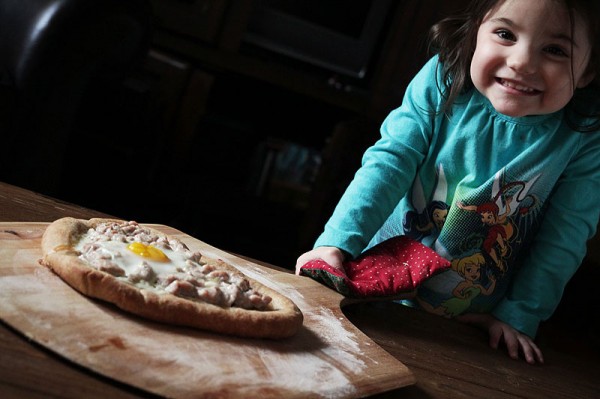 Ava was proud of her handiwork.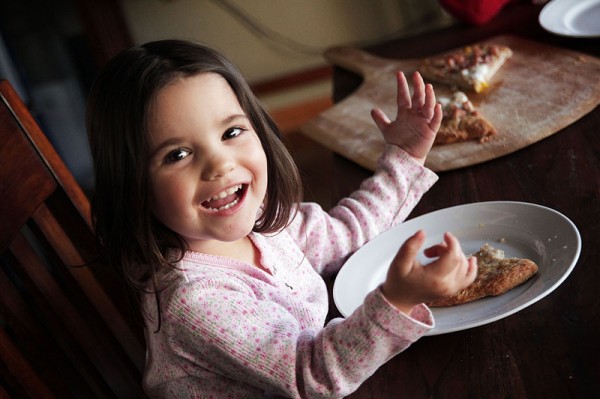 Enjoy immediately, with a big heart, a smile…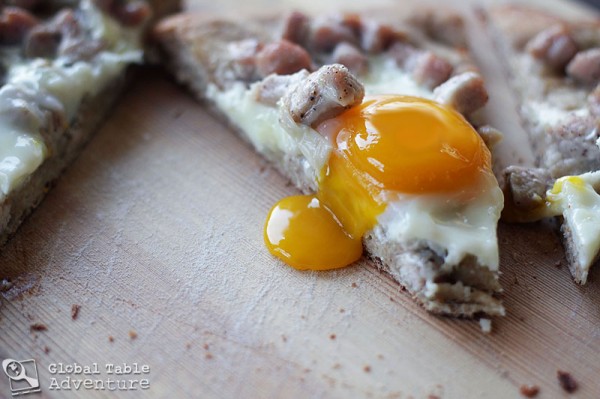 … a view, and a few friends. Perhaps all rolled up in one… as with these stone dollies from Macedonia:
They look like pretty good dining companions to me.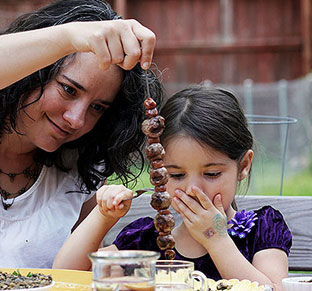 Hungry for more?
Be notified when National Geographic releases my memoir.
Simply fill in your details below.