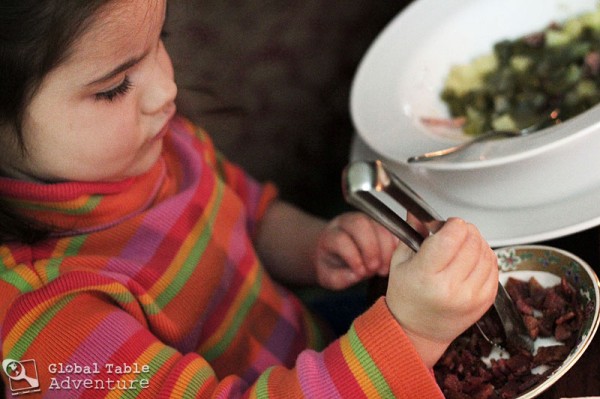 THE SCENE
I slowly make my way to the table, balancing the heavy, ceramic tureen as I go. For twenty dollars at the local flea market my soup plays dress up, looking quite fancy as she swims in the tureen's old-fashioned angles. I feel like Martha Stewart for a moment, as I lift off the creamy white lid with a flourish.
Still… Luxembourg's famous Green Bean Soup, now steaming and beckoning, barely makes an impression on me. Sure – it's good. I know that because I snuck a taste five minutes ago in the kitchen. But my mind, ever restless, rattles on, past dinner, to the upcoming Apple Cake.
They are going to love it, I tell myself proudly as I ladle the soup into Ava's bowl. I'm thinking of the powdered sugar and cinnamon when I instruct her to put a few sausage slices and crumbles of bacon in her soup.
As her little hands begin the process of garnishing her bowl, I'm dreaming of the cake's delicate, moist crumb and sweet apples.
I eat my soup absently, glancing over at the cake, as it cools on the kitchen counter. I can practically taste the thick, apricot glaze.
Two bites into my soup, I realize I forgot to garnish my bowl. I reach my hand to take a couple of sausage slices, only to find my fingers touching cold porcelain. The bowl is empty. Snapping to attention, I look around.
Ava's bowl and Mr. Picky's bowl are both loaded up with sausage and bacon. In fact, she has two pieces in her hand, happily munching. The bacon is piled high in everyone's bowl and I'm left blinking.
She keeps eating.
Before I can say anything, their bowls are empty and Ava asks for more. To be specific, she asks for more meat.
Seriously?
Dessert never comes. Their bellies are too full. I know better than to force the matter.
In a happy moment of inspiration, I put the cake away until the next day, when we'd eat the cake in it's own hour of glory. During a small Lithuanian Honey Spirits tasting.
And this time I'd pay attention to what they are eating.
As for the sausages and bacon? I lock them up for the night.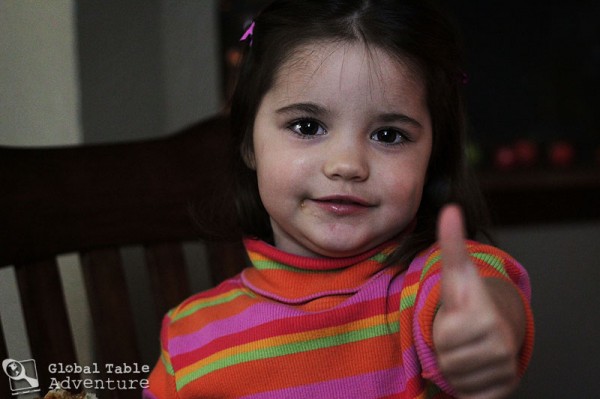 Potato Fritters (Gromperekichelcher) [Recipe]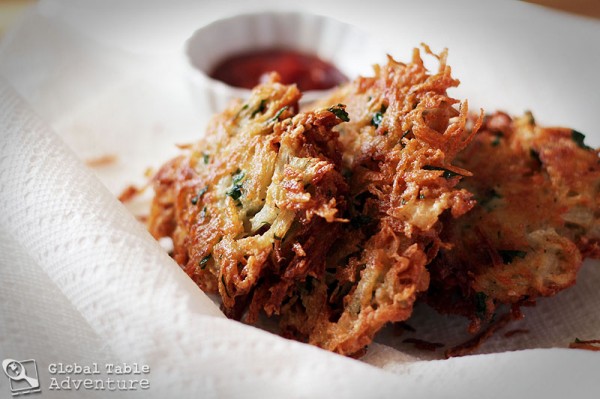 What I liked most about this dish:
Aside from the memories, I love the crispy crunch of the potato mixed with the faint taste of parsley and sweet onion. They cook up quickly and are easy to keep warm in the oven. Mr Picky adored them and even Ava, who wasn't entirely convinced she should try one, nibbled away rather happily.
What I liked least about this dish:
I had a little trouble getting mine to stick together at first, but adding more flour seemed to be the key (possibly I didn't squeeze the shredded potatoes out enough). Once I got the flour right, they were easy to pat into discs and slip into the shimmering oil.
Green Bean Soup (Bouneschlupp) [Recipe]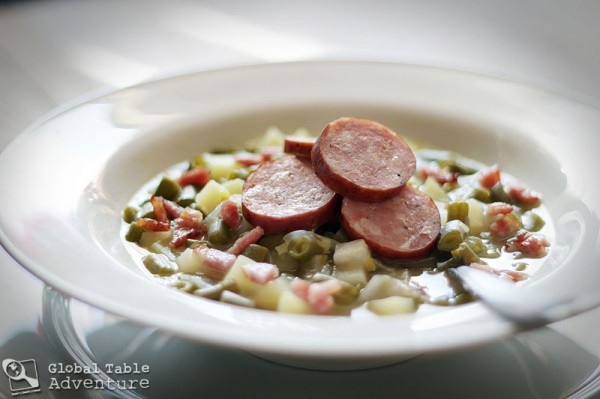 What I liked most about this dish:
I love the bright clean flavors – this isn't a thick, sludgy soup. It's fresh and bright and tastes like spring. Ava loved everything about this soup – sprinkling on her own bacon and sausage was a huge treat (in fact, she ate more meat than anything else). Mr Picky was a fan as well, and told me to add it to our regular rotation. I'm happy to do so!
What I liked least about this dish:
I couldn't find a good, spicy sausage in time for this soup, so I went with a sweet, smoked German-style sausage. While it tasted divine, I would like to try the recipe with something spicier for comparison's sake.
Apple Cake (Äppelkuch) [Recipe]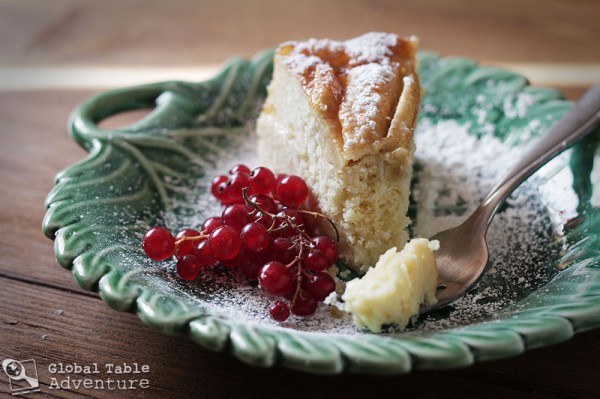 What I liked most about this dish:
This was so soft and moist… the apples had just enough bite. The cinnamon on top really shone. Ava, of course, loved it and Mr Picky complained for days afterwards "Why do you have to have cake on the counter, tempting me??" (Because that's my job, sweetie… that's my job).
What I liked least about this dish:
This extraordinarily tendercake must be cooled almost completely to be removed safely from the pan. Keep this in mind, or you might end up with broken cake all over your counter. And don't think of putting it in a springform, because it will leak. Unfortunately, I speak from experience.
Ava's Corner