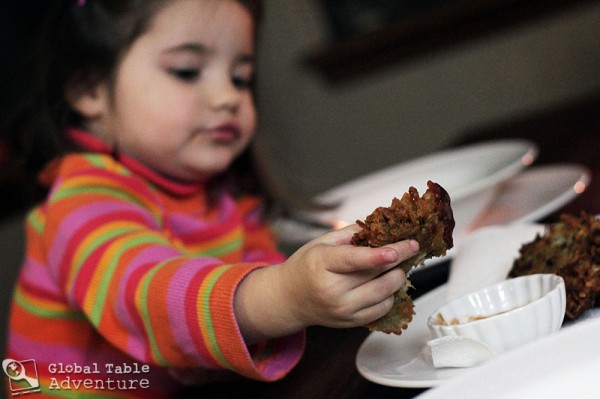 In the gift shops of Luxembourg, right next to the key chains and novelty mugs, you will find postcards that read "Sunny Luxembourg." A casual tourist might not think twice, but live in Luxembourg for longer than a week and you'll realize this couldn't be further from the truth. Let's just put it this way: the landscape is lush green for a reason. Loads of rain and gauzy cloud cover persist throughout the year.
When faced with what to make this week for "sunny" Luxembourg, a country I spent more than three years in, I went back to memories. I decided to relive, via Stovetop Travel, two of the very dishes that I enjoyed while living there. These recipes include my weak spot as a teenager – fair food – and a big bowl of country cookin.' Of course, it wouldn't be an Adventure without trying new food, so I added a traditional apple cake to the mix that I am pretty sure I've never had.
The good news? With Stovetop Travel, you never need an umbrella.
What sounds good to you?
Potato Fritters (Gromperekichelcher)  [Recipe]
Potatoes, onions and parsley combine forces to make ultra crispy fritters. Pack your bags – these crunchy bits of potato goodness will transport you to a Luxembourgish market quicker than any plane I know of.
Green Bean Soup (Bouneschlupp) [Recipe]
A surprisingly light broth loaded with green beans, potato, celeriac, and leeks, topped with crumbles of bacon and German-style sausage.
Apple Cake (Äppelkuch) [Recipe]
Harvest apples directly into this cake, a sweet and moist treasure great for any occasion. Serve with a dusting of confectioner's sugar and cinnamon.