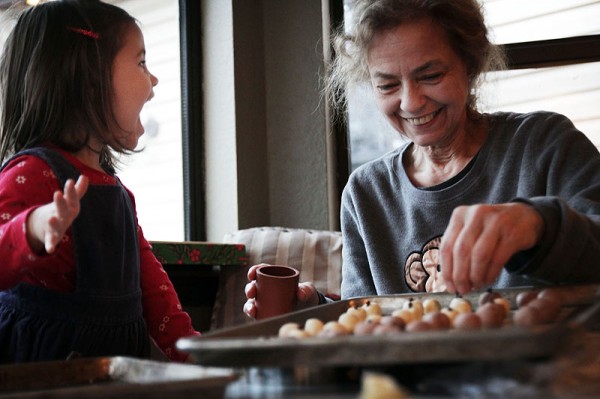 THE SCENE:
I take off Ava's fuzzy hat and coat, give her a kiss and off she goes – into her classroom. As I turn to leave, her teacher calls after me.
"What are you cooking today?"
"Libya!" I exclaim, perhaps a bit to excitedly, "I'm trying their version of shortbread. They put a whole clove in them!"
"Sounds great!" she smiles, and gets right back to work, helping the kids with the day's craft project. I pause for a moment to watch them work, admiring how carefully their little hands stamp stars and hearts onto the paper.
Thirty minutes later, I am home, ready to work. The Libyan cookies whip up easily and, while they aren't very sweet, the whole clove makes them taste like the holidays. Once cool enough to handle, I pack them up in tissue-lined tins; red, green, and white. In the afternoon I pick up Ava from school and hand one to each of her teachers as a thank you for their hard work so far this year.
Over the next several days I am surrounded by family, festivity, and friends. Ava has two weeks off school and the classroom slips into the shadows of my thoughts. Christmas morning arrives and we begin the work of opening presents.
My hand falls on a small white paper bag decorated with stars and hearts. It crinkles as I pull it from under the tree.
"Is this from you?" I ask Ava, remembering her project days earlier.
I look inside to find a glittering star filled with a photo of Ava in her angel costume. My eyes float up to Ava, only to see her beaming with pride. She is so happy to be a part of the giving.
Tears well up in my eyes. I am crying from happiness (which is, to quote Doctor Who, "so humany woomany"). My heart bursts in a million tiny pieces.
I wish in the moment, for her teachers, and teachers everywhere, the world around, to feel the love in their hearts they create with these simple projects. They make memories. They change lives.
So this is a thank you. A thank you for her teachers and your teachers and my teachers.
Thank you so much, today and every day.
THE FOOD:
Libyan Shortbread Cookies (Ghraiba) [Recipe]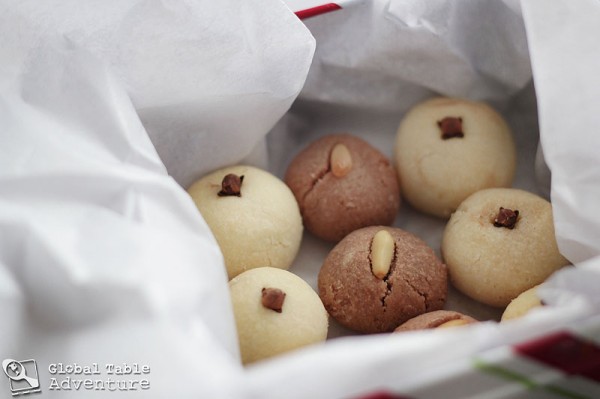 What I liked most about this dish:
When I saw Ava's teacher the next time, she ran over to tell me how much she adored the cookies, especially the plain, white ones. Interestingly, she said they reminded her of some Italian cookies she ate growing up. After I heard this, I was thrilled. It no longer mattered what I thought of the cookies – seeing her happy was the best part of it all.
What I liked least about this dish:
They weren't very sweet but that can be a good thing if you're tired of going overboard on sugar – like we did with the gingerbread you can see below (even Mr. Not As Picky did, exclaiming yesterday that we should throw out all our candy – which about made me ask him to do a fingerprint test).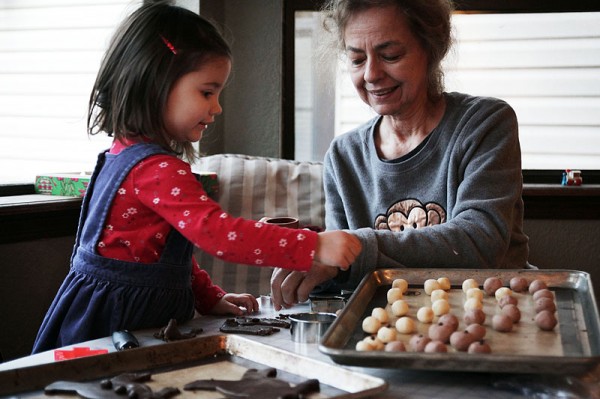 Stuffed and Fried Potato Wedges (Mbatan Batata) [Recipe]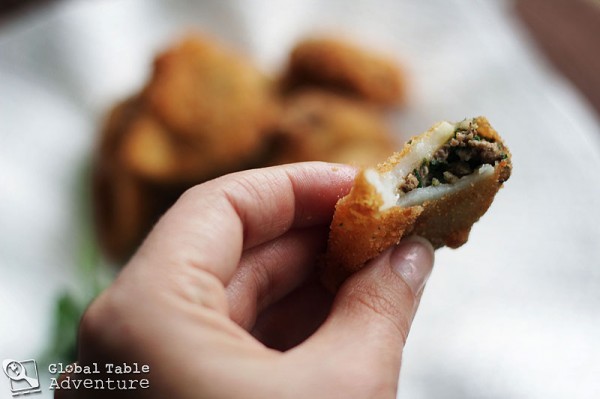 What I liked most about this dish:
Everything. Crispy, crunchy, full of great flavor… and hard to stop eating. We actually enjoyed these while building a gingerbread house with friends. Every once in a while I'd drop a batch of frozen ones in my hot oil and we kept munching away. Fantastic, especially the hints of ginger and cinnamon with the lamb.
What I liked least about this dish:
Nothing. Yes, they take time to make, but they can be made ahead and are so delicious and creative. Keith adored these. As for Miss Ava, she was rather hesitant to try them. Once she got 2 bites in, however, she kept going.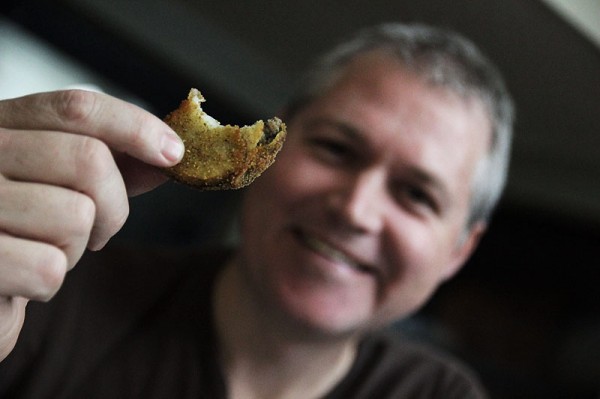 Ava's Corner: