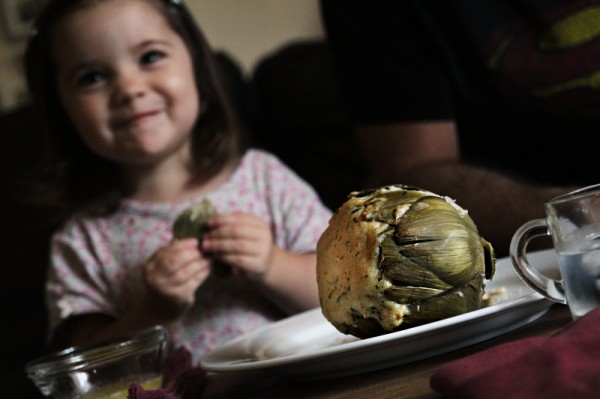 This week I can shut my eyes and dream my way to Italy.  All I need is to dust my hands with flour, slap around some pasta dough, and fill the house with the scent of steamed artichoke. In an instant, I'm there. Just knowing that I'm making recipes that my family has made for hundreds of years (in some form or another), brings a smile to my face – it's like a mini vacation from the unknown so common in this adventure. Then, as I watch Ava help me cook and enjoy the food, my heart triples in size because I know – the recipes will live on.
What sounds good to you?
Homemade Pasta Dough [Recipe]
This dough is soft, like a baby's bottom – made with nothing more than flour, eggs, and a splash of water.  The secret is to let it rest before trying to roll it out. That and slapping it around a lot. Seriously.
Alfred's Pork Ravioli [Recipe]
Alfred lived to 103. He kept himself young by making these pork ravioli 2-3 times a year. His mixture includes ground pork chops, spinach, parmesan, nutmeg, egg, olive oil, breadcrumbs and milk.
Stuffed Artichokes [recipe]
A vegetarian delight from my mitten wearing years: whole artichokes stuffed with a breadcrumb, parmesan and parsley mixture. You'll faint.
Towering Tiramisu [Recipe]
More readers requested Tiramisu than any other treat for our Italian Global Table. I am happy to oblige with this towering tiramisu trifle. Light and creamy, with the most delicate espresso and rum flavor, this dessert is guaranteed to be the showcase of any potluck dessert table.
*All recipes and meal review will be up by Monday morning.