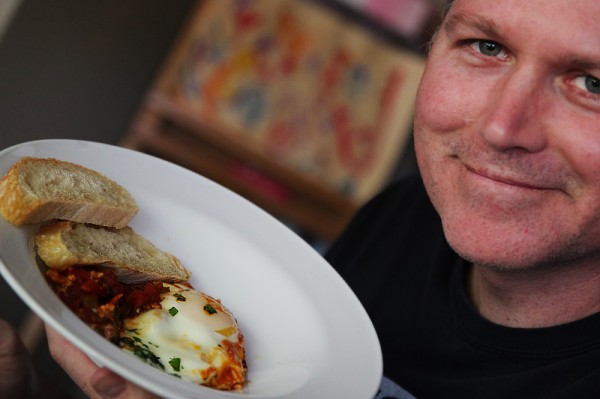 When the storm clouds blot out the sun, do you say: "Hurrah – I love the way rain feels on my face."
When your cup is empty, do you say: "How great to have a cup!"
When all you have are a few lemons, do you ask: "Who would like to share a splash of lemonade?"
Our week at the Israeli Global Table is a celebration of the delicious treats that can be made out of a surprising few ingredients. Treats fellow food optimists will love. (A Food Optimist is often found to say: Sure I can make something out of that – no problem!)
Are you a Food Optimist? What sounds good to you?
Lemon-Garlic Hummus [recipe]
A highly flavorful hummus, seasoned with fresh lemon juice, garlic, and lots of parsley. As a bonus, this quick recipe comes together in 5 minutes.
Shakshouka [recipe]
An Israeli breakfast. Eggs poached on top of a tomato pepper sauce. Garnished with plenty of parsley and served with crusty bread.
Citrus Salad [recipe]
Nothing says Israel like a simple orange and grapefruit salad.
Israeli Juice  [recipe]
A big sip of sunshine, made with fresh lemon and lime juices, sprigs of mint, and simple syrup.
*All recipes and meal review will be posted by Monday morning.