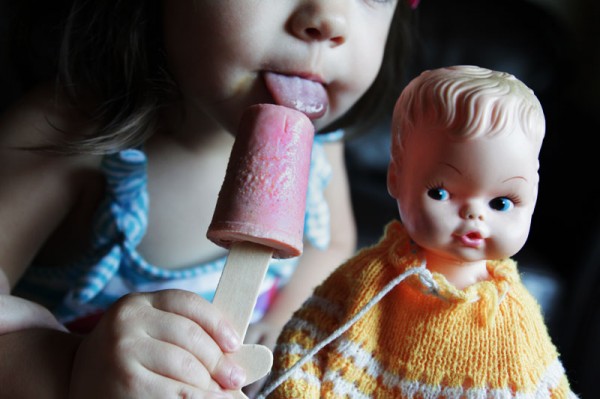 Somehow the stars aligned and Ava's second birthday (July 4) fell on the weekend I cooked India.
What does that mean?
Ava's second birthday party was definitely not the candy/pizza/ice cream fest that is standard in so many homes. Nope. Instead, my yard was dotted with tots running around with kulfi pops and adults sipping masala chai (which I served iced, thanks to Oklahoma's outrageous 101F temperatures).
It was really rather grand and quite possibly epic, as far as toddler birthday parties go.
What would you try?
Saag Paneer [recipe] with homemade Garam Masala [recipe]
India's answer to creamed spinach. Our version is mildly spiced with ginger, turmeric, homemade garam masala, and serrano chili peppers – finished with a touch of half and half.
Homemade Paneer (cheese) [recipe]
Whole milk naturally curdled with lemon juice and pressed into creamy, sliceable cheese.
Masala Chai (Spiced Tea) [recipe]
Black tea steeped with cinnamon, cardamom, fennel, and other spices until fragrant. Mixed with milk and sugar for an irresistible treat. Drink hot or break tradition and enjoy over ice.
Kulfi Pops (Indian frozen treat) [recipe]
Kulfi is a common street food in India – a frozen, molded dessert made with sweet milk, sliced bread, and pistachios. Our version is seasoned with cardamom and rose water. I put a Popsicle stick in them so the kids could run around with them easier, although they are often eaten with a spoon.
*As usual, all recipes and meal review will be published by Monday morning.