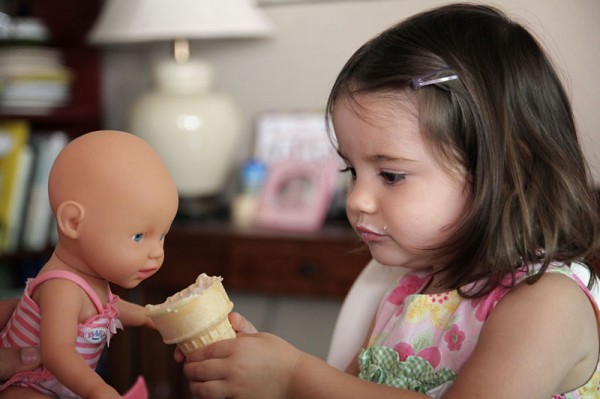 Keith's parents would be here in just a few hours. I went to the window. Blue and clear. A good time as any to get cooking.
I tore open the gelatin and whisked it together with warm water until dissolved.  Next, I cracked open the thick white coconut milk, and swirled it with the rest of the ingredients, stopping to dab a little vanilla extract on my wrists. Time for the stove top. I clicked on the burner and let things heat up.
After a moment, the smell of summer billowed up.
I poured the steaming liquid into the mold and stirred in the tropical fruit. The next day we'd have elegant, grown-up jello from Haiti. Blancmange. The whole thing took less than ten minutes. I smiled at the novel simplicity.
Ava would love it.
I pushed the dessert into the refrigerator gently, trying not to splash the blancmange around too much. I should have made something like this a long time ago, I thought to myself. I hardly ever make food that wobbles. In fact, with no memories of ever having done so, my best guess is that I've made jello twice my entire life.
This was cause for celebration.
The next day, I put lemon yellow wildflowers in the window and a smile on my face. Everyone took a slice.
Ava looked at the creamy white slice of blancmange studded with jeweled tropical fruit. She frowned.
Keith, my Mr Picky, took a bite. There was a pause as he shifted in his chair.
"From looking at it, I thought it would be sweeter," he finally said.
I took a bite.
"The fruit's sweet."
Ava continued to look skeptical, the way only a toddler can. Her skepticism remained firmly lodged until I brought out the coconut ice cream.  Then she was all smiles. And kind enough to share with her new baby doll.
For Ava's reaction to the blancmange, watch the video at the bottom of this post.
Caribbean Coconut Ice Cream [recipe]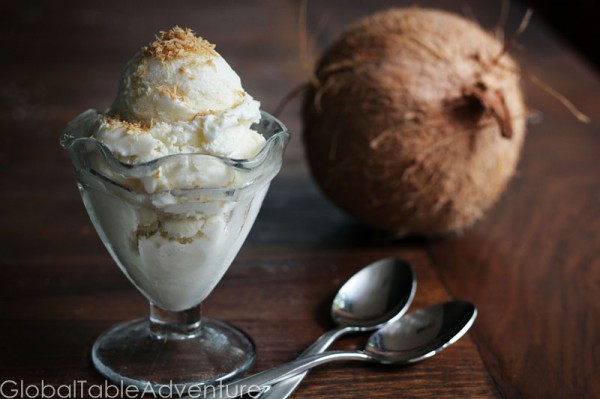 What I liked most about this dish:
There's nothing so wonderful when hot, sticky weather creeps into the house (even with the a/c on full blast), as a no-cook ice cream that only takes three ingredients. The flavor is rich, creamy and wonderful. The time to make it? Three minutes, plus churning time. Excellent.
What I liked least about this dish:
Not much, although real coconut fans might want to add a bit of shredded coconut to the recipe for texture. I prefer it on top, myself.
Blancmange Coconut Fruit Jello [recipe]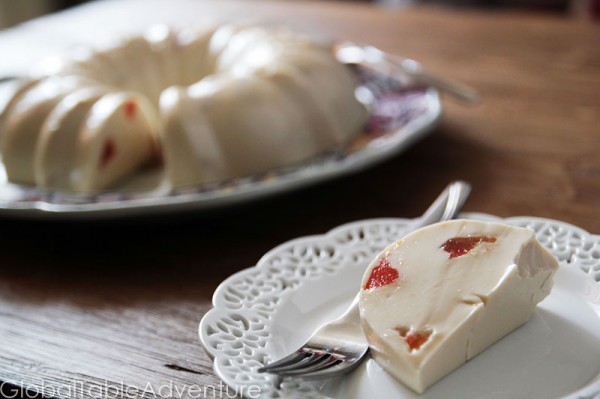 What I liked most about this dish:
This is a totally new concept for me. The flavor is rich and fruity, but also rather sedated as far as jellos go. I rather liked it.
What I liked least about this dish:
This not a sweet treat. This is delicate and creamy. If you aren't into mild desserts, this recipe might not be for you.
Plantain & Cheese Turnovers [recipe]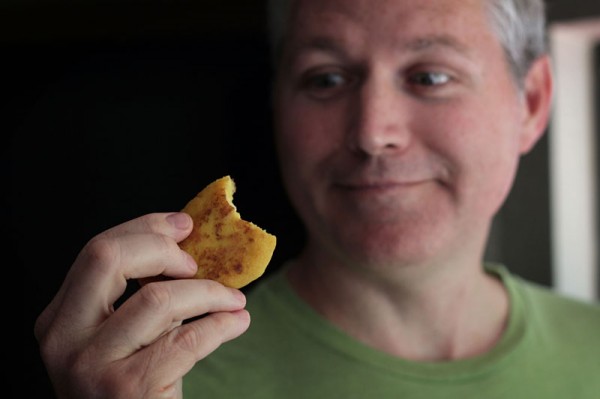 What I liked most about this dish:
The creamy, melted cheese and tart plantain dough go nicely together, especially once the whole thing gets the crispy crunch of pan-frying. Keith gobbled these up.
What I liked least about this dish:
Watch them carefully in the pan. The flour helps them from sticking, but they can fall apart if you are too rough with them or if you don't add enough flour to your dough.
Crunchy Jicama & Chayote Salad [recipe]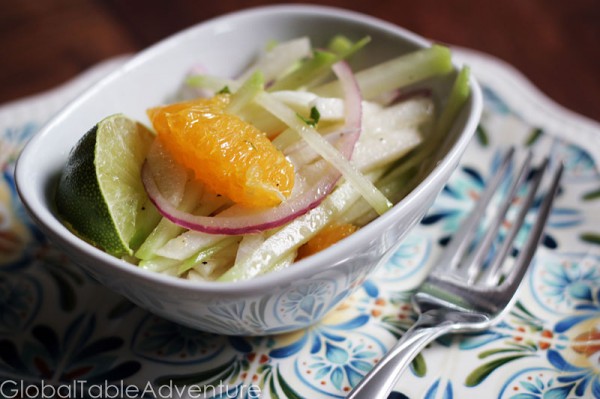 What I liked most about this dish:
Refreshing and citrusy – this is my ideal slaw. No mayo for me, thanks! The other diners – Keith's very Oklahoman parents – seemed a little more perplexed.
What I liked least about this dish:
Not much. Next time I might add a third orange for even more juicy bursts in every bite.
Ava's Corner