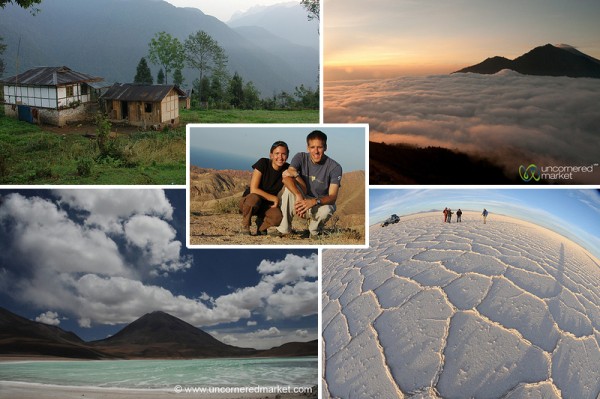 Imagine if this was your view… Imagine if you could be in these places… Imagine if the world was your back yard.
You're in for a real treat today – Audrey Scott and Dan Noll from Uncornered Market are here to answer a few questions. They live a life I can only dream about. They explore the world for a living. The world is their back yard.
That's right. In 2006 left their corporate desk jobs, got rid of their belongings, and went off to… well, wherever the wind blows them. They support themselves by writing travel articles, sharing their inspiring photography, and with their web site.
What does this mean? It means while I'm overwhelmed with too much stuff in my small house, they're off with nothing more than a couple of backpacks in the great big world. Free and light as a couple of birds. It makes me want to have a yard sale.
I love their approach to life – they're filled with curiosity, adventure and good-will to the people of this world. Always interested in helping, they've been a great help with our world cooking adventure – making our Guatemalan Global Table (and others!) more authentic.
Now, without further ado, I'll let them speak for themselves… about the unusual, the wonderful, and – of course – the tasty parts of our great, big, wonderful world.
1. What does "home" mean to you? What do you eat when you get homesick (if you ever do)?
This is a difficult question for us as we've lived outside the United States for almost ten years and even before that we lived on the opposite coast of where our families live and we each grew up.
In general, home for us is where things are familiar and we have a community of people. It could be back in the States with family and friends or perhaps in Prague, Czech Republic (where we last lived). And it could be somewhere else soon.
When I get homesick, I tend to crave things like bagels, deli sandwiches, and burritos.
(Related post: What do Nomads Call Home?)
2. Do you miss any of your "stuff" from pre-travel days?
Yes and no. We don't really miss any of the furniture or stuff we had in our old place. But, we do miss not having a place of our own that is familiar and we can return to and recharge batteries from time to time. And, when we're in a place with really bad coffee we do miss our stovetop Moka coffee maker.
3. Please share an unusual food story from you travels.
We arrived at our final destination of our horse trek in Kyrgyzstan and no more than five minutes later our trekking guide was on the ground slitting the throat of a goat and skinning him. He smiled, "Dinner tonight."
Hours later, we were sitting on the floor around a table in a dark yurt as every single bit of the goat was passed around on a tray. The grandfather shepherd next to me had secured the skull and was cutting off chunks of meat with a hand-made knife.
Dan and I, as guests, were each given a desired part – the jaw bone. We gnawed away at it for as long as we could. The remains of the goat were put into a giant bowl and homemade noodles and broth were added to it. Then, everyone shoved their hands (mind you, there was no running water in this yurt to wash hands) into the steaming bowl to mix it all together. At that point, we looked at ourselves and thought, "We're going to be sick tomorrow from all the bacteria that just went in there. But, we can't say no."
So, when in Rome – or more like in a yurt – you dig your hands in and eat Beshbarmak, the traditional Kyrgyz dish literally meaning "5 fingers" as locals do…with your hands.
And by some miracle, we actually did not get sick after all.
(Related post: Goat and Five Fingers)
4. What is one of your favorite food memories?
A spontaneous feast put together by the market vendors of a small town in the hills of northwest Georgia (country of) called Zugdidi. As is usual for us, the fresh market was the first stop when we arrived in Zugdidi. We found friendly and curious vendors; it was obvious they didn't get a lot of foreign travelers visiting. On our way out we asked one of the vendors about where we could find a specific Georgian dish called lobio (a hearty bean soup). Because this dish was associated with troubled times in Georgia just after independence and people couldn't afford more than this, it was difficult to find in many restaurants.
Leila, the vendor, sat us down at one of the stalls, told us to wait and went into commander mode. Within a few minutes a feast was assembled in front of us, not only of lobio, but of contributions of bread, salad, fruit, cha cha (Georgian grappa) and honey from all the vendors around us. We passed around the Cha Cha bottle, everyone shared their story and we had a great time.
There is a saying in Georgia that "Guests are a gift from God" and people take this seriously. These women with very little all came together to welcome us as their guest in their market. Can't think of a better meal.
(Related post: A Surprising Feast in Zugdidi)
5. How do you figure out how to tip – is each country/region different?
We usually try to ask locals or long-term expats living in that country about what is considered normal. If we have no idea at all, we'll usually round up or tip about 10%.
Note from Sasha: I was surprised to learn in my travels that tipping is not nearly as common abroad as it is in the USA. Many countries do not expect a tip and if they do, 10% is considered generous.
6. What's next for you?
We are going next to Tanzania! This will be Dan's first time to Africa and his seventh continent. We'll be on a Gap Adventures tour to climb Mt. Kilimanjaro, go on safari and visit Zanzibar for the next few weeks. After that, we hope to be still for several months in Berlin. We've done a lot of travel and moving around this year, so we're looking forward to having some stability in a city we love for several months.
Thanks for chatting with us at the Global Table!
Happy & safe travels to you both.
All photos copyright Dan and Audrey from Uncornered Market.