THE SCENE:
"No matter what happens in the kitchen, never apologize." – Julia Child, Appetite for Life
Thirty-four candles flickered on the stone wall planter around us. Six tealights danced on the table before us. The moon was out of sight, floating somewhere above the trees. I reached for my glass of wine, feeling a warm summer breeze brush my arm, as if to say "hello."
Friday night. Four friends, sharing food in the calm peace that comes with not having to answer to anyone or anything for two whole days. The weekend.
We've grown so accustomed to eating our food with our hands, we picked up the Greek salad with bits of pita bread, leaving the forks untouched. Even the lamb kabobs were finger food, for Keith and I. The spanakopita – definitely. The night lingered while we caught up on old news.
And then, I shattered the moment. I could almost hear Julia Child groan.
"I'm sorry for the dessert."
Almost as I said it, I caught myself. "It's … simple, but I really hope you like it."
Everyone looked confused. Worried.
Trying to recoup myself, I hastily added "Let's have some fun, okay? I have one bear of local honey and one jar of orange blossom honey from Europe. Who's up for a taste test?"
We dipped our spoons in to taste the European one, and then drizzled the local honey bear. The local one was thick, rich, almost tasting of caramel. The orange blossom was delicate, light, like nectar mixed with morning dew. Soon, everyone had forgotten about the apology.
The three Oklahomans preferred the local honey "It tastes familiar," they said.
I liked the orange blossom honey. Perhaps because it, too, tasted familiar, from my years living abroad.
We spooned our favorite honey into the yogurt.
"It tastes so desserty… I didn't expect that," Michelle said, going for more.
Everyone scraped their bowls, vowing to eat it again. We chatted late into the night until, one by one, the candles burnt out or were blown out by the tufting breeze.
THE FOOD:
Spanakopita [Recipe]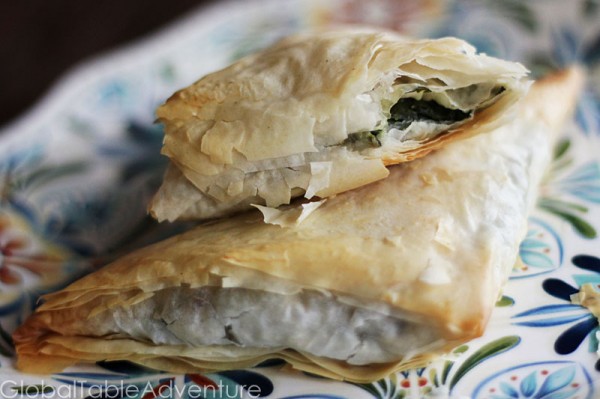 What I liked most about this dish:
Oh, something that goes a little like this: open freezer, remove spanakopita, bake for thirty minutes. Eat. The recipe makes so many little triangles that there's really no way we could have eaten them all in one sitting, even with 4 of us. Even after freezing, the flavor was phenomenal and, although you'll find recipes with lots more ingredients, this is the basic, true spanakopita – and there's really no need for a bunch of other ingredients to muddy up the flavor.
What I liked least about this dish:
The preparation does take a long time, but I think it would be fun to make this with children or friends and it would go much faster. Or you can use the folding as a meditation exercise. Each spanakopita you can think of one good deed you can do.
Traditional Greek Salad [Recipe]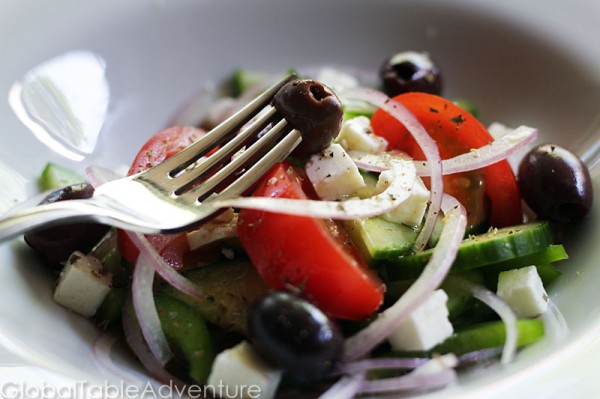 What I liked most about this dish:
This is perfectly refreshing. I love that a true Greek Salad doesn't have lettuce in it. I never knew that. I also loved cutting the ingredients with my newly sharpened knife. A great Mother's Day present (or, ahem, Father's Day present, if anyone needs ideas).
What I liked least about this dish:
Nothing.
Grilled Lamb in Rosemary Garlic Marinade [Recipe]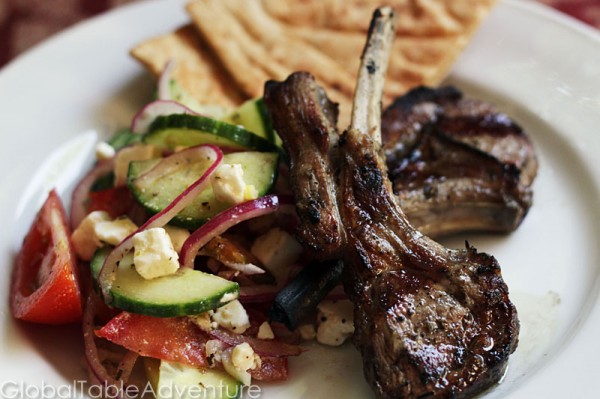 What I liked most about this dish:
The longer this lamb set in the marinade, the better it got. I found it absolutely irresistible at 24 hours, although 12 hours was pretty good, too.
What I liked least about this dish:
The flavor was perfect, but I feel as though I should warn you: the lemon juice does "cook" the outside of the meat a bit, turning it grey. Don't let this alarm you, it's perfectly fine and tastes fantastic.
Greek Yogurt with Honey [Recipe]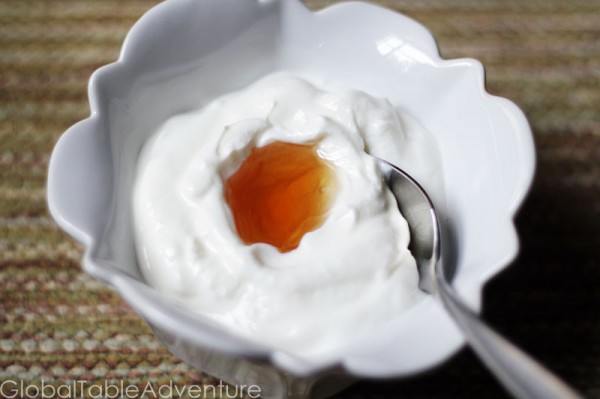 What I liked most about this dish:
Everything.
What I liked least about this dish:
I wasn't in Greece eating it.
Ava's Corner