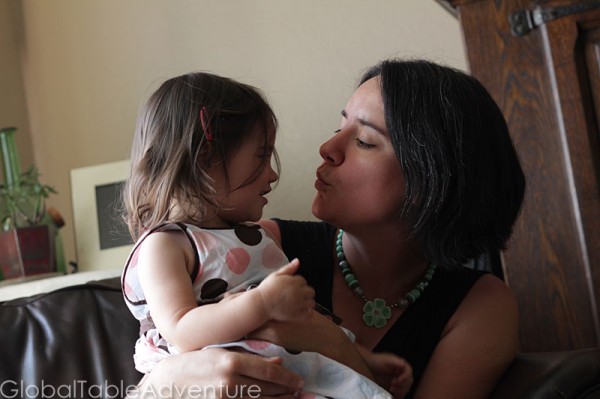 This weekend was wonderful for three reasons.
1) I had the joy of being with my sweet daughter and husband for Mother's Day. We went to the immaculate gardens at the Philbrook Museum and pretended to be 18th century royalty. Also, Keith made me French Toast and did the dishes. And took me to dinner. And had my knives sharpened. And got a pedicure… with me. It was pretty epic, as far as Mother's Days go.
2) I got my first hair cut in over a year. Maybe in two years… I'm not sure. While I hated it at first, I've grown to love the fact that my neck is no longer covered by a ratty pony tail.
3) We reached Greece on this crazy world-food Adventure. I remember when I started this blog 1.25 years ago, how far away that seemed. Well, here we are, more than 1/3 of the way through the countries, with a menu I'd eat every week if I could.
Spanakopita [Recipe]
Spinach and feta cheese wrapped in lightly buttered phyllo dough.
Traditional Greek Salad [Recipe]
Juicy tomatoes with crunchy peppers, cucumbers, and red onions make a lovely bed for feta cheese and Kalamata olives. Serve with a drizzle of olive oil, red wine vinegar, and oregano.
Grilled Lamb in Rosemary Garlic Marinade [Recipe]
Fresh rosemary, garlic, lemon juice, and oregano make a bold marinade for lamb. Let set for 24 hours and you'll never want to eat out again. 
Greek Yogurt with Honey [Recipe]
Creamy yogurt and floral, sweet honey – the dessert of my dreams, as remembered from my trip to Greece in 1993. Use the best yogurt and honey you can find.