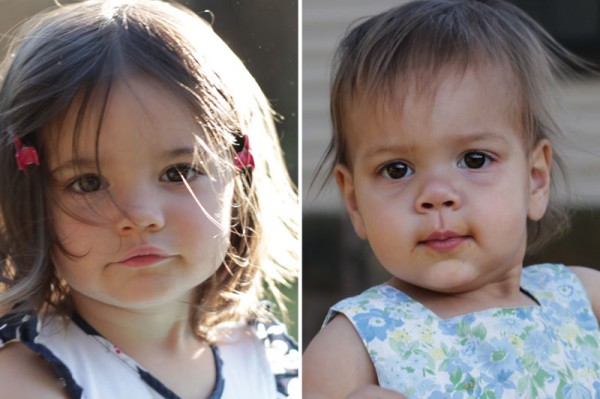 THE SCENE
While I'm usually a pretty casual gal, I adore setting the table for a dinner party.
Hours before dinner I begin. First, I put out water glasses and wine glasses. I listen, as with a seashell, for the chitter chatter of a hundred dinner parties in the sparkling glass. Soft, cotton napkins are next – each one tucked inside a beaded stone ring which rustles when you lift it. The tough cloth comforts nervous guests. It doesn't rip, like paper.
The kids can tell. Something special is happening.
For this particular dinner – our Ghanaian Global Table – wide soup bowls gleamed on top of honey-colored bamboo mats. Small, mismatched finger bowls were next, for the Red Red. A pitcher of rosy Watermelon Lemonade went out at the last minute. The table was so crammed, I had to choose between the food and flowers for the center piece.
Food won.
Is it odd to set the table so elegantly for a rustic meal? I've seen jeans at weddings and sweat pants at the opera. I've also seen prom dresses at diners, and hats with feathers and lace at the bus stop.
I prefer the latter. Might as well do it up before we're gone.
When Evie and her parents came over, they brought fresh, warm slices of sourdough bread, draped lightly with a soft cloth.
"Gorgeous" I said, admiring the bowl and bread in equal measure.
The soup was hot and ready to go so we popped open the wine and sat down. Evie's mom, Tara, ladled out the soup while her husband told us tales of his trip to Ghana – how vats of red palm oil lined the dirt roads.  Steam rose from our bowls and the girls bounced around, ready to eat. Evie gobbled up the beans, stout with garlic and red palm oil. Although Ava staged a minor rebellion against the beans, she happily ate three bowls of the delicate peanut and chicken soup. I ate everything, washing the meal down down with alternating sips of watermelon lemonade and red wine, glad to have two glasses.
A week later I received a thank you note in the mail.
Another glorious tradition.
THE FOOD
Red Red (Black eyed peas in red sauce) [Recipe]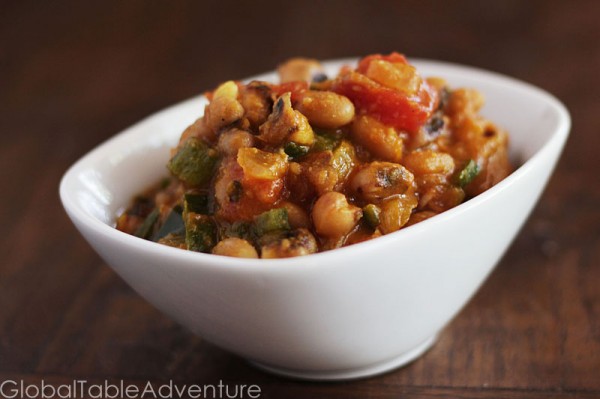 What I liked most about this dish:
When time is at a premium, Red Red serves nicely, especially with a steaming bowl of white rice. If you'd like things even hotter, try adding a pinch or two of cayenne pepper. You'll be sweating in no time.
What I liked least about this dish:
The red palm oil is an intense, acquired taste – rather woody. Ava took one bite and sat back in shock, making the funniest face. I believe there was even a little shudder. She didn't go back for more. While Mr. Picky controlled his facial expressions a bit better (we did have guests after all), the end result was the same. A definite no-go for them.
Spicy Chicken Peanut Soup (Groundnut Soup) [Recipe]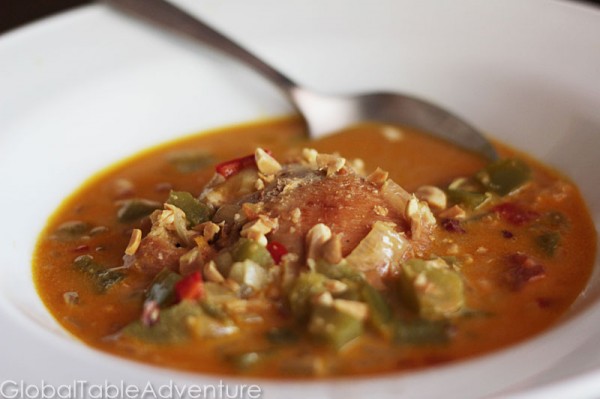 What I liked most about this dish:
This will be a mainstay in our home. Everyone, from Miss Ava, to our two friends, all the way over to Mr. Picky ate, and ate, and ate this soup. In an unprecedented event, everyone had thirds. And, really, why not? What's simpler than some chicken, veggies, and a light peanut butter broth? Perfection.
What I liked least about this dish:
Next time I might add more chicken, but this would simply be a ploy to make the dining experience last longer!
Watermelon Lemonade [Recipe]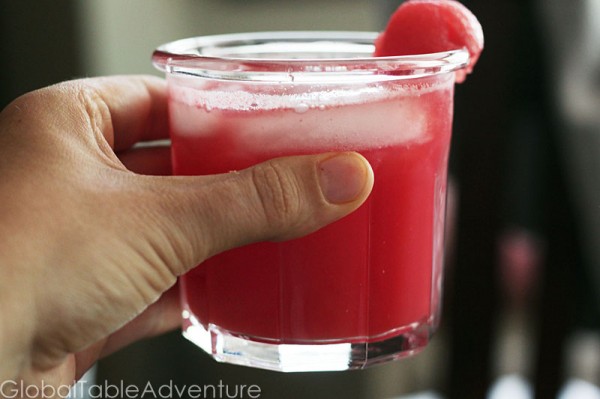 What I liked most about this dish:
I love how the mouth puckering kick of fresh lemonade is tamed by the mellow, sweet watermelon juice. I liked mine without pulp, but there's always room for pulp if that's your preference. Simply use a more open strainer.
What I liked least about this dish:
I wish I had doubled the recipe. Mr. Picky was drinking this on the sly, and it was gone before I knew it. At least we know he likes it! 🙂
Ava's Corner: