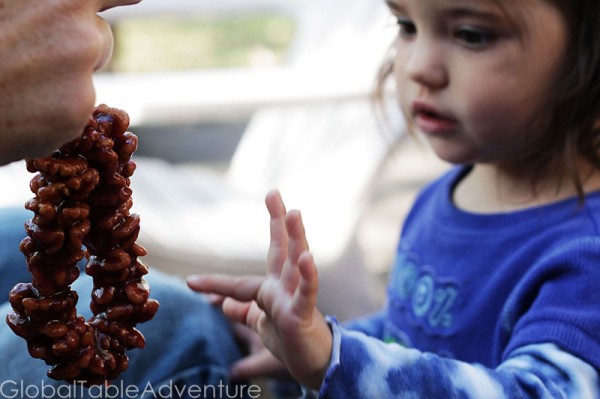 Makes 1 string, as pictured
Meet our adaptation of Churchkhela, the dangly natural candy from the Caucasus. Audrey, from Uncornered Market, informs me that this typically sausage shaped treat is nicknamed the "Georgian Snickers." Nice! Unlike a Snickers bar, however, we use only three ingredients, none of which are sugar. Long strands of Churchkhela can be found all over the caucasus, generally with extra thick outer layers of dried grape syrup (they call this tatara).
Our version is simplified for the home cook. First, it has significantly fewer layers. Second, we loop our strand so it is easier to dip in a small amount of liquid. Finally, we didn't age our Churchkhela as long as they do in Georgia. Our ingredients and technique vary somewhat, so this recipe is designed to be eaten within a few days.
You'll need to plan for 1 day's drying time for every time you dip the strand into the grape syrup (although drying times could be longer depending on humidity and temperature). Plus you'll need one night to drain the grape syrup. Planning a week for this project is probably a safe bet.
NOTE: We only dipped ours twice due to time restraints. Still, you'll be able to see the buildup of grape on the exterior is fairly dramatic each time.
Sigh. Please don't worry. This is actually rather simple.
Ingredients:
2 lbs red seedless grapes
25-30 pieces of walnut meats (whole)
1 tsp cornstarch
Fishing line (2 feet)
Sewing needle
Method:
Day 1:
Hello party people. Prepare yourself. This sweet treat is as unusual as it is fun to make.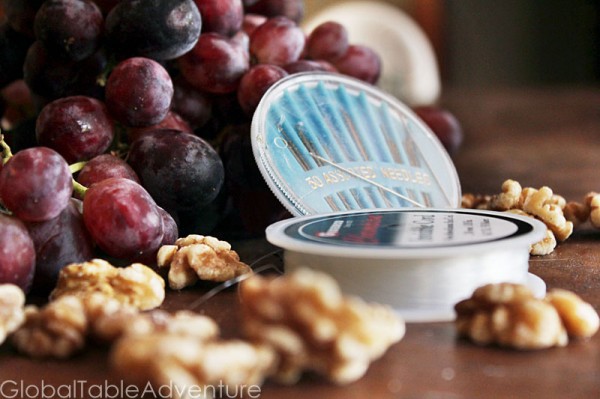 First, de-stem grapes and puree in the blender. Make sure those pesky skins are as teeny tiny as possible.
Easy, peasy.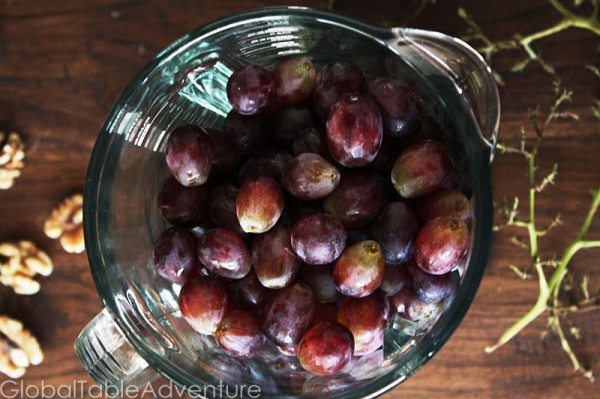 Next, set a fine mesh seive over a tall pot and drain the pureed grapes overnight (refrigerated).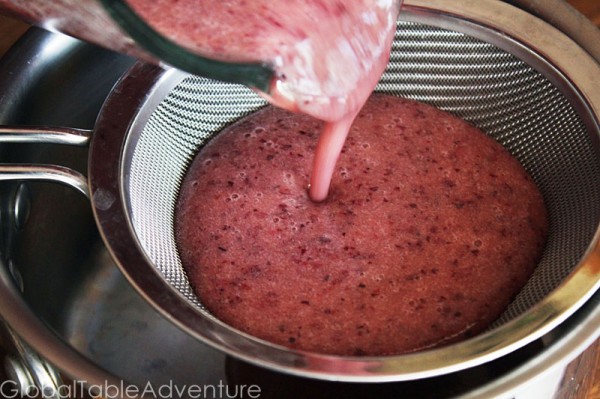 Spend at least 4 hours wondering if the grape puree is too thick for the fine sieve. Obsessively peek in the fridge 15 times. Stir up the mixture 10 times out of boredom and concern.
Notice the pot is too short; the strained liquid is coming up past the sieve. Mutter in the general direction of Max, the beta fish. Realize he's just minding his own business. Apologize to Max. Tell him he's the best pet in the whole, wide world.
Next, do a happy dance when you realize you have an asparagus pot. Transfer the liquid and the puree to that pot. Finally, this clutter-pot now serves three purposes: 1) steaming asparagus 2) steaming corn on the cob 3) straining grape puree.
Tri-winning.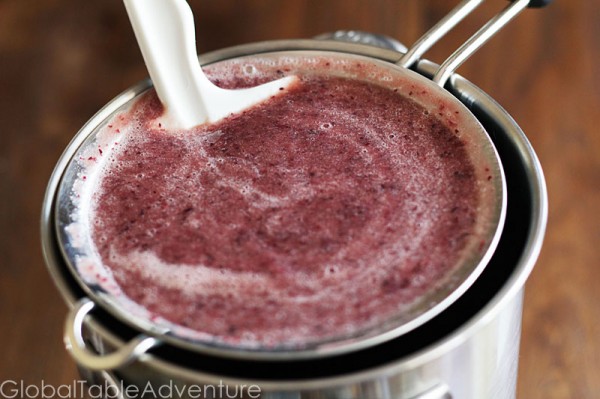 Meanwhile, perhaps while staying up too late watching a movie, yawn uncontrollably and thread walnuts onto fishing line. There's probably something in the cooking world one could use instead of fishing line, but this is what I had on hand and it worked out great.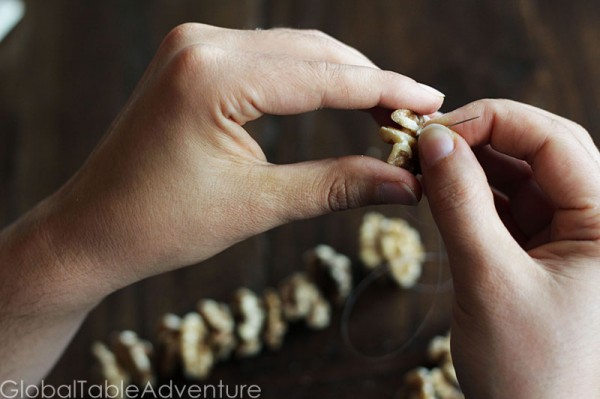 Mr Picky and I have different techniques.  Mine was more seamstress-like. His was more of a stab-and-pile approach. Somehow he avoided poking holes into the table… thank goodness!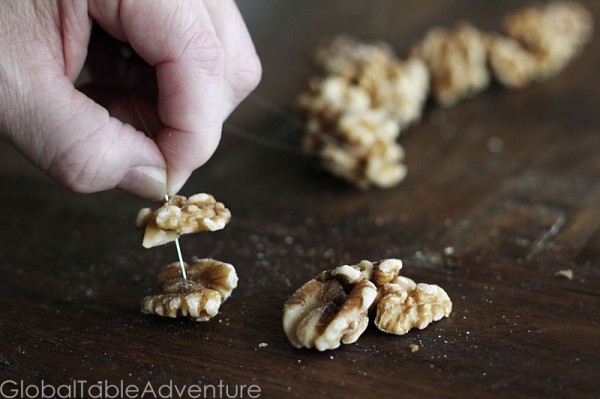 Loop the strand back into a circle and tie shut with a good knot. Be sure to make a small loop for hanging the walnuts when drying.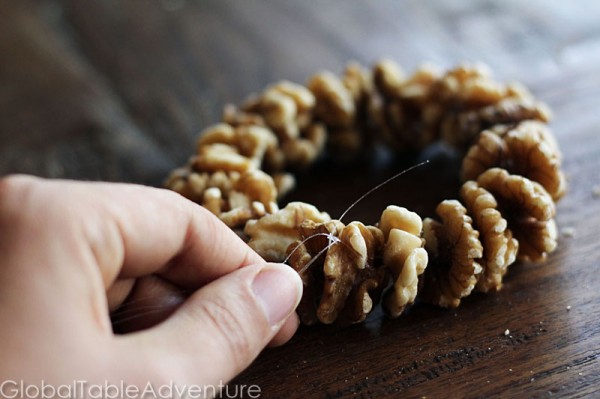 Look at the strand of walnuts. Spend a few seconds shocked at how much bigger you thought it would be.
Day 2
In the morning, after doing 100 push ups, press as much liquid as possible out of what remains in the seive. Discard remaining solids.
Simmer strained liquid 20-30 minutes, or until reduced by 1/3. Make cornstarch slurry with a bout 2 tbsp of the reduced grape syrup. Add slurry to pot and stir to combine.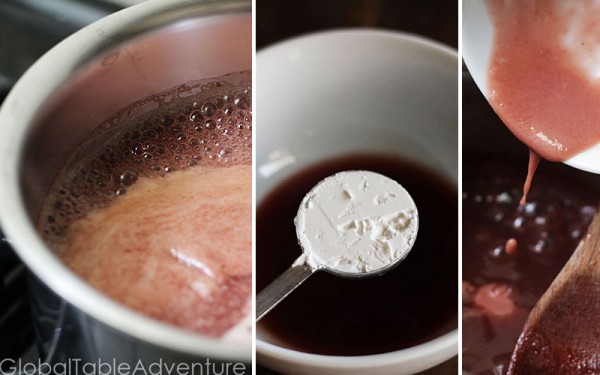 Simmer until mixture is thick and coats the back of the spoon, about 5 minutes.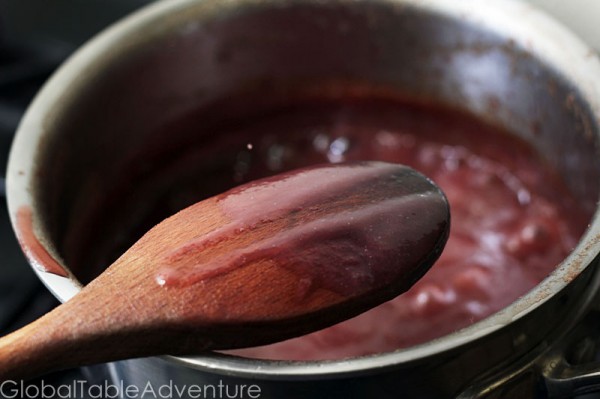 Let cool until lukewarm (so as not to melt the fishing line).  Coat the walnuts with the thick grape liquid.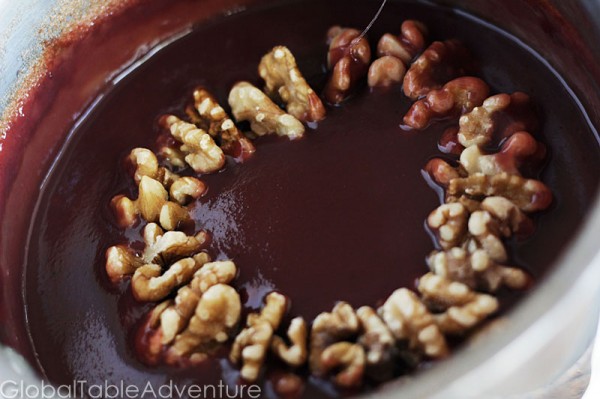 Both sides!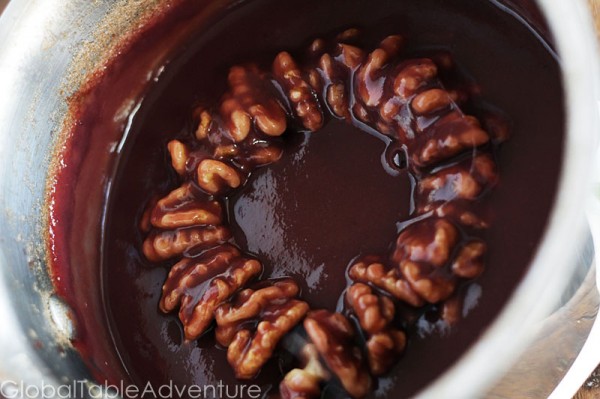 At this point you should have an idea where you want to hang the strand to dry. Preferably not on a toddler's finger. And preferably over a plate. Away from ants.
I hung mine from a coat hanger off a cabinet knob.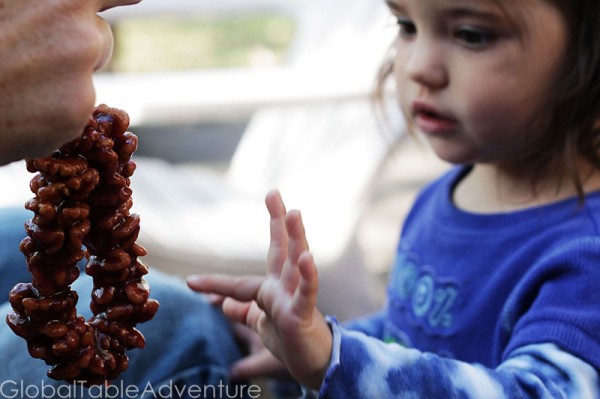 After each dunking, hang strand to dry with fan blowing on it until the coating is no longer tacky. This could take anywhere from 12-24 hours. Refrigerate grape syrup until needed again. You can dip walnuts into cold syrup just fine. Use a spoon to help cover the walnuts, if needed.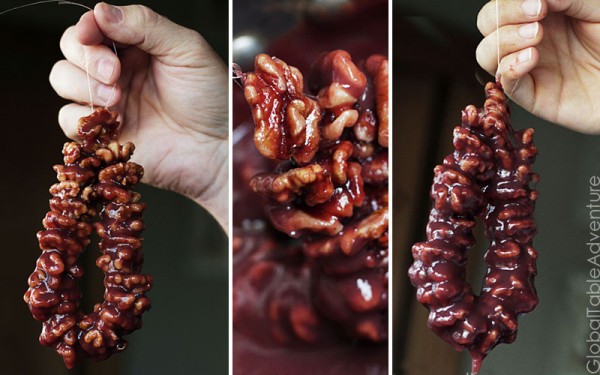 We dipped ours twice, but you should really do it 4 times or more to get it as thick and gooey as the real candy. We simply ran out of time.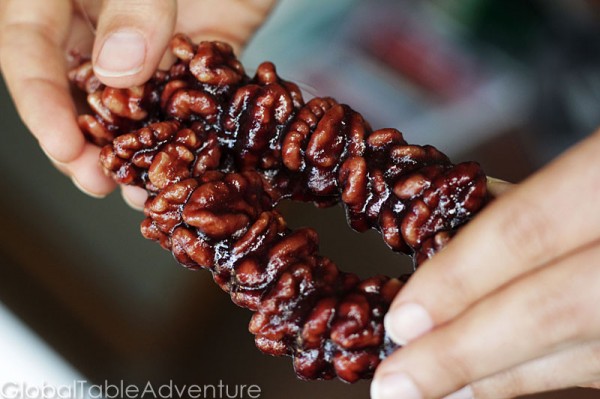 Despite appearances, this is no longer sticky!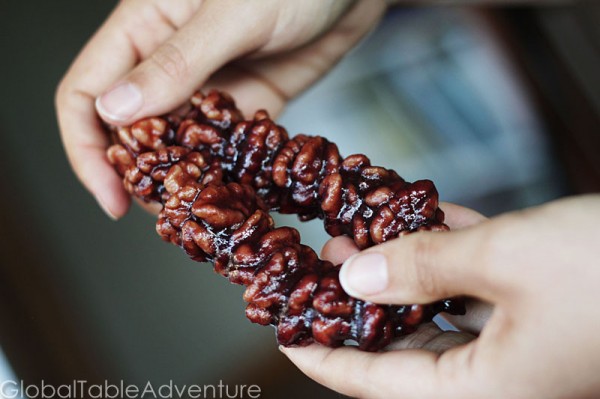 Cut the string and pull off chunks (you may need to slice it with a knife if you dipped the walnuts 4 times).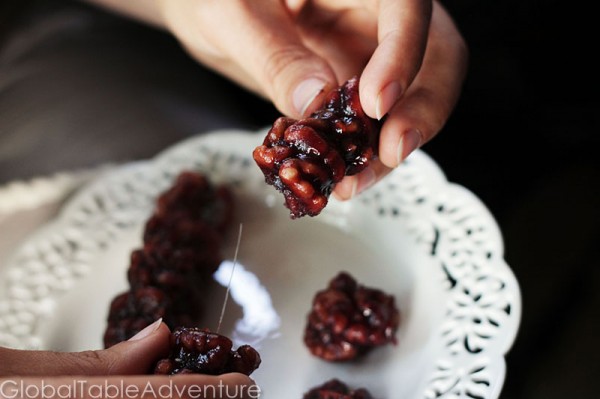 Nibble the tart grapes and nutty nuts.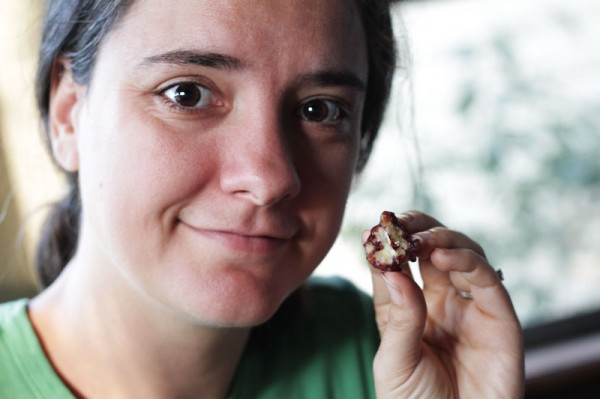 And don't listen to the Mr. Picky's in your life. This is a fun recipe.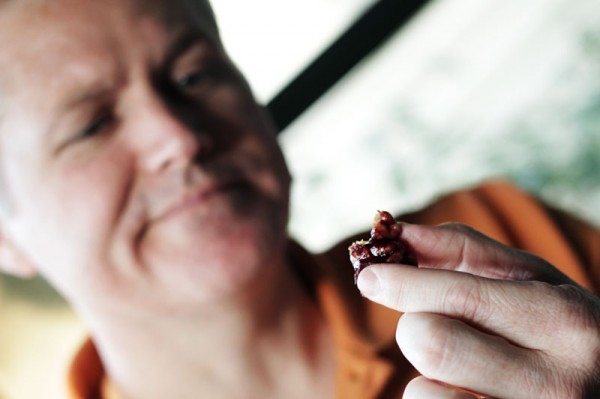 Perhaps I could convert him with a strand of peanuts dipped in grape syrup?!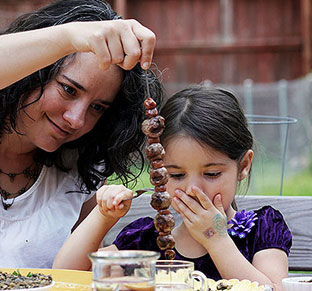 Hungry for more?
Be notified when National Geographic releases my memoir.
Simply fill in your details below.