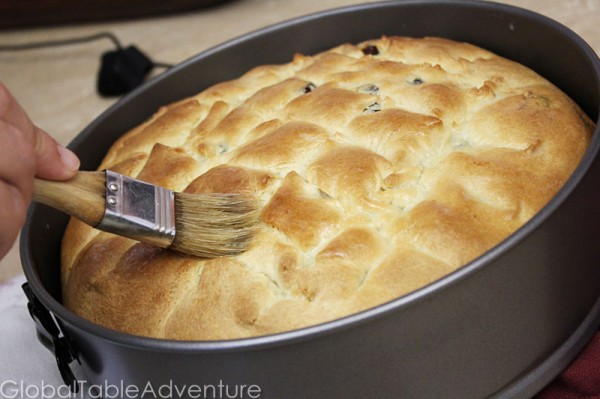 Makes one 8″ round loaf
My sister and I whipped up this Eritrean-inspired sweet bread and proceeded to stuff our faces with it all day long, until even the crumbs were gone. The cumin flavor is unusual, but goes perfectly with the sweet raisins.
While most Hembesha are made thin and extremely ornately, my sister and I decided to make this thick, quick and dirty version so we could spend more time playing with Ava on a balmy 70F degree day in February.  And so we could have more surface area to slather the hembesha with butter. Purist or not, I hope you can understand the lure of springtime in the winter.
Ingredients:
4 – 4 1/2 cups all purpose flour
2 tsp  instant dry yeast
1/4  tsp ground cardamom
1 tsp cumin
1/2 cup (1 stick) softened butter, plus extra for brushing
2/3 cup raisins
1 tsp salt
1/3 cup sugar
2 eggs
1 cup lukewarm milk
Method:
Grease an 8 inch springform pan.
In the bowl of a standing mixer, add the flour, yeast, cardamom, cumin, butter, raisins, salt, sugar, and eggs. Happy, happy, happy.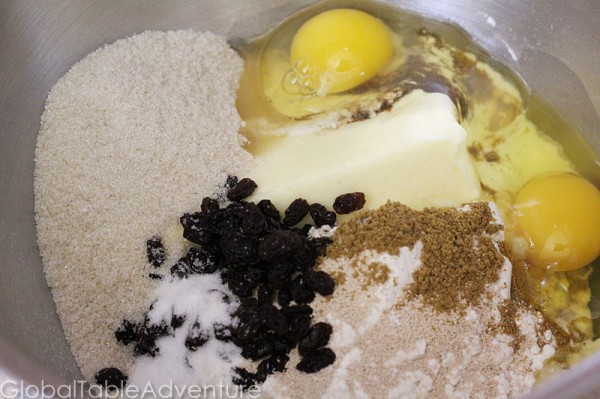 Splash on the warm milk.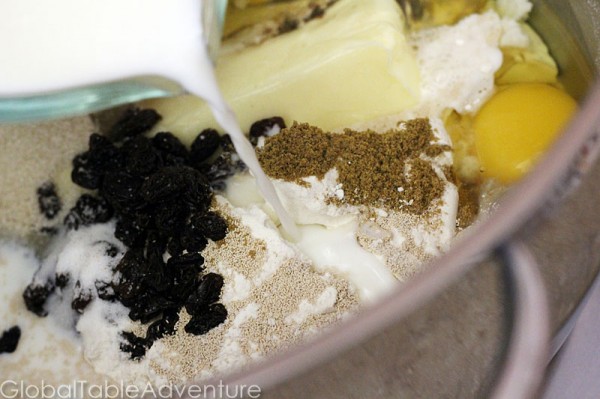 Mix with a dough hook until it comes together, pulls away from the sides of the bowl into a lovely, raisin studded dough ball.
Mmm.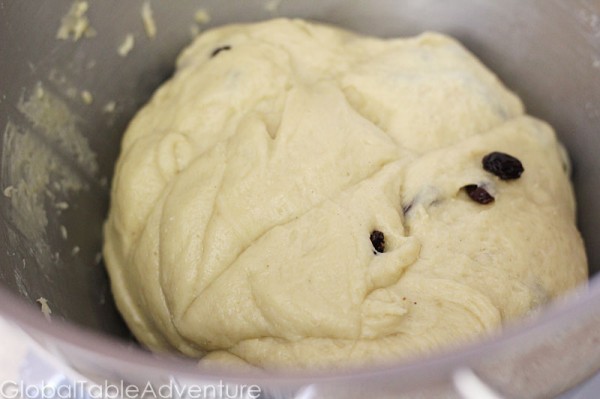 Wait. That was not a photo of raisin studded dough ball! It's a dough ball with a serious lack of raisins which I blame completely on, well, running out of raisins. Never you mind, I increased the quantities in this recipe so that your dough ball will be 100% raisin studded.
Carry on.
Cover and let double in size (took about 1 1/2 hours for mine). That's just about enough time to get a massage or go for a jog. Go for it!
When you're done, press the dough ball into the greased springform pan. Ta-da!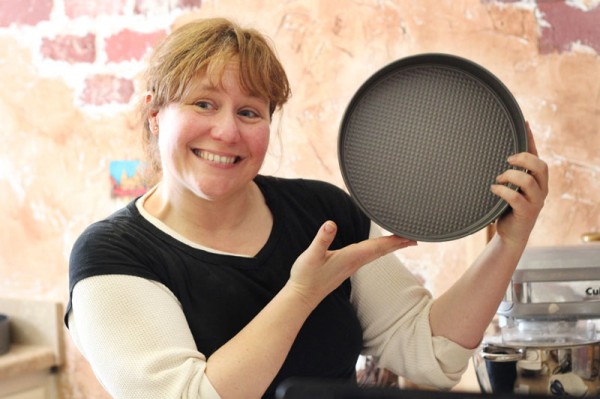 Cooking with my sister is a cheery Adventure.  Press, press, press.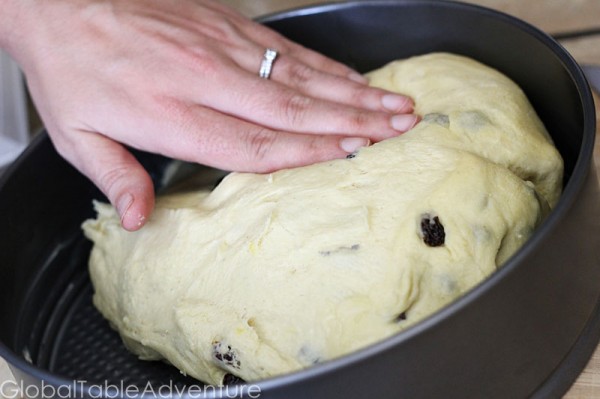 On second thought, lightly punching the dough is more fun. Punch, punch, punch. Let rise another 30 minutes or so.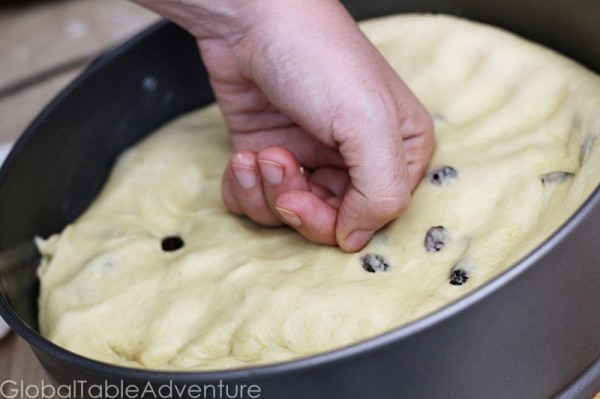 Meanwhile, preheat the oven to 350F, have a tea party, and laugh until tears come out your eyes.
Score the Hembesha in a grid pattern.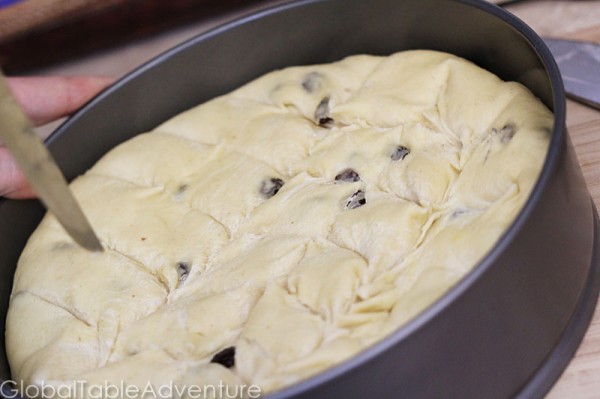 And bake for 30-35 minutes (or until cooked through)
While still hot, brush with softened or melted butter. This will give the crust a dull shine.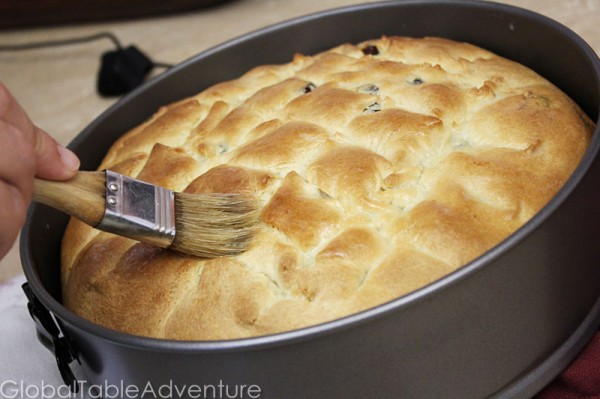 Slice and serve warm or room temperature.
P.S. My sister and I did lots of studies and came to the conclusion that this hembesha inspired bread is "great with lots of butter, especially when warm."
You be the judge.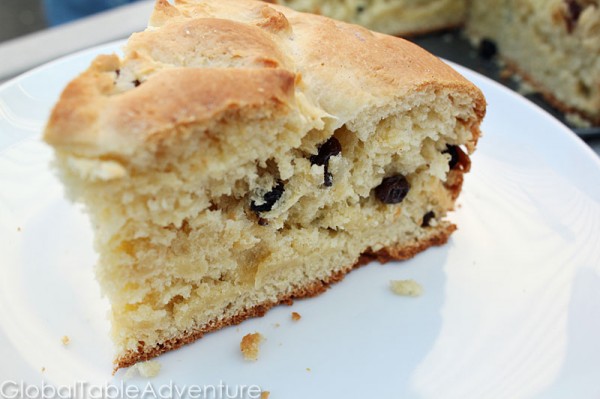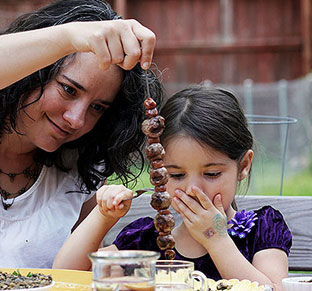 Hungry for more?
Be notified when National Geographic releases my memoir.
Simply fill in your details below.