Happy Anniversary! This is our 52nd meal for our Global Table Adventure!  Our celebration post will be up in a few hours.
THE SCENE:
"Hurry!" I muttered to myself, zipping around the kitchen. We had a date. A date! Actually, not just a date. An extravaganza.
First, we were scheduled for a couples massage (thanks to a generous gift card from friends) and then, a movie (thanks to my dear brother who sent movie passes with our Christmas card).
I can't count the number of times we've been on a date since Ava was born.
Because we haven't.
That's right. Before Saturday it had been more than 1 1/2 years since we'd been to the movies. And, well, a couples massage was a total first.
But before my romantic evening could commence, I had to clean up the remnants of our Ecuadorian Global Table. I looked at the clock – the baby sitter would be here any minute. Stacks of dishes covered the counters and crumbs littered the floor. Flour dusted my face. I pushed up my sleeves and began to scrub.
I opened the dishwasher. Full. Darn it! Time to empty it. Just as I grabbed the first clean pot, the timer went off – the apple empanadas were ready. Whoops! Switching gears, I pulled them out of the oven, balanced the tray on my dishtowel, popped one in my mouth (burning my tongue in the process), unloaded the dishwasher, and began scrubbing again.
"Breathe!" I told myself.
10 minutes later, just as I pulled the apron over my frazzled hair, the door bell rang. We spent the next 20 minutes doing what every nervous parent does – overexplaining Miss Ava's nighttime routine. Late for our massage, we pulled out of the driveway, wiping tears from our eyes, waving like lunatics and blowing kisses to sweet Ava who looked on from the window, happy as a clam.
It would be another 15 minutes before I thought to wipe the flour off my face.
THE FOOD:
Ecuadorian Potato & Cheese soup with Avocado (Locro de papa con queso) [Recipe]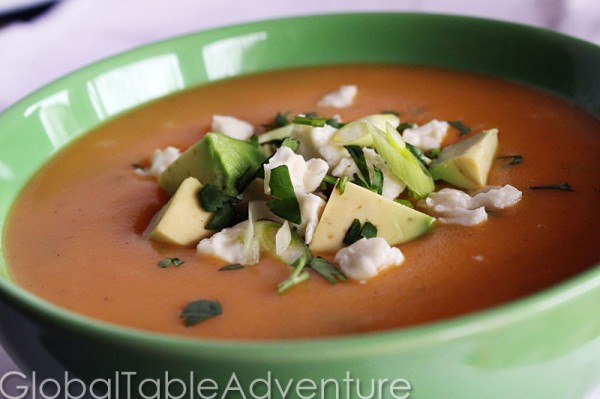 What I liked most about this dish:
This soup had the three "C's"going for it: comforting, captivating, and colossal. First, let's talk about comfort – this soup is creamy, thick, full of potatoes. As for captivating? I was spellbound by the combination of textures – creamy avocado, cheesy potato soup, and crumbly queso blanco. Finally, colossal – this recipe makes a big vat – perfect to freeze or to serve to your very hungry family.
What I liked least about this dish:
Just keep an eye on the moisture level – don't be afraid to add a lot more milk to get it from gloppy texture down to a proper creamy potato soup. This soup should drip off the ladle, not plop. Also, be sure to check your salt and pepper at the end – potatoes have a way of sucking up flavor, rather like a black hole. While Mr. Picky liked the potatoes and cheese, he wasn't crazy about the cilantro – a finer mince would have worked better for him.
Warm Peanut & Achiote Salsa from Ecuador [Recipe]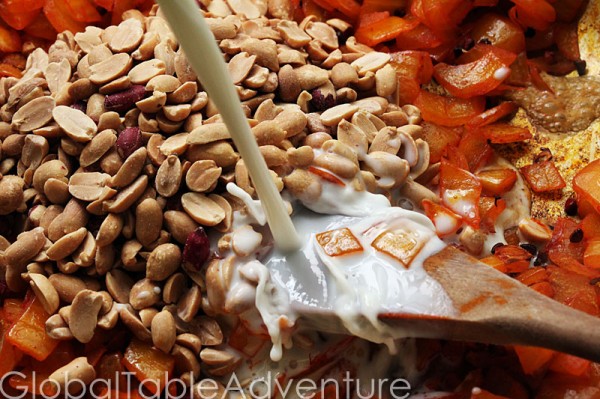 What I liked most about this dish:
I am enamored with the idea of a warm salsa. This one is fun thanks to the playful crunch of peanuts in combination with the mellow onion and fresh cilantro. I had trouble limiting myself to just a few bites and ate half the recipe myself. With a spoon.
What I liked least about this dish:
Two things. First, I wish I had cooked the onions longer, to get a deeper flavor (they should have caramelized slightly). Second, I should have removed the achiote seeds – they need a lot longer to soften (overnight even) and, as such, their texture was both distracting and, honestly, threatened to break my teeth. This explains why most cultures just use the seeds to flavor their oil and then remove them.
Open-Faced Cornmeal Omelet with Cheese [Recipe]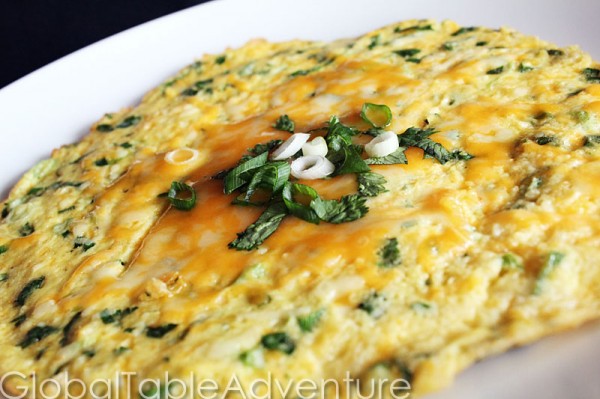 What I liked most about this dish:
Good morning, this was a winner for everyone. The combination of cornmeal with eggs and cheese is about as good as breakfast gets. My plan in the future? Make cornmeal as a side dish with dinner and use the leftovers for breakfast in the morning. Thanks, Ecuador!
What I liked least about this dish:
You need to use a nonstick pan. Either that or grow old washing sticky eggs off of your pan.
Apple Empanadas [Recipe]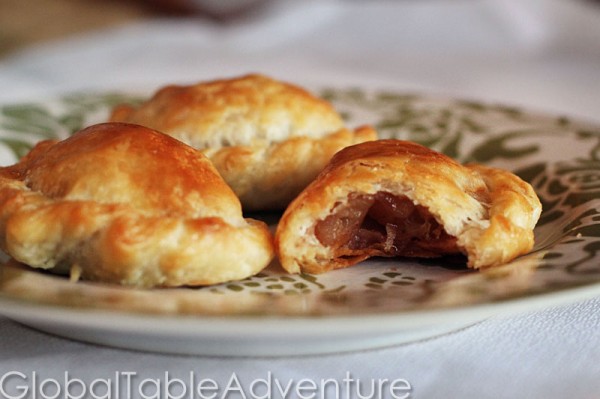 What I liked most about this dish:
The filling is sweet, cinnamony, perfect. At least, that's what I thought until Mr. Picky said "Oh, these taste like McDonald's apple pies." Apparently it was a compliment and a joke, all in one. I rewarded him with the death stare.
What I liked least about this dish:
Other than Mr. Picky's wisecrack  (see above), I only had one problem: these babies take a long time to make. Next time I think I'll make 5″ circles, so I don't have to make as many. Either that or I'll borrow some family to come help me! Also, be careful on rolling out the dough. Too thin and it stretches and breaks. Too thick and the empanadas are almost impossible to repulgue, or roll.
AVA'S CORNER