I'm wearing two wool sweaters and a scarf. Indoors.  It's freezing, freezing, freezing. Are you cold? Can you feel your fingers? I can't. Let's heat things up, Domincan-style.
1. Dance the Merengue or the Bachata (links go to YouTube videos)
You'll be shaking your hips as you click, click across the floor. You'll also be burning calories and, most likely, you'll be smiling. So grab a partner and let's have some fun!
"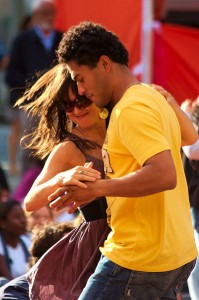 Don't have a partner? Grab a broom! 🙂
2. Eat Sanocho
Comfort-food doesn't really do this stew justice. It is on a whole other plane of existence. With variations around the Latin American world, Dominicans take the cake with a version that would make any meat-lover swoon (hello, Homer Simpson) – it includes heaping portions of seven meats. In one bowl you might spot goat, pork, tripe, oxtail, chicken, rabbit, or even pigeon. That's some serious protein.
2. La Bandera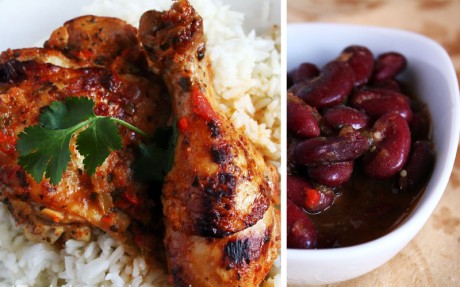 Think for a minute – what what foods make up the colors of your flag? Now, imagine making dinner with those foods. That's what Dominicans have done with La Bandera. La Bandera stands for The Flag and is typically a platter of rice, beans and chicken. (All those recipes will be published by Monday, so see you then)
How are you keeping warm this winter?