"Mraaaoooowwww." Kitty Cat shrieked.
I flew backwards, arms in the air, desperately trying to keep the tray of Koblaneskys upright. The steaming buns, filled with spicy keilbasa, slid from one side of the tray to the other.
Tripped up on his "always in the way" tail, I lunged and twisted, straining my back – not so much to avoid falling, as to avoid dropping the food.
"Please, no, please no…" I prayed.
I landed up against the counter, with the tray barely balanced.
"Keiiiiiith!!!" I growled "I don't. want. this. cat. in the kitchen." I set the tray down and pushed the hair out of my eyes.
"I told you." Mr Picky whispered to the cat, scooping him up. "Out you go!" he said and delivered him to the cold winter day.
I straightened up and glanced at the clock. Fifteen more minutes. Time to wrap things up.
I spun on my heels and grabbed a few serving pieces.
Pretty dishes clinked and clanked as I layered them on the table, making a festive "help yourself" arrangement.
Five minutes before the doorbell rang, I brushed the food from my hair, took of my apron, wiped down the counters, and began plating the food.
"Whew. I'm ready. This feels good," I thought and calmly waited for my friends to arrive.
P.S. I love how friends can get your kids to eat stuff they'd never touch for you.
Hence, my friend's hands in the video instead of mine. It's magic, I say. Magic.
Czech Potato & Pickle Soup (Polévka okurková) [Recipe]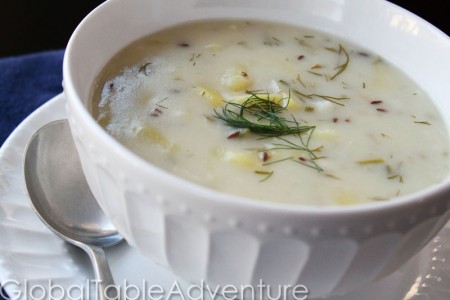 What I liked most about this dish:
The name of this soup scared me but am so glad that I tried it! The pickle flavor was incredibly mild – so mild that your guests wouldn't even know it was in there (unless you tell them). The pickle simply gives the soup a boost and bright flavor. The caraway and dill is much more dominant.  If you like rye bread, you'll love the taste of this thick & creamy soup.
What I liked least about this dish:
Make sure that you whisk the lumps out of your slurry (the mixture of flour, sour cream, and water) before you add it to the soup. You can even use a blender/immersion blender if needed. Also, while the slurry thickens the soup, keep stirring and scraping the bottom of the pot. Otherwise things will get gluncky and generally not appealing.
NOTE: If the soup gets too thick for your tastes, add some water or milk to thin it out.
Refrigerator Dough for Czech Desserts & Snacks [Recipe]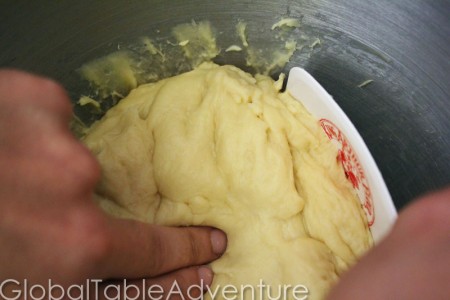 What I liked most about this dish:
This dough is sweet, tender, and great for parties & potlucks because it rises overnight in the fridge (yay for less work on party day!). Oh, and I'm a fan of a dough that works equally well for sweet or savory fillings.
What I liked least about this dish:
I found the dough to be a bit sticky the night I made it – which made me nervous. The next day, however, I was dealing with a different dough… As it comes to room temperature, it becomes soft and supple. Overall, easy to roll out and work with.
Sweet Prune Buns/Kolaches (Slivkové Koláče) [Recipe]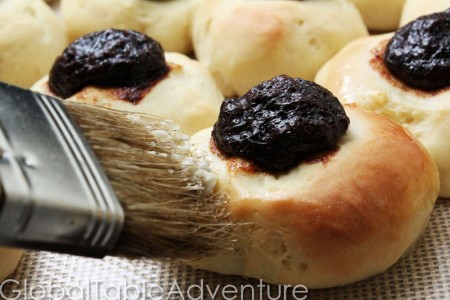 What I liked most about this dish:
I had fun punching my thumb into the dough, working nice circles into each kolache for the filling. My mind is swimming with filling ideas.
What I liked least about this dish:
The sweet prune filling was pretty good, but I think it needed way more sugar. Around the holidays, food should always be waaaaay sweet. The good news? You can taste your filling as you make it and adjust the sugar until you find a combination you love. Also = I've read that some people just use jam to fill the Kolaches – a great idea if you're in a hurry.
Spicy Kielbasa Buns/Klobasneks/Klobasnikis (Klobásové Buchty) [Recipe]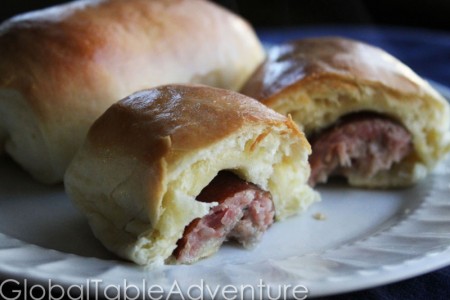 What I liked most about this dish:
Super tasty, super easy… a win for everyone at the table. Such a crowd pleaser, every single person that tried them (7 people) loved them. They were gone f-f-fast.
What I liked least about this dish:
Not much! Just be sure to pick good quality sausage, the star of the Klobasneks!
Ava's Corner