Last week a gal named Linda emailed me. Turns out she's from the Ivory Coast and an alum from Wesleyan University, my alma mater. Get this – she wanted to know if she could share some of her favorite recipes from back home with me. Oh happy day! In case you're wondering, my answer is always "yes"! The more authentic dishes we can sample from actual locals, the more fun this Adventure will be!
Thanks to Linda (and a few of her friends), this week's Global Table is going to be especially grand!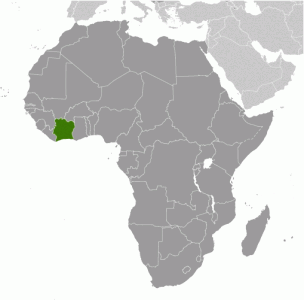 From skyscrapers, to mud huts with thatched roofs, the Ivory Coast has it all. This west African country is deeply imbued with French food and culture. In fact, French is still the national language. Over the phone, Linda shared details about her country with me, trailing along a beautiful, thick accent that reflects this history.
I'll be honest. Thanksgiving has been on my mind, so I begged Linda for some ideas.
Linda didn't disappoint. She tells me that there is a dish that originates in the northern part of Cote d'Ivoire which is perfect for the Thanksgiving buffet – smoked Turkey thighs simmered in a creamy sauce made from ground melon seeds (more readily available pumpkin seeds can be substituted in a pinch).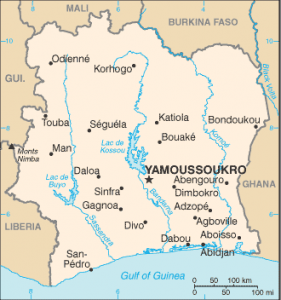 Then there's Riz Gras (or Fat Rice) which, in her neck of the woods, is made with plenty of tomato puree, chunks of beef, and carrot sticks. While this dish is popular throughout west Africa, there are many variations. However you make it, you'll need an army to eat it all. This is a real potluck friendly dish, again a great addition to the buffet of any Global Table.
For those with a more delicate constitution – perhaps who enjoy looking at their food as much as eating it – Avocat Crevette (or Avocado boats filled with shrimp) can be found in restaurants all over the coastline (especially in Abidjan). This simple, yet stunning presentation – is just half an avocado filled with shrimp salad. Linda tells me most people eat it for their first course, with a slice of baguette on the side.
In the Ivory Coast, dessert is usually fresh fruit. For a sweet and healthy ending to any meal, Linda recommends making a fruit salad with juicy chunks of fresh mango and pineapple – both tropical fruits are readily available throughout the Ivory Coast.