Honeybees fight cavities?
Brazilian honeybees make a sticky substance called propolis to patch up their hives. This mixture of beeswax and local tree secretions has the potential to reduce cavities in humans up to 60%.
A sweet invention…
The sweet, seedless navel orange was first recorded in the mid-1800's on a sour orange tree in a Brazilian monastery (according to National Geographic). This happy accident was then developed and bred into the sweet navel orange we enjoy today. The "navel" on the orange is actually a second, underdeveloped orange (pictured bottom right).
World-class diversity
Brazil claims the greatest diversity of primates, amphibians and plants in the world. Additionally, Brazil is in the top five in the world for birds and reptile species. Incredible biodiversity of plants means great things for the juice and wine world. Road side juice bars are bursting with all sorts of fresh squeezed tropical fruit such as pineapple, guava, soursop, papaya, passionfruit, mango, and cupuaçu. In the south, wine is the "next big thing." According to the New York Times, 300 days of sun per year means that Brazilian vinyards have multiple harvests throughout the year!
Sinatra's take on coffee
As Sinatra sings "They've got an awful lot of coffee in Brazil […] Why they could percolate the ocean in Brazil." (Coffee Song, 1946)
http://www.youtube.com/watch?v=YixwrxRzCd4
httpv://www.youtube.com/watch?v=YixwrxRzCd4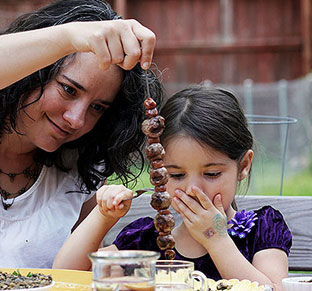 Hungry for more?
Be notified when National Geographic releases my memoir.
Simply fill in your details below.