Makes 2 small loaves or 1 large "Pullman" style loaf
Coconut Bimini Bread is easy with the help of a bread machine or standing mixer fitted with dough blade. Sweet and doughy, try serving leftover slices in French Toast or Bread Pudding!
Ingredients:
2 1/4 tsp instant dry yeast
4 1/2 cups unbleached flour (plus extra , if the dough comes out too wet)
1 tsp salt
1/4 c nonfat dry milk powder
1/3 cup sugar
1 cup coconut milk (if you warm this slightly it will help the dough rise quicker)
3 Tbsp honey
3 Tbsp butter, softened
1/3 cup vegetable oil
3 eggs
Method:
1. In the mixing bowl of bread machine add all ingredients in order given. Set on dough cycle (just mixing and rising). The dough cycle usually lasts about 1 1/2 hours.
2. When dough cycle is complete, or dough is approximately doubled in size, remove dough and place in oiled baking pans. I used a Pullman pan, which is quite large (see photo). You can also use two bread pans.
3. Preheat oven to 350F. Let dough rise in baking pans for 30 minutes.
4. Slash the top with a sharp knife and then bake for 35 minutes or until browned on top and cooked through.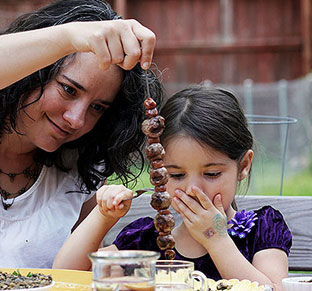 Hungry for more?
Be notified when National Geographic releases my memoir.
Simply fill in your details below.