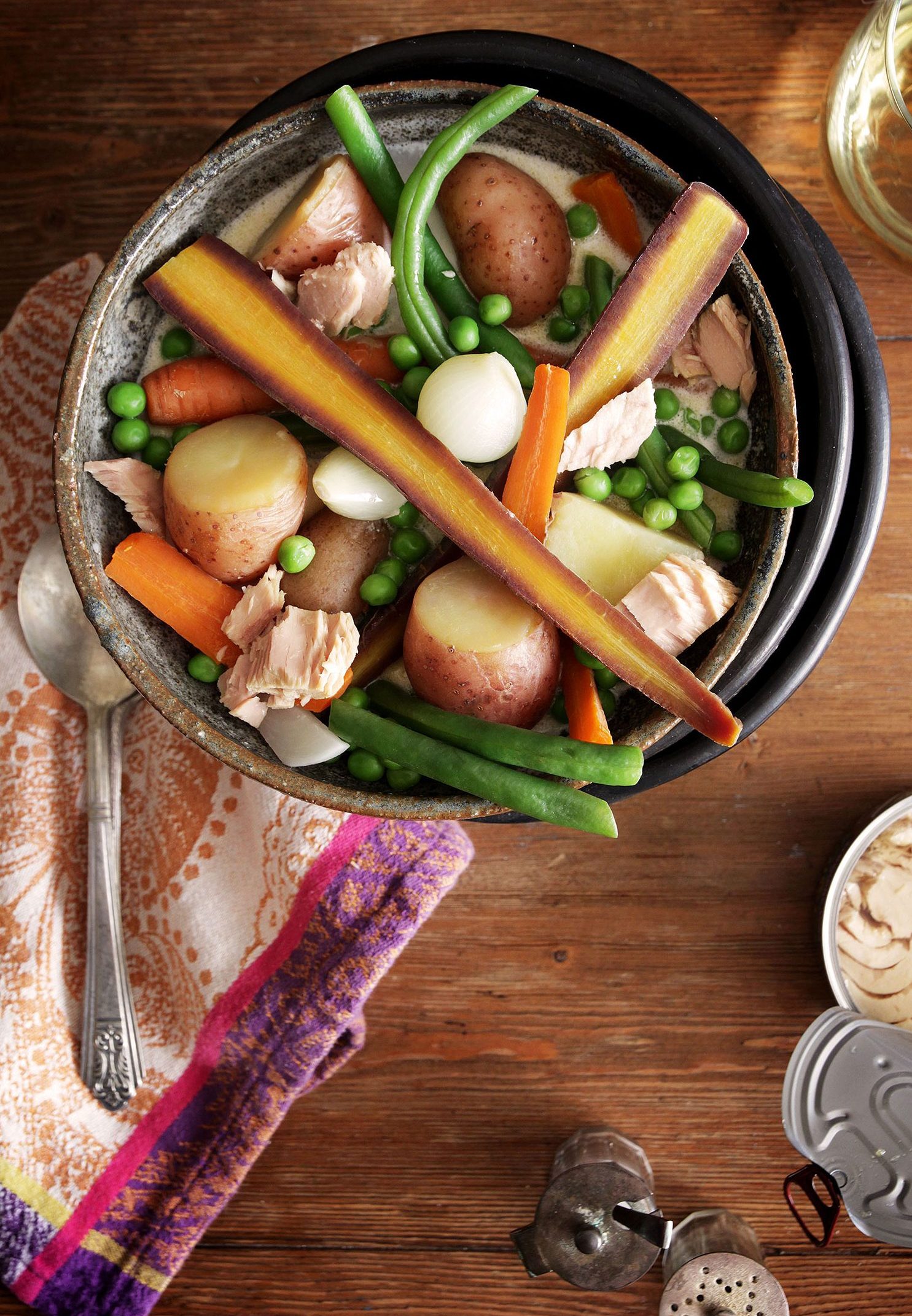 Nova Scotia's Hodge Podge is a homey one-pot supper of fresh potatoes, carrots, peas and green beans. What takes it over the top? The addition of heavy cream and butter, along with a few pearl onions for mild sweetness.
A gardener's delight
While there are different ways to go about making Hodge Podge, one thing is for certain: it's best made straight from the garden, when vegetables are fresh and abundant, just as in the eastern Canadian province that lends its name to this dish.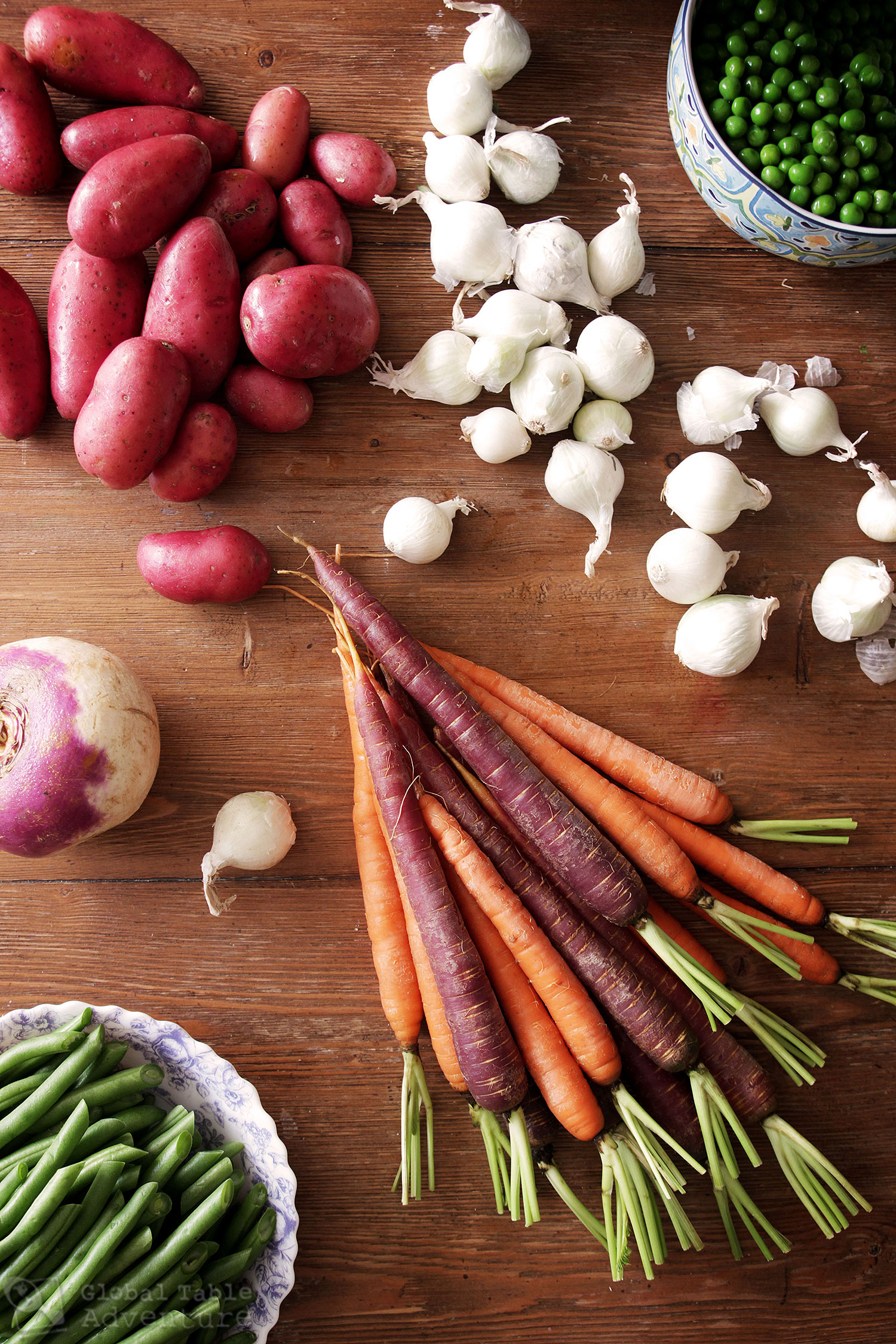 Fresh is fresh. In my research I discovered locals prepare Hodge Podge with baby potatoes just 50-60 days in the ground and the gangling carrots pulled to thin the garden bed. This is a foreign concept to someone who doesn't grow their own vegetables, but it makes sense in verdant Nova Scotia. When a garden does well, it can produce so much food, it has to be used up throughout the growing season, not just in a final harvest.
Farm life is common in the province, as are farmer's markets – and with names like Wild Mountain and Sugar Moon, Nova Scotia sets a dreamy standard for farm-life. The peninsula and a collection of islands on the edge of eastern Canada, no part of the province is more than 67 miles from the Atlantic Ocean.
Oh, and puffin sightings are a thing.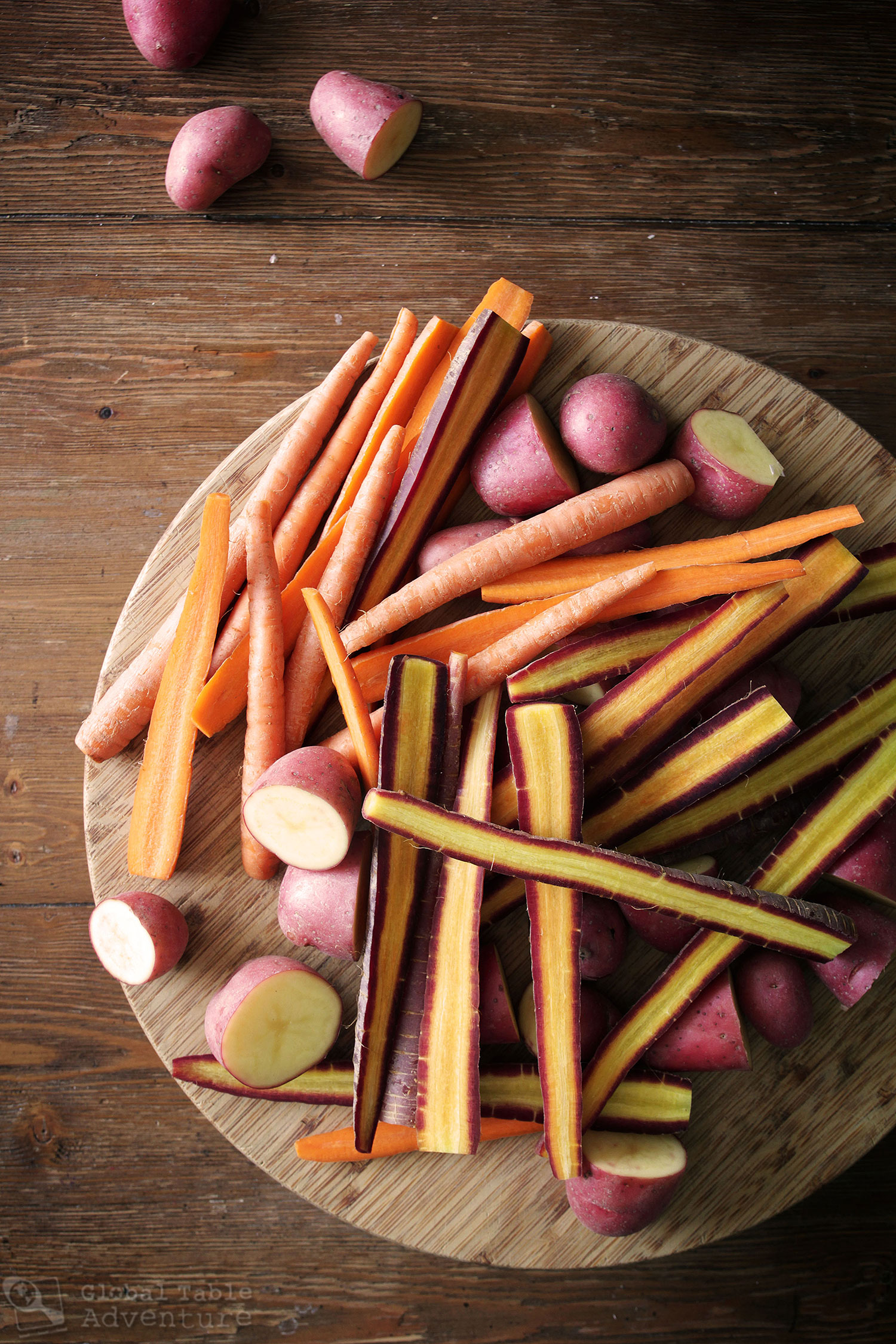 Hodge Podge turned brain food
Hodge Podge's rich base reminds me of those creamy casseroles we've all had at family gatherings, like tuna noodle casserole – one of my all-time favorite comfort foods. Hodge Podge is often served with fish on the side, and I just knew it would taste wonderful with meaty hunks of tuna.
Now, before purists cry sacrilege, – tuna is a well-known brain food and has a strong connection to Nova Scotia.
When I was an undergrad at Wesleyan University, one professor practically prescribed the high-protein fish during exam season. Now that I'm a Research Fellow at Tulsa University, I've been stretching myself with loads of reading, poetry writing, and artwork.  If I'm ever going to make it through the year, I'm going to need to bulk up on brain food. That can only mean tuna (thanks to my old college professor, whose time-worn advice still rattles around between my ears).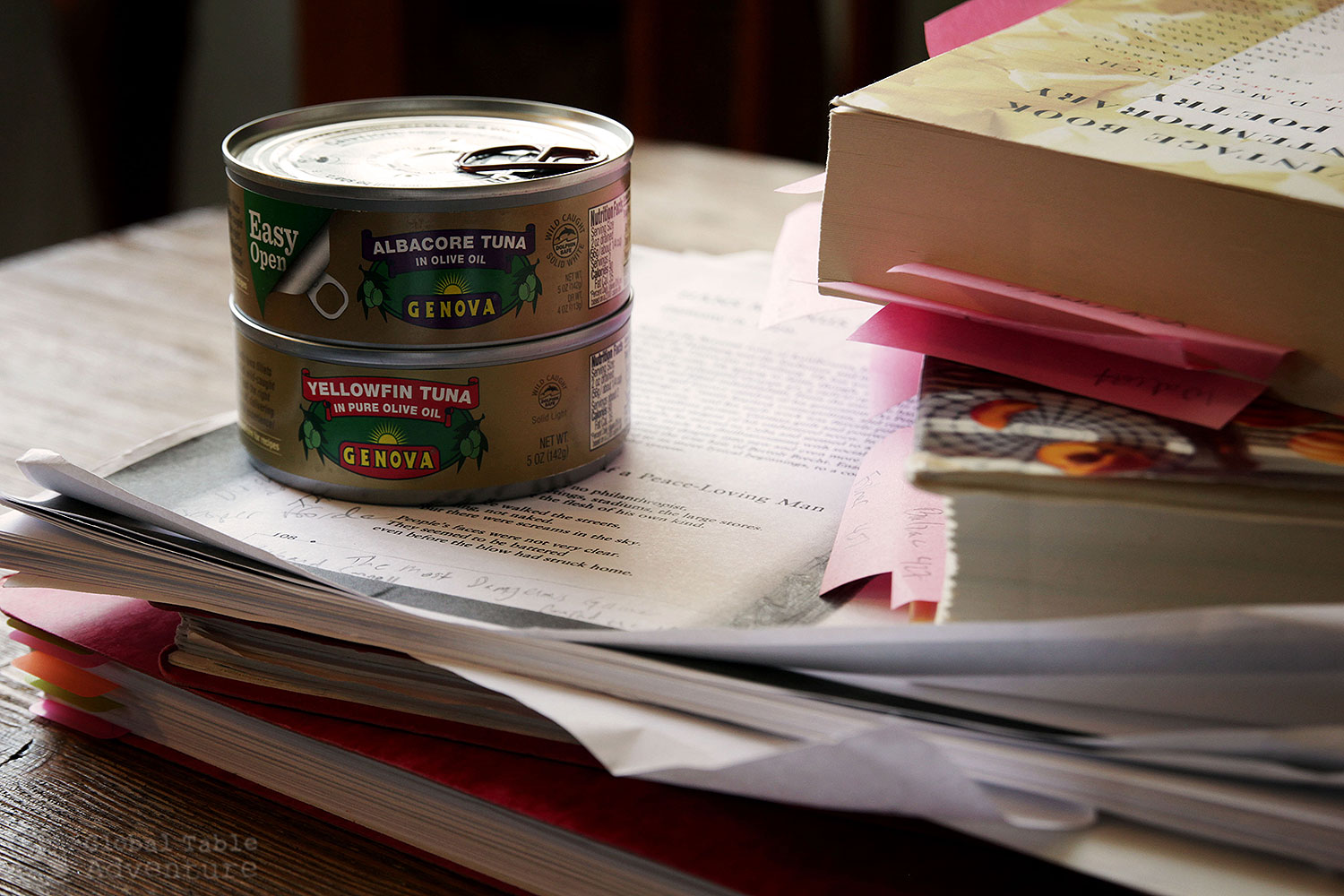 And then there's the Nova Scotia connection. Fun fact: the largest tuna ever recorded was caught off of eastern Canada – in Nova Scotia in 1979, weighing in at 1,496 pounds. What. A. Fish.
So, there you have it. Two reasons to add some hearty hunks of tuna to a traditional Nova Scotia recipe.
The best Hodge Podge is a hodge podge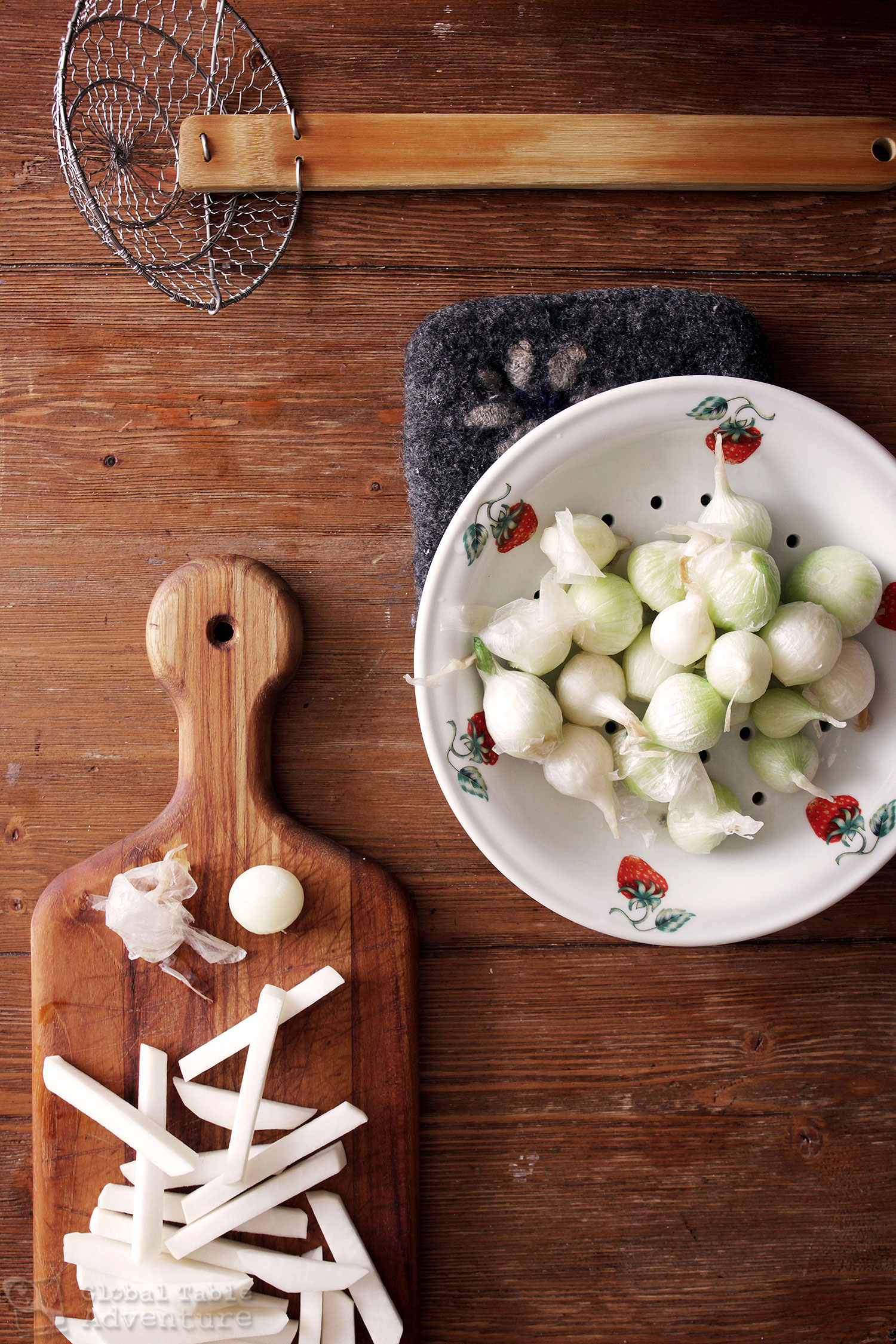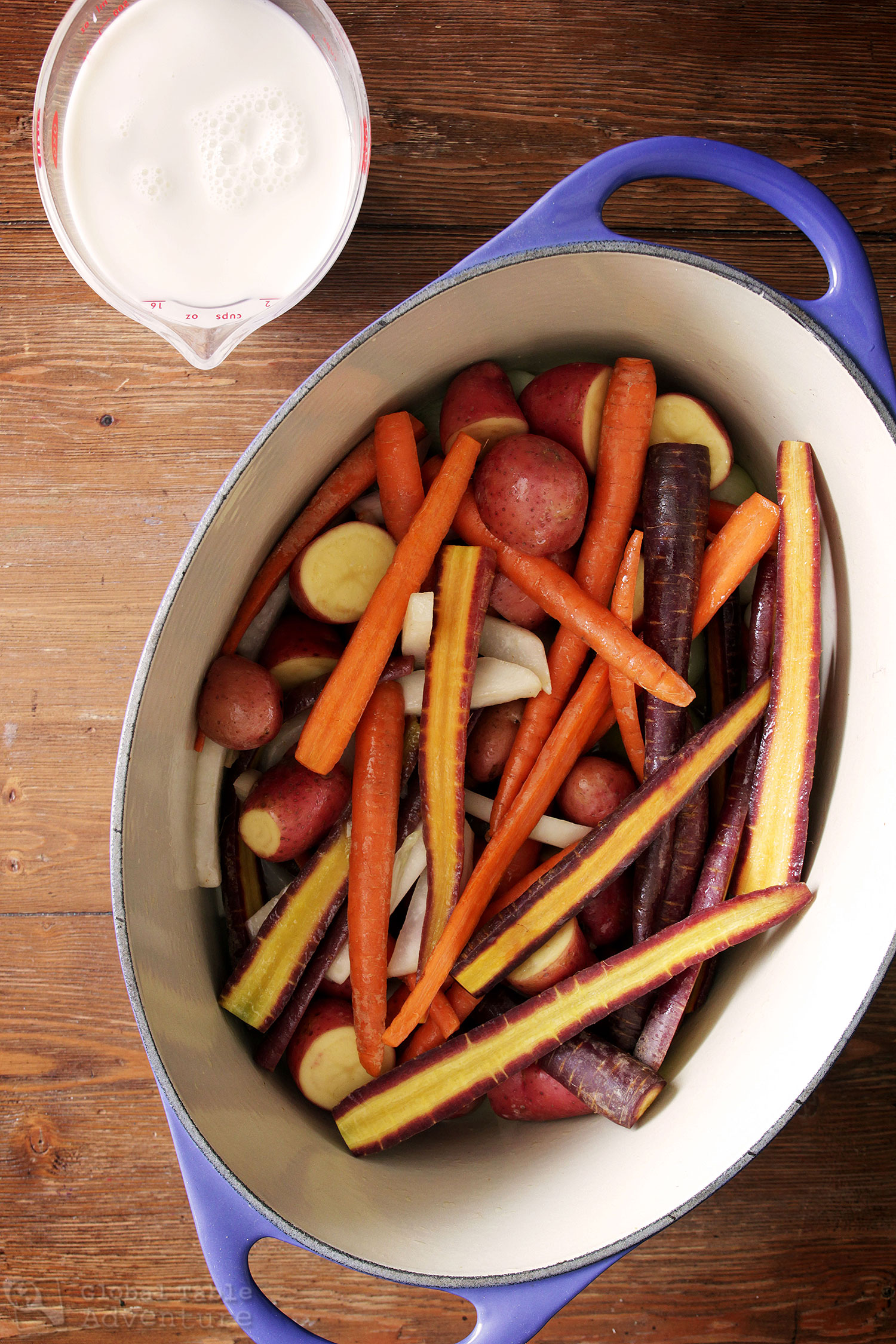 Just like no two gardens are alike, no two Hodge Podge's are exactly the same. The only hard-and-fast rule with Hodge Podge is to use a hodge podge of vegetables. Potatoes, carrots and beans are standard. Most recipes include yellow and green beans, while a few others add turnip and onion.
There are two ways to go from there. First, steam or boil all the veggies to perfect tenderness, then toss with milk, butter and cream. This gives you more control over the veggies (and they are less likely to fall apart). The second option is to cook the veggies directly in the milk, butter and cream. This option provides richer flavor throughout the vegetables, but does require a gentle flame as indicated in this recipe from 1784:
If you let this boil fast, it will waste too much; therefore you cannot do it too slow, if it does but simmer.

The Art of Cookery Made Plain and Easy, Hannah Glasse.
I went with Glasse's approach, giving the vegetables a gentle simmer in the milk and cream. If it's too rich for your tastes, simply sub half and half or even all milk for the liquid. There's no one way to enjoy the comfort of Hodge Podge.
Resources:
The Art of Cookery Made Plain and Easy
Hodge Podge video
Hodge Podge simmered in milk & cream
Hodge Podge with Trout
This post in partnership with Genova Tuna.
Print Recipe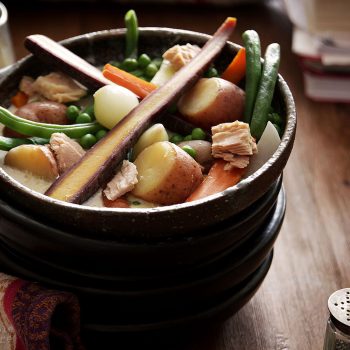 Hodge Podge is a colorful addition to the table - my family loves the rich, chowder-like flavor. Adding the vegetables in batches might seem a bit fiddly, but this makes sure each vegetable cooks in the perfect time. While you can eat it right away, letting the Hodge Podge rest works nicely to give the cream and milk time to settle. I've seen some recipes let the Hodge Podge rest all afternoon before reheating at dinnertime! This recipe can serve six hungry people, but will easily stretch for 10 or 12 people as a side.
Nova Scotia's Hodge Podge, with Tuna
Servings

Prep Time

6-12

people

20

minutes
Cook Time

Passive Time

35

minutes

30

minutes
Servings

Prep Time

6-12

people

20

minutes

Cook Time

Passive Time

35

minutes

30

minutes
Add the new potatoes, carrots, and turnips to a large, heavy-bottomed pot along with butter. Heat over medium and stir to coat vegetables in butter.

Pour on the milk and cream, then season with salt and pepper. Bring to a simmer, cover and cook gently for 20-25 minutes (until the potatoes are nearly tender). Do not boil or the milk will separate.

Stir in the green beans, peas and pearl onions. Cover and cook 10 more minutes, or until vegetables reach desired consistency.

Stir in tuna and let mixture rest, covered 30 minutes before serving.
A tip on working with fresh pearl onions - simply cut off the root end and cook in boiling water for 2 minutes. The onions will slip right out of their skins.
Source:
Recipe Copyright Sasha Martin, Global Table Adventure. For personal or educational use only.