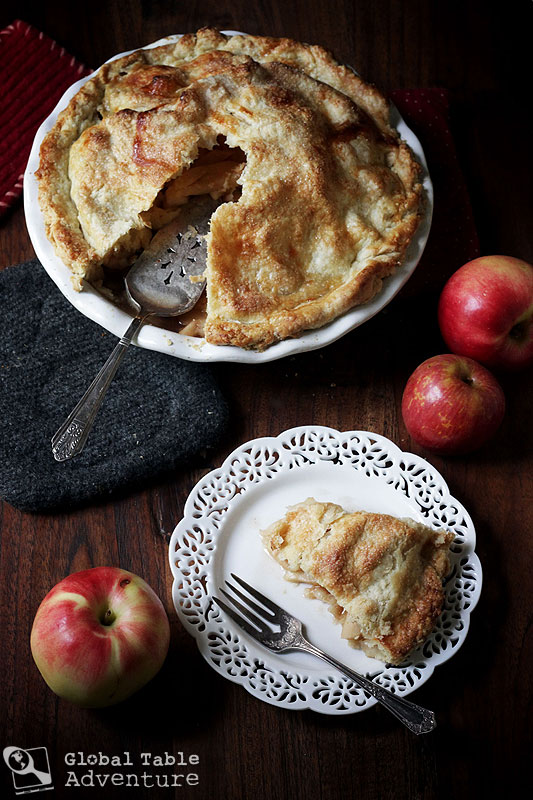 Mom made apple pie all the time when I was little. It was my brother Damien's choice for "birthday cake" several years in a row.
He was born in October: it just made sense.
Mom taught us how to cut the butter into the flour, to make a flaky pie crust, and she taught us how to add cinnamon and nutmeg to flavor it. (In her honor, I've labeled my cinnamon jar "sin," just as she did then)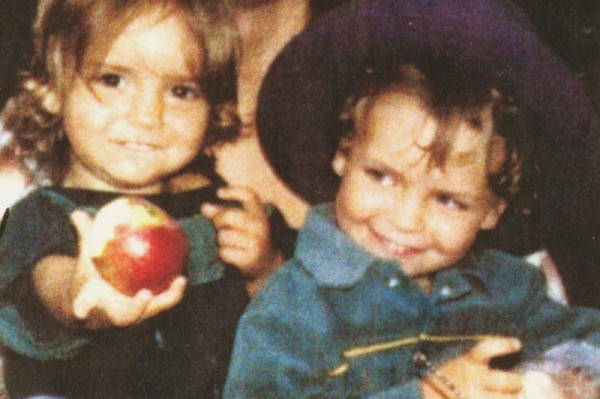 Then I moved to Oklahoma, as far from New England's familiar orchards as I could get.
Every year about this time I start missing home – I start hungering for the bright, fall taste of apple pie.
Of home.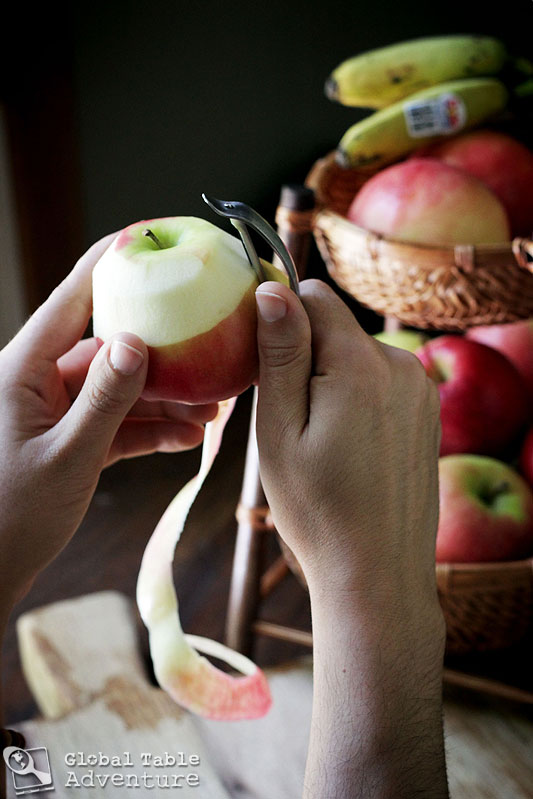 Use any firm baking apples you'd like.  This time I used pink lady, though many different varieties will do, as long as they are firm. Check with your grocer and see what crop they think would suit you well.
While many insist on adding at least half granny smith, I prefer my pie granny-free.
In the end, I don't think it matters. Not as long as you end up with a big bite of 'delicious.'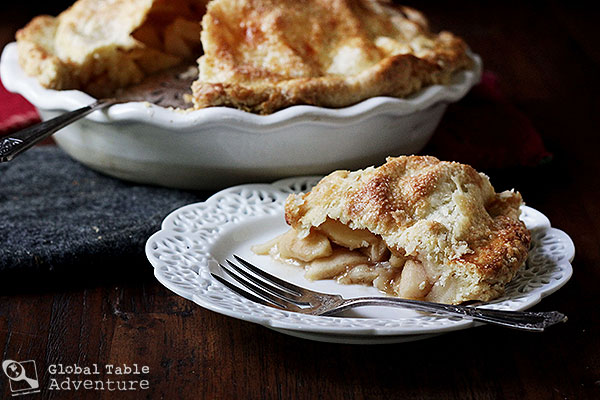 Ingredients:
For the pie dough:
2 1/2 cups all-purpose flour
1 tsp salt
2 tsp sugar
2 sticks cold butter, cubed
ice water, as needed
For the apple filling:
4 lbs firm, baking apples like Pink Lady
zest and juice of one lemon
1/3 cup brown sugar
1/3 cup white sugar
1 tsp cinnamon
1/2 tsp nutmeg
3 Tbsp cornstarch (optional, for thickening)
egg white, beaten, for wash
Method:
Make the pie dough by pulsing together the flour, salt, sugar, and butter in a food processor (or by using a pastry cutter, or two knives as my mom taught me). When the butter is pea-sized, drizzle in ice water while pulsing, until it comes together into a dough.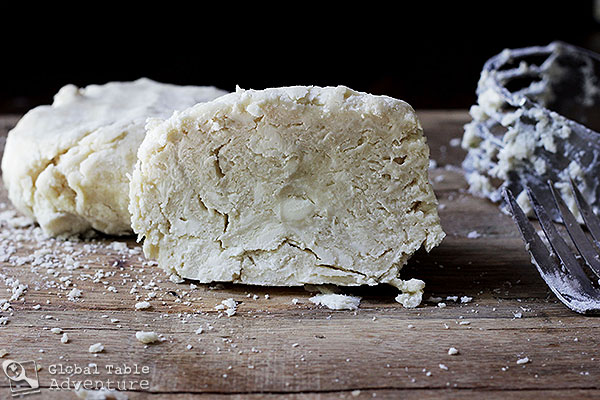 Pat into two discs, one a little larger than the other, and refrigerate for thirty minutes.
Meanwhile, peel and slice the apples into a large bowl. Drizzle with the lemon juice and zest, then toss with the sugars, cinnamon, nutmeg, and cornstarch.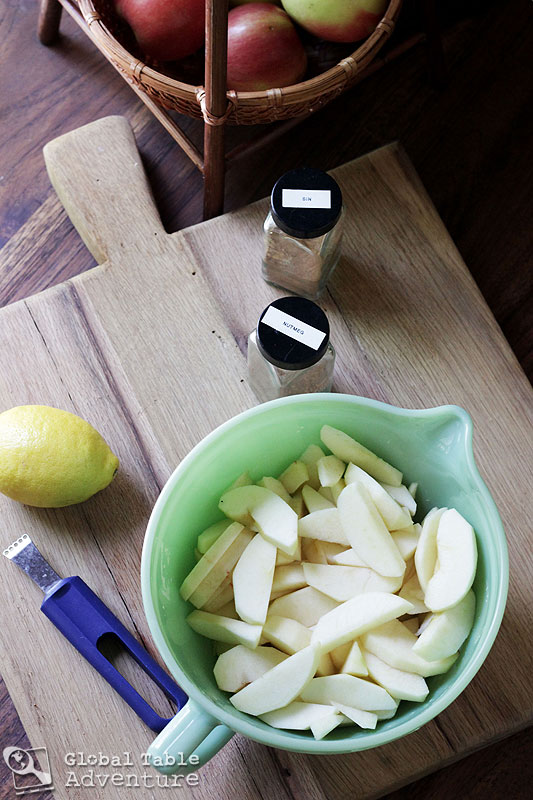 Preheat the oven to 400F.
Roll out the pie dough to be a couple of inches wider than your baking dish. I like to roll the dough between two sheets of parchment paper so I don't have to worry about sticking or any real mess. Place the first round of dough on the bottom of the pie dish, fill with apples, the top with the second rolled out dough.
Note: You can cut things out of the top of the dough for vent holes, or you can just use a knife.
Crimp the edges to seal, brush with egg wash, and sprinkle with sugar.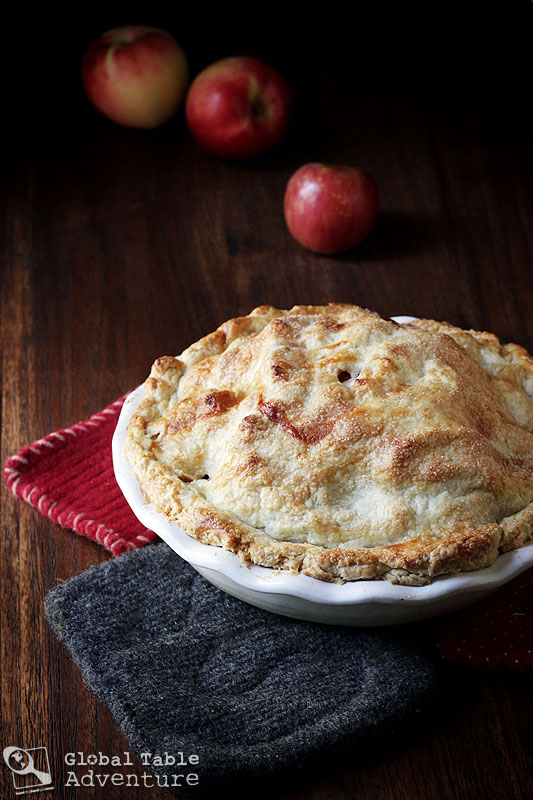 Bake for 30 minutes, then reduce the temperature to 325F and bake another 20-30 minutes.
Let cool at least 2 hours before slicing. This gives the pie time to set up a little.
Oh, but when you do slice it?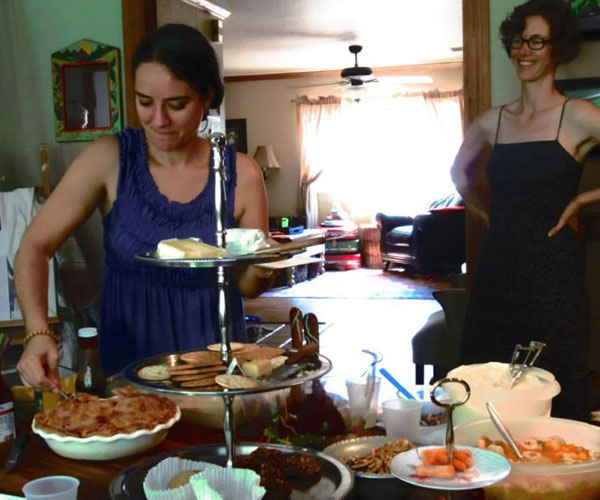 Delicious… especially with a scoop of homemade vanilla ice cream (Thanks, Tina!)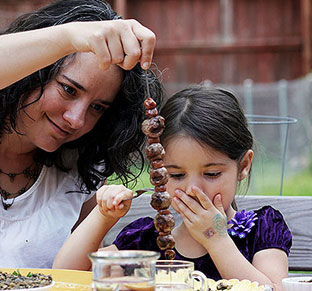 Hungry for more?
Be notified when National Geographic releases my memoir.
Simply fill in your details below.