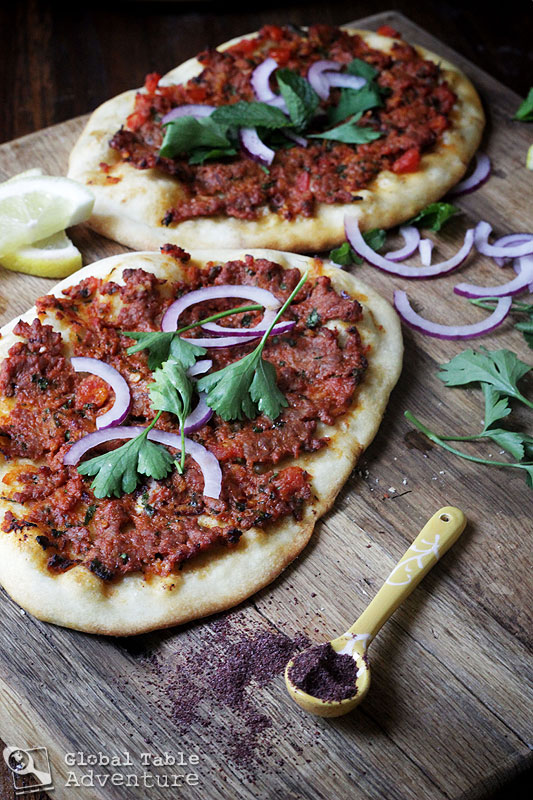 Lahmacun is Turkey's answer to pizza. The flavors are rich and deep, like an old love story.
And, like any good love story, each bite makes my knees sink a little closer to the floor.
Why? Because of the layers of flavor.
This is no "jarred sauce" affair. This is no mess of waxy cheese.
Lahmacun is pure, unadulterated ingredients – as fresh and intense as mother nature grew them.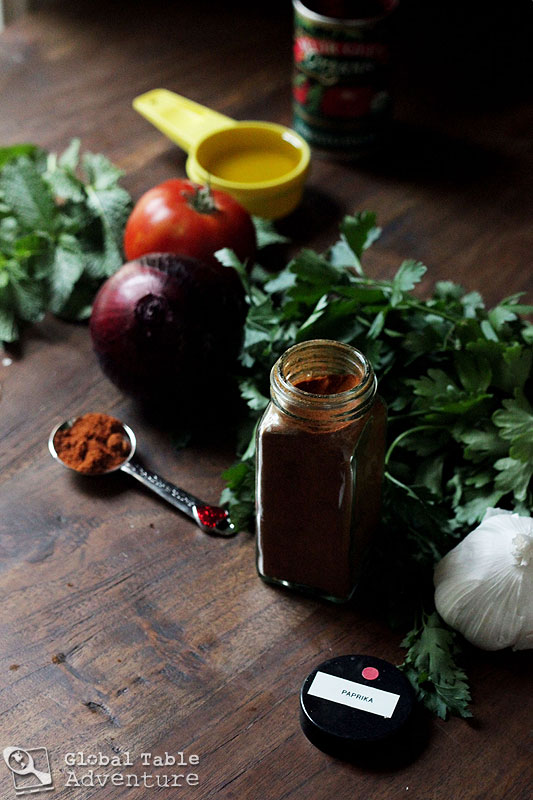 The version we made today includes lamb, olive oil, tomatoes, garlic, tomato paste, paprika, mint and parsley. There's even a gated onion to provide a sweet background note.
The flavors come together to create an unbelievable explosion of flavor.
Once baked, Lahmacun is a DIY dream. Diners choose their own toppings and pile them on.  In Turkey, you can find everything from pickles and lettuce, to onions and lemon juice. It's an awesome way to get kids involved and to work through dinner party doldrums.
Ava had great fun adding onion, parsley and lemon juice to hers… plus a few sprinklings of sumac (a spice with a lemony flavor popular throughout the Middle East).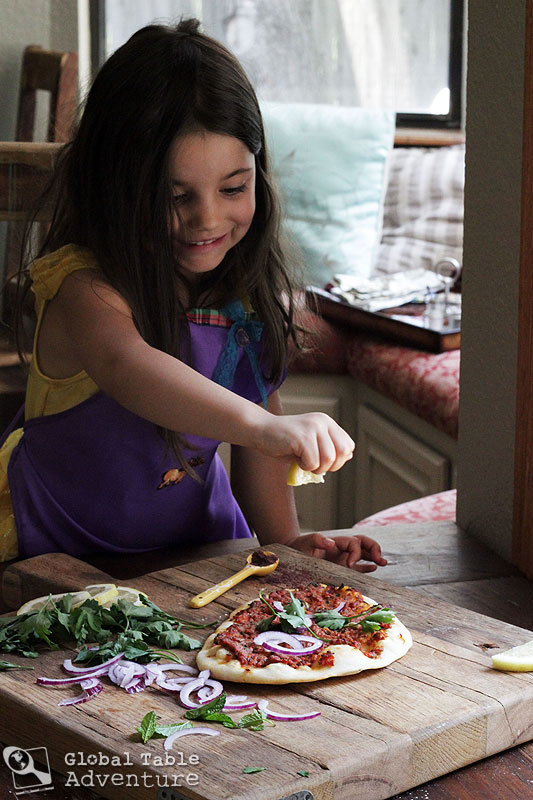 I actually find pizza rather boring, unless it's homemade or from a really great artisan. But Turkish pizza blows me away.
It's full of spice and everything nice.
And then some.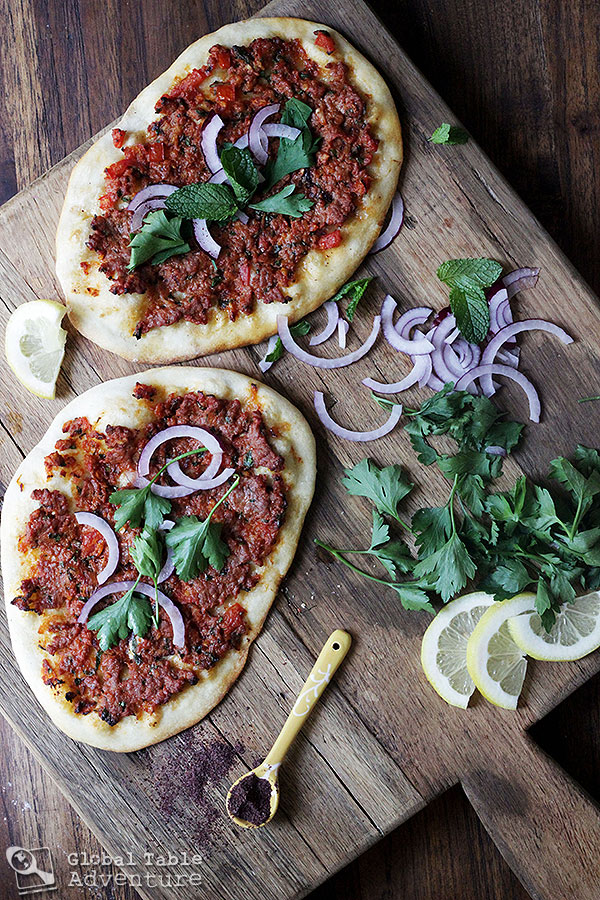 I made Lahmacun once. I made it twice.
Now, I crave Lahmacun at dinnertime.
I crave it at midnight.
Heck, I even crave it at breakfast time… with a cracked egg baked right on top.
IMPORTANT NOTE:  This recipe makes a lot of topping (it's too good not to). Double the flatbread recipe if you'd like to use it all up, otherwise save the leftover topping. We fried ours and added it to some couscous for a quick weeknight dinner.
Ingredients:
For the flatbread:
2 tsp sugar
2 tsp active dry yeast
2/3 cup warm water
2 1/2 cups flour, or as needed
1 1/2 tsp salt
For the topping:
1/4 cup olive oil
5 Tbsp tomato paste
handful fresh parsley, minced
handful fresh mint, minced
1 tsp hot paprika (or to taste)
1 tsp salt
4 cloves garlic, crushed
1 tomato, seeded and diced
1 small onion, grated & squeezed dry
1 lb ground lamb
Garnish ideas:
torn parsley
ground sumac
sliced red onion
lemon wedges
lettuce
sliced pepper
pickles
Method:
Set up your kitchen. Beware of dust storms.
Make the dough:
For one batch of dough: mix together the sugar, yeast, and warm water. Let sit about five minutes until frothy.
So pretty…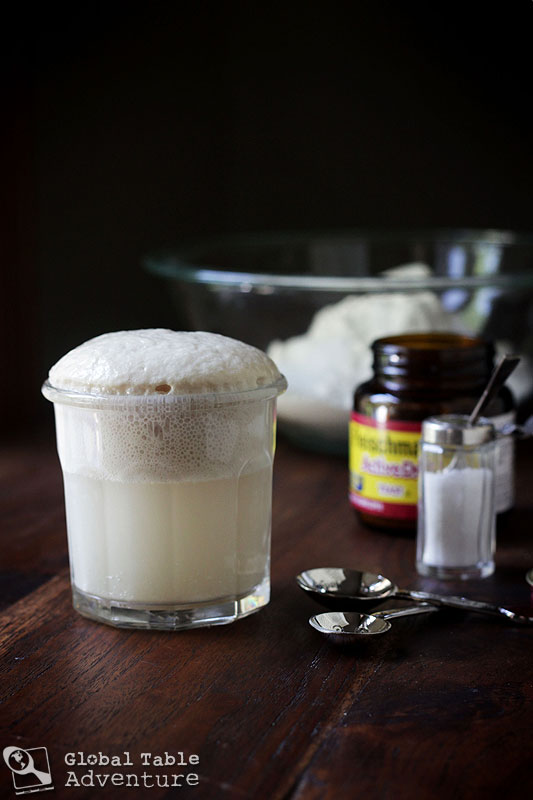 Next, add the remaining dough ingredients to a large bowl. Stir in the yeast mixture and knead until a soft, smooth ball forms. Add more flour, if necessary to keep from sticking.
Let rise for an hour, then punch down and divide into four pieces. Shape into balls.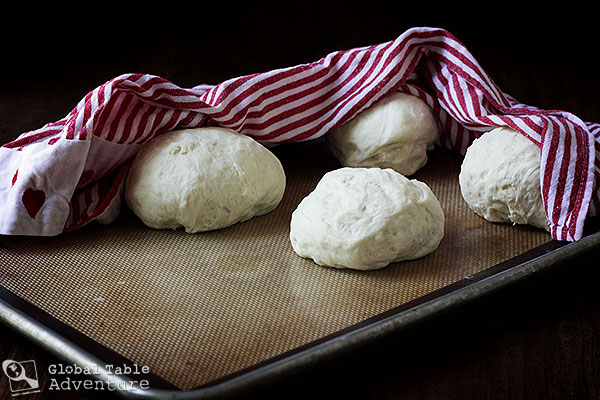 Let rise another hour, or refrigerate until needed. I refrigerated mine in individual zip lock baggies, for 2 days and the dough turned into gorgeous pillows. They tasted awesome! This is because a long, cool rise gives time for the yeast to fully develop.
(If you can make the dough a day or two ahead it also takes the stress off of a dinner party).
While the dough is rising, take a tour of a Turkish palace.
Stunning.
Next, make the Topping:
When you're ready to eat (or up to a day ahead), mix together the topping ingredients.
Tip: Be sure to seed the tomatoes before chopping. Also, place the grated onion into a double layer of paper towels or a dish cloth, then squeeze dry. This will help keep the topping from getting too soggy.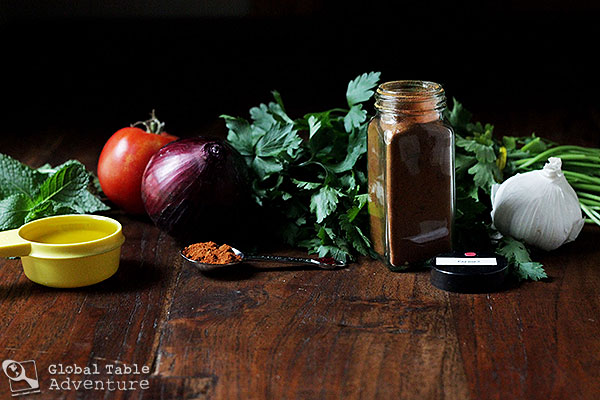 Bake the Lahmacun:
Now for some baking fun!
Preheat the oven to 450F. If you have a baking stone, use it!
Roll out the dough fairly thin. Spoon on some of the topping and spread around with the back of a spoon.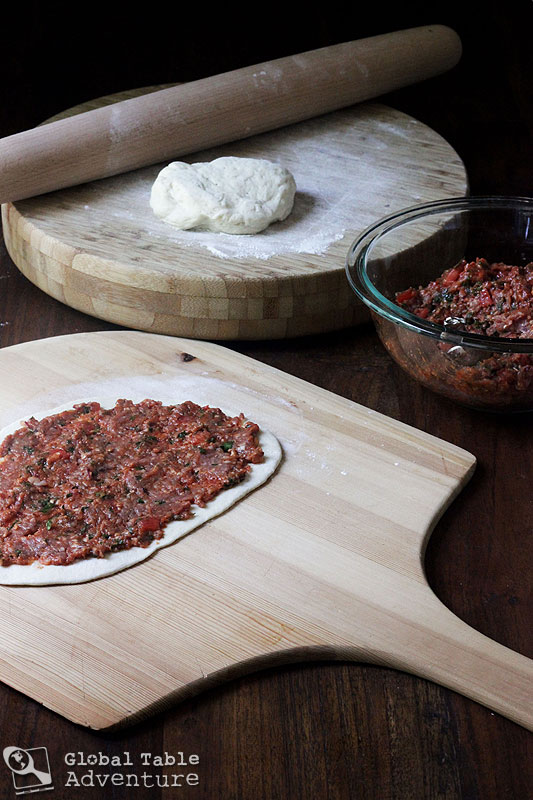 Bake 8-10 minutes, or until the dough is lightly browned and the meat is cooked through.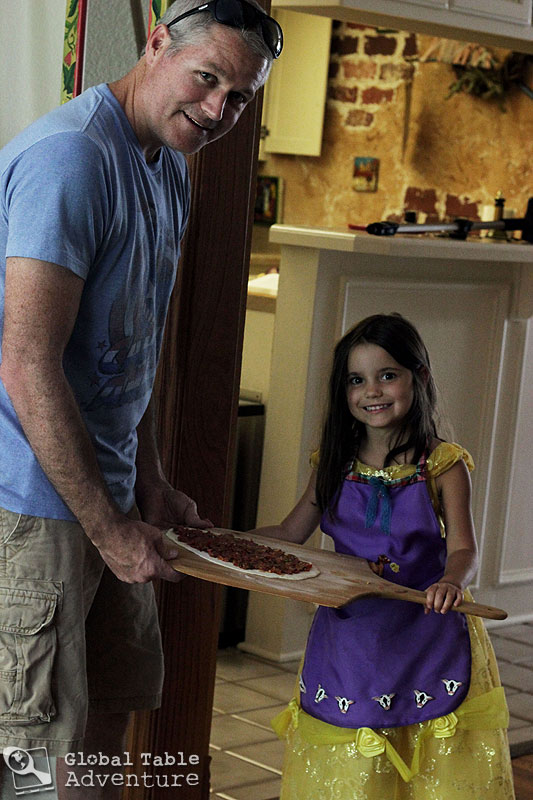 The olive oil and paprika in the topping will drip down over the crust, making it a little reddish orange in places.
Awesome.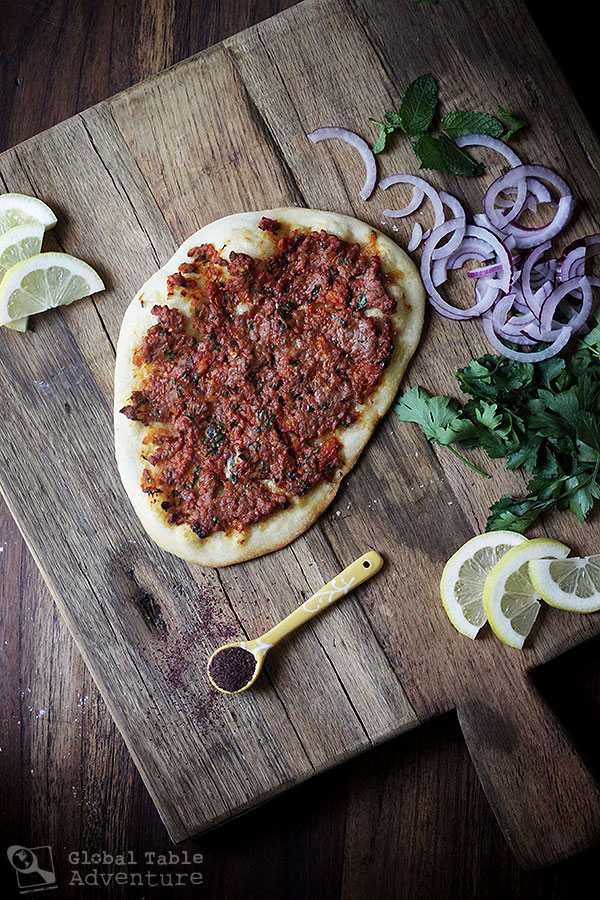 So beautiful.
But we're not done yet!
Add a bunch of your favorite Turkish toppings.  Mr Picky liked red onion, parsley, lemon juice, sumac, and a bit of mint.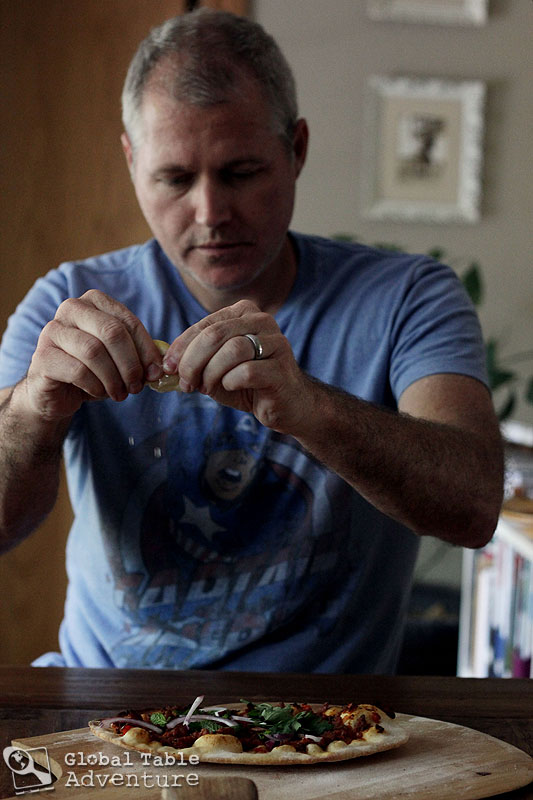 I mean, seriously.
This is the life.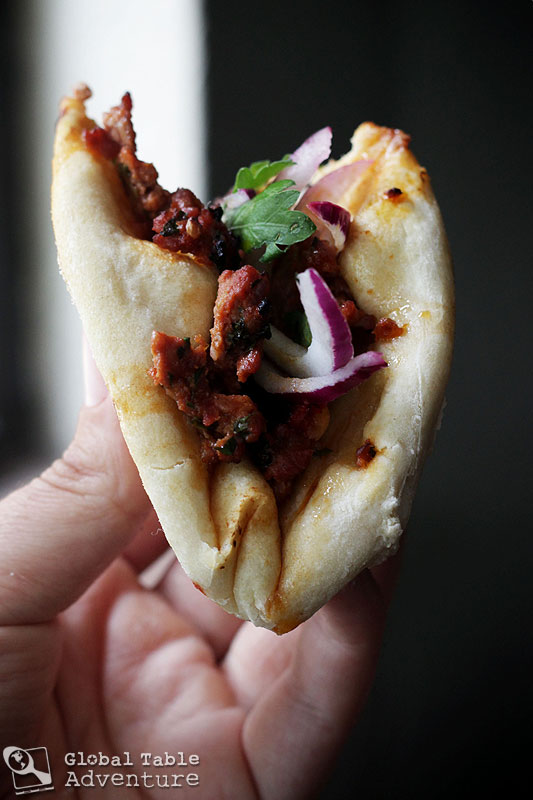 Turkish pizza is traditionally folded or rolled, which makes for a fun, picnic-style dinner.
It also makes it easier to keep those loose toppings in place.
Peek-a-boo!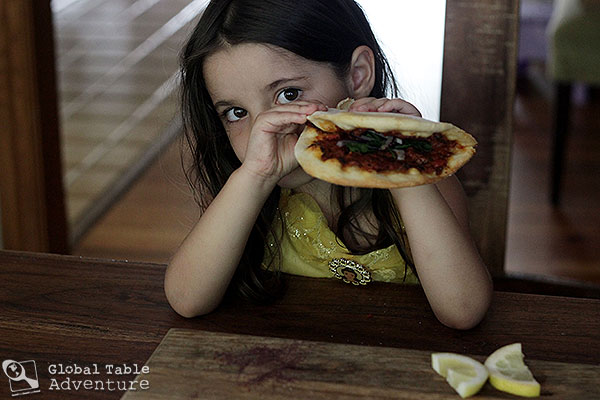 Enjoy with light and love in your heart.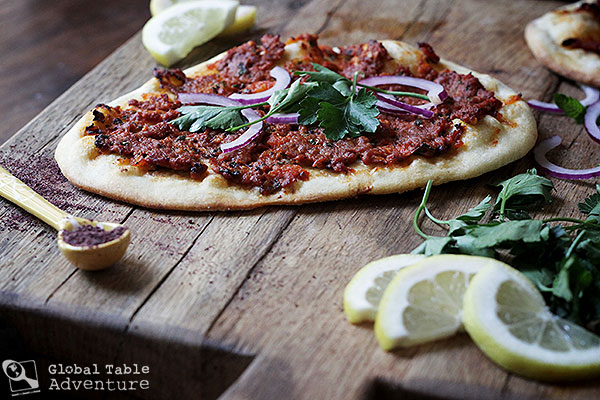 Are you in?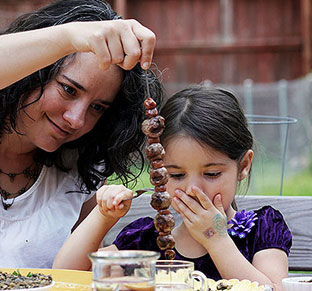 Hungry for more?
Be notified when National Geographic releases my memoir.
Simply fill in your details below.