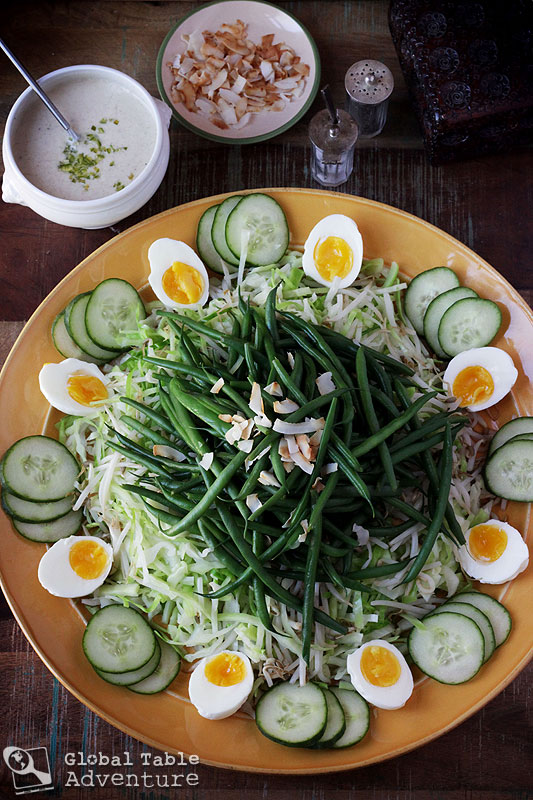 Introducing Geodangan, your answer to healthy munchies. (Honestly, I'm not sure if there's such a thing as healthy munchies. But if there were, then this is it.)
This Asian-style salad that is incredibly popular in Suriname. And for good reason.
Don't be shy.
Geodangan is everything spring has to offer – crisp green beans, giant cabbages, golden yolked eggs… with the addition of a coconut, lime, yogurt dressing. (The dressing could also be coconut sambal, a spicy shredded coconut condiment.) Either way, you'll feel like your in Suriname… by way of Indonesia.
And that's definitely a good thing.
Today's recipe for Goedangan is adapted from Holidays of the World Cookbook for Students; they suggest serving the salad for a traditional Surinamese lunch, which I think sounds just lovely.
Serves 6
Ingredients:
For the salad:
1 small head cabbage, cored, shredded and blanched
1 lb French green beans
1/2 lb mung bean sprouts
1 hard boiled egg per person
1 cucumber, sliced
shredded coconut or coconut flakes, optional
For the dressing:
1/2 cup coconut milk
1/2 cup yogurt
1-2 tbsp brown sugar
1 hot chili pepper, or to taste
1 tsp ground coriander
1 lime, juiced
salt & pepper
Method:
Is it me, or does this cabbage look like a flopsy-eared bunny rabbit?
So cute.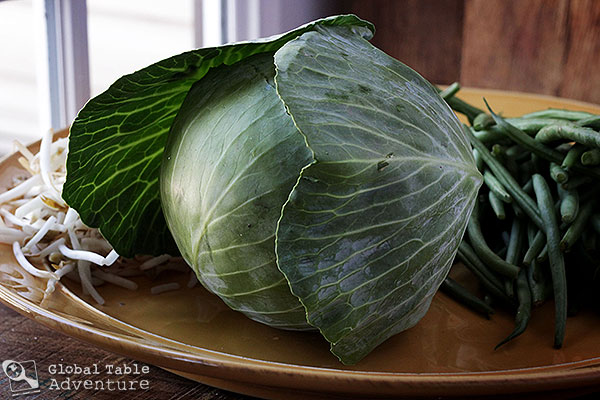 Step 1:
Trim and slice up all your veggies. Next, blanch the mung bean sprouts, the shredded cabbage, and finally the green beans.
Seems like a lot to do… but it's really not too bad.
I used a large spaghetti pot with insert. That way I could keep using the hot water for each ingredient. The mung bean sprouts only took a minute or two. The cabbage took a few more, and the green beans took the longest. Just give them all a little bite and cook them to whatever texture you'd like.
After cooking, immediately plunge them in an ice bath to retain the bright colors and keep them from overcooking.
Step 2:
Next, whisk together the coconut dressing ingredients. When you check the seasonings, do so with a bite of the salad. It really changes the flavor.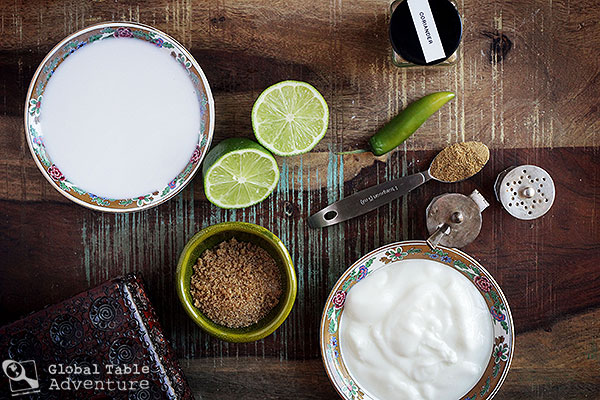 Layer the salad ingredients on a large platter. Decorate with the hard boiled eggs and sliced cucumbers. Drizzle the dressing over the top, or let your guests serve themselves.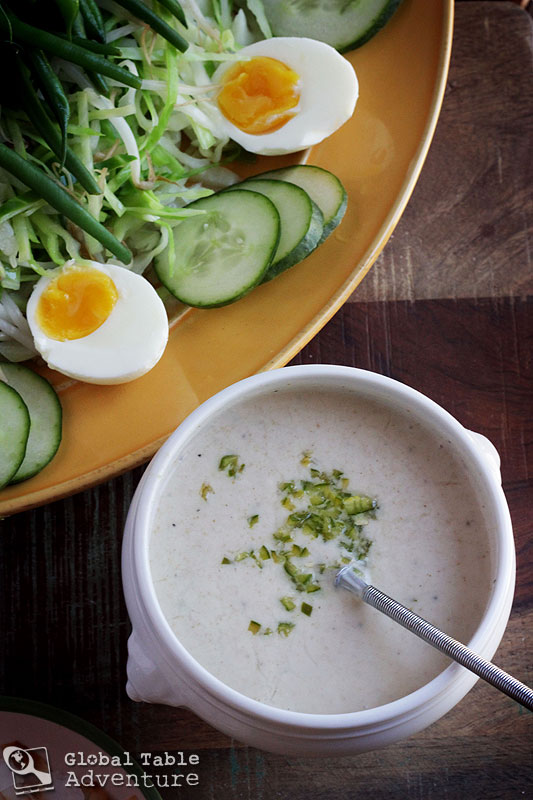 This is a fun one for kids, especially if you cut back on the chili pepper. Just ask these princesses…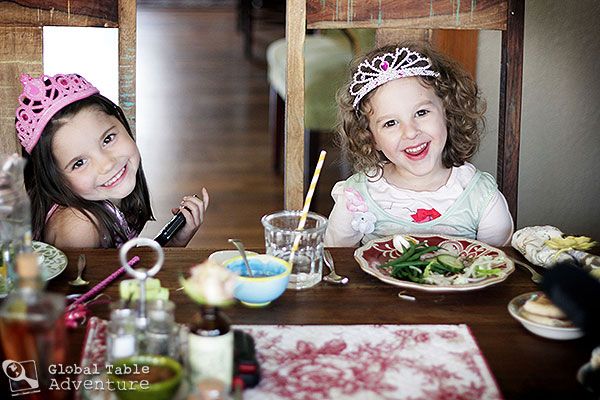 Happy Friday, friends!
I hope your weekend is refreshing and fun.
P.S. If you set a Global Table this weekend, be sure to share your photos and stories on Twitter, Facebook, or Pinterest, using hashtag: #myGTA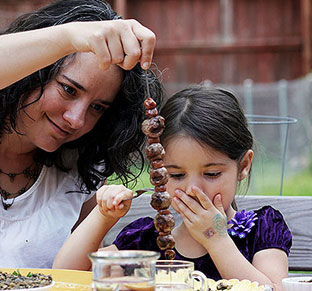 Hungry for more?
Be notified when National Geographic releases my memoir.
Simply fill in your details below.