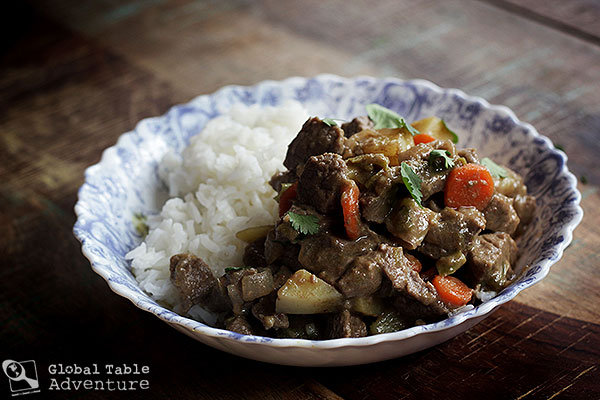 Sometimes we need a meal that can fill every corner of our heart, one that can bump out those rough and tumble emotions that bog us down… the ones that keep us from being happy.
Carefree.
Enter Suqaar, from Somalia.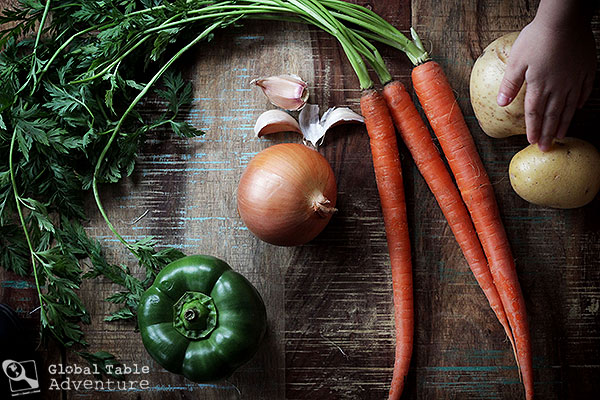 Suqaar (pronounced sooh-car) is one of Somalia's most beloved dishes and can be made with any meat, from lamb, to chicken, to beef. Generally the meat is cut into very small pieces, about 1/2″ cube or smaller. The meal is then rounded out with an assortment of veggies – usually carrots, bell pepper, onion, and -sometimes – potato.
There are no complex spices.
There are no convoluted cooking techniques.
Just good food, hot and happy.
While some like to add cumin, most recipes omit any spice but salt.
The flavors are simple and reflect the Italian influence on Somali food (hello, garlic and onion!). The meat and vegetable juices reduce to form a luscious gravy … and a delicate, controlled flurry of cilantro adds the finishing touch.
Suqaar can be scooped up with flatbreads, but it is most commonly served with rice.
And, speaking of rice, have you heard this beautiful Somali proverb?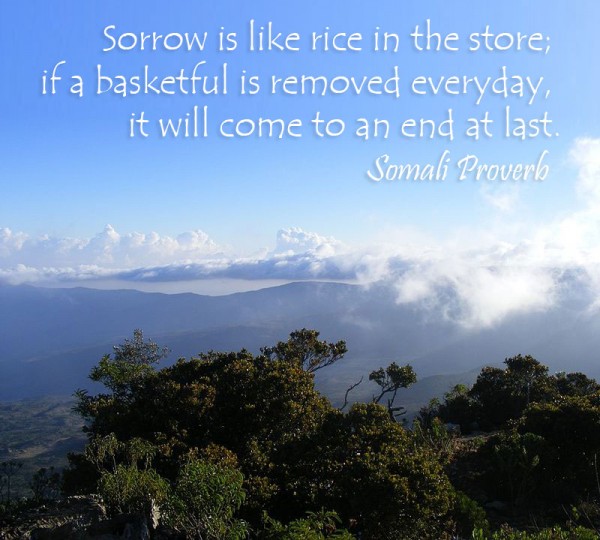 Little by little, we heal.
May it be so.
Serves 4 (with rice)
Ingredients:
1 small onion, sliced in half moons
3 cloves garlic, crushed
1 green bell pepper, chopped
vegetable oil
1 1/2 lbs cubed beef
1 cup beef broth, moreas needed
3 carrots, peeled and sliced
2 yellow potatoes, cubed
chili pepper, for heat (optional)
handful cilantro, chopped or torn
Method:
Find a lovely corner of Somalia to cook in.
Perhaps with a little sunshine. And a tower.
Once you find such a spot, fry the onion, garlic, and bell pepper in vegetable oil until soft and the house smells like glory.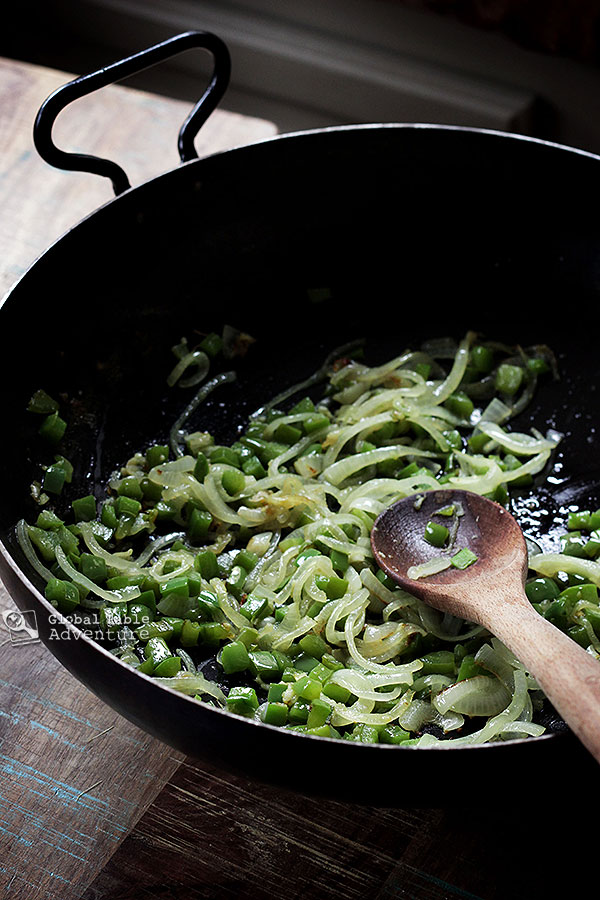 Then (and only then!) add the beef, broth, carrots, and potatoes. Finally, splash in the broth.
Simmer until tender, about 30 minutes. The mixture will start out thin and soupy, but gradually thicken into more of a gravy.
Stir frequently, especially as the mixture begins to dry out.
Here's what you're looking for: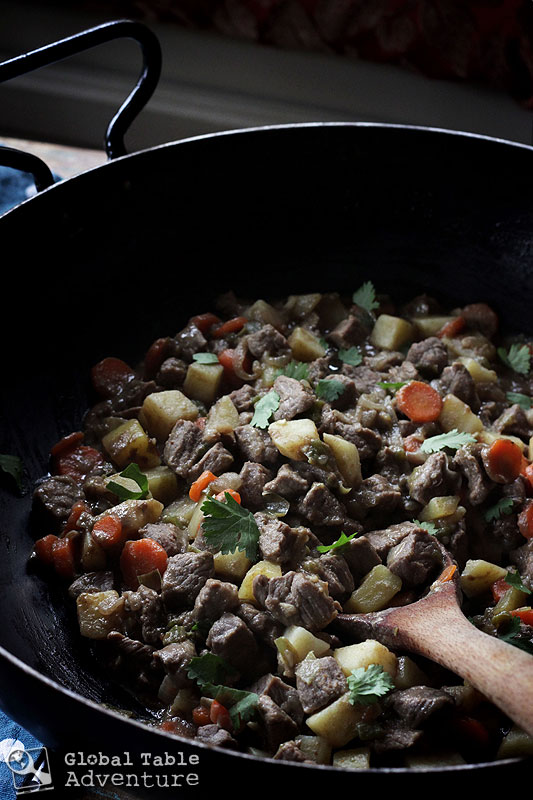 If the meat is tough, add some more liquid and keep cooking until it's completely tender.
Garnish with a handful of chopped cilantro and a smile.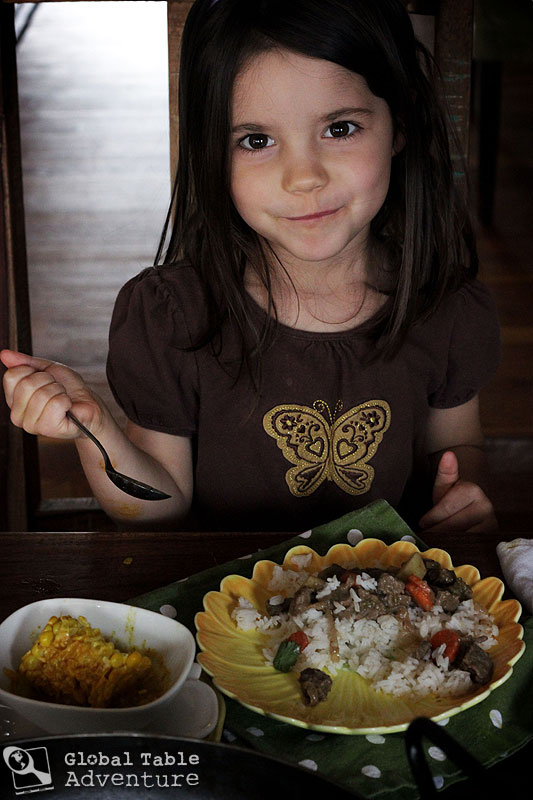 The double carbs with potatoes and rice is just perfect.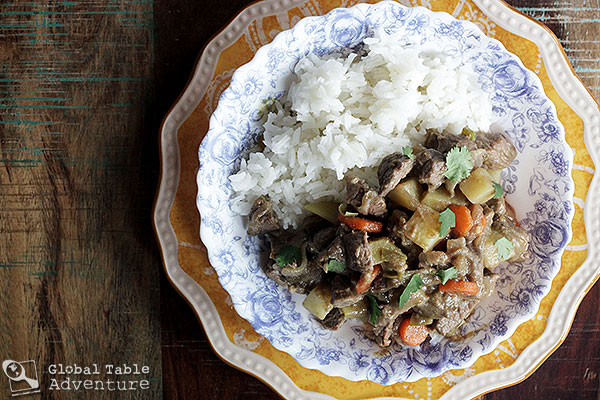 Yum, yum.
Enjoy!
Recipe adapted from My Somali Kitchen and The World Cookbook for Students.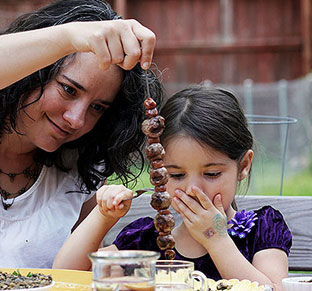 Hungry for more?
Be notified when National Geographic releases my memoir.
Simply fill in your details below.