5 egg yolks
1 tsp vanilla extract
1-5 Tbsp sour cream, as needed to bring the dough together
For the filling:
3 lbs apples (I used gala)
3 Tbsp sugar (or more, to taste)
1 Tbsp lemon juice
1 1/2 tsp cinnamon
2 Tbsp butter
Method:
First, find a kitchen with a view. Perhaps along a shimmering, simmering Polish river. I'm setting up shop in the tallest tower. For sure.
Next, mix up the dough.
A word to the wise: I tried using my 7 cup food processor, but this was a mistake. There just wasn't enough room (an 11 cup processor might be okay). You'll most likely be better off with a pastry cutter and a really large bowl.
Either way, the method is the same. First, combine the dry ingredients (flour, baking powder, sugar, and salt).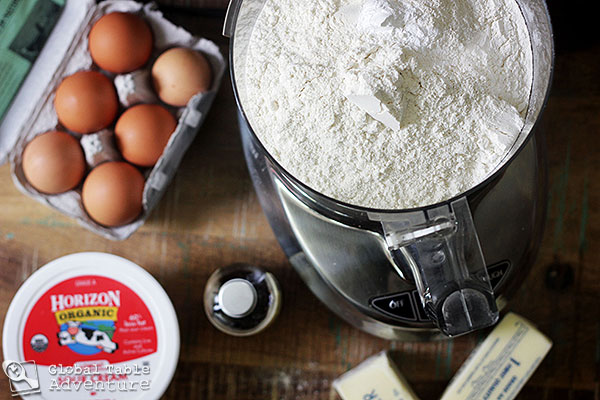 Then, add the cubed butter. You can use a pastry cutter or two knives to cut in the butter until small, pea-sized pieces if mixing by hand.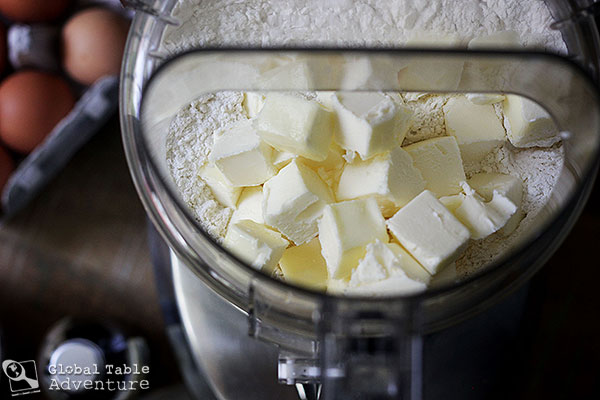 Finally, whisk together the sunshine-yellow egg yolks, vanilla extract, and one tablespoon of the sour cream.  Work the dough until a smooth ball forms, adding more sour cream as needed.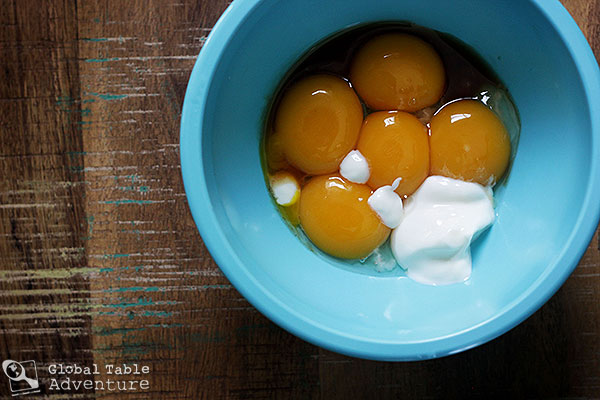 Divide the dough, flatten into discs – one a little larger than the other, wrap in saran, and chill for 30 minutes.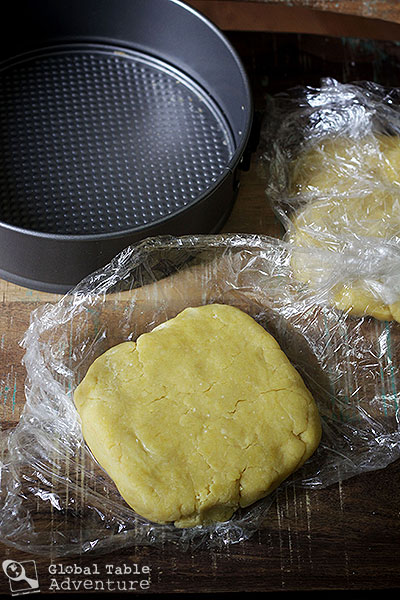 Meanwhile, peel, core and slice 3 lbs of apples. Cut a few of them into a smaller dice. Cook in a pan with sugar, lemon juice, cinnamon, and butter until soft and the small diced pieces begin to break apart into applesauce. Some Polish folk even like to break it all down into applesauce consistency. Just depends on your preferences.
Now… preheat the oven to 350F…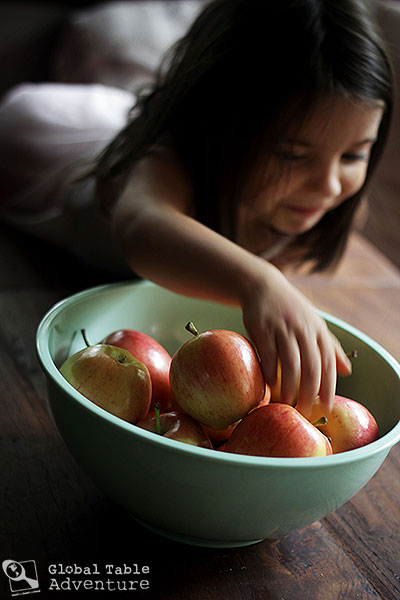 … and assemble the szarlotka.
To do so, roll out the larger dough into 1/2 inch thickness to cover the bottom of a 10″ springform pan. I've heard you could also use a lasagna pan, but haven't personally tried it. Whatever you use, make sure the dough goes up the sides of the pan about 1/2-1 inch. Roll out second dough to 1/2 inch thickness and 10″ around. Have it ready while filling the cake with apples (it's okay if they are hot). Top immediately with the second round of dough and pop in the oven for about 45-50 minutes, or until cooked through and slightly golden.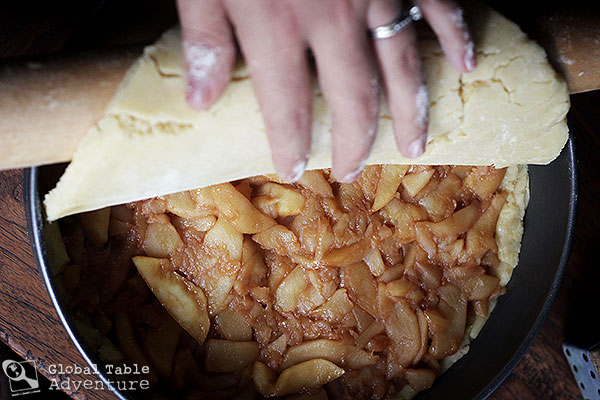 Serve dusted with powdered sugar… either warm or chilled.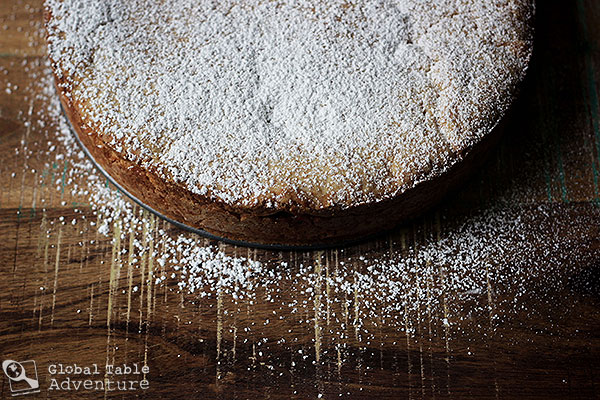 Cut into squares. Or get artistic. It's up to you.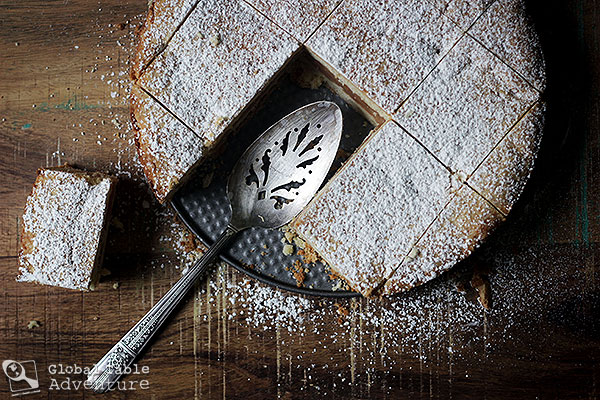 Spend the rest of the day smiling.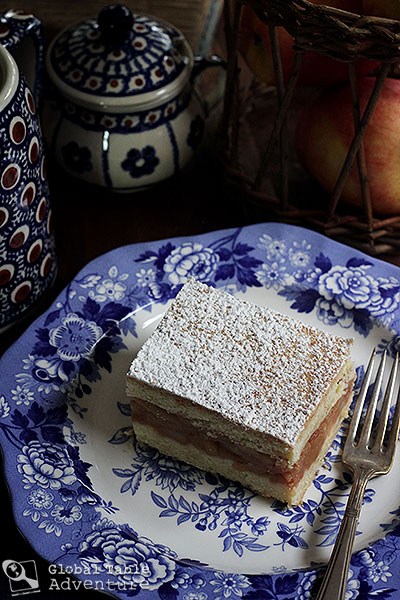 After all, who can frown after eating this?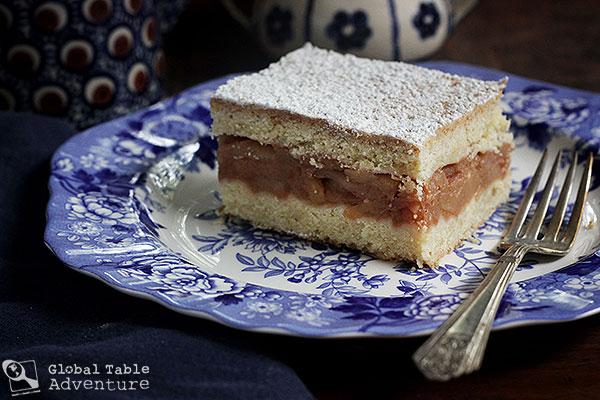 Happy autumn, friends.