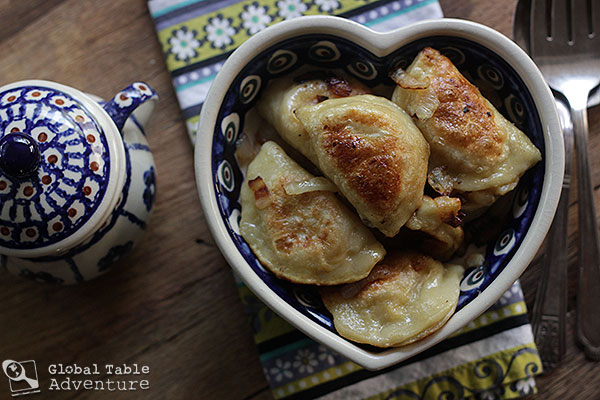 At any given moment I'm an arm's reach from my cellphone. It's not just a phone, it's a laptop, a GPS, and – when my daughter tells it "I love you" – a female voice replies with almost lifelike bashfulness "You are sweet."  Frankly, I'm frightened.
That's why, when I receive mail – real mail, bundled up in cardboard and clear packing tape – I get so excited. Cardboard boxes don't talk back. The postage stamp doesn't double as a GPS when I'm fifteen minutes late for a show. It simply sits there, until I open it. The best possible mystery. The way it should be.
This week, Global Table Adventure received a package from my mom which tickled my funny bone in the most delightful way. This is reason #3,568,999 why my mom is so special. Ava, who was  as curious as I was, tore out the sheets of crinkly tissue paper to reveal a heavy duty heart-shaped bowl, small pitcher, and a covered sugar bowl. The bottom of each bowl read "Handmade in Poland." Mom found them at a rummage sale, just in time for our feast.
I instantly knew the heart bowl was the perfect hug-shape for a stack of butter and onion-fried Peirogi. These central and eastern European dumplings are stuffed with anything from potatoes and cheese to sauerkraut or even prunes (the prunes being a sweet, dessert-style peirogi). These little bundles of comfort are so popular, you can even find them in American supermarkets. I've purchased them many times myself. Our version uses some cheddar, but for even more authenticity go for straight farmer's cheese.
Still, despite the convenience, I wanted to try my hand at making them. We're living in the rise of the cellphone "friend." It's time to push up our sleeves, slow down, and roll out some dough with our children.
Now, there's a famous Polish saying "Piękna miska jeść nie daje," which means a beautifully decorated plate won't feed anyone.
I'm not so sure. Because, sometimes the plate inspires me to make something special to put in it.
Adapted from The Best International Recipe.
Serves 2-4
Ingredients:
Dough:
2 cups flour
1/2 tsp salt
2 eggs
1 Tbsp vegetable oil
4-5 Tbsp water, or as needed to bring the dough together.
Filling
1/3 cup onion caramelized in 2 tbsp butter (about 1 onion, plus more for serving, if desired)
1 medium russet potato, boiled then skinned
1/3 cup shredded cheddar
1/3 cup farmers cheese
salt
pepper
4 Tbsp butter, for frying pierogi
Method:
Sometimes it's not what's on the outside, but what's on the inside. This is as true of the humble Pierogi as it is of you, me, and certain Polish "hills."
Just look at this mysterious architecture. Stunning. At least there are windows.
Find a special kitchen spot and get to work… Boil and skin a russet potato, then mash with the cheesy, oniony goodness. Don't forget the salt and pepper. Cover and refrigerate until cool.  (Once the filling is chilled, it will be firmer and easier to work with).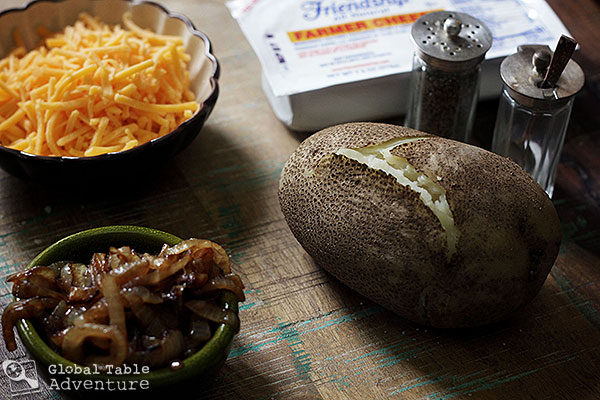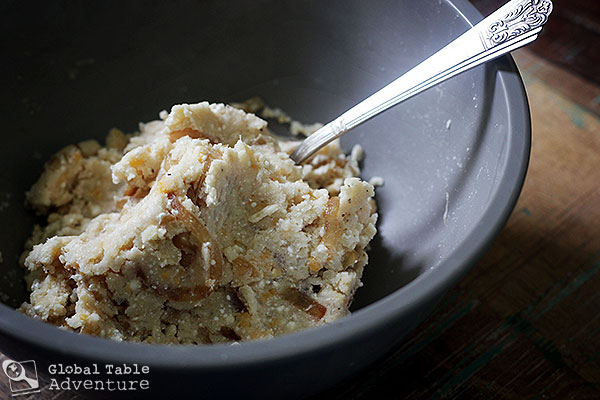 Meanwhile, prepare the dough by pulsing everything together in a food processor, or by mixing by hand in a bowl. Stream in just enough water to get it to pull together into a soft, workable dough. Wrap in saran and let rest about thirty minutes. This will let the gluten relax and make the dough easier to work with.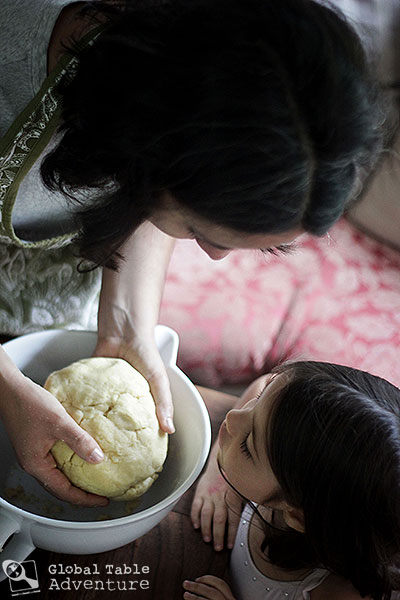 While it's resting, go dance a little dance. Polish, preferably.
Once you've danced enough to work up a sturdy kind of hunger… cut circles and top with a dollop of potato filling.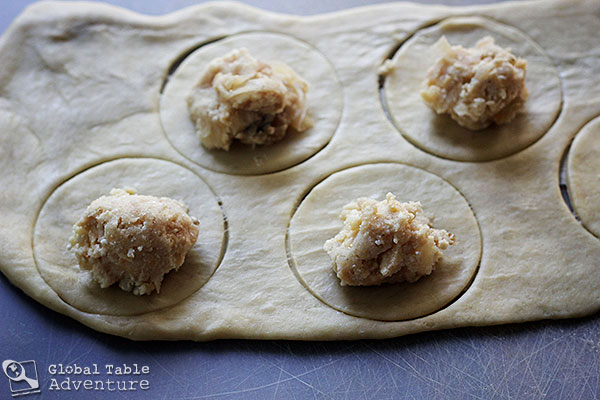 Pull the dough around the filling and pinch together at the top, then work around the edges. You might find it easier to work with less filling at first, but try to gradually work up to nice, plump pierogi. The dough should be elastic enough to do so.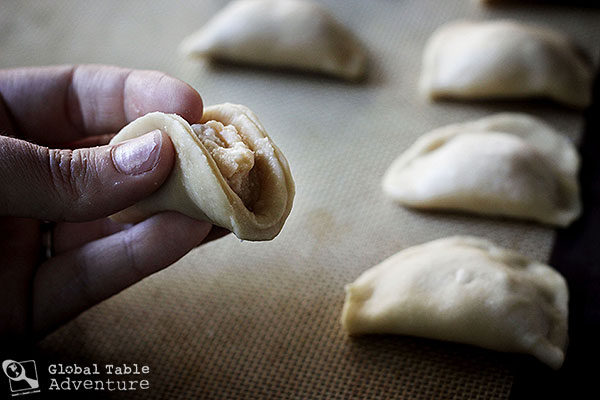 You can either freeze them or boil right away. Simply cook until floating and the dough is cooked through – this only took about 3-5 minutes for me, but will depend on how thick your roll out your dough. Drain and brown in butter. You might also enjoy with caramelized onions or even a dollop of sour cream.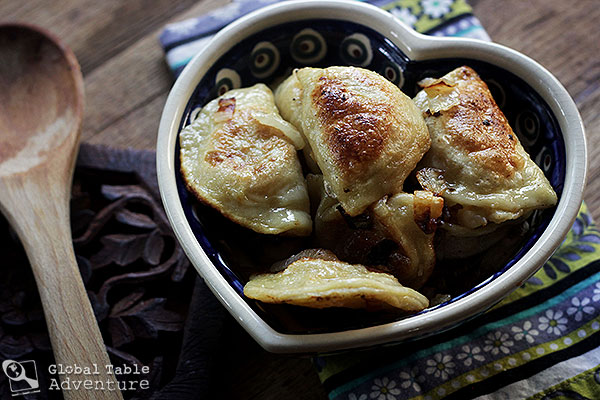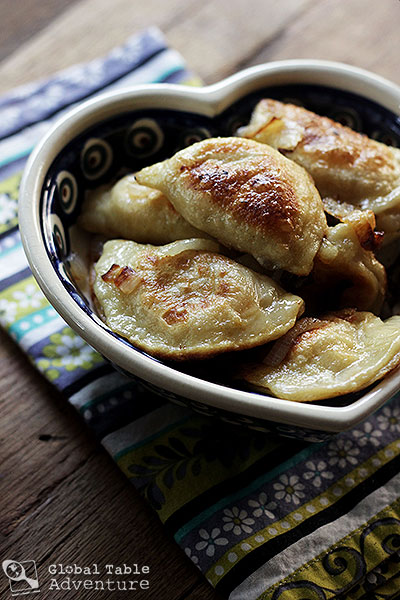 Trying new foods… it's a process.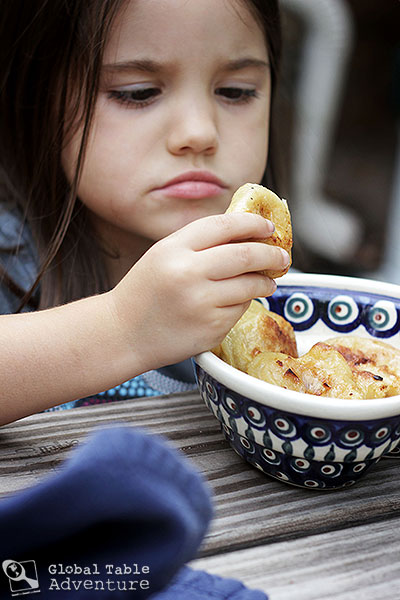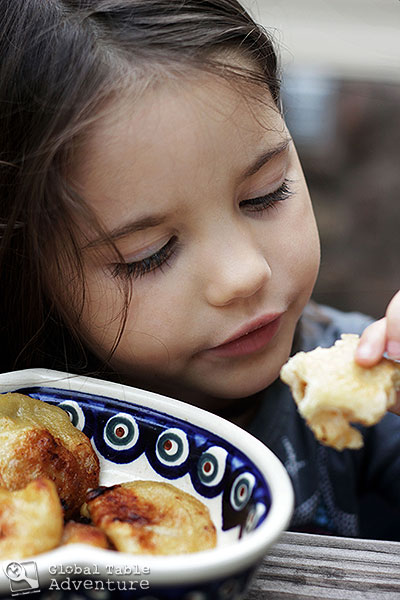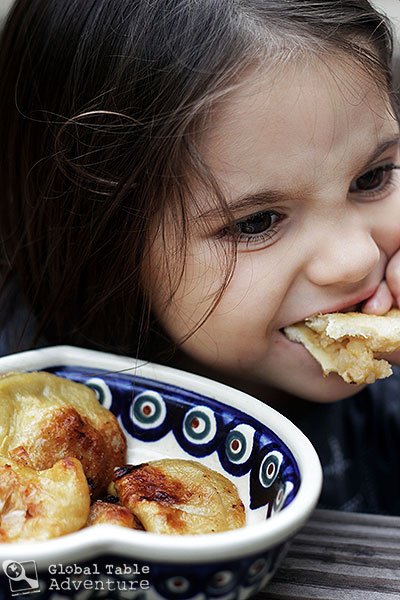 Sending you much love today, and always.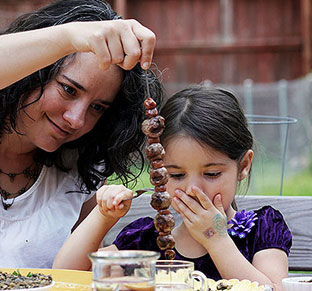 Hungry for more?
Be notified when National Geographic releases my memoir.
Simply fill in your details below.