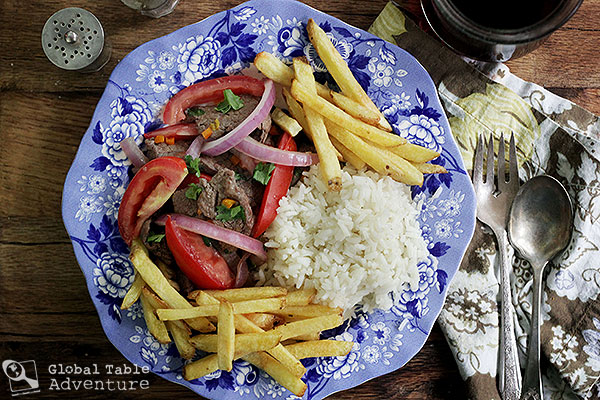 Remember the girls who could do Double Dutch jump rope? I loved them. I loved them because I was never coordinated enough to do what they could do. Every day I watched their hair fly, their feet pump like pistons, and ropes slice through the air. Today, I'm not even sure if I can jump regular rope, let alone Double Dutch.
It's been a long, long time since I've been on a playground for my own pleasure.
But if there's one thing I can do, it's eat double carbs. In this case, I might as well be Peruvian.
I'm talking about Chifa – a fusion of Peruvian and Chinese food… and it's not something just a few people love. Chifa is Peru's heart and soul, considered one of the country's top favorite dishes. Today's Lomo Saltado is a simple beef stir-fry, but made with Peruvian peppers, cilantro, and  cumin (of all things).
And… this is the important part… Chifa is served with French Fries and rice.
Double carb town.
Lomo Saltado is the strangest sounding combination, but when you dig in, it just tastes… right.
Ingredients:
1.25 lbs beef flap meat, or other steak sliced thinly against the grain
1 red onion, sliced into strips
3-4 roma tomatoes, sliced thinly
1 yellow chili pepper, sliced thinly or diced (aji amarillo, if available)
handful cilantro, torn
For the marinade
2 Tbsp white vinegar, plus extra if desired
2 Tbsp soy sauce, plus extra if desired
2 cloves garlic, crushed
1/4 tsp cumin
salt & pepper, to taste
Method:
Here's what it looks like when two continents come together to make one amazing dish… a little Incan god and an Asian house. Standing side by side, in harmony.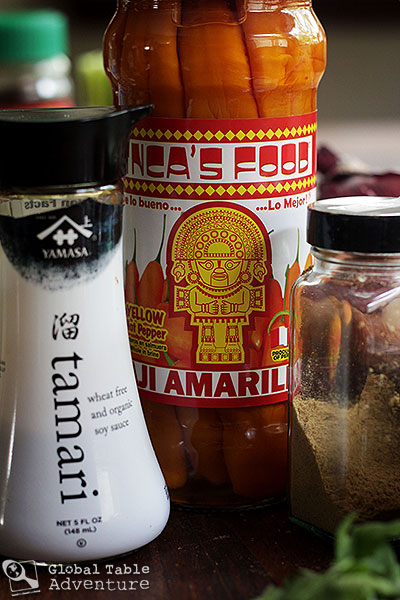 Now that all is right with the world, marinate strips of meat in vinegar, soy sauce, garlic, cumin, salt and pepper. You can cover this and refrigerate overnight if desired. Or just do a quick marinade for 30 minutes.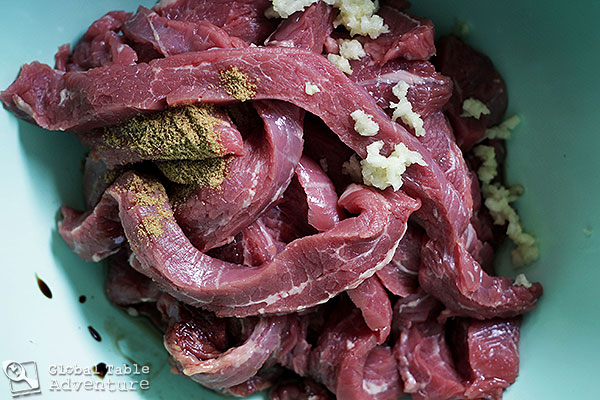 Meanwhile, slice up your veggies. A few tomatoes (they help create the juicy sauce which is so good to dip fries in), as much Aji Amarillo as you can handle (this is a mild pepper you can substitute with any pepper you'd like), and a red onion. Lots of people will slice the Aji Amarillo in long strips, like the onion and soak them in vinegar for added tang. I just minced mine to keep it mild for Ava.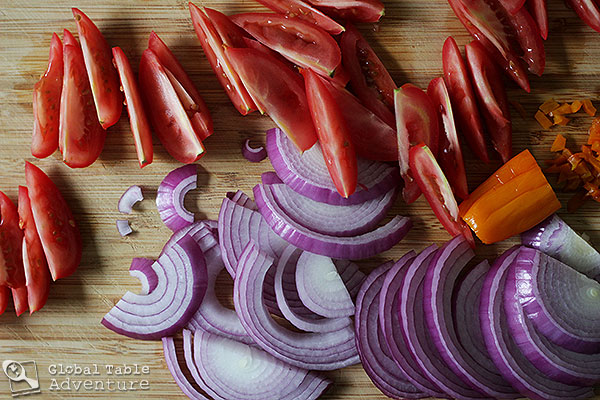 Squeeze the meat dry from the marinade and fry in a little oil an extremely hot wok or pan until browned. Be careful not to overcook.
Note – If your pan isn't screaming hot, the meat with simply stew in it's juices. An alternative is to add the soy sauce and vinegar after frying, although I like the added flavor gained from marinating it. Peruvians do it both ways, depending on the household.
Once the meat is browned, toss on the onions and cook until slightly softened. Finish by adding the juicy tomatoes and aji pepper (which is already soft), and whatever marinade is left in the bowl. Cook a few more minutes, taste and add more vinegar or soy sauce, as you see fit. The goal is to work pretty quickly, as with stirfry.
NOTE: If you substitute regular, raw peppers for the aji, add them with the red onion, so they have more time to cook.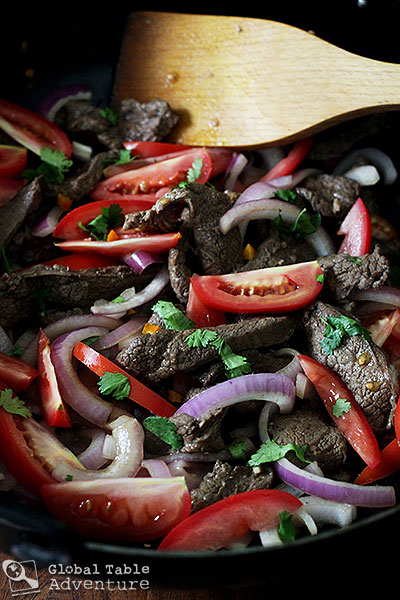 Serve garnished with cilantro, next to a mound of rice and crispy french fries.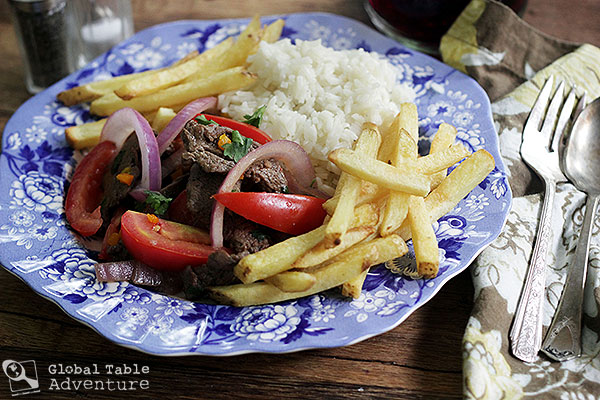 This dish is Double trouble.
Of the tastiest variety.
Enjoy at a Peruvian Festival.
Are you in?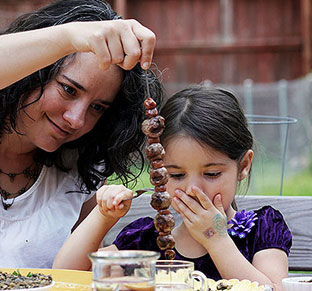 Hungry for more?
Be notified when National Geographic releases my memoir.
Simply fill in your details below.