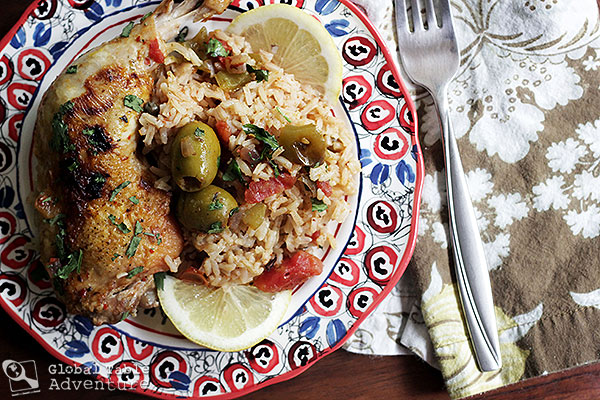 Pneumonia make cause my heart to race, my nerves to slacken, and my breathing to rasp, but it will never stop me from making my sweetheart his birthday dinner. To celebrate in style, I cobbled together the most unexpectedly glorious arroz con pollo.
Unexpected, because I honestly wondered how great could chicken and rice be?
Fantastic, turns out.
Put your trust in centuries of Latin American and Spanish history; the next time you have a big dinner party, make arroz con pollo.
Under a gracious layer of 100% love, you'll find a one-pot chicken and rice dish which delights in bright bursts of briny olives and capers, blushing rice (thanks to a sprinkling of ruddy ground annato and a whole lot of chopped tomatoes), and a flurry of vivid green cilantro.
Arroz con Pollo is traditionally made in a giant pan – something like a paella pan which can go gracefully from oven to table – although a Dutch oven would work nicely in a pinch. I used that $20 pan I got at the Indian market back when I first began our Global Table Adventure.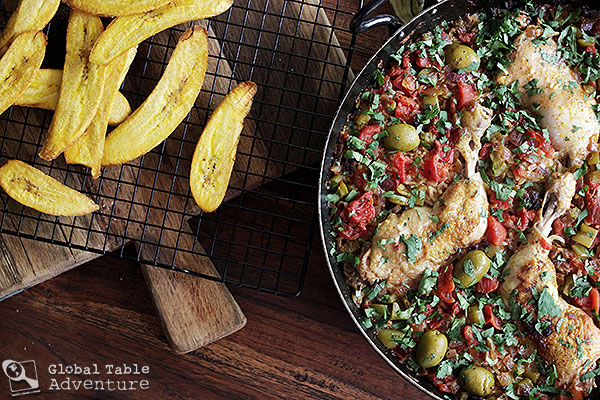 Serves 8-10
Ingredients:
4-6 whole chicken legs (thighs included)
2 Tbsp olive oil
4 cloves garlic
1 onion, chopped
1 green bell pepper, chopped
1 tsp ground annato/achiote (may substitute saffron, if desired)
4 cups chicken broth
1 15 oz can chopped tomatoes
2 Tbsp vinegar
1/3 cup green olives
1 Tbsp capers
1/2 tsp oregano
red pepper flakes, to taste
salt & pepper
3 cups long-grain rice
Garnish:
lemon wedges
large handful cilantro leaves, chopped
extra olives and capers, if desired
Method:
Follow a butterfly through Panama to a special cooking spot. Perhaps on the top of a green, green hill; under a blue, blue sky.
Preheat the oven to 350F.
Soften garlic, onion, green pepper,  and garlic in olive oil. Add ground annato (this will give the rice the softest blush).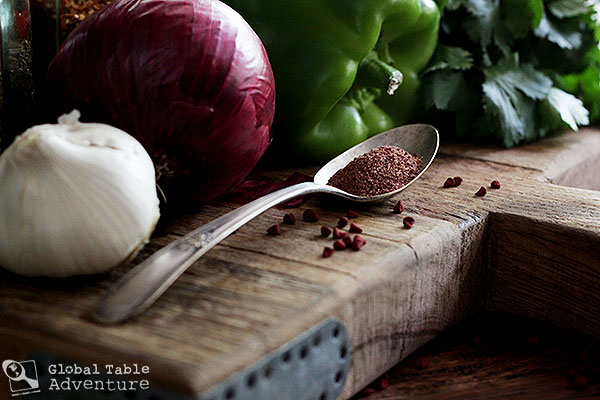 Push the onions and peppers to the sides and brown the chicken (in batches, if needed, to ensure proper browning).
Splash on the broth…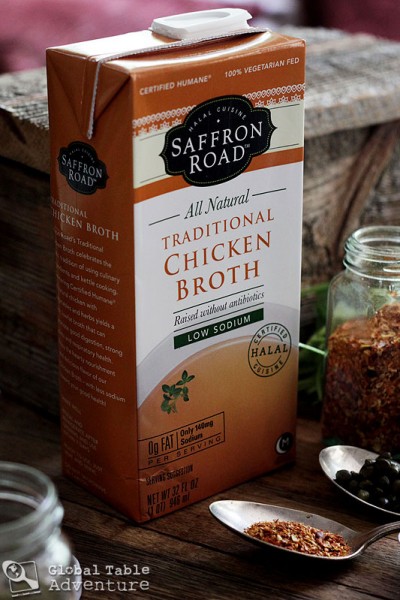 … tomato, vinegar, rice, olives, capers, oregano, vinegar, red pepper flakes, salt and pepper.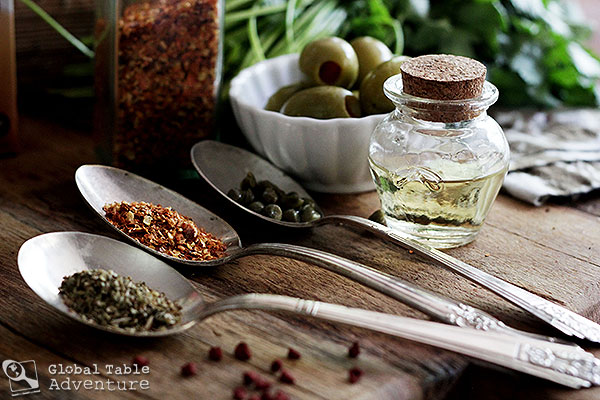 Bring to a simmer, then stir in rice.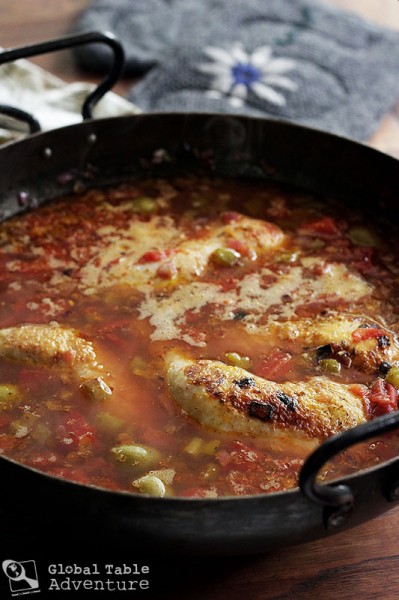 Cover and bake about 30 minutes.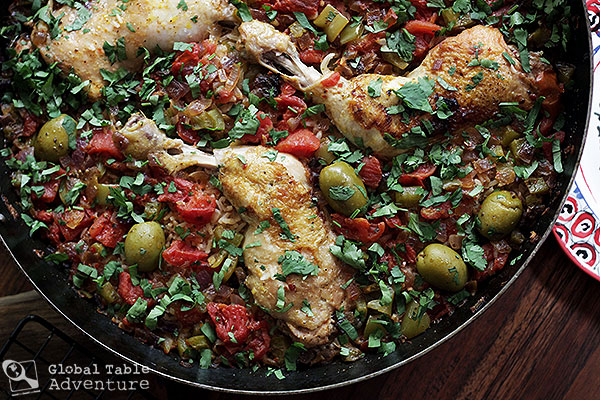 Garnish with a handful of chopped cilantro and serve as is, or pull the meat off the bones and toss with the rice. (Pulling the meat off the bones will make it easier to share the chicken among up to 10 people)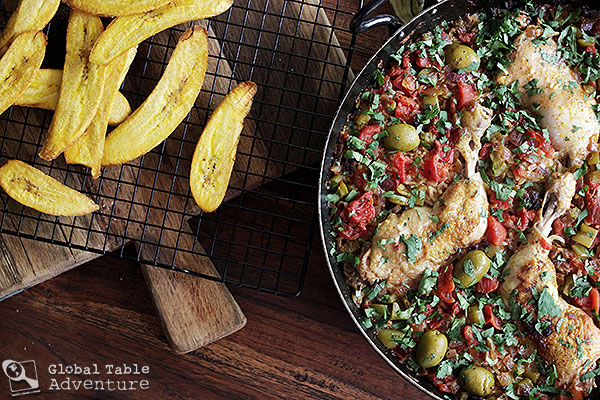 Personally, I love the simplicity of keeping the chicken whole.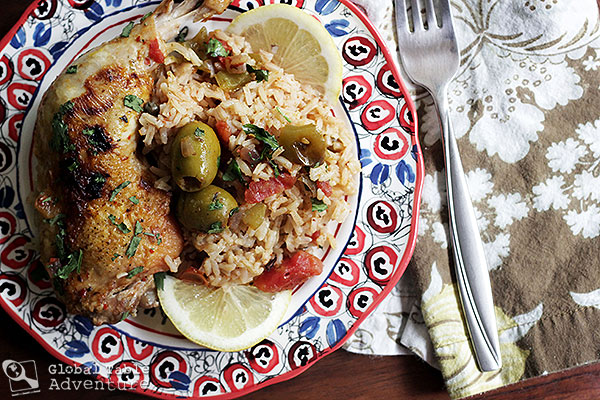 This is a recipe for a crowd.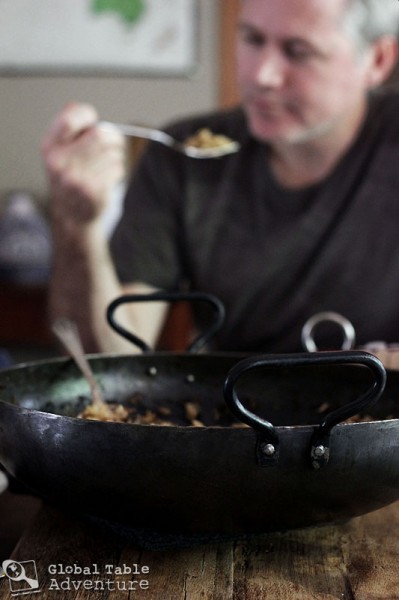 And, if there are any leftovers, you'll be happy to find them in the refrigerator later.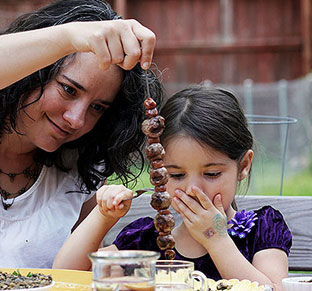 Hungry for more?
Be notified when National Geographic releases my memoir.
Simply fill in your details below.